German Shepherd Dog > Hip x-ray, opinions..please (9 replies)
Hip x-ray, opinions..please
by
mirasmom
on 04 May 2012 - 20:44
This is an x-ray of a 2 year old female,
Thanks!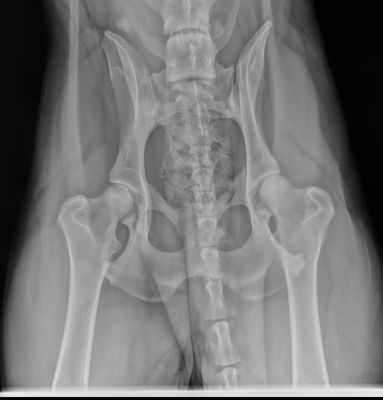 by
DDRCzechFan
on 04 May 2012 - 21:03
Hips look pretty well seated in their sockets, doesn't look like too much change of femoral heads, sockets seem fairly tight over all, my guess would be a Good, if they were having a bad day, maybe a Fair?

I'm no hip expert, by any means but I'd say Good or if nothing better, at LEAST a Fair from OFA.
by
Blitzen
on 04 May 2012 - 23:06
IMO the xray is not diagnostic, need another.
by
DDRCzechFan
on 05 May 2012 - 00:58
Blitzen, is it because of the positioning? I'm trying to learn here, too.



Is it because it ALMOST looks like the legs are being pulled UP? Positioning of the pelvis overlaping hip positioning?
by
CMills
on 05 May 2012 - 01:22
Positioning isn't the best, neither is the quality of the xray, its light. But from what I can see I'd guess a Good.
by
Blitzen
on 05 May 2012 - 02:42
The positioning needs to be symetrical, the legs parallel and the knees on the film and rotated inwardly. Exposure isn't great, but it's acceptable I think. I don't see any permanent left or right markings or any information on the dog or the owner. OFA rquires all of that.
by
Sontausen
on 05 May 2012 - 04:48
the positioning is not correct and should be redone. If you sen it to OFA they will probably give it a fair or worse or ask for a different view. Go to someone who knows how to prperly prostion the dog for the radiograph and run it by a board certified radiologist efore sending it in.
by
beetree
on 05 May 2012 - 19:01
This was a good experience for me, lol. Some of this stuff must be sinking in, because when I first saw the film, the first thing I thought, was, ooohhh.... they're not going to like the positioning and there aren't any knees!

Now, I know it isn't fair to discuss them because of the X-ray quality faults, but even so, the hips do not look alike to me, so that would suggest some issues? Like DDRCzechfan says, just trying to learn....
by
DDRCzechFan
on 05 May 2012 - 19:17
It's so silly, something as fundamental as "Duh, the knees are supposed to be visable" completely slipped my mind...Nothing to make you feel like a rookie!

I too, Beetree thought the sockets looked a HAIR different, but as you said, it wasn't fair to comment being as they aren't OFA quality. Nothing against you, Mirasmom, to be honest, I'd probably have walked out the door of the vet's office not knowing any better and would've submitted them to OFA without a second thought.

I still think they look like Good hips though, and would hope they would continue to look good with a new xray of them

by
Blitzen
on 05 May 2012 - 20:14
IMO a better xray will get her a fair or a good. I think the both hips will look the same if the positioning is better.
You must be logged in to reply to posts