Ear up?
by
petoasis
on 02 May 2012 - 13:38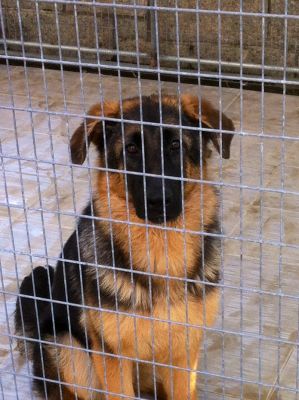 Do you think her ears will up?5.5months old girl.I saw her ear up at the moment she wakeup,but down again.
by
Ibrahim
on 02 May 2012 - 13:44
She's still too young to worry about her ears standing up, Most GSDS have their ears up after 12 weeks and one may has a reason to start worrying if ears aren't up by 20 weeks.

Ibrahim
by
petoasis
on 02 May 2012 - 14:06
She is 23 weeks now?
by
Ibrahim
on 02 May 2012 - 14:11
Okay I apologize, I misread her age, in this case allow me to let the more experienced share their knowledge with you, excuse me for that, I don't want to say something not useful to you.

Ibrahim
by
Hundmutter
on 02 May 2012 - 14:29
Is she teething still? That can make their ears go up and down a lot. The general rule-of-thumb is "if they have been up, they will come up"; not entirely fool-proof but it is usually the case. They may come up shortly when her gums are less sore and yet go down again for a while in a couple of months, but then come up and stay up after that. Personnally at 5 1/2 months I would not worry yet, and would not do anything; but this is the right time to put splints in if you are going to try that. Me, I have no success with splinting and dont believe it makes much difference, but I'm sure others here could guide you if you want to try that route. Good luck.
Afterthought: another thing you could try is gentle massage, of the base of each ear, regularly every day.
by
macrowe1
on 02 May 2012 - 14:37
Have they both actually been up before? I know when they're teething they can go back down. I know you said that one was up this morning. Is that the only time? Has the other one been up? At her age I wouldn't worry, she's still young and can be teething. I'm with Hundmutter, splitting really doesn't help much. The reason splitting works with ear crops is that the scar tissue forms back into that standing position. I don't know how much it helps with just posting.
by
petoasis
on 02 May 2012 - 14:37
I try already, after 5-7 days ,it only maintain standup one or two days ,down again.
by
Blitzen
on 02 May 2012 - 15:11
Soft ears are genetic. If you want this dog for breeding I would not splint or tape and would not breed her if the ears didn't stand on their own. If she's a pet, then you may feel as if she will look better with her ears up, so give it a try.
by
Conspicuous
on 02 May 2012 - 15:57
Why does teething effect the ears, that is interesting. Curious minds inquire...
by
magdalenasins
on 02 May 2012 - 17:40
I think they use more calcium to build adult teeth and so lose some of what is going into ear cartialage?
by
Hundmutter
on 02 May 2012 - 19:10
Or it may just be pain - if the mouth hurts, perhaps its too much effort to keep effort going into the muscles that erect the cartiledge ? Dunno.
by
Von Ward Kennels
on 02 May 2012 - 20:48
This has worked for me:
Buy tear mender. You can get it on Amazon for cheap. It is a flexible fabric glue. Take her ears in a tee-pee stance on top of her haed and glue the tips together. About a inch on each side so they have a good bond. The glue will set quickly as you hold the ears together. Do not get any on the inside of her ear. This will last about a week and she will look very odd and she will scratch at her ears. When the ears finally come apart, use adhesive remover also bought on Amazon and also very cheap. Take out the stuck on glue and let the ears alone for a couple of days so the hair can regrow a little. Then do it all over again. I would keep this up until they stand. Give her natural raw bone to eat.

It is still a little early to be worrying too much but you can at least get this started.

by
yellowrose of Texas
on 02 May 2012 - 22:08
LEAVE THE EARS ALONE...TILL MONTHS DOWN THE ROAD


by
magdalenasins
on 03 May 2012 - 08:56
I thought that after 6 months it was a done deal YR? This pup is 5.5 months old.
by
Blitzen
on 03 May 2012 - 12:19
If you manage to get up ears on a GSD by spliting, taping, implants, odds are great the dog will produce more dogs with soft ears.
by
Hundmutter
on 03 May 2012 - 16:00
Agree with you Blitzen if they are meant to be soft they will be - and should not be bred on. However, if she is just wanted as a pet there is not a lot of harm in trying the splints (not so sure about the glueing !) - but - YR - that will certainly NOT work, IMO, if left too long; the time to start is definitely now, according to people who have done it successfully. I have never personally known a dog that did not get its ears up past 8 months, - if they were going to go up at all; like I said, any attempt to splint (post) I've seen done, didn't work; although someone did tell me of a dog they knew which finally put them up at 10 months (after they'd tried splinting n given up as a bad job!) . Looking at the photo again, hers seem awful heavy, they look to me like they might prefer to stay 'soft' - again, JMO. I have seen a few ! As for only buying puppies whose ears are okay, that suggestion does not go with picking out pups early ...
You must be logged in to reply to posts