r u kidding me?
by
Teufel Hunde
on 28 April 2012 - 19:56
I purchased Corrado vom Eisenherz and yes..I recently returned him to his breeder. If you want the truth and the WHOLE story, including the proof that the breeder agreed to refund , pm me. This is just another ploy to get out of the deal that was agreed upon. It's a shame what someone will do to get sympathy.
I also own Aurick vom Goldwald., You are welcome at any time to contact me and I will gladly provide you with references and vet records on all of my "abused and neglected" dogs.
by
live4schutzhund
on 28 April 2012 - 20:25
wut u talkin bout willis?
by
brynjulf
on 28 April 2012 - 20:37
Whoa Whoa Whoa the breeder made sure that they treaded very very lightly in this matter. They stated that they had no proof and did not want to be accusing someone of anything. Their own vet may have mentioned something or? when the dog was returned for the vet visit. Hard to know exactly as the breeder of course is not a vet. The Vet may have stated that the problem was not genetic in nature. In that case the breeder would not be held responsible.
by
guddu
on 28 April 2012 - 20:48
I am speculating: its a case of bad hips, and the question is environment vs genetics. Problem is breeder blames environment and buyer blames genetics....unless this question can be answered unequivocally, one needs to go by what was agreed to.
by
duke1965
on 28 April 2012 - 20:53
without facts there will be lots of speculating going on
by
Teufel Hunde
on 28 April 2012 - 21:05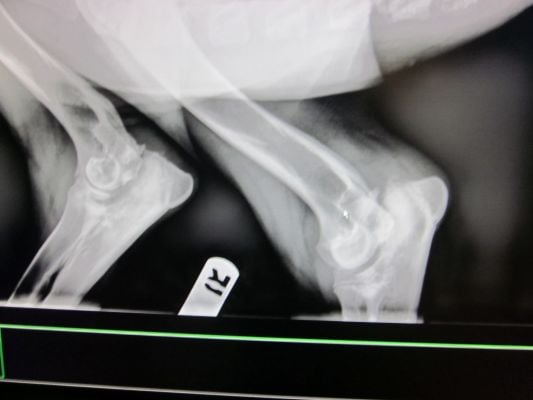 I took him to a specialist who recomended surgery asap. He said he was born this way and it was now giving him problems as he grew. This is a 6 month old pup . I paid out of pocket for ALL his health related problems(there was more than 1 issue). I gave him back with insurance that would have been completely in affect in another 1-2 weeks and was canceled. I would have continued to pay the premiums to take some burden off and help get him the surgery. I'm not here to have anyone pick sides, I'm just stating facts. She agreed to refund and now is backing out.
by
Rik
on 28 April 2012 - 21:05
I'm speculating on whether to speculate or not.
I spec I'll just leave it alone.
by
brynjulf
on 28 April 2012 - 21:12
That is a genetic issue , therefore it should be refunded. Pretty cut and dried.
by
mollyandjack
on 28 April 2012 - 21:30
I would guess there's probably more to this, given how the breeder feels about dogs and conducts business.
by
Jenni78
on 28 April 2012 - 21:59

Whoa. Way to out yourself, Cat. I was actually asking a fairly general question that was brought up by another breeder who I was talking to about recent experiences. The post was general, as several posters complained. Oh, Mylanta. LOL
by
Teufel Hunde
on 28 April 2012 - 22:12
There is much more to the story. I'm not the one being outed here, I have nothing to hide. End conversation.
by
GSDPACK
on 29 April 2012 - 05:14
Go on about this privately from now on, my suggestion.


Let us know how the dog is doing whoever has him. Genetics are sometimes a royal .......


by
guddu
on 29 April 2012 - 10:38
Agree...private discussions better between two honorable people. Evidence favors genetic cause....age and extent of damage...
by
magdalenasins
on 29 April 2012 - 11:09
Sorry to keep this thread going but just a question about the xray. Are those elbows or? Have not seen elbow xrays before so sorry if that is the most stupid thing you have read today.
by
beetree
on 29 April 2012 - 11:15
LOL, yep, elbows. Definately, up there with "Who is buried in Grant's tomb"?

by
magdalenasins
on 29 April 2012 - 11:33
LOL, thanks beetree. Guess I am so used to seeing hips and the dog placed that way that it was confusing. Appreciate your patience lol. :)
by
beetree
on 29 April 2012 - 11:41
Well, you know what (some) of the men say, we need patience since we are unable to whack them over the head to make a point, same with our dogs.


by
magdalenasins
on 29 April 2012 - 11:52
I train my man with high value food rewards. :D Patience is vital too though. :P
by
Blitzen
on 29 April 2012 - 12:10
Question - why don't buyers make sure the parents of the dogs they buy have CERTIFIED clear elbows and hips? Like begets like. Would that apply to this dog?

Not a day passes that one can't find ads here for puppies out of parents with no xrays or any other healthy clearances or lames excuses why they can't pass but are nonetheless breed worthy. Still they manage to sell them for decent prices. IMO if you don't require the minimum when you buy a dog then shame on you. It is and always will be buyer beware.
by
Jenni78
on 29 April 2012 - 13:06
The dog will be fine, as I will allow him to be nothing less than that, if anyone is actually concerned about him as opposed to the mere thought of some juicy gossip. He is with me, he is safe, and will be getting the care he needs and deserves. TH's post, given the circumstances, was a bit of a surprising leap to conclusions. There sure is a lot of jumping to conclusions and assuming going on around here. I think Rik must be some kind of genius. But then, he's been in the dog world a long, long time and there are things you can only learn that way, as I am learning now.

Never assume you know what's going on. Even when you think you have all the facts, you can be shocked. I know I have been! Best not to speculate at all, lest you look like a fool later on. My grandfather used to say "believe half of what you see and none of what you hear."
You must be logged in to reply to posts