German Shepherd Dog > What do you guys think of this pedigree? (20 replies)
by
macrowe1
on 26 April 2012 - 18:57
Where are all the hip scores for the parents? What is a score of 9 on the dog itself and a 10 on the sire (I'm not sure what rating they're using)?
by
guddu
on 26 April 2012 - 19:24
The UK has a different hip scoring system, which I recall went up to 55, so a 10 would probably be good.
by
Sereno
on 26 April 2012 - 20:31
Hi

I have pasted this info from the UK KC website so it is clear

The hip score is the sum of the points awarded for each of nine aspects of the X-rays of both hip joints. The minimum hip score is 0 and the maximum is 106 (53 for each hip). The lower the score the less the degree of hip dysplasia present. An average (or mean) score is calculated for all breeds scored under the scheme and advice for breeders is to use only breeding stock with scores well below the breed mean score.

So each hip will be scored between 0 & 53
3 x examples of results would be 8:3 2:6 10:19 32:12

each hip score is added together to give a total score e.g. 11 - 8 - 29 - 44
the GSD breed mean score is 18 which would make the third & fourth score above over the acceptable amount for breeding. A Malinois for example has a mean score of 9 which all four examples would be over. For breeding it is desired to stay within the mean score for the breed in question.

The score you state is 10 which is good low score.


Different breed Mean Scores (BMS) are listed below if you are interested
www.bva.co.uk/public/documents/Breed_Specific_Statistics_2012.pdf

The link below shows you average breed scores and a chart for comparing scoring authorities e.g. BVA -FCI -OFA -SV

http://en.wikipedia.org/wiki/Hip_score

Hope this helps

Sue
by
Gustav
on 26 April 2012 - 21:19
Some nice working lines in the pedigree....I would be careful about hips and aggression but not enough to dissuade me from considering a dog of this ilk as a fine working prospect.
by
ronin
on 26 April 2012 - 22:56
Make sure you put the work in if you get a pup from the those lines; they are not for the feint hearted!

More a case of be careful what you wish for; rough diamonds spring to mind.

Ronin
by
swingfield
on 26 April 2012 - 23:53
Socialize.. socialize.. socialize.. work work work.. just be prepared for what you are in for! Be ready for a commitment.. Be dominant and secure in yourself and it will pass on to your training partner! good luck and watch this ones drive! you channel this one right and it will be perfect for you!!
Swingfield
by
Nellie
on 27 April 2012 - 08:44
You have to be totaly committed to working these lines, 10 is a good score here in the UK, Margaret Nyrvana-Jones Kaffirdog on here breeds Working dogs, enjoy and have fun with this dog


by
gsdman123
on 27 April 2012 - 10:38
hi

from looking on the kc website i cant see any records that the mother vomhausnye quartz has been hip scored ? plenty of her progeny look to have been though,


by
brynjulf
on 27 April 2012 - 14:08
I do not know how much experience you have with GSD. This is a really nice breeding for some one with LOTS of experience. If you are planning on working your dog hard and heavy. If you want a first time breeding dog or a family protection dog. Please look elsewhere. I have seen alot of handler agression from this type of breeding, not saying there are not fantastic dogs with this pedigree. If you have a mentor who will work with you or if you have worked PPD before this is a great great combination. I dont want anyone thinking I dont like this type of breeding I do!! That being said I have also seen many dogs of this breeding euthanized because they were in the hands of the inexpereinced. Evaluate your skill level honestly before looking at this litter. The all important biddability factor can be missing in some dogs with this breeding. I have seen alot who say "make me" as early as 7 months of age. Rough Diamonds is the best description I have ever heard!
by
Hundmutter
on 27 April 2012 - 16:45
VomHausNye belongs to an experienced and dedicated owner/ breeder/ handler (no not a personal friend!) and so normally dogs from the kennel will have had all the tests, been breed-Surveyed, etc and I'd therefore be surprised if Quartz hadn't been. The only thing that stops me looking up her hip score and Survey result at this moment is that having recently moved home a lot of my records are in storage. They will almost certainly be a matter of public record.
Having seen Margaret N-J working some of her dogs I'd concur with the opinions of those above - these are great dogs but very high-drive and too much of a handful for novices. But I think she also still breeds some show dogs, as well as the Working ones, so still talk to her !
by
yellowrose of Texas
on 27 April 2012 - 19:51
Hundmutter and Ronin are well worded in their suggestions to you

Take heed...anytime you have a Korbelbach dog of magnitude and a few others on this pedigree in your hands, you had better be experienced or have a \mentor for sure.

I owned one...Bear Jerome


I would be happy to have one of these pups if I were 40 yrs younger..

NOT for the faint hearted for sure..YOU must be ready.

GOOD luck..let us know what you get and post some pics.

YR
by
Gustav
on 27 April 2012 - 22:15
If the mother has progeny and their hip scores are good, that's more important than the mother's scores....afterall people do the hip testing to make decisions to help produce dogs with good hips. If this is the case.....you are ahead of the game. Sometimes we miss the forest for the trees...lol
by
Hundmutter
on 28 April 2012 - 05:45
Gustav you are right of course, but we dont always have the luxury of the answer to that question, depends on the age of the bitch and the age of her first litter(s). If the bitch already has offspring old enough to have been scored (in the UK there is no system for getting pre- screened at 7 months, for instance) then obviously one should look for the results of that as well. Sire's earlier progeny too, and that can be easier to find.
by
ronin
on 28 April 2012 - 09:00
Are you going to train at a Club?

Ronin
by
edith
on 28 April 2012 - 16:33
The BVA hip scheme also publishes lists of stud dogs and the percentages of the progeny. This is a good source for what the stud is producing. If the stud is producing puppies predominately with high numbers, you may wish to reconsider.
by
Kaffirdog
on 28 April 2012 - 16:43
Hip score results for Progeny of Lakatamia Noris and Vomhausnye Quartz taken from the Kennel CLub database

Lakatamia Noris
BVA/KC Hip Dysplasia Scheme
| | | | |
| --- | --- | --- | --- |
| Tested | Sex | Result | Date |
| This dog | Dog | 4/6 = 10 | 7th March 2001 |
| Progeny 1 | Dog | 6/4 = 10 | 7th June 2002 |
| Progeny 2 | Bitch | 6/6 = 12 | 15th January 2002 |
| Progeny 3 | Bitch | 5/5 = 10 | 7th June 2002 |
| Progeny 4 | Bitch | 4/5 = 9 | 29th November 2001 |
| Progeny 5 | Bitch | 7/4 = 11 | 23rd November 2005 |
| Progeny 6 | Bitch | 3/6 = 9 | 13th June 2005 |
| Progeny 7 | Dog | 6/7 = 13 | 28th August 2008 |
| Progeny 8 | Dog | 7/2 = 9 | 14th February 2012 |
BVA/KC Elbow Dysplasia Scheme
| | | | |
| --- | --- | --- | --- |
| Tested | Sex | Result | Date |
| Progeny 8 | Dog | 0 | 23rd February 2012 |
Vomhausnye Quartz
BVA/KC Hip Dysplasia Scheme
| | | | |
| --- | --- | --- | --- |
| Tested | Sex | Result | Date |
| Progeny 1 | Dog | 4/6 = 10 | 13th January 2006 |
| Progeny 2 | Dog | 10/11 = 21 | 13th October 2006 |
| Progeny 3 | Dog | 5/2 = 7 | 8th August 2006 |
| Progeny 4 | Bitch | 6/2 = 8 | 18th April 2007 |
| Progeny 5 | Bitch | 2/2 = 4 | 18th July 2007 |
| Progeny 6 | Dog | 7/2 = 9 | 14th February 2012 |
BVA/KC Elbow Dysplasia Scheme
| | | | |
| --- | --- | --- | --- |
| Tested | Sex | Result | Date |
| Progeny 6 | Dog | 0 | 23rd February 2012 |
by
magdalenasins
on 28 April 2012 - 17:20
Thanks all for your input. I decided not to get a pup from Margaret as though I have the experience and do have trainers available and would also be training at a club I already got a pup for myself and this one would have been for my husband who we (Margaret and I that is) both think the dog would be way too much for. I probably would have ended up training both together (separately) but I think for his first dog something a bit less phenomenal but still well balanced will be best. I'll also end up doing most of the training with his pup during the day but I think it will be a lot easier than trying to control this level of dog when mine is this level of dog as well. Was a nice dream though, wish I had the time and space (and energy!) to do 3 lol. This is the pup I ended up getting from the Moby Gardefense/Projays King litter, Panzer.


http://www.pedigreedatabase.com/german_shepherd_dog/dog.html?id=622445


http://www.pedigreedatabase.com/german_shepherd_dog/dog.html?id=637794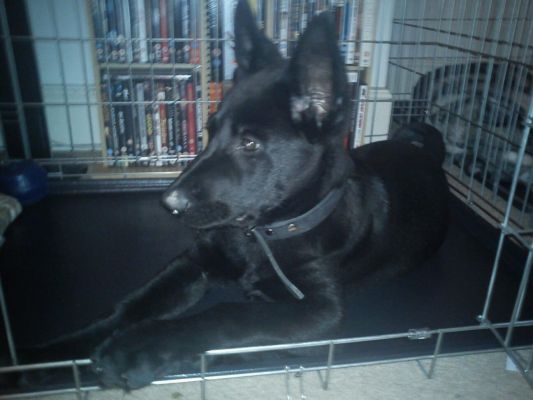 by
Nellie
on 28 April 2012 - 18:36
Beautiful pup and nice breeding, wish you loads of luck and bags of fun along the way :)
by
magdalenasins
on 28 April 2012 - 18:46
Thank you! :) I do have a soft spot in my heart for the blacks but never found one with a breeding I liked. Think we will be getting his litterbrother Monday for my husband. Should still be a fabulous pup but possibly not as crazy as he is. And if they are both phenomenal well I will deal, he's already settled into a nice routine so juggling two shouldn't be that bad. I say to myself hoping it is true. :D
You must be logged in to reply to posts