Bob came to visit...
by
GSDPACK
on 24 April 2012 - 22:53
He has grown a little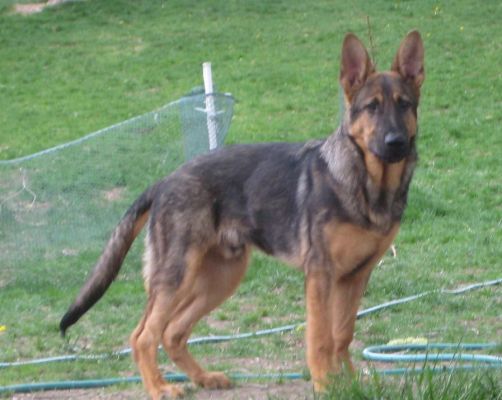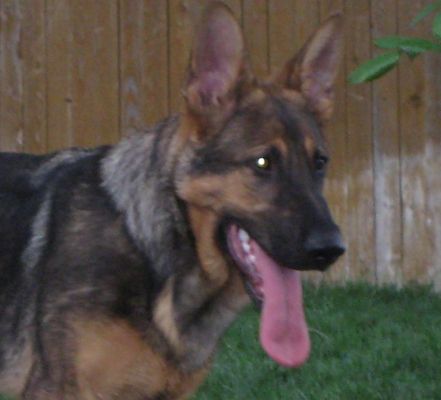 I WANT my good camera back! ;o(


by
LukasGS
on 24 April 2012 - 23:19
Very handsome! I wanna see that Cuda now. :) Lol
by
beetree
on 25 April 2012 - 00:26
Yes, he's a handsome dude! Looks like he's thinking some deep thoughts, too. The strong and silent type?
by
kitkat3478
on 25 April 2012 - 01:14
Beautiful dog, I love that look!
by
Nadeem6
on 25 April 2012 - 01:54
Really nice! Resembles his dad a lot.
by
dogshome9
on 25 April 2012 - 01:56

Lovely young man, he has very good strength of bone.

How old is he?


by
GSDPACK
on 25 April 2012 - 03:03
He is 5.5 months old.
I am not sure if he is the strong and silent type but he inherited his fathers determination, he is persistent and has his middle finger out at times. But he has a good future. The owner really wants to do SAR with him (his hunt drive is awesome). But today the owner told me he is thinking to go the "dark" route, IPO or PSA or both, LOL...

We will see how he develops. I like so far what he is showing.

Lukas Cuda was beautiful I hope she will be all she can be for her owner. They had huge plans for her in the SAR work. The owner pretty much fought his wife for her a little, she wanted Birtee but he had his heart set on Cuda girl as soon as he tested them. He knew the better dog for what he wanted.



by
Ibrahim
on 25 April 2012 - 05:22
He's a beautiful boy and he's going to be a large one, he looks Royal

Ibrahim
by
magdalenasins
on 25 April 2012 - 12:32
The Dark Route lol!
You must be logged in to reply to posts