German Shepherd Dog > My dead dogs photo used in a For Sale add on Craigslist (44 replies)
by
GSD Admin
on 20 April 2012 - 20:39
Rick seems to be busy selling cars with his buddy Jay. I searched the number 313-346-6260 and other cars came up.

http://detroit.craigslist.org/wyn/ctd/2887772856.html

Called Jay and inquired about the car. According to Jay it is at Maxx Automotive in Detroit. I asked about Rick and Jay said he should be there. Boys are busy hussling.



(313) 933-3900

9030 Livernois Ave, Detroit, MI 48204

Serving Tireman and Detroit
by
vomtreuenhaus
on 20 April 2012 - 20:54
Ya'll should be on CSI. "CSI: Universal PDB"

Anyone get the cops involved here?
by
DDRCzechFan
on 21 April 2012 - 00:18
You mock GSDAdmin and I, vomTreuenhaus, but had it been YOUR deceased dog's picture stolen from someone in a foreign country and a native of that country offered to figure out WHY or find more information out about the individual, I imagine your tune would be quite different.

Had I taken the tone implied in your post wrong, I am sorry, if not, try to put yourself in Dogshome9's shoes. You grieve the loss of a beloved pet, only to be told some scammer's using your dead dog to make a quick buck. I wouldn't want to be in Dogshome's shoes for all the money in the world.
by
yellowrose of Texas
on 21 April 2012 - 00:34
DDrCZECH:

YOU ARE HIRED...

\I WORKED as a privat eye back years ago and in Houston we made a healthy sum of money doing just what you are doing..

YOU have it going good...JUST be patient..do not show your hand yet.

Get address and make all kinds of nice compliments and ask to come see the dog...if he hesitates ask him Why his ad is still up..Find out where RICK LIVES.. we now know he is at a garage but you need to find his home location or ask can you meet him at end of his road...get as much as you can so DOGSHOME can send him his MEga SUPERBOWL winnings...lol

Abby Normal...you and DDr SHOULD open a doggie PI service.

Dogshome9 I know will be ever greatful..

Play him until you are ready for the kill...then dogshome9 can send a certified mail letter to th MAXX shop addressed to RICK care of return signature...and demand the picture be removed asap or an attorney such and such will be filing .

Yr


by
dogshome9
on 21 April 2012 - 03:20

Hey you girls ROCK,

Thanks for all that you are doing to help an overseas member.

GSD PI should be your name.


by
DDRCzechFan
on 21 April 2012 - 03:33
I will be further pursing this in the morning, I think my hubby may have found a way to "meet" his GSD...

Not that it should really matter, but should my Nickolis actually get an address, etc...he WILL have a LOADED Derringer on him. Yeah, it's my gun, but it's small and easy to hide.

I will be calling again tomorrow (from my house phone this time, instead of my cell phone) to see if I can extract anymore information.

I will say this, I have ONE thing on my side...my voice. Studies have SHOWN that heterosexual males respond more positivly and openly to a female's voice, and vice versa for heterosexual females. If I can use my "femine wiles" per-say to lure this scum into a false sense of security, and perhaps trust that I'm a "innocent, simpleton woman" he **MAY** be more willing to divulge valuable information.

Thank you to my dear sweet husband for talking me into taking all of those psychology classes in HS.

YellowRose, thank you for your compliment, I simply seek justice. Like I said, if this crap had happened to me, I would hope that others would rush to my aid if I were unable to take care of the situation myself, due to geographical locations, etc...

Well folks, it's 11:30pm, I'm off to bed, Beau's passed out and hubby's due to be coming home Monday or Tuesday, so I'll try my best to get some sort of closure THIS weekend.
by
Dawulf
on 21 April 2012 - 04:28
This is gettin' good...

DDRCzechfan.... Kick some ass!!!
by
GSD Admin
on 21 April 2012 - 04:37
ddrczechfan,

These are used car salesmen/husslers and they dont play by the rules. Here is an example, we busted a member using 2 names their excuse was it was the neighbor down the street stealing their wireless. Really, and they just happened to show up on this site. You will IMO get no where with these clownes and my suggestion is to report them to every site that they post on and possibly the BBB, anything else is putting your life in danger.

We have to be PIs in doing this as there are plenty of people who are really whacked and then we have the great members who just want to fight every move we make. While we are trying to keep the site safe from the weirdos.

Please be safe, these people are husslers and scum and don't care about people. They are in it to survive and stepping in their way can be deadly or lead to harassment.

I blocked my call to Jay and I suggest you do the same from this point forward. They are slow on the uptake if you play it right. After all they are so desperate they answered a blocked call.
by
dogshome9
on 21 April 2012 - 06:06

Yes, Please be careful, don't do anything stupid.


by
Abby Normal
on 21 April 2012 - 07:34
DDRCzech

This is incredible. This guy has no dog to sell, a similar scam to the ones I see in the UK. The difference is this guy is traceable ?!?!? Moron.

Keep playing the interested 'lady' buyer. Have you taken him down the path of what is the pedigree etc yet? GSD Admin is right. You need to keep yourselves 'safe' and totally untraceable from this guy.

I have 'insisted' on seeing the dog in scamming ads here, and it is laughable to see the lengths that they will go to to avoid this because they have an invisiible dog! If in this case you get an agreement - make the appointment but don't go. Stand him up. Don't get that closely involved, he probably wouldn't be there or will have given you wrong information anyway.

All you can really do at this point is to 'wind him up' before you tell him what you know, and what you think of him and that the owner of the dog whose picture he is using is going to sue him for breach of copyright or whatever. That is unless you actually want to conduct a 'sting' operation and intend to part with some money as a deposit and then report him for fraud to the police!

Then as YR says, let Dogshome9 send a certified mail letter to him.

...Waiting to hear the next instalment - but be safe.

What a moron!



by
DDRCzechFan
on 21 April 2012 - 10:31
Thank you for the concerned posts/pms

Just to claify, I, myself, have NO intentions of driving ANYWHERE, or giving ANY personal information of MINE or Nick's to this guy or "JAY" - I suppose it came across that way in the post I made, what I was saying and will now clairfy, my husband goes to Detroit regularly for work (He's a long haul truck driver) he "pokes" around the neighborhood, so to speak. When he IS down in Detroit (it's about an hour or so south of us, thank god!) he is always prepaired, you'd be surprised how useful a 5th wheel puller is to detur a crack head trying to steal a load. (see my picture of a 5th wheel puller below)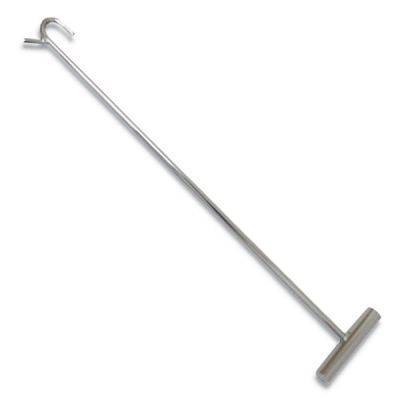 That being said, neither my husband, or myself are stupid. And no, I'm not saying anyone was implying this. We block numbers when calling on Craigslist ads all the time (underneath the scammers, there is occasionally a good item or two to be purchased - found a very beautiful King sized bed frame, solid wood and cast iron details in the headboard for $50 the other day)

The point I'm making, I'm not going to physically go to meet this "Rick" or "Jay". Truth be told, yes, because I AM a female. There are many tough as nails female cops out there and other ladies with similar professions - I am NOT one of them and certainly not disilliusioned into believing I am.

I am simply trying for an address. Not sure if from AU dogshome9 would be able to send a certified letter or not, but at least I can try to get that information for her. I think GSDAdmin really stepped up to the plate also, by providing where the "two" people work. That is a start.

Anyway, please, don't worry about my safety or wellbeing here, I'm not reckless, believe me, I don't want to get hurt or stalked more than anyone else. If he starts acting "funny" and I mean more than the pathetic lies he's spinning, I will back out. I'd like to see justice served for Dogshome9, but not at the cost of my life, or anyone elses.
by
vomtreuenhaus
on 21 April 2012 - 11:02
DDR, i wasnt trying to mock anyone...I was trying to "lighten the mood"...sometimes it helps get through horrible situations if you can smile. I personally think you guys did an amazing job...

and dogshome9 also refered to you as "GSD PI" was she mocking you too?

Sorry if you took it the wrong way. I never meant harm.
by
DDRCzechFan
on 21 April 2012 - 11:14
Thank you vomTreuenhaus, as I said, if I had taken the tone wrong, I was sorry, it's so hard to gauge someone's tone or intent on the internet, emails, text messages, etc...

It was a long day, I was on edge and a bit snappy when you were apprently trying to issue a compliment, and for that, I will admit, I am sorry.

Anyway, as to not derail the thread, thank you again, sorry I took your compliment out of context.
by
Stumpywop
on 22 April 2012 - 16:22
Any more news on this? What happens next?
by
DDRCzechFan
on 22 April 2012 - 22:06
UPDATE:
Called and spoke to Rick, he asked if I was the lady who had called earlier, when I replied yes, he said, "I have no time for tire kickers, get lost bitch!"

No offense Dogshome9, I'm done, this "Rick" guy is getting threatening and I'm not feeling safe enough to push further. I apologize, I wish I had done more, and for that, I'm sorry.
by
Abby Normal
on 22 April 2012 - 22:14
He sussed you. I think it's clear what kind of person you are dealing with and enough is enough. Dogshome can still send a mail letter to him at the address of the garage about the photograph.

Perhaps though you could contact Craigslist to get him taken down, with the evidence of a stolen photo and therefore a fraudulent ad? or give the details to Dogshome so she can email them to do the same thing.
by
dogshome9
on 22 April 2012 - 22:21

Hey DDRC,

Most definately no offence taken, those kind of guys scare the shit out of me.

You gave it a go for me, a person you don't even know so I am extremely grateful.

I will try and have him shut down with Craigslist.






by
Ramage
on 22 April 2012 - 23:35
I would send an email to the guy telling him he needs to remove your pics of your dog. You'd be amazed how quick they are to take down the pics. Then, I'd post on CL about how he is using fake pics.
by
Shapes
on 23 April 2012 - 03:35
Mmmm dogshome9 now you know what it feels like for someone to use a pic that you never give permission for them to use. Just remember what these people are telling you aboutbwho's property the pics are and what can be done about it........
by
dogshome9
on 23 April 2012 - 08:24

Yes but one was given freely without conditions applied ( as said by a lawyer) and the other was stolen. BIG difference.

If you really thought that the x-ray would never be shared then Shapes you should never have given it away:






You must be logged in to reply to posts