German Shepherd Dog > Why dont more people xray their GSD puppies hips at 6-7 months of age (20 replies)
Why dont more people xray their GSD puppies hips at 6-7 months of age
by
jcmeyer
on 17 April 2012 - 22:01
when a TPO can be performed if the dog indeed has hip dysplasia. Screening the dogs at a young age can definitely help prevent severe arthritis at a later date. I suspect the police and military screen their candidates in this fashion.
by
swingfield
on 17 April 2012 - 22:45
as a vet tech.. I know that their hip view xrays can change with age(ligaments, muscle,growth plates etc).. I also get my prelims done at 8-10 months old, as to determine how much training and money I want to put into him or her! So getting a baseline at that age and then for OFA to assure they are breeding/show quality is always my goal!!
by
jcmeyer
on 17 April 2012 - 23:38
Would you do surgery on a seven month old with one normal hip and one subluxated? It has been recommended to me by an orthopedic surgeon who suggests that now is the time to do it in order to prevent arthritis down the road.
by
Jenni78
on 17 April 2012 - 23:51
NO! It would depend on how bad it was, but that is WAY too young to say a dog with only some subluxation needs surgery imo. How bad is it? No remodeling? Just subluxation? Let's see the xrays.
by
jcmeyer
on 17 April 2012 - 23:55
I sent them to your email address....the puppy was lame rf and was being radiographed for that problem so we took pictures of the hips as well.
by
Jenni78
on 18 April 2012 - 00:56
I wondered who the hell sent me that. LOL

Right hip is not great. I would put the dog on Adequan, swim her as much as possible, keep impact exercise to a minimum (keep her on grass or dirt or sand etc.) and redo the films later on to see how the hip is faring.
I have seen worse hips treated in that manner. They have never gotten worse to where they caused the dog a real problem.

Elbows...not sure. I'm having a hard time enlarging the films on my computer to see more detail, but nothing jumped out at me as the cause for lameness. When I tried to go back and look harder (I only skimmed the elbows the first time) it told me my session had timed out and wouldn't allow me to look.
by
jcmeyer
on 18 April 2012 - 01:18
The boarded radiologist said the left elbow was normal and the right elbow showed sclerosis of the ulnar trochlear groove consistent with elbow dysplasia. The surgeon called it "elbow incongruity" he operates on a number of police dogs. The hip has been noted by four veterinarians and it is just a question of whether or not to do the TPO to prevent future osteoarthritis. My understanding is that even with surgery on the elbow arthritis is likely to develop. I had wanted to use her in agility but I certainly dont want to hurt her. Thanks for looking at the rads.
by
Jenni78
on 18 April 2012 - 01:29
I wouldn't do surgery on that hip. As for the elbows, I don't know; I don't think it's bad enough from what I saw that I would do surgery, which will still mean she'll have arthritis. When it's a case of incongruity, there can even be improvement with age on occasion.

Here's a set of hips belonging to a totally sound dog: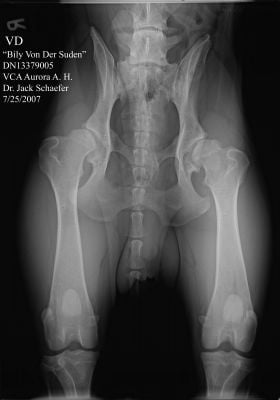 by
jcmeyer
on 18 April 2012 - 01:34
My wife is really adverse to doing surgery especially having to crate and control a 7.5 month old puppy for 3 months. I am certain there are plenty of dogs running around with multiple arthritic joints and competing. I work with horses and it amazes me how they can perform with some of the pathology they have. One question I have, do you think that since the hip and elbow are unilateral that the cause is more likely trauma than genetic?
by
jcmeyer
on 18 April 2012 - 01:35
Sorry to keep bothering you but do you have any suggestions on swimming at home? We dont have a pool but I was wondering about a large water trough or the like.
by
Nadeem6
on 18 April 2012 - 01:44
For me personally i didn't feel the need to spend the money to do x-rays on my dog since he showed no joint issues at that age. I will do them at some point but more for personal knowledge. If there are issues now then we can deal with it and he is still very young.

I know some breeders have a warranty so i understand if one wants to do the x-rays early on but i wasn't too worried about it much then.
by
Nans gsd
on 18 April 2012 - 02:15
You can take a look as early as 4 months; if they look good at that age you can proceed ahead with your training program, if they look bad at that age then you might want to change up your training program to a light duty program, no jumping and try to save those hips. That is my philosophy. Unless there are no hip sockets, I usually choose to proceed ahead with whatever I had planned to do with the pup. If they look really bad, I keep the dog and watch them. If they are really, really bad, sometimes I would consider placing the dog in a pet home with restrictions and light controlled exercise with the understanding known by the new owner of the condition. Hey, it happens, lets face it but usually I like to wait to at least 6 months to make any final decisions and I think at 6 months you can see what the future might bring. BOL N
by
EuroShepherd
on 18 April 2012 - 04:57

I wouldn't do regular x-rays at that age unless I really suspected something was wrong. I would certainly consider PennHip though, if I had the money.

I would never consider joint surgery (unless it was something like bone cancer or broken bone) on a dog that young of age.
I had a GSD who was mildly dysplastic in one hip, never once did it bother her until after she turned 13. She ran, she swam, she jumped, she did obstacle courses, etc. Exercize is VERY important to managing joint problems. Even dogs with great hips can become dysplastic/arthritic from poor exercize.
Under 12 months old I don't do jumping with my dogs (unless they are jumping UP onto something from which they can walk down off of, it's the jumping DOWN that can cause problems) Swimming and trotting on a dirt or grass surface is the best exercize. (too much trotting/running on hard surfaces not good.)
How big is your yard? can you get an above-ground pool?
by
jcmeyer
on 18 April 2012 - 16:00
I find it strange that so many people are reluctant to do a surgery that would prevent future osteoarthritis which can only be managed once it occurs.
by
VKGSDs
on 18 April 2012 - 16:44
I always prelim at 6-7 months. Now so far my dogs have been OFA Good and A-Normal so I haven't seen anything scary at 6 months or had to make any major decisions. But with the amount of training I do, I'd like to know sooner rather than later how well the dog is put together. I don't send in prelims since I have a pretty good idea of what I'm looking at myself, plus the opinions of orthpedic specialists. For me it's worth the $120 for the peace of mind.
by
Ramage
on 19 April 2012 - 01:19
I don't x-ray until 12 months minimum. Noreason to do so otherwise, unless I suspect a problem.

As for surgery, I would not do it unless the dog is in discomfort. Plenty of dogs move around and are pain free, even with bad hips. Best thing you can do is keep them in shape and well muscled. The muscle helps keep the hips working at their best. Yes, swimming is great.

I would look into Hyaluronic Acid for a good joint supplement, too.
by
TingiesandTails
on 19 April 2012 - 02:23
I follow OFA recommendations and get my dog xrayed with 24 months. Before that age, OFA doesn't accept xrays for certification as our dogs mature until 24 month (or later) and muscle firmness should be best at around 24 months.

by
Blitzen
on 19 April 2012 - 15:03
Some breeders start training puppies when they are very young. Tracking, bite work, retrieving, some OB, agility exercises that require no jumping. Knowing hip status as soon as possible is a benefit for the breeders and the dog. At 4 months most of the "bad" hips and elbows can be identified and those dogs placed accordingly. They can be rexayed at 12 months for SV evaluation and again at 24 months for OFA.
by
SitasMom
on 19 April 2012 - 15:40

with Sita, I had her x-rays taken at 8 months ($360), the vet said "trouble" so we went to a specialist who took more x-rays ($1000) and suggest surgery ($5000). i spoke to another specialist ($500) who suggested that we wait and see. sent her x-rays to OFA dr. ($100) who said mild dysplacia due to laxity, with no remolding.

i spoke to many experienced GSD handlers and trainers they gave me their experiences and told me how much pain she would be in due to the surgery and that since she wasn't showing any signs of lameness that it might be best to wait and see.

i sweated bullets for 14 months, changed her exercise routien to include no jumping and lots of swimming and time on soft soils and sand. at 2 years we re-did the x-rays ($360) and she was find. OFA graded her as good.

maybe this is many people don't take x-rays of their puppies.

what made me decide not to do the sugery was not the money, it was the horrible pain from the surgery and its not a guarantee that it would fix her. come to find out, she was fine.




by
BlackthornGSD
on 19 April 2012 - 16:21
I don't do prelims under a year unless signs of trouble appear because too many dogs are kind of "OK" -- not great looking, not terrible looking, the joints aren't fully ossified, there's some laxity--so you end up wanting to do another set of x-rays anyway. And then, often, the hips are fine.

As far as PennHip, I don't trust its results, especially for young GSD who often show a fair bit of laxity when they are young. And I think there's a risk of *causing* damage to the dog, especially if the hips are lax or are not the best formation.

Christine
You must be logged in to reply to posts