German Shepherd Dog > Raw Feeding, What do you think about this? (17 replies)
Raw Feeding, What do you think about this?
by
vacha1
on 12 April 2012 - 13:54
Hi everyone, i have been speaking to a poster on pedigree database and she suggested that i get this looked at by a nutritionist, and i will be doing that, but i would like everyones opinion also.
is there to much or to little calcium?
any information will help

thank you in advance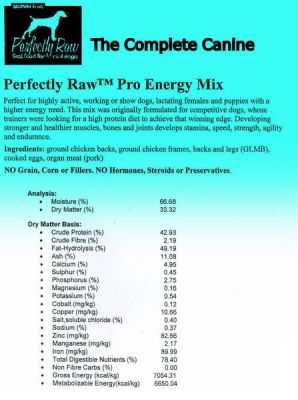 by
laura271
on 12 April 2012 - 15:26
Here is the ingredient list from the website (http://perfectlyraw.ca/our-products/pro-energy-mix/):

Ingredients: ground chicken backs, ground chicken frames, backs and legs (GLMB), cooked eggs, organ meat (pork)

No two raw feeders feed based on the same model but I personally wouldn't feed this product.

It strikes me as being high in inexpensive boney chicken parts and low in meat (minimum 50% bone based on these parts). If you want to feed boney chicken parts then you could do this cheaper by buying chicken backs/frames in 50 lb cases from a poultry supplier. I also try to minimize the amount of ground food that I feed since my dogs' teeth gets tartar build up very quickly on ground (other people's dogs might be different). I also wouldn't feed a 100% chicken based diet.

You can use the USDA Nutrient database to look up how much bone (ie. refuse) is in chicken parts.
by
joanro
on 12 April 2012 - 15:40
The biggest problem I see with this is the pork organs. If raw, I think that's not good. My vet advised me not to feed pork at all, especially not raw. Too many parasites. When I butcher a hog, the wild critters get the stuff I don't eat, so I prefer ruminants. That way the dogs get tripe and organs, etc instead of so much wast as with pork.
by
laura271
on 12 April 2012 - 15:57
There is debate surrounding whether trichinosis and pseudo rabies from feeding raw pork is still a "real" concern in North America. Many raw feeders do feed raw pork (usually due to the low cost) but I feel uncomfortable and so do not. I don't care if I'm being irrational on this issue.
by
joanro
on 12 April 2012 - 16:11
I don't think you're being irrational. For me, if my vet, who I've been using for twenty-five years, tells me don't feed pork, then I follow his advice. There are too many alturnatives to take a chance of getting my dogs sick. I'd rather use a fresh road kill deer, than pork.:)
by
mollyandjack
on 12 April 2012 - 16:32
Ok, you are definitely more likely to find the Trichinella spiralis parasite in wild game than in supermarket pork. (though I should add, not likely in deer meat.) However, pastured pork will probably have a higher percentage of meat infected with the parasite.
by
vacha1
on 12 April 2012 - 16:36
thank you for your comments so far everyone,
i should have said before exactally what i feed my dogs.
my dogs diet does not only consist of this product, i also feed beef twice a week, turkey necks, tripe(everyday), fish, and venison when it is available, and also i alternate between liver,kidney,tongue(beef)
I have bought chicken backs and you have to buy them all frozen together, thaw them to get them apart, and then refreeze them as i feed everything frozen and i just dont like doing that with chicken.
if anyone else has anymore advice i would love to hear it.

thanks
by
LadyFrost
on 12 April 2012 - 17:59
vacha...try it...it may do wonders for your dog, it may not work at all...
by
joanro
on 12 April 2012 - 18:31
M&J, that is why pork needs to be cooked thoroughly. If anyone has had the opportunity to have pasture raised pork, they would probably never eat factory farmed pork from the grocery store again. Same goes for any other meat.
by
uvw
on 12 April 2012 - 19:36
in case this helps anyone...

Freezing - Experiments have been performed to determine the effect of cold temperatures on the survival of T. spiralis in pork. Predicted times required to kill trichinae were 8 minutes at -20° C (-4° F), 64 minutes at -15° C (5° F), and 4 days at -10° C (14° F). Trichinae were killed instantaneously at -23.3° C (-10° F). The U.S. Department of Agriculture's Code of Federal Regulations, requires that pork intended for use in processed products be frozen at -17.8° C (0° F) for 106 hours, at -20.6° C (-5° F) for 82 hours, at -23.3° C (-10° F) for 63 hours, at -26.1° C
(-15° F) for 48 hours, at -28.9° C (-20° F) for 35 hours, at -31.7° C (-25° F) for 22 hours, at
-34.5° C (-30° F) for 8 hours, and at -37.2° C (-35° F) for 0.5 hours. These extended times take into account the amount of time required for temperature to equalize within the meat along with a margin of safety.


info from: http://www.aphis.usda.gov/vs/trichinae/docs/fact_sheet.htm
by
mollyandjack
on 12 April 2012 - 20:09
Good post uvw. One thing I've worried about with pastured pork (If you're feeding factory farm pork you really have other problems, as mentioned, and it ain't the parasites) is whether or not the variant of trichinae parasite found there is the same as the freeze-resistant type found in some wild game.
by
laura271
on 12 April 2012 - 22:36
When I started raw feeding, I did a lot of reading on the incidence of trichinosis and pseudorabies in North American swine herds. For me, pseudorabies or Aujeszky's disease was the line I wouldn't cross. Pseudorabies can be transmitted to dogs from eating contaminated pigs; commercial pig herds can be infected by diseased feral pigs. The risk factor is too high for me but I understand that others don't share my squeamishness about pork. I even have a freezer full of organic Berkshire pork raised by my brother-in-law (who grows all the feed the pigs eat) and I still can't feed raw pork. I said I was irrational about this topic. :)
by
Jenni78
on 13 April 2012 - 00:12
Anyone remember the formula to convert percentages from raw (with moisture) to dry (as if it were kibble)? My concern is how bone-heavy this product is and the high calcium...but not remember the conversion, I may be overreacting. I would not feed a large breed puppy that much bone, personally. I stick to around 10% bone and try not to go over 1% calcium to avoid skeletal abnormalities, particularly elbow dysplasia which can be caused by excess calcium, as I just posted in another thread.
by
joanro
on 13 April 2012 - 00:25
Does any body remember what Ian Bilinghurst says about the ratio in "Give Your Dog a Bone" ? I have a copy of that book, and I'll look it up when I have a minute.
by
Jenni78
on 13 April 2012 - 01:36
I used to have that book, too, but I have had better results with feeding prey model than BARF, so I haven't paid much attention to Billinghurst in quite a while and don't remember.
by
joanro
on 13 April 2012 - 03:29
Jenni, I bet his feelings are hurt;)
by
Nans gsd
on 13 April 2012 - 15:09
I think safely you can feed 5% bone, that is what is recommended, however, if it is more one day and less the next I feel that is also acceptable; as long as it is not consistently TOO much bone. Variety is the key to success in raw feeding and variability with meats also needs to be considered and fed; remember it is not daily nutrition, it is nutrition balance over time; say like over a one week period. Their bodies take what they require and they dump out the rest. So it is balance over time that is most important. Nan

As far as the above mixture, I think it looks good, how is this stuff stored? Frozen, freeze dried, dehydrated??
You must be logged in to reply to posts