German Shepherd Dog > DDR male import to US original owner lost papers/documents - PLEASE HELP! (33 replies)
DDR male import to US original owner lost papers/documents - PLEASE HELP!
by
johannagator
on 05 April 2012 - 17:58
Hi,

I was given an amazing GSD in Nov 2010 by my friend who had him imported from Europe about a year earlier. I've gone down so many paths trying to obtain assistance from someone (ANYONE) & have told this story so many times I'm almost in tears while I type this.

My goal is to obtain his papers, hopefully find a trainer to work with, possibly breed him to help continue the line.... However my primary goal is to help my boy achieve/improve his natural talent & abilities. It breaks my heart to know that I have such an amazing talented dog from a fantastic line (so I am told) who is not living out his full potential.

I will try to summarize the highlights of what I know about him and what I don't know.

Breed: GSD (DDR)
Name: Official unknown but call name is Socke (unsure of the correct spelling). I was told his call name was derived from his official name.
Color: Sable
Age: Approximately 3 years
Sex: Male, Unaltered, never bred
Tattoo: Right Ear (not in any databases that I have found)
Temperament: In my unprofessional opinion - VERY fast learner/trainable (highly intelligent), displays natural protective stance/instincts in home & yard with sudden unknown strangers or animals (until he is told it is ok), respects our indoor cat as the Alpha of our pack (LOL), very social & friendly in public. I know I'm biased but those are honest (albeit unqualified) observations.
Language: Understands & obeys both German & English commands
American Kennel: US K-9 Command Dogs in Atlanta, GA (no longer in business and no contact information available).
Former American Kennel Owner: Possibly James (Jim) Salva or his son Frank Salva.
Former American Kennel Employee or Broker: David Burns helped me obtain some of the information I have listed. I've tried to follow up with him several times over the past year (since April 2011) and have never heard back.
European Kennel: Unknown
European Broker: Sonja (or Sonya) Markowski - David Burns told she came out of retirement for this transaction.

If ANYONE has any advice or legitimate contact information for a willing & reputable source I would really, really appreciate the assistance... and I'm certain my wonderful GSD would also send big thanks.

~Socke's Mom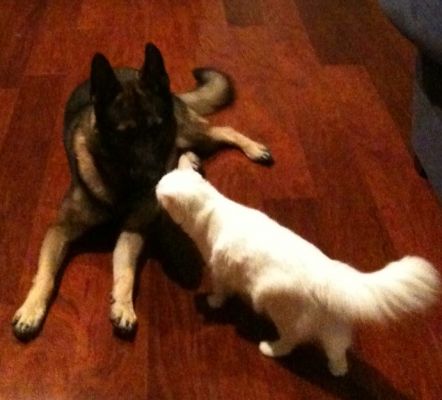 by
gagsd4
on 05 April 2012 - 18:13
Where do you currently live? Mary
by
johannagator
on 05 April 2012 - 18:16
Thank you for the reply Mary (gagsd4)... I'm in the southeast US... does my location hinder or assist with the ability to obtain his papers or contact information for sources that may be able to help?
by
firefly
on 05 April 2012 - 18:17
Most Police dogs don't have papers and live up to their full potential. You were given this beautyful boy, you don't need papers to enjoy him and work him in any kind of venue. Good luck with him and enjoy him.
by
johannagator
on 05 April 2012 - 18:41
Thank you firefly... I agree... however...

My/our circumstances do not afford the ability to just sign him up for classes. Unfortunately - a large portion of the fee that was paid for Socke included professional training by the kennel that is no longer in business. In addition, I don't have the financial means to afford the training classes he needs/should have.

Even IF I could afford the training then what would he do? I was told that no agency or organization (professional or volunteer) at least not in my geographic area will allow a civilian dog to work with them for tracking, SAR, etc... I would have to give them my dog and I would rather not do that.

AND of course there is the matter of his genetic line - he can't be bred if he isn't trained and especially if he isn't papered.

I just want to be absolutely certain that I have truly exhausted ALL avenues before I completely abandon the quest.
by
johannagator
on 05 April 2012 - 18:51
Thank you Ang (czechdog9480)...

When I learned of Sonja's name last year I searched this board and tried all those historical links from 2007 but they either didn't work or never produced a return reply.

I have spent a year "googling" and searching for all of the contacts I listed and it is the same result over and over... old/no longer in service, physical addresses, phone numbers, email addresses, websites or they simply do not respond to my inquires. :(

But I thank you for trying to help.


by
hexe
on 05 April 2012 - 22:23
Call me cynical, but why does this all smell like something fishy this way comes?

That said, if there's a tattoo in the dog's ear, and he actually was an import, what country was he imported from? "Europe" covers a lotta ground. Start by checking with the German registry, the SV, and see if they have any record of the tattoo. They're very good about answering emails. If that fails, then you just go down the list of countries and check with their breed registries. Since there hasn't been an East German Republic for quite a long time now, if he in fact is a European-registered GSD, he'd be registered with one of the breed registries in Germany or whatever European country he was born in.

Posting his tattoo number might get you someone who recognizes the tattoo format--it varies from registry to registry.


by
beetree
on 05 April 2012 - 22:41
It sounds like the papers were never lost. You don't have them for a reason, perhaps? Usually police dogs are not supposed to be stud dogs... that's what I always thought. So your pup, never was eligible for papers. Doesn't really matter unless breeding was always a goal. Then what you are doing would be what I call the "backdoor approach." I could be all wrong, so you can clarify. What does your dogs name mean, and what language is it? Just curious... Socke, do you say SOK or Sok-EE?
by
melba
on 05 April 2012 - 22:43
If your primary goals are to "help my boy achieve/improve his natural talent & abilities" then you absolutely DO NOT need papers for that.
You can compete in just about anything other then conformation events. There are plenty of SAR groups out there who do not require the
handler be LEO, and many are civillian only groups. As a patrol dog, no, you will not be able to handle him unless you are LEO. But there's
Sch... or should I say IPO now, French Ring, Mondio Ring, PSA etc.... agility, herding, flyball, dock diving, obedience, etc.... None, require
registration. The only thing you need papers for are Breeding, which as you stated is not your main goal. If he is not living out his full potential,
then you have not brought him there. There are plenty of opportunities out there, non of which require papers.

If you post his tattoo, some may be able to pin point what breed warden or from which region in Europe.

Melissa
by
Emoore
on 05 April 2012 - 23:00
I guess I fail to see how having his papers would help the situation with you being unable to afford training classes? I'm thinking maybe "live up to his potential" is a euphamizm for "get laid."
by
johannagator
on 06 April 2012 - 00:52
Ok... wow... thank you to those that have offered positive feedback and to those that have not; thank you anyway.

I feel that I should not have to apologize for my "uneducated/non-professional GSD" working knowledge & experience but evidently by not doing so I've failed to qualify for a legitimate request for assistance. Everything that I have posted contains the only information I have been able to piece together over the last 12 months and it has not been easy.

Country/Origins: I do not know where he was born in Europe. I believe he may have been born in Germany or in a nearby country but obviously I don't have much information about him.

Papers: It is not my place to offer any reason for the "how or why" my friends lost his papers except to say they are indeed lost. US K-9 Command Dogs went out of business after the floods in Atlanta destroyed their kennels about 2 years ago so that is not a viable resource.

Breeding: I was told that he is a DDR dog and that it "would be a great travesty to the breed if I had him neutered or if he was not bred at least once." I believe I should at the very least have factual confirmation before making ANY decisions.

Training/SAR, etc.: Honestly, this is yet another area where I am at a total loss. I would love to help him improve & reach his full potential as a working dog and still remain cautiously optimistic & obviously affordable. I'm not too proud to admit that I am most certainly naive. I've been sent down so many different paths by so many different people (breeders, LEO, veterinarians, etc.) that I have no clue of what to believe or expect. I'd love to say that I have met some positive resources over the past year but unfortunately they've been opportunistic & had ulterior motives.

Tattoo: The first three letters I believe are: XBD (although the "B" could be an "8" and the "D" could be an "O" or a "0") Even when I've shaved inside his ear it's still not easy to read. His tattoo ends with a 4 digit number which I can easily read. I've clearly made a few mistakes & errors in judgment of other's "altruistic" character along the way. Given my naivety and the aforementioned unpleasant experiences I don't know whether it is wise to publicly disclose his complete tattoo information or not. I wasn't going to just plaster the single source of his ID/background all over the internet especially without knowing the potential risks (if any). Considering his papers are lost what would stop anyone from taking his tattoo information and fraudulently "claiming" that he belongs to them?

SV: I emailed them today (my 2nd attempt), as well as one of the "regional" SV leaders and have crossed my fingers that I'll receive a reply this time.

If anyone cannot help themselves from mocking me, questioning my intent/wishes/hopes or thinks I'm totally ignorant... I won't argue with you. However - know this... I love my boy very much and I am devoted to doing everything I can within my abilities to provide him with the best opportunities available for him.

Please accept my apologies if I'm being overly senstive but he is very important to me & I've been at this for over a year - I'm exhausted and very discouraged.
by
aceofspades
on 06 April 2012 - 01:16
If you can with reasonable certainty read the tattoo, it sounds like you can get pretty close, try contacting Alpine k9 (Hans Prager....or is it Prager Hans....I'm never quite sure). He posts here quite often. He very well be the man who can help you. If there is anyone else here who can I am sure someone else will offer up a name. I am not a long time poster here so I don't know of everyone but when it comes to DDR dogs I think he may be able to help, or at least point you to a dignities person who could help you. If I am going down the wrong rabbit hole here, someone please correct me.
by
aceofspades
on 06 April 2012 - 01:25
Also. To add. The folks around these parts are pretty much blunt and to the point. Not a lot of kid gloves worn around here. But make no mistake if someone has the knowledge to help you they most certainly will go out Of their way to do so. In your case I would probably have no problem posting the information. Someone here may have a dog coming from the same place and at the very lease be able to help yOu distinguish his pedigree.


As for being a disservice to him not to be bred, that is one mans opinion. Being. DDR dog does not automatically make him breed worthy. There is a lot that needs to be done to, with and for a dog before a distinction of being worthy of progeny can be given. What looks like the perfect dog to you or I may be nowhere near reproduction standards. And without his pedigree it wouldn't be a good idea anyway incase you inadvertently breed him a little too close in line. Chances are slim but a lot of the (popular) DDR dogs in North America have a lot of the same dogs in their pedigrees. A lot of line breeding and in some cases it can get pretty close. You would definitely want to consult someone like Prager before breeding a DDR dog in any situatiOn anyway as you would need to find a female that would adequately compliment him.


Another thought. Would you be open to posting a better picture. Some bloodlines throw very distinct offspring. It might help narrow it down a bit.
by
Hukka
on 06 April 2012 - 01:59
Is the tät. number X-D3352?
by
eichenluft
on 06 April 2012 - 04:55
without papers proving his pedigree, registration, transfer/import papers - there is no way to get replacement papers if you don't even know his registered name or number. No way at all. You don't need papers to train your dog - find a local obedience or agility training group and get started in classes. They are not so expensive. You and your dog would enjoy the training.

without papers, title, hips/elbows, and a known pedigree - he should not be bred anyway. So really there is only one reason to "find" papers for him - to breed him - and breeding him is not a good idea without a lot more on the plate than just a pedigree.

enjoy your dog, papers don't prove anything except what his pedigree is. they don't make him breedworthy.


by
hexe
on 06 April 2012 - 05:17
If you can with reasonable certainty read the tattoo, it sounds like you can get pretty close, try contacting Alpine k9 (Hans Prager....or is it Prager Hans....I'm never quite sure).

Hans' wheelhouse is the Czech lines, not DDR, but I suppose it's possible that he might be able to help trace the tattoo.
by
aceofspades
on 06 April 2012 - 05:28
Crap. I thought it was DDR. My mistake. Thanks for correcting me.


Bummer, he would have been the man to talk to if it were the correct line.


Still might not hurt to try him if hukka isn't on the right track with the full tat number s/he posted in question above.
by
live4schutzhund
on 06 April 2012 - 09:11
First, make sure he has all his teeth, get him x-rayed, test for DM. If any of these things are not in order you are wasting time with the papers. DDR dogs are not that rare at all. Do you have a pure DDR female that is breed worthy?

Lets say you find the papers, get him registered, his hips and elbows check out, he has all his teeth, then what? Breed him because he is DDR? Not enough really.

No amount of emotion regardless of how eloquent you write will justify the reason to breed him. If breeding the DDR line to save them from extinction is what you really want, buy one from one of the many breeders in the US.

If you want one straight from Germany, fly there. You can buy 2 entire litters for the price of one showline titled female.

Fly into Frankfurt, Berlin, or Prague, on average 1000US.

Grab your backpack, a rental car, and head towards Chemnitz, Germany. There are about 12 DDR breeders within 100KM from this town. Open up your laptop and start making phone calls.
http://www.deine-tierwelt.de/kleinanzeigen/schaeferhunde-vom-altenburger-landgerader-ruecken-ddr-linie-a75943175/

Theres more but you get my point, not so rare.

You can fly two puppies to a crate, about 100EU each crate because you flew there.

If you went by yourself would probably cost around 3000EU and you could bring back allot of puppies. Dedicate every waking moment to training them, hope they are breeding quality, health tested, get titled. Then you can save the DDR line.

You seem like a nice person. You also come accross intelligent enough to know better. You want to make a buck off your male. We get it. You should have just simply asked for help with the papers instead of including all the emotional and uneducated reasons why.
by
Hukka
on 06 April 2012 - 12:50
According to the OP we have a match with the tät. number and know who that number belongs to. They can post the dogs info if they want to. Gave them Sabine Leib's info so they can find out if they can get papers for this dog?
You must be logged in to reply to posts