temperament question
by
guddu
on 05 April 2012 - 01:59
I got my WL puppy at 9 weeks from Czech Republic, and was quite pleased with his nerve around vacuum cleaners, surfaces, loud noises etc. At 11 weeks took him to the park edge where he could see and greet passerbys.
1. His initial response to strangers (first day) was to be wary of them, and retreat on the leash. He would even give them a gruff woof. However, if the stranger would want to pet him, he would come forward hesitatingly and then start licking their hands. Is this a sign of so-so temperament ?, or would you not expect puppies to be outgoing and come forward spontaneously. After 2-3 days of socialization on the streets, I took him to Petco (11.5 weeks), where he hesitated to meet first few strangers, but after that was enjoying being petted and taking it in his stride.
2. At Petco he had the opportunity to meet a small-medium size dog (first time), again his initial response was to retreat or be atleast wary of meeting the dog (though I did not pressure him by taking him close to the dog). At no time was he tucking his tail, just did not want to get too close to the dog.

Does anyone remember how their first few socializations were like ?...with more opportunities for socialization will he improve ?.
by
Felloffher
on 05 April 2012 - 03:09
I wouldn't be to worried about it, as long as the pup isn't going into full blown fear mode. He's young and pups go through different stages mentally as they develop. We always hear people talking how their pup is fearless and never shows any signs of being uncomfortable. There are pups like this, but I would say most pups show signs of fear or stress in different situations as they mature and many owners just don't notice. The signs can be as subtle as ears turning or pinned back or as obvious as a pups refusal to move towards people, objects and obstacles. The big thing is that the pup gets over it quickly and the owner doesn't make a big deal of it. Act like it's no big deal and move on. Don't reinforce the pups behavior by comforting it and don't force the pup to do something it is having an issue with. Come back to the problem another day and try it again, most just get over it. If one issue becomes a continues problem then start to look at as a concern.

In your case don't force contact with strangers on your pup if he doesn't want it, let him approach people if he chooses to. Some pups are outgoing and social while others are neutral or naturally suspicous of people. Post his pedigree and it could give some insight into what type of temperament your pup may posses. There is no cookie cutter answer, like people, not all dogs are the same.
by
brynjulf
on 05 April 2012 - 04:18
Felloffhers response is bang on :) Recovery is way more important than the initial response. Sounds like your pup is recovering quickly. Your reaction is perfect. If you say it's OK he will read your language and go with the flow :)
by
Bundishep
on 05 April 2012 - 04:50
While your pup didnt show the idea response he didnt show the worse reaction either,sounds like he is somewhere in the middle,if you got him for high a confident working dog he may come up lacking as time goes on,but you are doing the correct thing to expose him to as much as you can to build his confidence the best you can and let him know that the big world out there is not out to get him.A hard extreme confident dog who has no fear is sometimes harder to train so for your dog it could mean he may be a bit easier to train as time goes on.
by
Berniemac
on 05 April 2012 - 15:21
When Ryder was a puppy he was all to happy to meet people. He would wildly wag his tail and even start to pee. Now, at 14 months, he picks and chooses who he wants to be friendly with. He won't be agressive, but he will let someone know to back off if he doesn't approve of them. He seems more accepting of women than men. He can walk and pass by everyone, kids, bikes, whatever, but he doesn't like it when someone just approaches him and starts to talk to him. I tell people to just let him approach them and smell them first. He is o.k. after that. He want's to make the first move if he doesn't know you. Your puppy sounds o.k. Keep taking him out and have fun!
by
Rass
on 05 April 2012 - 16:52
A dog that pees when greeting people is exhibiting lack of confidence.

Just sayin'!
by
melba
on 05 April 2012 - 17:05
Just because a puppy pees when greeting people (yes, lack of confidence) doesn't mean it will grow up to be
a dog that lacks confidence. It all depends ultimately on genetics and how you deal with it. I have had many dogs
that were submissive pee ers as puppies grow up to be confident police K9s!

No, the reaction is not ideal, but his recovery from the situation IS :)

Melissa

Edited: Brain and fingers not cooperating..
by
guddu
on 06 April 2012 - 00:29
Felloffher and others:
Thanks for your comments, the pedigree is reasonable, http://www.pedigreedatabase.com/german_shepherd_dog/dog.html?id=744693
What is surprising is that in the first week or so at 9-10 weeks age, he was completely fearless in a variety of situations. He has been changing almost daily, but at 11.5 weeks he avoids strangers (first a gruff woof followed by tail wagging and licking them if they come closer) and is afraid even off small toy breeds.

- Some czech dogs are described as "naturally suspicious of strangers", what does that mean,
- Re: fear of other dogs, is that likely to go away with socialization.

I am not sure if this is the "fear phase" that he is going through, or perhaps a weak temperament.



by
Felloffher
on 06 April 2012 - 08:06
Guddu,

I don't have any personal experience with these particular Czech lines, so hopefully someone that knows them well can give you some first hand knowledge and some sound advise.

Dogs that are naturally suspicious of people is a trait maintained in several lines and it's not exclusive to Czech lines. It's a good thing in moderation and is usually combined with defensive drive. There are so many other variables that determine how a dog reacts to people, but generally speaking they aren't social towards people outside their pack and they look at people as a potential threat. Just like any other trait it can be moderate to extreme. IMO a dog with this type of temperament must have solid nerves without any exception and if they don't it's a reciepe for trouble. From what I've experienced with some of my own pups is these instincts start kicking in around 3-4 months of age. I personally think as they develop it's a lot for a young pup to handle and in turn they are not sure how to react initially. Around 8-10 months old things start to balance out (if the dog is solid) as they gain experience and start to mature. Genetics play a big role, but a handler needs shape the dogs behavior begining very early on. Training has to be very clear with a high level of obedience and control. I like this type of dog because they can do well in real protection work. I'm sure some will disagree with what I've said, but this is the best way I can explain it from my own experiences.


i


I'm not saying your pup will be like this because I've never seen it before and it's still young. But, I suspect based on the pedigree the potential is there. If you're really concerned talk to the breeder and explain to them what's happening. They should be able to guide you in the right direction. Just remember to have fun with your pup and try to make his experiences positve.

Good luck.


by
Super Para
on 06 April 2012 - 08:50
Nothing wrong with that pedigree, just let the pup grow up naturally, as others have sai don't make issues out of things. Enjoy the puppyhood it docent last long enough lol!
by
guddu
on 06 April 2012 - 11:53
Just to clarify, I am not blaming the pedigree, which is respectable. It just seems everyone else has a super stable dog, with solid nerves. I was hoping to learn how were these solid dogs as puppies. Did they have rock steady nerves as pups, or did that develop later.
by
guddu
on 08 April 2012 - 18:30
Update: At 12 weeks he is fine with strangers, may bark at them but is quite friendly if they wish to come and get greeted and licked. With other dogs, I notice he is quite gruff in his bark (though without hackles). Planning to wait for a week or two before I try to introduce him to a friendly dog.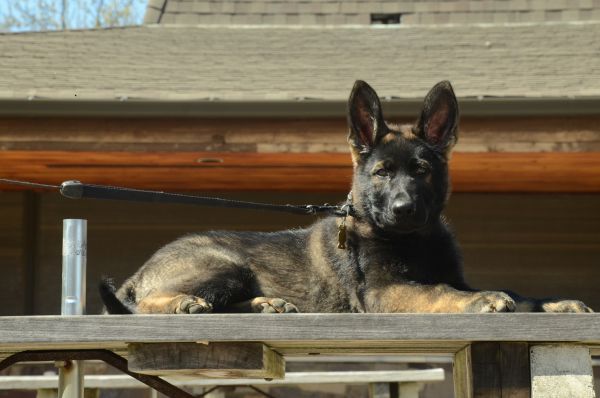 by
joanro
on 08 April 2012 - 21:56
Gorgeous pup!! He'll probably be just fine as your update is positive. Don't push him.
by
guddu
on 14 April 2012 - 01:27
Final update for those who commented: Could't wait, took him to a puppy class at Petco at about 12 weeks age, he was fine after meeting 2 dogs in about 15 min, with or without leash. After meeting the 3rd dog he was playing with the pups and even trying to be playfully nippy with them. Looks like the problem is solved !.

by
Bundishep
on 15 April 2012 - 01:54
I would agree with melba on the pee issue,while i never like to see it, several factors can be involved,sometime genectics,some can be more of a reflex than a fear response,some grow out of it and some do not.
by
ggturner
on 15 April 2012 - 02:17
Handsome fella gudda!
by
desert dog
on 15 April 2012 - 19:44
You have some strong nerved dogs on your pups pedigree. Line breeding looks good. I only saw a few dogs on the females side that I'm not familiar with enough to say that you should have a dog with all the nerve you'll ever need. You have some of the hardest dogs you'll ever find on that pedigree. Nothing is 100%, but your pretty close.
hank
You must be logged in to reply to posts