German Shepherd Dog > Conformation Critique please. (10 replies)
Conformation Critique please.
by
Runag
on 03 April 2012 - 20:33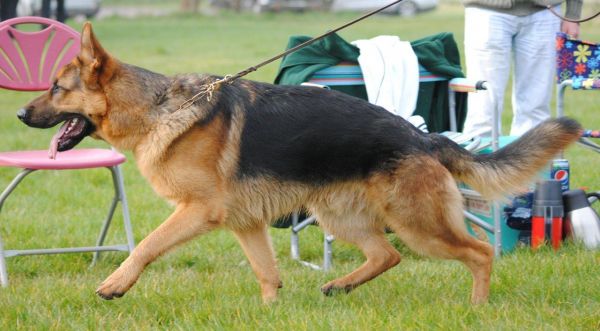 1 year old tomorrow.
by
Ibrahim
on 03 April 2012 - 20:40
Would be easier to critique if you can post a picture in stack

Ibrahim
by
Runag
on 03 April 2012 - 20:47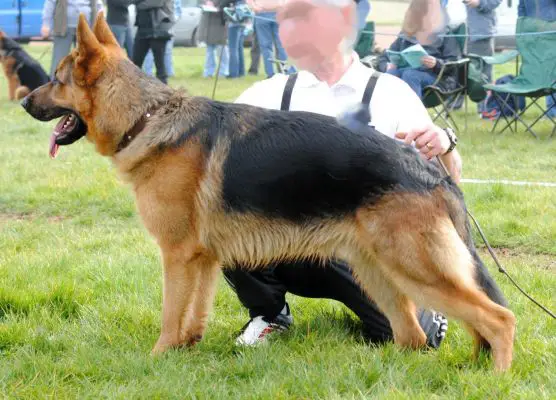 1st time at show.
by
Ibrahim
on 03 April 2012 - 21:04
Nice type, correct proportions, looks above medium size, good size of head, good earset, topline not very clear in 2nd picture, 1st pictures shows a little dip behind withers and high tailset, high withers, steep short croup, moderate rear angulation, little short and steep front upper arm, good shoulder lay, pasterns angle not clear, hocks look good, maybe a bit long. A beautiful specimen, maybe a better picture would do more justice to the dog.

Ibrahim
by
Runag
on 03 April 2012 - 21:09
Thanks Ibrahim
He is quite big - at the maximum I believe. I think maybe I should stick to work rather than show :-)

by
Ibrahim
on 03 April 2012 - 21:12
I have and love both the types, each has its own beauty

by
EuroShepherd
on 03 April 2012 - 22:02
I think he looks like a very nice, moderate structured dog. I don't see any major bad points at all. Perhaps his croup is a tad steep, but just a tad. The dip behind the withers is hardly noticeable. I do agree that the photo angle could be better for more accurate evaluation. But overall this dog is very nice and correct in structure, he is not as typey as some show judges would like to see, but those judges need to stop putting up the extreme angulated dogs.
I especially like the structure of his head, I think he could use a lil more black masking but thats really not a big deal at all. It is a nice, strong masculine head without exaggeration.
by
Supervast650
on 04 April 2012 - 10:35
Apologies for the photo, the ring area was small and I didn't want to get in the judges way.

You could wait to see also the critique published for him as I know it will be published. Just can't remember where, or perhaps contact the judge that you got the facebook photos from directly.
by
Runag
on 04 April 2012 - 16:18
Supervast650.
I would love to see the critique as I was too far away to hear what the judge was saying at the time and didn't know that it would be published. (I'm such a beginner!) I got the photos 2nd hand and not directly from the judge. That however, is a great idea and I will do just that. :-))

p.s. I am delighted with the photos, they are the only ones I have of the show.
by
sonora
on 05 April 2012 - 11:05

Hi Runag,

He looks above medium to large, medium strong , black & tan dog,
that is slighty long in proportions, but still of good type.
Very good head and expression,would have prefered a darker mask,
which would have improved the expression.
Good neck and withers ,a firm back,with a slighty short and slighty steep croup.
The top line shows a slight dip behind the withers in movement.
He has good front angulations, where the upper arm is slighty short and slighty steep.
The hind angulations should not get any deeper, nor the lower thigh any longer.
He shows a good underline.
In movement he will have restricted reach,which is due to his upper arm.

Hope someone post the judges critique of him,so we'll know the differance
of commenting on a photo and the actual dog .
by
Runag
on 07 April 2012 - 17:25
Hi folks,
thanks to all who responded. By request, here is the judges critique.

"1st – MacPhee's – Celtacastus Ventura, 11 months, Black and gold, very masculine and expressive male who is top size, slight nick behind the wither, his croup is of a good length but slightly steep, his hind quarters are sufficient, he has a good underline, upper arm is well angled but could be longer.On the gait he has a good reach, however I would like him to drive more from his hindquarters."


He has had no show training, I had spent all my time trying to get him not to pull - hence, lack of drive in hindquarters! Very well done and a big thankyou to the handler on the day.
You must be logged in to reply to posts