German Shepherd Dog > Insurance, the GSD and the truth (19 replies)
Insurance, the GSD and the truth
by
beetree
on 03 April 2012 - 16:38
Ok, was this a trick question?

After many years with the same bundled insurance provider our agent suggested they could save us money with a new company. I sent in the questionnaire, and when they asked did I have a dog I checked, YES. When they asked what breed, I simply ignored the question.

Ok, so I get a phone call from the new insurance company, the lady wants to come to the house, just routine procedure to take pictures, check utilities, make a few measurements. Well, for a short while there, I thought about switching my dog with my friends Italian Greyhound, just for the morning.

While it sounded like a good, idea, (actually, it still sounds like a good, idea, LOL, I forget why we didn't!) I just hoped for the best.

So, being the fabulous watchdog he is, he barked twice, immediately when the insurance lady pulled into our drive. I let him out, and he goes straight for the car, tail wagging, he is very friendly, especially with me acting all friendly. I'm all smiles for the insurance lady! We make our introductions, I mention how friendly he is, and is she okay with dogs? She says, oh yes, and I say, oh good. Then she asks me what breed he is, and I say, non-chalant-like, oh he's a shepherd, LOL I hope that wouldn't matter, you can see what a nice dog he is, and I never stop beaming. She asks, oh, is he a purebreed? ... Now what would you say at this point???

She says, he-he-he, so you do say he's friendly, and asks to take a picture of him .... I say, uh, well, sure except sometimes he doesn't like to sit still for a camera, I think it is because of that red dot... So, I look at my dog and say, Ok, Sit. And wouldn't you know it, he just plops his butt down and does the automatic "paw" and looked too damn cute.

She laughed then and said, yes, he's very friendly, and didn't bother to take a picture. What do you guys think, are we in the clear... or what?

LOL

by
Ibrahim
on 03 April 2012 - 16:50
Ye yes beetree you're in the clear, don't you worry, both of yaa are friendly and she made sure of that, Yaay a friendly GSD & insurance policy go hand-in-hand, you're in the clear, does that mean we get a treat, maybe some sweets or home made cookies!!!!!

by
GSD4dogs
on 03 April 2012 - 17:39
I would assume you are in the clear or she would have said anything. We switched a few years ago and I was honest about the breed. We had three GSDs. All well trained and impressive so when they took the pics, etc it was routine. all the dogs came to say hi.

I also always do a CGC (canine good citizen) test with my dogs so I can show the test form if needed. I never mention that I do schutzhund or IPO or whatever we are calling it these days.


by
Ninja181
on 03 April 2012 - 18:20
My dog just loves the insurance man. Here he is trying to get the insurance man out of the tree so he can kiss him.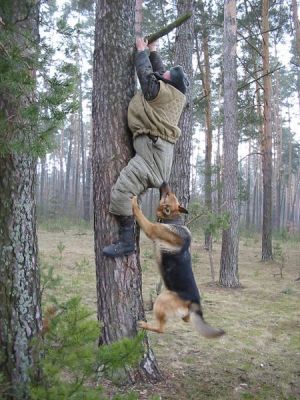 by
Ibrahim
on 03 April 2012 - 18:22
Lo Ninja

, if I were in GSD Admin. place I would name you the man of the month, lol.

Ibrahim
by
Ninja181
on 03 April 2012 - 18:27
Hi Ibrahim!

He almost named me "man of the month" a while back. But it wasn't for having a sense of humor. LOL


by
Ibrahim
on 03 April 2012 - 18:31
Hi to you Ninja, Hi to GSD, Hi to Administration, Hi to all members, beautiful day to all. And now back to topic

by
starrchar
on 03 April 2012 - 18:33
Well, if the company has breed guidelines (no GSDs, bully breeds, etc.) I imagine she wouldn't have wasted her time and if they base it on the individual dog I think you guys probably passed with flying colors :)
by
Sunsilver
on 03 April 2012 - 18:42
My insurance company, and the one previous to it, considered my dogs an asset, under the heading 'Security/Alarm System'




by
momosgarage
on 03 April 2012 - 18:56
Just like GSD4dogs

I also do the CGC and turn it over. But when handing in the paperwork I also include thier CD title and a letter from my club stating all attendence on member training days (generally spanning years). I figure nobody turns in that much documented training history, let a alone a low level judged obedience title. I have also noticed over the years that unless you have a traditonal black & tan with a saddle, very few people realize its a GSD anyway. Bi-color and black GSD are always assumed to be "mixed breed" by the general public, while white GSD are assumed to be Husky/malamute mixes.


mixes


Although I'm not sure what kind of reaction a sable would get.
by
EuroShepherd
on 03 April 2012 - 19:54
I personally wouldn't deal with any insurance who discriminates dogs by breed or size.
I have always had State Farm, and they don't care what breed I have, how many I have and whether or not they have had bitework training.
by
Felloffher
on 03 April 2012 - 20:57
With insurance companies it's aways best to be truthfull, I don't want to give them any reason to deny a claim.
by
momosgarage
on 03 April 2012 - 21:52
This thread reminds me of another issue with insurance. Is a "Beware of Dog" sign a liability? According to one of the articles I posted above, it is.
by
yellowrose of Texas
on 04 April 2012 - 02:40
First of all.....GSDADMIN>>>>>>>

I have a DASHBOARD !!!!!! on firefox....WHAT DID OLI DO??

I did nothing on this end........

Beetree:

I hate to BURST your BUBBLE>...but it is not her decission...just because she said nothing..THE UNDERWRITERS at Insurance Headquarters have the say so...SHE submits it.. I would never allow any insurance agent to take pics of any of my dogs....period..no need..
Invasion of my privacy..

AND I certainly would not answer any questions like IS HE PUrebREED??

SO with that in mind, just get ready to look to State Farm or some other company if needed.

THE word German Shepherd is DOG alert and dog of Agression and DOG with danger to all insurance companies but a very few.

LET us know,,,but just do not ever interview your dog to any insurance com.. DOG took a day off and is at grandmas...AND no it is not trained nor ever put a sign up for any insurance agent to see that says


BEWARE OF DOG!!
IT is not about not telling the truth , it is being Smart enough to not tell your business AND not matter how nice your agent may seem ,he is not in control..I learned by many years of a business owner, home owner, car owner , that Insurance wants your money asap...but they do not always give you back WHAT You thought you paid for, nor will they STAND up for you , if HOME underwriters put a FAT ....NO on the application.

Yr
by
beetree
on 04 April 2012 - 12:02
I have three BEWARE of DOG signs, oh wait, make that two, I think one finally fell off or rotted away... we'd put them up for our crazy brindle rescue, originally, who had no problem biting people who had the audacity to walk in front of our property. I do believe it was a suggestion by the police, even...can't remember exactly, it was a while back.

And dear Ibrahim, you gave me such a laugh at your suggestion of "(PDBMember) or rather, Man of the Month". I love the idea! The fact you nominated Ninja as the first recipiient still leaves my eyes streaming with tears of laughter.

Ninja, what can I say your reply was ... pure Ninja! LOLOLOL

YR: I guess I just have to hope that her not taking the picture was a good sign.........too late for me now! I'll let you know what happens.

by
Siantha
on 04 April 2012 - 15:06
Sable german shepherds i get hes german shepherd and what? or omg its a coyote or a hybrid XD the general public is amazing. my insurance company loves my dogs my agent will come over and sit down to get showered by shepherd love. XD
by
njmomto3
on 04 April 2012 - 16:09
New member here but the truth is the only way to go. I do insurance and while some companies do limit breeds you are so much better of being honest. God forbit there is a claim later relating to the dog or anything else they could come back and deny coverage based on fraud or misrepresentation. If your agent deals with multiple companies I would think that they know where to put you but I would make sure that somewhere on that application for insurance it says the number and breeds of the dogs in the house. CYA all the way.

by
Skylagsd
on 04 April 2012 - 19:40
My insurance company asked if i had dogs.... I said yes 2 German Shepherds... his response "Good you have a nice secure set up there that brings your monthly payments down a little more.
by
beetree
on 25 April 2012 - 19:30
Well, I am happy to update for the curious. I think I escaped an unexpected increase, or worse, the dreaded "cancelation". The check cleared. And weeks later, no notices about increases. I think my GSD did a good job being charming, and properly alarming, all in one.
You must be logged in to reply to posts