Hip?elbow opinions?
by
zobelhund
on 31 March 2012 - 00:20
I just got my boys hips/elbows ofa today. He is 24 months. I wanted some opinions on how they will rate? I did ofa prelim at different vet and I got Fair. To me it looks like the right leg wasnt pulled down far enough to straighten the hip? Which makes the socket a little off?
Sorry about the quality! Its a cellphone photo I couldnt figure out how to save the picture from the dvd! :(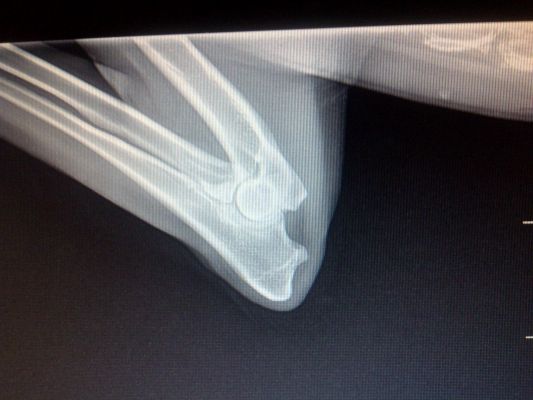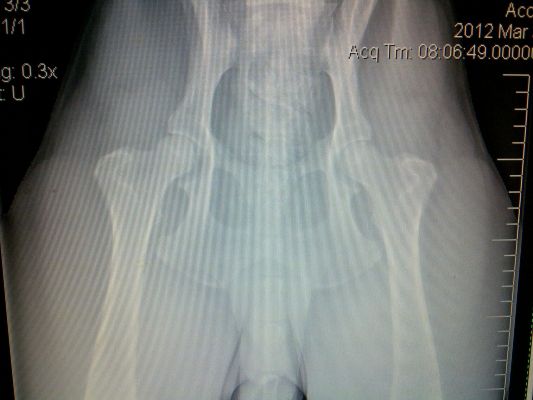 by
Nans gsd
on 31 March 2012 - 01:23
Fair with some wear on the inside femur head. Good luck Nan
by
jdiaz1791
on 31 March 2012 - 02:15
Elbow is perfect, yes, the heads are a bit worn,but are perfectly fitted..he shouldn't have any problems,regardless of the readings conclusions
by
Blitzen
on 31 March 2012 - 02:45
Fair? Really,? I don't see that on this xray. My best guess - OFA good hips, maybe excellent. I think those flat spots are where the ligaments attach. Would like to be able to see the knees to be sure. Was he sedated?

I don't know much about elbows, but they look OK to me. Good luck.
by
dbeden01
on 31 March 2012 - 03:37
Elbow is normal, hips look very nice. Blitzen is correct, the flattened portion is where the ligament attaches; the femoral heads are quite congruent in this dog; would even look better if the positioning were optimal :-). Good luck with your dog.

Daniela


by
SitasMom
on 31 March 2012 - 03:40

excellent elbow.....
position of hips is really bad, still look very, very good...
by
zobelhund
on 31 March 2012 - 11:34
Thanks everyone. This cell picture is a bit crappy! The knees are in the original sent to ofa. I'm just not able to figure out how to save th X-ray from the cd I was given. I'm feeling quite computer challenged! Lol Regardless, to me the right leg seemed as if it wasn't quite pulled and twisted in enough. Hopefully I get a good at :) he was given a mild sedation but I took him home right after the X-rays.
by
Blitzen
on 31 March 2012 - 11:58
Let us know what OFA says. Sometimes we get surprises from them lol.
by
mirasmom
on 31 March 2012 - 12:43
Good to Excellent hips!

You must be logged in to reply to posts