German Shepherd Dog > Our GSDs and their "Friends" - Picture Heavy (13 replies)
Our GSDs and their "Friends" - Picture Heavy
by
DDRCzechFan
on 29 March 2012 - 23:28
In the kitchen today, I snapped a quick picture of the new baby and his "girlfriend" Delilah, the pitbull.

It got me to wondering, do your GSD have non-GSD friends too, and wouldn't it be nice to post pictures?

Kinda was a crappy day, apart from my sweet puppy, it'd be nice to see something to make me smile!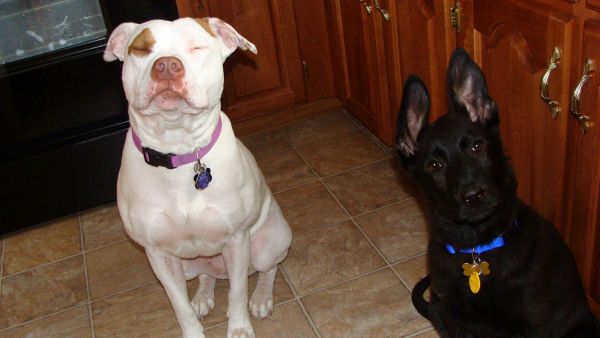 by
melba
on 30 March 2012 - 00:42
Hee hee hee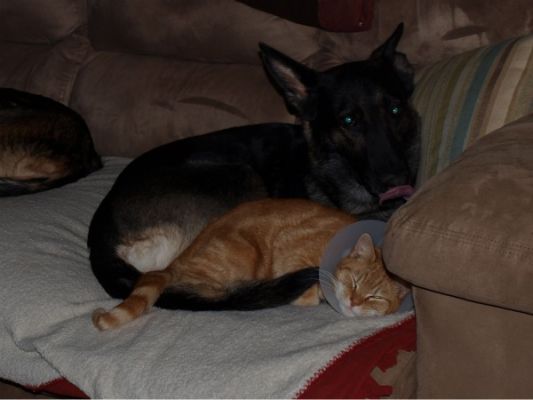 Melissa
by
Dawulf
on 30 March 2012 - 01:30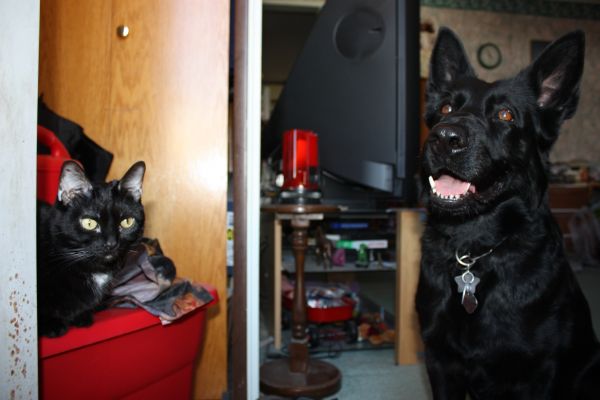 Cheyanne and Qira... poor Chey at almost 8 years old is only about the size of Qira's head, LMAO!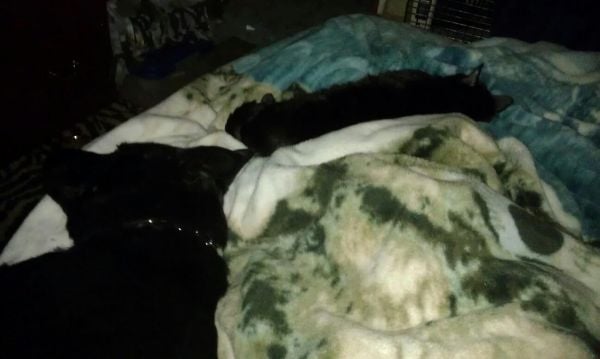 This was when I was sick and they both decided to pass out preeeetty much on top of me.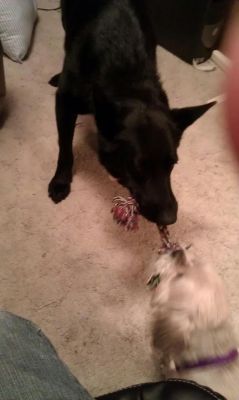 And then Qira and my dads dog Yapper playing tug. I don't really have any good pics of them together, which is something I should get.
by
yellowrose of Texas
on 30 March 2012 - 01:30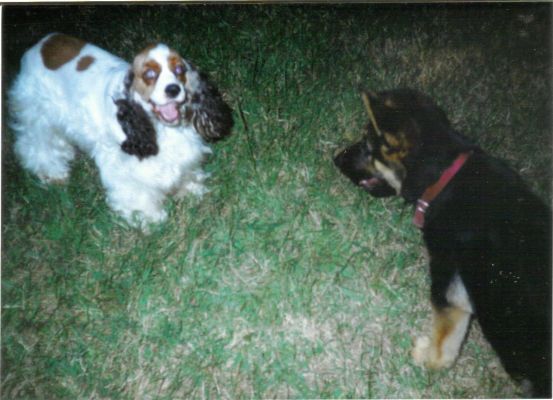 Aria and Dieter when he was 4 months old and new arrival to our family..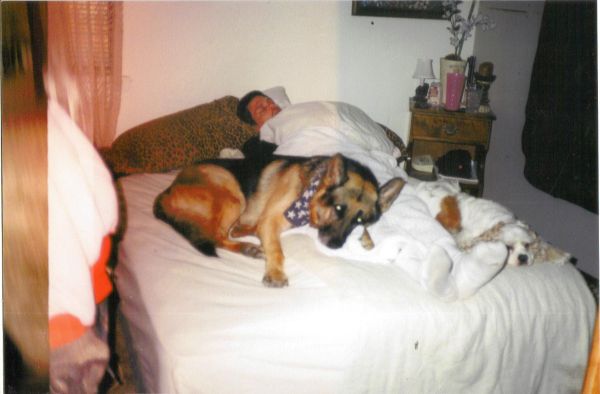 Yap and Dutchess with my son after one of his surgeries on left foot..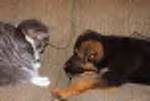 This is Birdys pup and her kitty last year.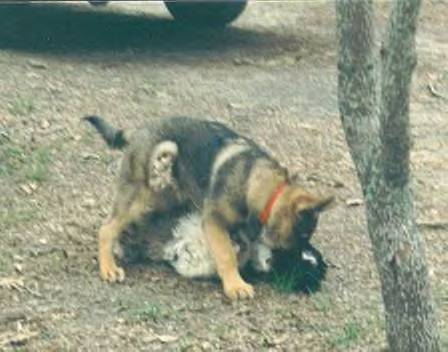 Pepsii and Bunco
by
CMills
on 30 March 2012 - 01:51
Hey DDRCzechfan, we have a female pit bull that looks alot like your Deliliah, and she and our big GSD male are best buds too!
by
Ctidmore
on 30 March 2012 - 02:23
by
DDRCzechFan
on 30 March 2012 - 08:17
LOVING the pictures everyone!

Ctidmore, that GORGEOUS showline with what appears to be a Min-Pin of some sort is just stunning. GREAT looking dog!

I just thought it was funny because my husband sees Beau and Lilah as the ultimate "odd couple" and to me it doesn't make sense. Beau doesn't know she's a pitbull so there's no judging there, and he's not automatically afraid because she IS a pitbull. They play, sometimes a little rough but as soon as either of them lets out a quick yelp, they settle down.

I'll try to get a photo of them passed out in the large dog bed...it's too cute!


I really loved seeing the phots of the GSDs with cats! Yes, most GSDs have a high prey drive but it shows the true versitility of the breed that even inter-genus mingling is okay.
by
dogshome9
on 30 March 2012 - 09:59

Arky & her mother Razz & grandmother Jola who passed away 01/01/12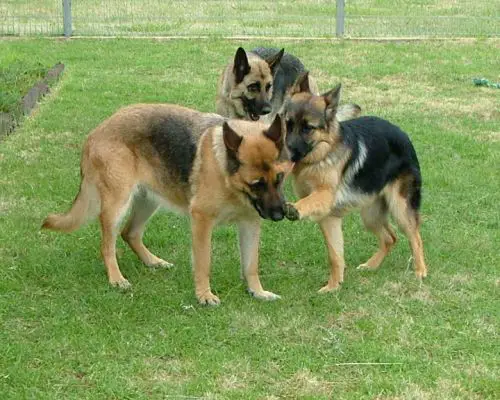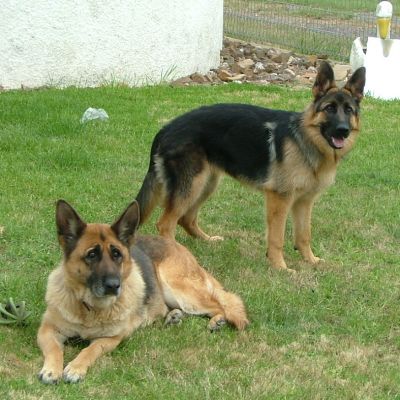 by
LadyFrost
on 30 March 2012 - 13:08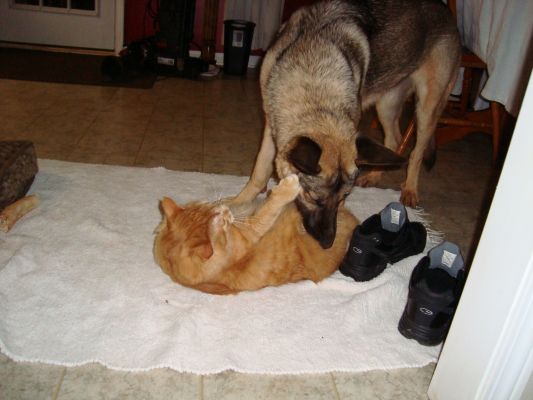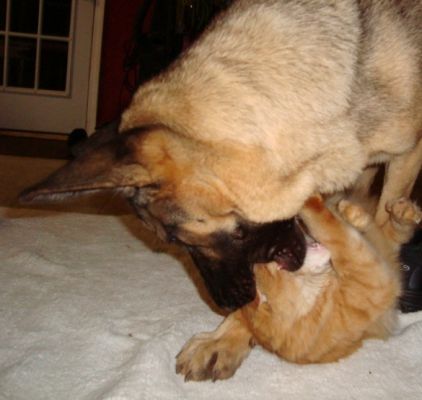 by
macrowe1
on 30 March 2012 - 14:16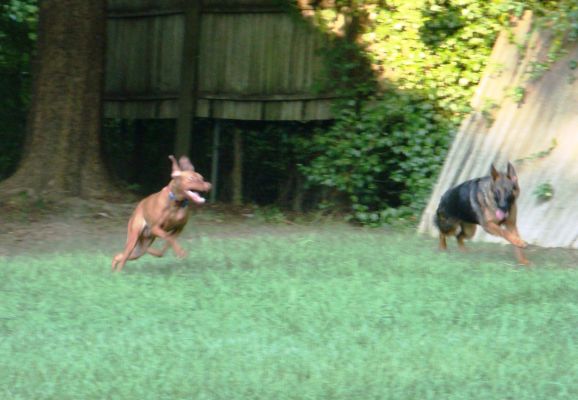 My boyfriend's Vizsla and my sweet Luna
by
Dawulf
on 30 March 2012 - 14:16
I also like the ones of GSD's with cats. :) It was iffy at first, Qira wanted to chase her, but a firm "leave it" and she knows better now. Though they will sometimes play tag up and down the hall. But it helps to have a cat that is dog-friendly in the first place.

This isn't a GSD... this is my moms Golden, Jewel. But still Cheyanne, just as a kitten. You can see why she gets on with them so well. This is my ultimate favorite picture, and Chey absolutely loves Jewel. I still take her with me to visit them from time to time, and she will sit there and groom the dog, or they'll play tag. It is very cute.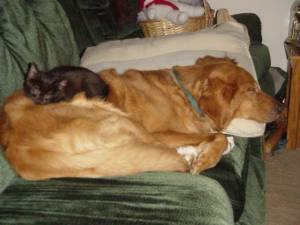 by
Mel62368
on 30 March 2012 - 19:29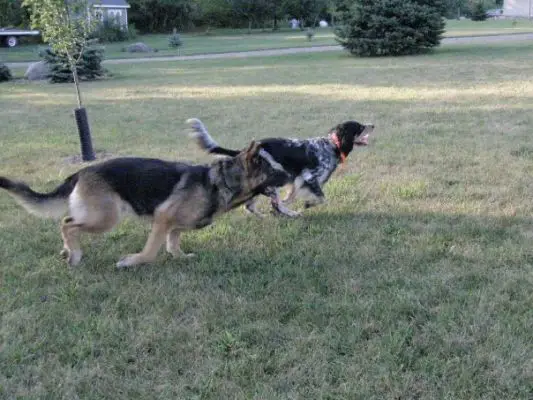 by
EchoEcho
on 30 March 2012 - 20:45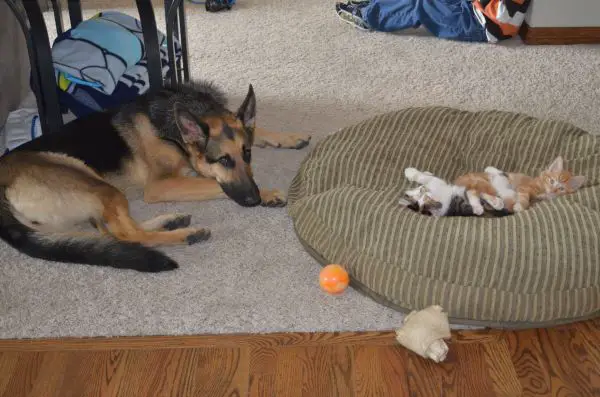 Poor puppy had to give up her bed to the kittens:)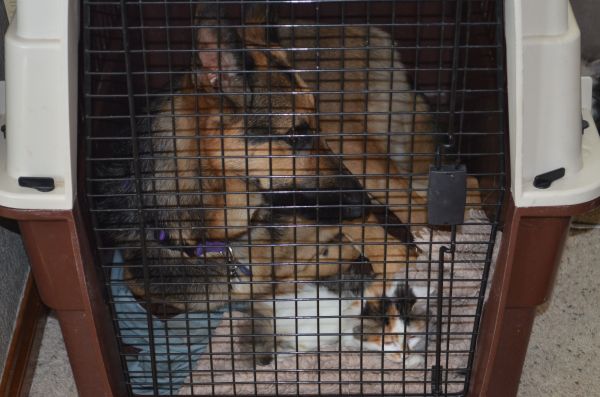 Here I put our GSD in her kennel not realizing the cat was already in there... good thing they get along and share well:)

by
Detroit SchH
on 31 March 2012 - 01:49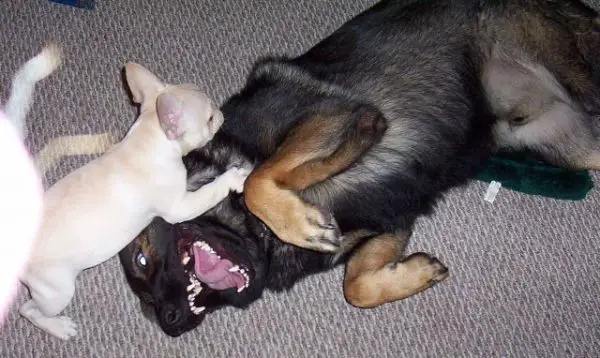 You must be logged in to reply to posts