German Shepherd Dog > What does a straight back gsd and roach back dog look like (162 replies)
by
djc
on 01 April 2012 - 01:49
vonisenguard,
That would be GREAT!! Thanks!!
Debby
by
Louis Donald
on 01 April 2012 - 06:26
sitasmom - I am loathe to make comment because some of the previous comments on this topic and not just in this thread make you feel they are coming from a nuthouse but here I go anyway. You are correct - the reason the bitch is roached over the back in the show stance is because the handler is pushing the hindquarters / croup down and forward. This happens all the time by novice handlers who think they know it all but don't and this is what also creates the exaggerated slope to the back.This bitch has a nice strong level straight back and the real topline can be seen where she is standing at the fence and gaiting.
by
yellowrose of Texas
on 01 April 2012 - 08:02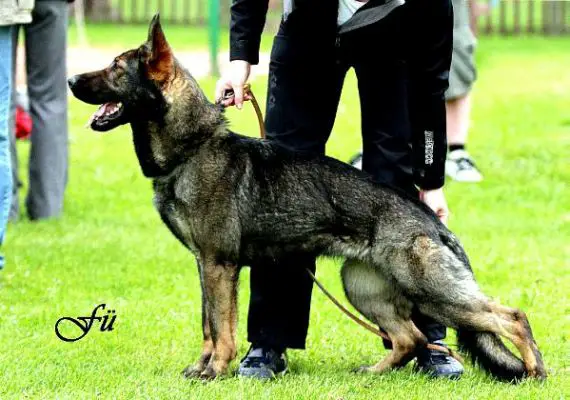 This was posted today for recommendations on a pup from her...Stella Leryka

All I can say is wow...Workingline girl...titled and A1normal hips...
You must be logged in to reply to posts