German Shepherd Dog > What does a straight back gsd and roach back dog look like (162 replies)
by
LARHAGE
on 29 March 2012 - 00:34
How can anyone even remotely think there is Borzoi blood in GSL bloodlines? LOL, why not Airedales? At least the colors would mesh, a Borzoi???? LOL!!!
by
aaykay
on 29 March 2012 - 00:40
noddi: I bet if you were to stand your supposidly straight backed dogs in a proper gsd show stance,then you will mosr definitely see a slight curve in the backline as the rear end drops when one leg is outstretched behind n the further its put back the greater the curve

I hope they do away with the silly "proper show stance" and make the dog stand normally/properly......like in the days before this "show stance" came about in the GSD. The show stance/stack is another one of the abominations that crept into the GSD fraternity, which I hope we totally move away from. None of these abnormal positionings were present in the GSD, until just a few decades back.....with the dog standing properly, 4-square.
by
joanro
on 29 March 2012 - 01:08
Larhage, no way is airedale in the GSL, if it was they'd be able to catch a wild hog, LAMO!! ( at the thought of one of those pitiful dogs on this thread trying to run AWAY from a hog.) Also, no one said borzoi IS in the GSL,can you people even read? Gonna go ponder catching a wild hog with my WL now, so y'all have fun teaching your dogs to stack ;)
by
Rik
on 29 March 2012 - 01:48
actually, it's pulling the near leg forward that accentuates the roach, not over stretching the offside.

it is what it is at this point and pointless to debate, especially with the knowledge shown here on the subject.
by
brynjulf
on 29 March 2012 - 02:37
The silly exaggerated show stance is based on how a properly built well bred GSD stands. That is why they are not stacked square like most other breeds.They are not a square breed. The stack was not some crazy thing show people just randomly developed. It is natural to the breed. ( the poor positioning of some handlers is well just that, handler error)
by
aaykay
on 29 March 2012 - 02:54
The silly exaggerated show stance is based on how a properly built well bred GSD stands.

I disagree. Click on the below link and go back to the several decades of GSDs, until around 1970 or thereabouts. Of course none of those specimens were placed in the "proper show stance" but looked just totally normal, well built and beautiful dogs. I wish we could get rid of the new-fangled "proper show stance" and go back to what the GSD truly was.

http://www.pedigreedatabase.com/german_shepherd_dog/siegershow_winners.html
by
brynjulf
on 29 March 2012 - 03:16
Well i went all the way back to 1900 on your link and the vasy majority were shown with one leg forward, the traditional show stace...so not really sure what your point was. There were only two or three stacked square.
by
yellowrose of Texas
on 29 March 2012 - 03:22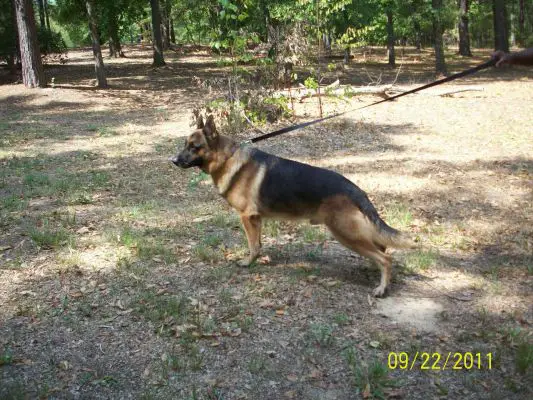 A few months ago my Rito stretched himself..... I love this picture.

Straight and powerful...

YR
by
LARHAGE
on 29 March 2012 - 04:07
Joanro, you go hunt hogs with your WL, I didn't get my dog to hunt hogs, fortunately he's talented enough to do lots of things, and look beautiful doing them. :)
by
joanro
on 29 March 2012 - 08:03
Ok;)
by
noddi
on 29 March 2012 - 08:46
Morning all,yes Joanro i did sleep tight n no bed bugs just a wet morning lick off two roached backed GSL GSDS.I cant take u that seriously,yes ,i reckon I AM MORE of an expert than u on GSL.GSD.Tell me,i,m asking u directly.WOT DO U DO WITH YOUR GSDS?Obedience,working,agility,not show surely with that attitude to GSL GSDS.Lets see a photo of your gsds.You are insinuating that most GSL are deformed,which THEY MOST CERTAINLY ARE NOT.We are going off photos here,dogs being stacked,so,many dogs may not feel comfortably in the stack they are put in by handlers,thats why many fidget.Now here is a real situation at a prestigous show here in the uk....a female won her class n the bitch challenge certificate(UK KC CHAMP.SHOW)She looked perfectly balanced with a correct slightly sloping backline.....Now comes the challange for BEST OF BREED......handler ,a member of the family,gets flustered n had her in a most ugly pose,as she was fidgeting the show pose looked more n more hunched up n made this bitch look as she was roached,WHICH SHE MOST CERTAINLY ISNT.My advice to u is go see these GSL GSDS in the flesh n stop commenting on photos ,which in most cases DO NOT DEPICT THE TRUE DOG IN THE FLESH.Yes i will admit that there are some that are roached,look deformed but these are a MINORITY.I,ve certainly never seen any GSL GSDS in the UK,either home bred nor imported as some i,ve seen on PDB in the ads n the ones i,ve seen seem to eminate from wot used to be Yugoslavia.Off for now up to the hydropool with my crippled ,deformed GSL GSD,aged 9 yrs old who in the hydropool owner who breeds n shows greyhounds n irish wolfhounds n is a CC judge in those breeds n BORZOIS for that matter,who thinks she,s a very fit n healthy GSD.BYE.Carole Spelman RHEINMEISTER GSL GSDS.

by
noddi
on 29 March 2012 - 09:28
Joanro,now the truth comes out....YOU ARE A WORKING LINE GSD OWNER.FIGURES.Carole Spelman.
by
Runag
on 29 March 2012 - 10:03
Good Morning all
I only joined this group in January and am quite disturbed by the amount of spiteful comments and replies which appear. Surely people should be allowed to ask questions and state their views without getting into a tit for tat scenario! I know that everyone thinks their dog/s is/are best but there is no need for oneupmanship at the level it is sometimes displayed. I will probably be hung out to dry for this message but hey.. so what. I took my young dog to his first dog show at the weekend, I too am a complete novice in the show ring but everyone was exceptionally helpful and friendly - even to the extent of someone volunteering to handle my dog in the ring. He was placed and I was delighted. The following day I took him to his first Schutzhund training day and again everyone was helpful, friendly and encouraging! My dog shows promise in both events!!
He came home happy and tired - just like myself.
At the end of the day, surely we are all striving for the same thing? We just want to see strong, healthy and happy dogs.
by
Red Sable
on 29 March 2012 - 10:14
The British dogs, from what I've seen on here are not as extreme as other countries it seems.

Kevins dog is darn nice, regardless of it's colour, and I'd be happy to own a dog with his structure. Maybe he'd post the pedigree for us?
by
joanro
on 29 March 2012 - 11:53
Noddi, yes, but this discussion has not been about bashing SLs. At least it didn't start that way. It was about the direction the gsd has gone in, using pictures of deformities as examples that happen to be GSLs.I know first hand what the "HINGED" and "OVERBUILT" backs plus over angulated hind legs do to a dog. I have seen the effects at the national sieger shows I have attended. I have had GSLs and still have an eight year old .I was not happy with the lack of athleticism in the SLs. So at the same time I got my GSL, I also got WL. Being able to have them and compare them on a personal basis has been rewarding. By the way, I even put schH I on the SL in spite of all the negativity I was handed at club about my "hup-hup" dog. Glad you slept tight:) have a nice day.
by
Smiley
on 29 March 2012 - 12:44

Brynjulf said:


The silly exaggerated show stance is based on how a properly built well bred GSD stands. That is why they are not stacked square like most other breeds.They are not a square breed. The stack was not some crazy thing show people just randomly developed. It is natural to the breed. ( the poor positioning of some handlers is well just that, handler error)


I would have to agree with this. MY GSD stands all the time in a stack position like 100 times a day! It is her natural "go to" position for any standing she does. I don't touch her and she just does it. Been that ways since she was a puppy. I have so many pics of her stacked like that as she does it naturally all the time. It's not as extreme as the show ring, of course, But, one hind leg is always back. I think it's because the way she is built?? BTW- she is working line.

I think there is no doubt that *some* of the showline dogs have brought some crappy issues to the table. Whenver a showring is involved it will ALWAYS ALWAYS ALWAYS warp the definition of what is normal. But, guess what..same can be said for *some* working line dogs bred specifically for SPORT. Of course, they both bring different problems but no line or dog is perfect.

I think there are some showline breeders who do not breed for the negative traits we are talking about but their dogs probably also do not win in the showring; a bit of a catch-22 for those breeders. They are between a rock and a hard place.

I am sure, likewise, there are some workingline breeders who *do* have dogs with type and movement and whose dogs aren't over the top hard drive and/or uncivil but balanced.

So, as long as we all recognize the end goal (a balanced, healthy, german shepherd with type and working ability) and work towards it than all will be well in the world!! We can all support each other, even with our different pedigrees, as long as we admit the faults in both dogs and try to correct them. There are many roads to Rome but we all have to be trying to actually arrive at "Rome" for the betterment of the breed.

Sara

by
Blitzen
on 29 March 2012 - 13:04
Runag, if you stick around here long enough you will learn that it's become a tradition for a few of the same WL zealots to jump in on every single thread addressing showlines just to point out and stress the negative ad nauseum. After a while, it gets tedious so the responses become less "polite".

In an ideal world we would all want the same thing in the US - to see the breed thrive here and reduce our dependency on imported dogs. The WL people I know share that goal.


by
Runag
on 29 March 2012 - 13:19
Blitzen, thanks for explaining that - I will just watch and learn :-))
by
joanro
on 29 March 2012 - 13:44
The show stack gives the impression that the dog is standing that way to keep from tipping over. Even when they "stack" on their own, looks like they'd tip over if they didn't spraddle the hind legs. Other breeds don't habitually stand that way because they don't have to in order to feel comfortable when standing still. Now, go ahead and have a jolly good time with this observation. LOL
by
noddi
on 29 March 2012 - 13:46
Hiya all,I,m back again like a bad penny.Red Sable,thank u so much for your kind words.Yes,IMHO.I would say that the majority of gsds shown in the UK are as near to the standard as one can get,albeit they have their own minor constructional faults but on the whole the animals are pretty well balanced,sound in mind n body,BUT there is still a few that just cant see or wont see that theirs are creeping into exaggeration.Its on both sides of the fence(german n alsatians,for want of a better word)Most in this country are health testing,mainly just HD/ED,HAEMOPHILLIA(Males) n some are doing the marker tests for the genes (DM,PD,AF,JRD)Its mainly a very small group of alsatianists that dont????!!!!!.Sara(Smiley),wot an excellent post,straight to the point n exactly how i feel.THANK YOU VERY MUCH FOR YOUR CONTRIBUTION.I,m known in the UK for being very outspoken n honest in my views on wot is going on in the breed here in the UK n i dont want to see these ugly,grotesque looking gsds creeping in with their short propotions,very severly sloping backlines ,n overangulated hindquaters.Yes i am acknowledging they exsist,but only a very small minority of the vast gsd population,as is THE ALSATIAN here in the UK.I have,if anyone is interested,commented on the thread where a lady is asking for critique on her 11.5 wk.pup.I havent done a critique ,just a general opinion on wot i see.A WL.pup at that,very nice indeed in my eyes n well balanced.TBH.wouldnt mind him myself even tho.i,m not a lover of the bi color.Carole Spelman RHEINMEISTER GSDS.
You must be logged in to reply to posts