German Shepherd Dog > 11.5 Wk Old Puppy Conformation Critique Please (17 replies)
11.5 Wk Old Puppy Conformation Critique Please
by
DDRCzechFan
on 25 March 2012 - 20:49
Hello all,
Please let me start out by saying that this was his FIRST stack EVER. I picked him up last Sunday, so with that in mind, I am interested in opinions on his conformation, at this point. We took these today, about 15mins ago, actually.

Please also keep in mind, being that this was his first stack, I was trying my best to stack a squirmy puppy while my dear husband tried very hard to get shots with little direction from me.

I realize our stacking needs work, his front legs were camped out, and his right hind was overstretched slightly. Other than that, I am intersted in opinions on his conformation, not my shotty stack-work hahaha.

Thanks for looking, please feel free to PM me if you prefer to answer that way.

Yes, he is a workingline, so bear that in mind as well. Thanks again!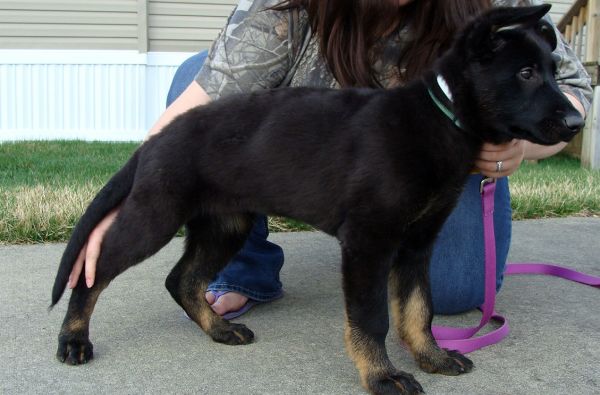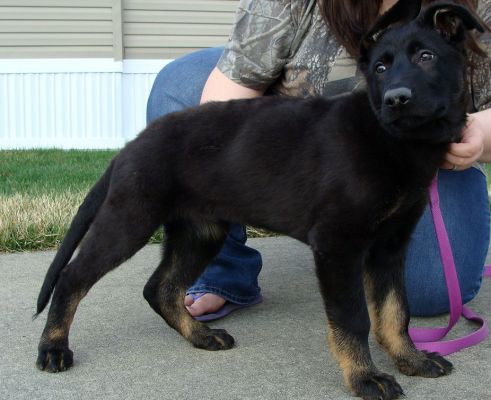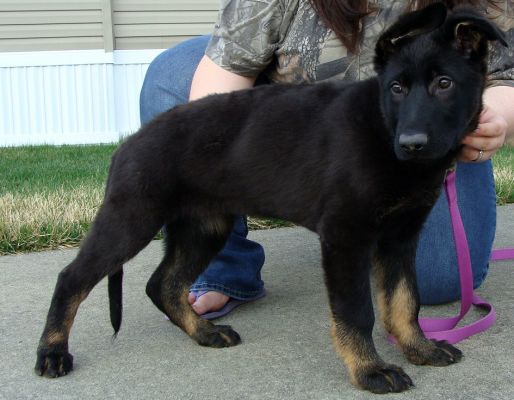 by
guddu
on 25 March 2012 - 20:54
I have no clue about stacking..Any chance to post pedigree..
by
Ibrahim
on 25 March 2012 - 21:08
The angle of taking the pictures does not show his front angulation very well. Very beautiful rich pigment, dark eyes, nice stop, very good head size and bones, straight front, strong pasterns, nice tight feet, very beautiful topline, high withers, very good length and and lay of croup and a nice tail set position, I prefer a little more rear angulation, Allover a very beautiful bi-color male of nice expression, he looks confident in those pictures. Only thing that I can say about the front angulation is a good shoulder lay (I think). Enjoy him

Ibrahim
by
Kalibeck
on 25 March 2012 - 21:33
My computer cuts off the front of the picture, so I can't see your puppy beyond the shoulders, but the part I see looks very nice, lovely color, nice sooty toes, nice topline. I can only imagine his head, if it matches his body, it must be handsome! Congrats! He must be a good boy too, to let you stack him so well! Have fun with him! jackie harris
by
GSDPACK
on 25 March 2012 - 22:08
The very first thing I noticed was the dark beautiful pigment. Dark eye and rich color. Nice head piece and those ears are superb! LOL

the stack... well little pushed forward (front legs) and I agree, the angle makes the front look funky. But I love the look, a very handsome fella!
by
DDRCzechFan
on 25 March 2012 - 22:12
Thank you Ibrahim and Jackie! My husband isn't usually the one behind the lens, and it was his first time ever taking a picture with my camera. I was keeping my head down trying to see how I was stacking him. I am very thankful for the feedback given, I look forward to other's opinions as well. Sorry about any gramatical or spelling mistakes, this is my first time accessing the PDB and typing a response from my cellphone.
by
DDRCzechFan
on 25 March 2012 - 22:15
GsdPack, thank you as well. I am used to stacking older dogs, never a puppy this young. In the coming weeks I'm sure our stacks will improve, he is a very willing participant, and very eager to please his handler. He is just a complete joy!
by
macrowe1
on 25 March 2012 - 23:46
Look at that handsome pup! He's got beautiful pigment! The angle of the shot isn't as flattering as it could be, but from what I can tell he's got a really nice head. Once again, should maybe try shooting from another angle. But so far so good!
by
Blitzen
on 26 March 2012 - 00:13
Too bad, sorry to tell you that he is just an awful looking puppy. I'll pick him up in 3 days and give him a forever home LOL.

As far as I can tell, he is just a great looking young fellow. Send more photos as he grows. I can see why you liked him!!!



by
DDRCzechFan
on 26 March 2012 - 00:19
Well thanks Blitzen!!! He is rather fugly, isn't he? But surely I can't curse your kennel with a puppy so ugly...truly I am sparing you and your name by keeping him behind closed curtains so the world may never have to see anything so hideous. ;). Hahaha
by
pod
on 26 March 2012 - 08:34
Really lovely puppy. Looks to have the type of construction that gives stength and stability to his frame, what used to be known as dry and firm. His proportions look good at this stage, good length of leg, good breadth and well ribbed. He has good bone for his frame, excellent feet and super colour and pigment. His angulations are moderate and not of the fashionable type, only an advantage IMO.

If I have to make one criticism, purely aesthetic... I'd like the eye a shade lighter.
by
GSDguy08
on 26 March 2012 - 10:55
pod, eyes....darker the better according to the standards.
by
DDRCzechFan
on 26 March 2012 - 12:47
Thanks again everyone. Truth be told, I don't think I've stacked a German Shepherd in close to three years...It's been a long time, and the boy certainly didn't know what mommy was doing to him Hahaha!

With the suggestions, we'll achieve better stacks, and I'll work on trying to get my husband to aim the lens for the Center of our boy, instead of his head, which he tried to make the focal point, because he thought it was pleasing to the eye.

Not too bad for two first timers and someone who had been out of it for a while, eh?



And for Kalibeck (and others too, to enjoy), here are some head shots taken the same day as well.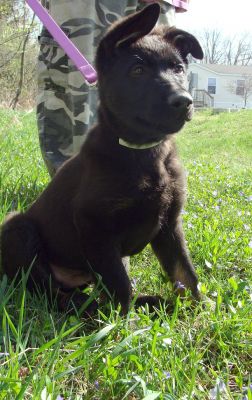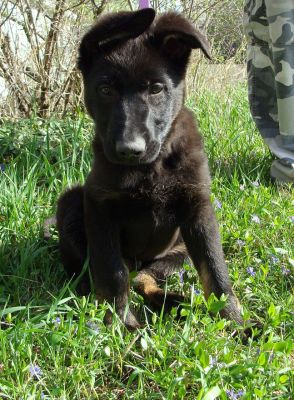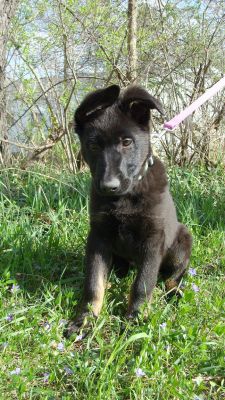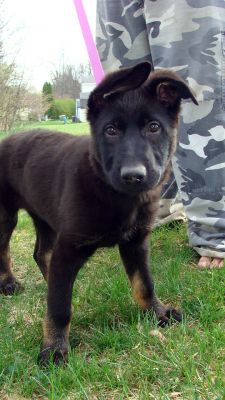 by
pod
on 29 March 2012 - 07:27
He certainnly is a handsome boy :)

GSDguy: I think there are several flaws in the standard, one of which is the eye colour. Any clause which stipulates the-more-the-better is asking for exaggeration of one trait, which has the effect of reducing gene variation. When this accumulates over many traits, genetic diversity will be affected.

My own personal preference is for a mid brown eye in a GSD. I find the black eye to give a cold and expressionless look and difficult to read IMO, especially on a black face. If there was a selection advantage to dark eye I'd be interested to hear, apart from winning in the showring that is, but the default for the species is considerably lighter than what is generally preferred.
by
noddi
on 29 March 2012 - 09:57
DDR Czech fan,Any chance u can send him over here to the UK.Me likey very,very much.Just my type n btw i,m a GSL gsd owner here in the UK.I dont like any exaggeration in my gsds,JUST A BALANCED ANIMAL,SOUND IN MIND N BODY.Your little chappie is absolutely gorgeous,great pigmentation(dont usually like bi.colours),such a confident looking young man,great expression with wot looks to be great confirmation.TBH if he was over here with me,I WOULD give showing him a whirl as well as working him,which i,m no way experienced in but when i get my new pup in the future i will be taking her to a schtzund/training club as well as showing her.Good luck in wot ever sport u do with him even if he,s to be a pet/companion dog only.Boy ,I LUV HIM n WISH HE WAS MINE.DROOLS.Carole Spelman.

by
GSDguy08
on 29 March 2012 - 12:41
pod I have no interest in dog shows, only working. I was just stating what the standard calls for. Not to mention, I like this pup's eyes.
by
DDRCzechFan
on 29 March 2012 - 12:46
Thanks Noddi, GSDGuy08 and Pod,
He is a joy. He's getting to be really great about letting me sleep the night through, too!

Noddi: Sorry, I'd love to be able to send you one like him, but I'm kind of attached to this little bugger. He's a total lover, highly affectionate - a total cuddle bug. I'm not sure if he'd have the drives for achieving a SchH3 or not, his drives are great at this stage, so we'll see. Truth be told I am considering contacting someone close who shows GSDs to see if I could "mentor" with her, and possibly show him. I think he could do quite well :)

Thanks again everyone!
by
noddi
on 29 March 2012 - 14:15
DDRCzechFan.Wotever u choose to do with him,good luck.Carole S.
You must be logged in to reply to posts