German Shepherd Dog > Hip film opinions- positioning and hips themselves (11 replies)
Hip film opinions- positioning and hips themselves
by
Jenni78
on 23 March 2012 - 00:51
This is a picture of a film that was emailed to me for my opinion. I have mine, but would like to hear yours.

Male, right around 1.5yrs, I think.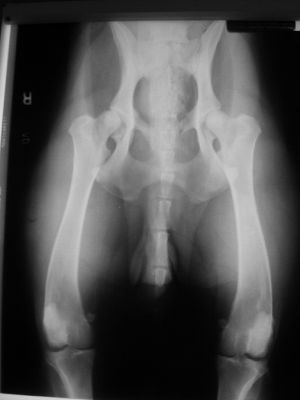 by
VTcoach
on 23 March 2012 - 01:22
A larger view would be easier to see, but one side looks pretty good the other not as good.
The ball of the femor is not set in the socket as well on one side (left in picture).
The positioning looks OK, so I doubt that is having an affect.
My $.02
by
Jenni78
on 23 March 2012 - 02:18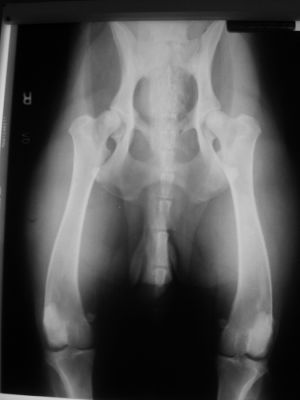 by
dogshome9
on 23 March 2012 - 02:24

I would like to see the legs rotated better, prefer the patellas dead centre.


by
SitasMom
on 23 March 2012 - 02:25

right hip looks a bit loose, left hip looks good, maybe better positioning would make it look better.
by
B.Andersen
on 23 March 2012 - 03:09
Hips are good with terrible positioning . If those are sent it they will get a fair or borderline from OFA
by
BlackthornGSD
on 23 March 2012 - 05:11
I think the legs are rotated to different degrees... or one leg is held higher than the other?

Going on the image here, I'd think the dog would get mild/borderline--because the right socket looks shallow and the femoral necks both seem to show some thickening. But I think we might get a better view--and see a nicer set of hips--with a better x-ray.

At worst--moderate--there's little to no remodeling of the balls and sockets... But if it were my dog, I'd re-xray.

Christine
by
Blitzen
on 23 March 2012 - 12:00
Definitely need a better xray. Knees are not rotated inwardly and that can make the difference between a pass/fail. Having said that, IMO not great hips for a young dog. I don't like the thickening of the necks on either side especially the left. I don't see any luxation, but both sockets could be deeper. I don' think the Norberg angle is within the normal range either, but that's hard to eyeball on a faulty film. A close call that needs a perfect xray to be diagnostic. I would have this dog deeply sedated for another film. If he fights the manipulation the owner is not going to get a true picture of his hips. If there's no rush to know the hip status, I'd wait another 6 months to do him again.

BTW, one can increase the size of a page by holding down the "ctrl" button and then pressing the "+" key. To return to the original size, "ctrl" and "-".


by
Jenni78
on 23 March 2012 - 12:43
Yes, one leg is positioned differently than the other. Look at the way the pelvis aligns and it's very clear. Also, look at the "overlap" on both sides and you can see that the right side of the screen is positioned better than the left side of the screen. If you picture the pelvis straight and legs rotated properly, that might just make the difference between pass or fail.

"Fight" manipulation is an understatement. He is very very large and not a boy you want to tangle with, so totally out is the only option.

Anyone hazard a guess as to SV? Owner will likely wait and redo them; these were more for peace of mind that his crazy stunts were ok for him to keep doing;-) than certification, obviously, since he's young yet.

I took out some of what I'd said; I think I'll start a new thread instead.
by
Blitzen
on 23 March 2012 - 13:18
Thickening of the necks is remodeling. Some dogs have thicker necks than others and an xray in another 6 months should show if it is an incidental finding or the result of HD. The Norberg doesn't look to be within the normal range either and that is one of the criteria used by OFA readers.

If there is a question about an OFA opinion, you can always submit the xray to a canine radiologist. Xrays on dogs this age call into question the SV's policy of certifying dogs at only 12 months of age.
by
edith
on 23 March 2012 - 13:23
When I had my male x-rayed , I was told he had a peg like conformation in the neck of the femur which is a normal variance in the breed. He throws this to his offspring and they all have beautiful hips and are extremely athletic. Absolutely nothing wrong with this.
by
Blitzen
on 23 March 2012 - 14:44
Exactly, Edith, and that's why I think an xray in 6 months should reveal if that is the case with this dog or if the thickening is the result of HD. A thicker neck could very well be normal for this particular dog.
You must be logged in to reply to posts