GSD puppy
by
GWBrown
on 11 March 2012 - 16:11
Hi, I'm new to this forum and would like to say this is a very informitive site! About 3 weeks ago I got a 6 month old shepherd pup, the owners were a young couple that had no idea what they had. They both worked 12 hour shifts and they admit the pup was caged for at least 12-16 hours at a time. When we got Maci she was very thin and unsteady walking. We live in the country and have a border collie and Maci does a lot running in the yard and is improving her strength, I am retired so Maci does not spend any time in a cage now. I have had 4 other shepherds over the years and don't remember them being this clumsey at this age. My question is, could they have caused permenant damage by keeping her in a cage for so long? Or will she build her muscels by running with my border collie?
Also any tips on how to get her to stop chasing the Damn cat ????
Thanks Gerry
by
brynjulf
on 11 March 2012 - 17:09
Her muscles will build and GSD pups at 6 months can be really really clumsy! LOL legs all over the place :)
by
LadyFrost
on 12 March 2012 - 13:42
feed the cat first...pet the cat first...make puppy wait for the cat to be done eating...cat must become "owner" of the house...inside is the easy part..outside will be a bit harder.....but it's doable... :)

Dogs are easier to train than cats.... the good thing...you dog will always chase cats but will learn to ignore "your" cat...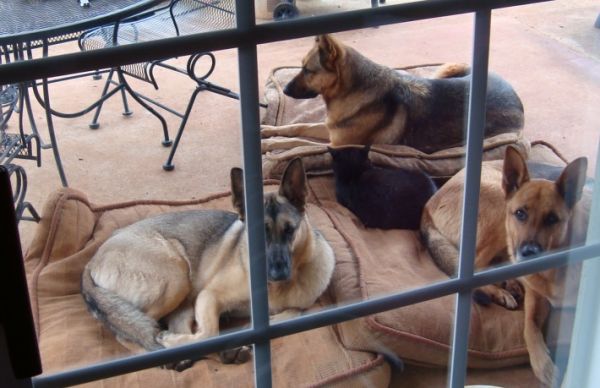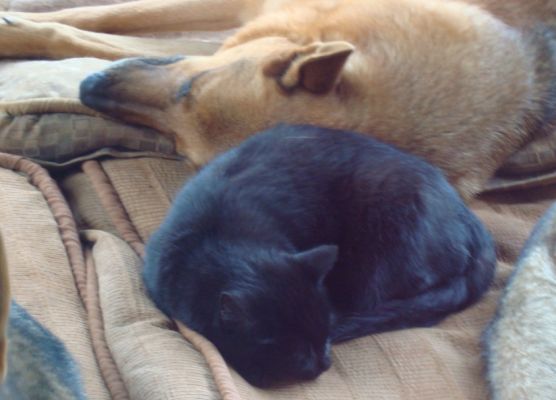 by
GWBrown
on 12 March 2012 - 20:47
Thanks for the suggestion, i'll try feeding the cat first. I've had many cats and dogs but Maci has the worst chase drive I have worked with. This is our last cat and he is 13 years old and scared to death of this dog. Maci will obey most commands but when she sees the cat she hears nothings, I may as well talk to the wall. She will stalk the cat all day if we let her. Maci is a very good pup and behaves well except when it comes to the cat, very very frustrating I don't want the cat hurt.

You must be logged in to reply to posts