German Shepherd Dog > Good old german shepherd (19 replies)
Good old german shepherd
by
myret
on 10 March 2012 - 10:29
The beutiful good old well built german shepherd just a beutiful dog not with the banana back A's it carries around today Just a healthy body it has here In the old days http://www.youtube.com/britishpathe
by
NigerDeltaMann
on 10 March 2012 - 11:23
myret, you're clean right but i must confess that bannana or roachback is the hallmark of GSD's extraordnary gate and movement. Some claim to improve but i'm still at lost where that "back" came from. The cheetah, lion, horse etc known for speed all have "straight" or "sunken back". Hyna, elephant, buffalo etc known for lazy slow speed all have "banana backs". I love the gsd with that banana back but i don't know how it came.
by
myret
on 10 March 2012 - 18:01
Niger I not sure but I guess it would have to dó with show, I dó confess That I cant stand the banana back In the gsd even In the working Lines I like the old type and Im very fond that my new pup almost dont have these angulated hindlegs and backs But I guess it came from someone In the show ring that believed In a better movement If the back is roached
by
Koach
on 10 March 2012 - 18:53
NigerDelta Mann said:



"I love the gsd with that banana back but i don't know how it came."





And that my dear friend Myret is why we have them. People love them. The breeders produce what the people want, what the confirmation judges want and what will sell. Long gone are the days when a GSD could do a 8 foot palisade or work sheep all day. Lucky thing people like yourself don't like the "humped back" and that there are still a few of us still around not willing to make a cripple out of our breed. Happy "Ringing" to you.
by
SitasMom
on 10 March 2012 - 20:46

they're not all bananna or roach backed - if you look you can find good old conformation in showline dogs....
they just don't win in the shows.



by
myret
on 11 March 2012 - 09:58
Koach I totally agree just dont understand what people see In a dog with the anguled back and legs yes that is a long gone time for our breed unfortunately
by
noddi
on 12 March 2012 - 00:09
sorry,but a gsd is not built for speed like a greyhound/whippet n imo.their backlines are not exactly straight.Get so tired of ppl.pulling the german showline animals to pieces.I,d rather have my german type gsd with a slightly sloping backline than a dippy ,soft backed one anyday.Carole Spelman.
by
truckindog
on 12 March 2012 - 13:20

Sorry Sitasmom, There are plenty of the less favoured old type still about. This is our 11 month youngster Mallen who has done pretty well at all breeds Open shows. 4 Best Puppy in Shows and 1Res Best Puppy in show and only been out 8 times. We're really so proud of him.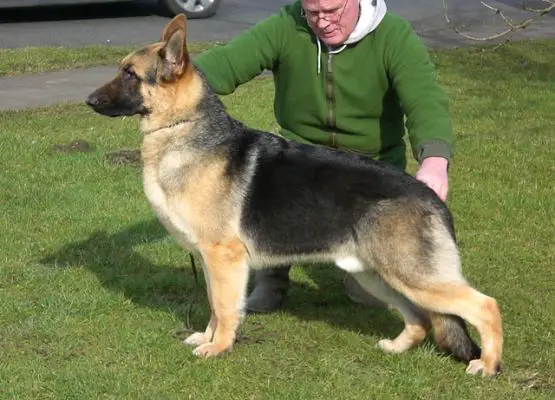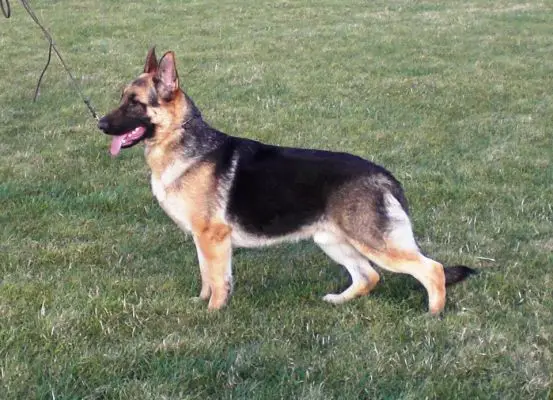 by
myret
on 12 March 2012 - 22:16
Noddi The gsd is bred for working All Day as a herding dog not running around In a show Ring and the sloping back is not what the original gsd bred to look like not a crippled dog and it is not healthy for a dog to have this ugly sloping back and angulated hindlegs
by
Von Ward Kennels
on 13 March 2012 - 00:24
Very few GSD's in the US today are what I call the good ol Shepherd. I breed the good ol shepherd and have to live up to much scrutiny. I have the guts to keep it up because I truly believe in what I do. No banana back could ever stand a chance herding cattle they way my dogs do. My 8 month old female has been herding cattle since she was 4 months. Very little angulation and no roach. But she can run across 50 acres and take down a jack rabbit! She is from my breeding stock. Very proud of her. Look at the back legs and how ther is no hock walking here!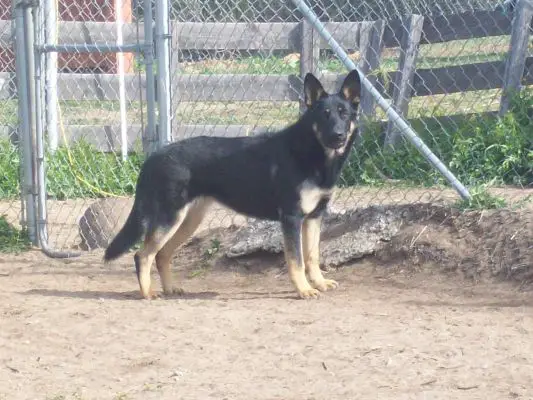 by
Von Ward Kennels
on 13 March 2012 - 00:28
The American show dogs in some of the pics above have too much angle in their hocks to make them move freely the way a GSD is supposed to. Why is it so hard to see the difference? Hock walking is not an acceptable trait in my breeding.
by
myret
on 13 March 2012 - 06:13
Von ward Woooow stunning built dog very beutiful and healthy to look at
by
Nellie
on 13 March 2012 - 08:39
Von Ward, she is a cracking looking girl
by
noddi
on 13 March 2012 - 10:08
Morning all.Myret,i fully agree that sheps with the exageration in hind quarters are very undersireable.Its this that acentuates the backline n makes the slope more severe.I,m a german type showline person here in the UK n most show sheps here DO conform to the standard n have a slight slope when stacked in a show stance.Note in my last post i said SLIGHTLY SLOPING BACKLINE.von Ward,my girlie looks like yours stood 4 square but extend one hind leg n you,ll see that the back end will drop slightly,thus giving a slight curve to the backline.There are still breeders in Germany who still work their gsds in herding sheep and they show in the herding classes at the german sieger show n these gsds look like mine but NUFIN like truckindogs gsd in that photo.My girl has won well at all levels(show)here in the UK under all types of judges.She is now 9 yrs.old n still fit n healthy.I still have her mother too aged 12 in June,plus her sister is still alive.Carole Spelman
by
Von Ward Kennels
on 13 March 2012 - 16:40
Oh I know that slightly sloping or slight angulation is nothing to worry about. It is when we start getting excessive where even the untrained eye see's that there is something off, that is where we need to draw the line.
My argument is why don't we strive to breed a dog where when it trots it does not drag its toes because it cannot pick them up properly from being over angulated or roached.
If I breed a dog with some angulation, I breed it to a dog with very little angulation to none. That is how I got the above female. Her mom is a big boned stocky czech line with very straight back and dad is an American line high drive alpha male with a little angulation but longer legs. I got the best of both parents in this girl.
She is without a doubtt one of the best Shepherds I have ever seen and one of the best temperaments as well. Her parents are not titled and are ranch dogs.
I recently had someone try to trade a black male from highly tittled parents with a black male from my stock. Just one look at the other pedigrees made me say no. I know what I want and am very picky. I did not used to think this way. I have learned a lot. NOt saying I won't stop learning though!
My goal is to some day very soon have all of my dogs like the one above. Have my on lines of the perfect good old shepherd. Dogs my Grandaddy would be proud of.
by
Kayos and Havoc
on 13 March 2012 - 21:00
Extreme in anything is not good. Whether it be extreme low pasterns, poor feet, extreme angulation where the hock is on the ground when stacked, extreme croup,( too much not enough) extreme raoch in back etc. The GSD should be a balanced dog, with nice pasterns, good feet, moderate croup, nice length in upper arm and should not be walking on his/her hocks.

It is sad that the judge puts up what the current fad is and then the breeders breed to that small little deviation from the standard. it is a cycle that goes on and on. The gool old shepherds are still there in the gene pool.

One of the dogs that was responsible for the extreme angulation in the ASL was Covy-Tucker Hill's Manahattan, he won a lot obviously and was a stunning dog, he had more angulation in the rear than most and it became fashionable. Hatter was my first GSD's grandsire. She was not over angulated and neither is my current ASL. My WGSL is not roached in the back either. The good old dogs are out there and even more so in the WL I think.
by
skyhorse
on 13 March 2012 - 21:14
vonward - nice looking dog. I was thinking Czech/American line blend - I must be getting better at this!

I've been seeing some very impressive large SL dogs, fluffies, and such. they are nice then when they walk away my eye is instantly drawn to the legs/paws doing a wierd shuffle along the ground.

D
by
Sam1427
on 15 March 2012 - 19:31
NigerDeltaman: The humped/banana/roach back came about during the 1970s and 1980s when showline GSDs in Germany had a problem with saggy backs. It was thought that the slight - I repeat slight - arch would strengthen the back and produce a better dog. Thus dogs with a slight arch came to be preferred and of course, as people do, everyone flocked to the studs that produced it. As time went on the hump became more and more pronounced until it was thought to be correct and to the standard. It is not. The GSDs prior to that time all looked pretty much like working line GSDs. Check out some of the older dogs, like the Lierburgs (not Frawley's dogs with a similar name, but the old German kennel.) Those dogs didn't have the roached back. Nor were they overangulated like today's Am. showlines. Peculiarities come into and go out of fashion in dogs just as in everything else.
by
myret
on 15 March 2012 - 21:05
Sam

I agree ,but the working lines are angulated to and to much I think for many of them not all but many



You must be logged in to reply to posts