German Shepherd Dog > OX z Jirkova dvora Progeny? (41 replies)
OX z Jirkova dvora Progeny?
by
vacha1
on 05 March 2012 - 15:41
Hi everyone, i was just wondering if anyone one knew of any

OX z Jirkova dvora progeny in Canada? and any contact information.
I will soon be needing a stud and wanting to have one lined up

thank you
by
aceofspades
on 05 March 2012 - 17:46
I don't, but may be interested in a puppy, if you manage to find a stud from this line.

Where are you located in Canada? I'm just curious as to where I would be shipping to (nearest major city)
by
vacha1
on 05 March 2012 - 17:58
aceofspades; I sent you a message
by
Ace952
on 05 March 2012 - 18:33
You guys do know that Ox's full littermate,Orin, is here in the states right?
by
vacha1
on 05 March 2012 - 18:51
ace: Yes i do realise that he has a full brother in the states, but i am looking for someone in canada right now, and to see what they have turned out like, ect, if there is nothing that i can find here, i would gladly send my female to OX

thanks for the help though
by
GSDPACK
on 05 March 2012 - 19:04

Watch the elbows and hips, size and drives. Send the pedigree of your female to Novotny, he will tell you. Your female should be small, firecracker prefferably have good elbow and hip improvers behind her.




by
Ace952
on 05 March 2012 - 19:11
Reach out to Christina at Wendelinfarm.com She is in canada and has used Ox as a stud in her breeding program. I agree with GSDPack with having Novotny analyze the PED.
by
vacha1
on 05 March 2012 - 20:07
Hi there, thank you for your replies, i acutally am in contact with christina, that is who i bought my female from, shes is a very punchy, serious, active dog. She is out of Navar and Ora.
She is not quite ready yet, she is only a year old, but i am just wanting things to be lined up and make sure this will be the right match for her.
by
Ace952
on 05 March 2012 - 20:52
I have met Christina at a seminar and she knows her stuff. Really nice person who can help you find a match for your female. What is it about Ox that makes you want to use his progeny?
by
guddu
on 06 March 2012 - 01:15
GSDPack:
can you explain what you mean by firecracker, and how does that relate to Ox's temperament.
thanks
by
GSDPACK
on 06 March 2012 - 03:55

It would benefit to balance out Ox's size, he does not use his body in a very athletics way. It is probably due to his size. I am sure he is capable of jumping well, I am only talking about enhancing.

Ox tends to throw biger dogs and this is when the female comes in the place (smaller, medium sized and athletic drivey little bitch "a firecracker" can really enhance what Ox has to offer). Has nothing to do with his temperament. But again I would consult Novotny. After all it is his dog, he knows him best.

by
Ibrahim
on 06 March 2012 - 06:55
Why send your bitch to Czech when you can send her to Ox's brother (Orin) in the States !!! just wondering. From what I hear Orin produced very nice structured puppies along with strong temperament and high balanced drives, Orin himself is true to what a GSD should be.
I have a son from Ox, Erri od Roubenky, he's a very beautiful male, big structure, nice conformation, big head, big bones, very nice temperament and athletic. He is few months above two years old now and is still raw, not trained for Shutzhund or anything else, he does not show good territory protection and he is not what experienced wl people here call hard or high defence and he does not match the description of his father and his work capabilities, that said please be aware that I am not a wl expert but just a very simple dog owner. Jinopo are some of the best breeders one could deal with, honest, nice and trustworthy and very knowlegable, they have a partner in US, Prager Hans who himself is an expert on Czech dogs and I think if you provide them with your bitch's info they can advise best match for her.
I am more happy with a grand son of Illo von der abfuhr and a daughter of Carly Policia-Slovakia, they are less in size and structure, but they are stronger in temperament, territory and family protection. That is my honest opinion and to my best knowledge.

Ibrahim

by
guddu
on 06 March 2012 - 10:35
Ibrahim:
Could you pl. provide some examples of Ox son as "not high defense", and conversely Carly and Zen sons as "stronger in temperament"...
Thanks,
P.S. Would love to see pictures if available..


by
Ibrahim
on 06 March 2012 - 16:25
I will
by
Ibrahim
on 06 March 2012 - 17:40
Erri od Roubenky,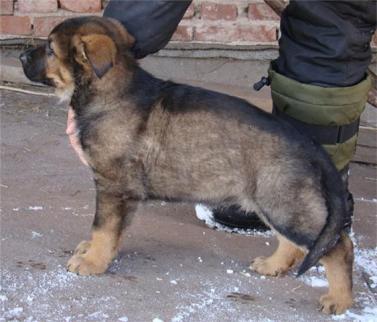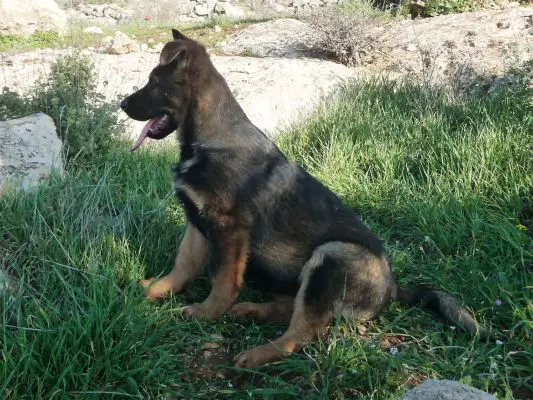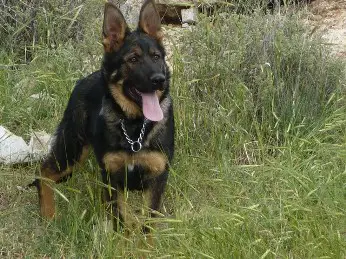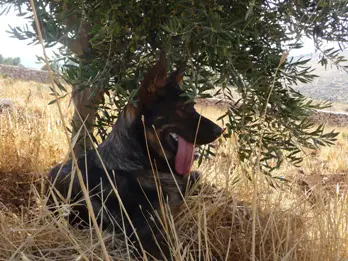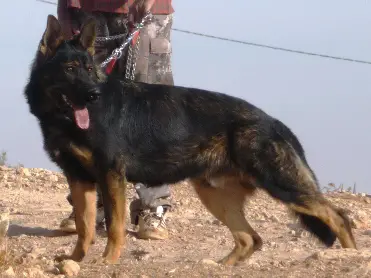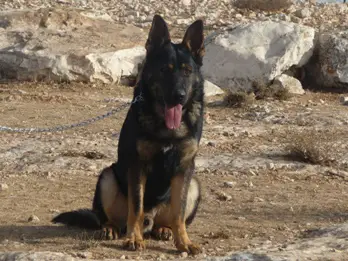 I will state again that I am no expert, but I like to think I learned a lot from the good members on this forum who were very generous to me, I think I understand what certain dog terms mean but if anyone has doubt that I may be confusing them, he/she can ask me direct questions and I'll be more than happy to answer them.
In previous threads I talked about my dogs and made comparisons inbetween them, then they were not fully mature, between then and now they got older (all more than 2 years old at the moment), I also learned a lot myself, so now I understand them better and maybe I realize differenced between them.
Erri is a big boy, he's about 66 cms high, little stretched, norm. angulations, little short and steep in the upper arm, short croup, dark pigmented, big frame, big head, big bones, very very athletic and lots of energy. In person he's so gorgeous, extremely beautiful male.
He does not show a strong presence, he's easily accessable by strangers in my presence or without my presence, very sweet character, easily makes friendships with other dogs and human beings, he is very reliable amongst children and young puppies, no dog agression at all. He is so energetic and likes to play a lot, sometimes he begs you to play with him, he's crazy for the football and to fetch a small ball, if he has no ball to play with he will carry a stone in his mouth and run with it. I see he did not come out of his babyhood attitude, inside he is more a baby than a man. If I get angry with him and shout at him and he knows deep inside that he made a big mistake, he will avoid me telling me I hurt his feelings till I call him and pet him then things are back to norm. I have a farm which is 7500 square meters, with a fence wall, at night I keep one dog on the loose for guarding, Erri does not show intense protection against outside dogs, sheep or human. If he is with me on the leash and a stranger approaches us and raises his hand at him in agitation he does not stand his grounds as should and he does not bark or growl in a gesture of fight back, if he is in his private fenced yard he may run away and hide in his home. Erri is not mine anymore, he lives with my friend.
If the OP allows I can give idea about my other dogs.

Ibrahim



by
arra
on 06 March 2012 - 18:43
Thanks Ace for the good word, I appreciate it!
Vacha you can call me and I can tell you everything about all the offspring I had with Ox. I had a few litters in the past with some good imported females, most pups were very dark sable and beautiful looks for sure. Of course not all the pups showed the same potential, but overall people are pleased.
Christina
by
Red Sable
on 06 March 2012 - 21:01
I always appreciate your honesty, Ibrahim, thank you. Ox, is a gorgeous dog, does anyone know what his temperament is like when it comes to natural protection?

I've forgotten the pedigree on Erri Ibrahim, who is his mother?

Thanks :)
by
GSDPACK
on 06 March 2012 - 21:16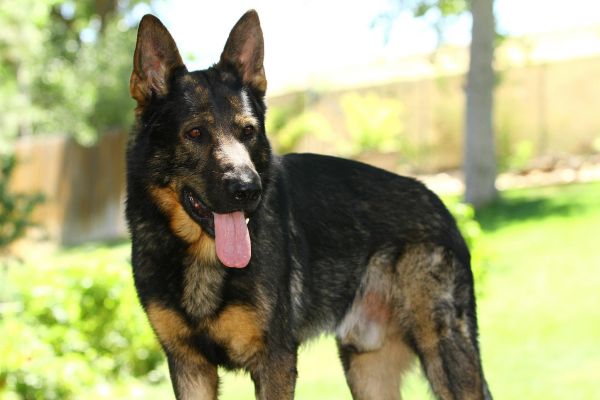 The resemblance is just obvious.

Ibrahim, the OP wants to breed to Ox or is wanting to breed to him. It only makes sense to send the female to Europe to Ox.
Thank you.

Ox looks so much like Reno.
by
Ibrahim
on 06 March 2012 - 21:25
Here we have few pure bred GSDs, we don't have the proper experience to train and no clubs to title the dogs, I started Orwell on training and shared a video asking for opinions and the experienced members told me to quit immediately, the trainer and helper were ruining the dog. In the US and Canada you have so many reputable breeders, so many clubs, so many excellent trainers, so many excellent dogs, highly trained etc etc and yet you send dogs to train in Germany and get pregnant there too. EXCUSE ME but that makes no sense to me, lol.

Ibrahim
You must be logged in to reply to posts