GSD HEALTH CONCERNS
by
VICASCBSC
on 01 March 2012 - 02:44
We went to the vet today to get the hips done for pre-lims for OFA. Vet said right hip looks like a concern .. he said his elbows are good though. Im so concerned I already have a GSD that I did the FHO surgery on and now I pray we dont have the same thing going on with oir new pup. He also said he has Panosteitis which I guess you can tell from the xray. He also has some very strange skin on his stomach is black and its like a alligator skin. Poor pup now he has 3 differnet meds. I can post the hip xray up if anyone would be intrested on giving there opinion.
Thanks


by
Nans gsd
on 01 March 2012 - 02:46
How old is the dog? Yes, I would post it. Nan
by
VICASCBSC
on 01 March 2012 - 03:11
He will be 1 in April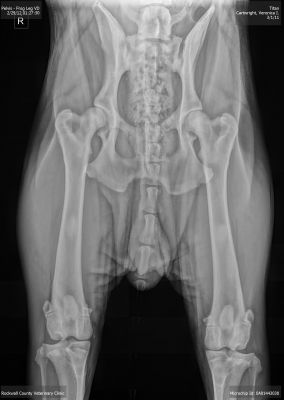 by
jdiaz1791
on 01 March 2012 - 03:19
Hips are good, tell that scumbag vet to try make commission in something else,at least the X-rays positioning are halfway decent...Panos,nothing to worry about;how much are you feeding him,what food? The "black skin" could be a prior scrape on concrete,nothing to worry about...what do u mean 3 meds?
by
VICASCBSC
on 01 March 2012 - 03:28
The vet has him on Cephalexin/ Ketoconazole/ ear infection meds.. He said he thinks the black skin on his belly is some type of bacterial or fungus infection but who knows we will see if the meds help in 20 days if not then maybe allergies or he said maybe a auto immune problem. We have him on Nutro brand dog food 5 cups a day. He seems to be in pain from the pero since hopefully we have ruled out the hips.. so we are giving him rimadyl for the pain
by
Blitzen
on 01 March 2012 - 04:18
Hips look normal to me.The right side doesn't look quite as deep as the left, but the pelvis isn't perfectly square.

If the skin issue doesn't resolve with the meds, try to find a veterinary dermatologist. It will save you a lot of anguish and money in the long run.

If I were you, I'd find a new vet.
by
vonantonhof
on 01 March 2012 - 04:59
to me they are normal ,the position of the dog could be better.
by
dogladyj
on 01 March 2012 - 06:58
Hips look normal to me. I too would find a new vet.

by
JJR
on 01 March 2012 - 08:00
Hips look ok to me too, should come back with a better than average score. Re skin and ears, take your dog off any wheat based dog food and feed raw. Once the infection is gone, you need to clean the ear using warm olive oil, then allow it to dry. I find using "Thornit" ear powder is great, you can buy it online. If the medication for the ears leaves them wet the infection will just reoccur. Some dogs do have black skin on their bellies and it is pigment, not a problem.
by
jdiaz1791
on 01 March 2012 - 10:14
For the skin use NU Stock, google it........usually Metamax or Ottomax or Posatex , liquid squeeze on ears is better,antibiotics will upset flora balance...no more Rimadyl,sideffects, just get a better food, Orijen large breed puppy 2 cups a day and pain will go away. Good luck
by
VICASCBSC
on 01 March 2012 - 17:03
Thanks for everyone's help. I am going to look on getting some better food for both of our dogs. Treat the skin and pano for a different directions other then meds.
by
SitasMom
on 02 March 2012 - 02:11

you can send the x-ray to the ofa for a "pre-buy" reading........its only 35$ they take credit cards....

email and find out more......

for pano, find a LOW protein food for a few weeks....





by
VICASCBSC
on 02 March 2012 - 03:49
So for the Pano is better for low crude protein or is the Orijen large breed puppy 2 cups a day better? The Orijen seems to have a lot of protein in it but it looks everywhere else. The vet sent the pre-lims in to the OFA should have results in a few weeks hopefully..

by
leoetta
on 02 March 2012 - 07:05
Regarding the skin condition, I had a friend that had two dogs like this, not at the same time one was already very bad when she got it and the other just had it a little like yours and was able to be healed and is in perfect condition now, the other was better for a time but then went downhill again, it was bad. She self diagnosed it after much research and got the vet to give the correct meds and agree with the diagnosis. Condition was called Malassezia. Keep the dog in a dry climate, no swimming either or playing in water bowls with this disease, it just makes it worse. It is a yeast/ fungal infection that is also internal. I do think it stems from auto-immune dissorder as well. You'll find lots of info if you'll google it. Good luck with everything.

Here's a great article I just found: http://rottweilerhealth.org/pdfs/august_malasszia_paters_02.pdf
by
Nans gsd
on 02 March 2012 - 16:03
I would also add a teaspoon of apple cider vinager every day to the food; will help to kill yeast/fungal problems plus helps joints, etc. Use the good stuff; Braggs organic ACV> good luck Nan
by
oregontnt2007
on 03 March 2012 - 14:22
look up



the black stuff in the dogs ears & tummy are allergies ( toxins seaping out of the skin if I correctly remember, what I was told )

When you use this product it will get worse before it will get better, so expect a 6 month healing time for the pup to get over this.

to say the least after 6 mos on nzmes & presice dog food it all went away for my GSD!
I bought the medicated bath by the gallon from Ryans Pets 27.00 a gallon + s/h
bathed 2 times a week for a month.... the smell & scratching when away

my GSD had it & so did my mali pup....
I personally think it is from meds ( metro) from Giardia.... it is really hard on a pups
immune system when there are not really developed yet.
This is why it is so important as a breeder to deworm the puppies properly prior to shipping
I heard it is a very common problems in most kennels.

We now de worm on a regular basis with DE

we also fed our pup raw W sojo's to help build the immune up to the age of 6 months with some kibble for training.

when we changed a friend dog from kibble to raw, her allergy probelms stopped in 1 month

I was also told & read on the net that chicken is the #1 meat that dogs could have allergies with, so they fed her beef & it worked. But not all dogs are a like

Plz remember not everything works for every dog or person, but it worked for us with our GSD


nans gsd, your on the right trail too, but the right food is also important.... that is why we feed precise dog food from the nzymes web site...it makes a huge difference
in treatment...good call.
by
BlackthornGSD
on 03 March 2012 - 15:54
There is a bit of irregularity to the ball on the right side of the film--a bit of a hook?--but that socket looks deeper than the other, too. Overall, the hips look pretty good. Still I think it's worthwhile to send the films to OFA for a reading.

The black skin is a typical result of irritated/damaged skin when there's been allergies or other irritations. Changing foods is probably a good first course--and stick with the meds. Also give him a bath with some mild shampoo.
by
mirasmom
on 03 March 2012 - 18:46
My dog Rollie had pano, we gave him 325 mg of Bufferin aspirin, one or 2 a day, the pano mostly
bothered him at night, the aspirin worked very well, plus it's all natural!

As for food, nutro is crap and is probably making his skin bad, I feed a raw diet or
Fromm Gold Dog food, www.frommfamily.com Never has been recalled.


by
mirasmom
on 04 March 2012 - 18:00
Thank you for that link oregontnt2007,
I'll have to check them out, they make sense.
by
VICASCBSC
on 15 March 2012 - 02:44
Got the pre-lims back.. Right hip is borderline according to OFA. Left is normal. We will do new xrays at 24 months and hopefully ( please pray) he will be at least fair not dysplastic. Any good advice of helping this right hip?!?!?! We switched to Blue Buffalo Freedom to help with the skin and the pano is still hurting him but we and he is dealing with it.
You must be logged in to reply to posts