My pup can HERD!!!!
by
Smiley
on 26 February 2012 - 22:45
Well, today was the day my 9 month old DDR bred girl met sheep for the first time. And.....drumroll......She has instinct!! Woohoooooo!!



She stayed super engaged the whole hour and by the end was moving the sheep around the trainer and instantly downing on command!! Trainer said she has tons of natural ability and she LOVED her control at such a young age!!

I am SO EXCITED!!!!!! It was such an amazingly humble experience to watch genetics at work....really, truly gratifying and awe inspiring.

So, we start formal "A" course sheep herding training now!! Wish us luck!!!!




Sara



Here are some pics I took with trainer......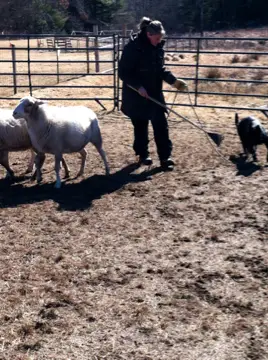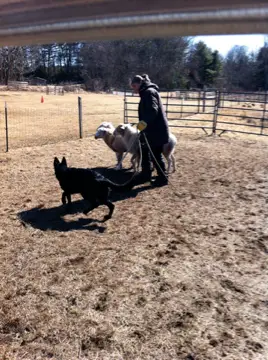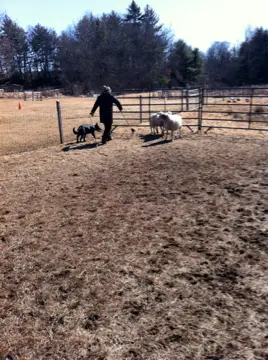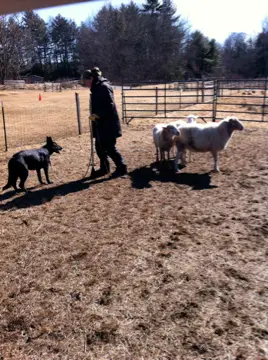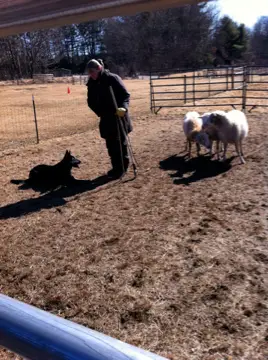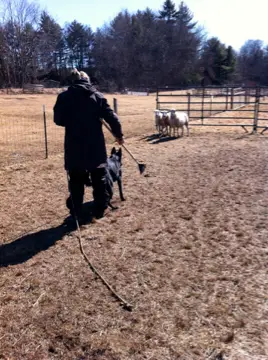 by
Kalibeck
on 26 February 2012 - 23:11
CONGRATULATIONS! Isn't it awesome?? I know how I felt when my girl did something she was never taught, just from instinct! It was SO awesome...total validation of all the pride you feel!
Good for you both! Continue having fun! jackie harris
by
CMills
on 26 February 2012 - 23:48
well that is awesome! Congrats!
by
Nans gsd
on 26 February 2012 - 23:49
That is sooooooo Cool, congratulations; have fun. Nan
by
Smiley
on 26 February 2012 - 23:58
Thank you so much, guys!! Can you tell I am a little excited..just a weeeee bit!! hahaha

I just LOVE my pup!!!






Sara
by
darylehret
on 27 February 2012 - 00:41
Finally!! Someone to share their herding experiences here. Looking foreward to it, and congrats that it's going well :-)
by
vonissk
on 27 February 2012 - 01:30
Hey Smiley that's absolutely awesome................I love all the excitement you show over the great places you and your girl are going. I've done herding before and yes it is a blast--especially when that light goes on!!!!!!!!!
by
EchoEcho
on 27 February 2012 - 05:13
That is great and I wish more of the people would test their dogs herding instinct. So many people on here talk about how a GSD needs to be able to work yet most of these people (who are breeding) aren't even testing if their dogs can herd. So glad to see that there are people out there that are excited about their GSDs herding instinct. After all the GSD isn't in the working group it is in the herding group. This is great!!
by
Smiley
on 27 February 2012 - 12:22
Dary...let the herding talk begin!!!!



Thanks, Von!!

Echo- yes, I believe strongly in maintaining herding instinct in the breed so I am THRILLED that she displayed it! I am excited about our journey and it will be cool to see how far she can title in herding! Heck, I may end up with my own sheep someday!! hehehe

Thanks again, guys!!!

Sara
by
Runag
on 28 February 2012 - 17:27
We have sheep but i am a bit worried about letting my dog start because once they do that is all they think about - on the other hand he might just want to eat them!! He is certainly very interested in them. Maybe i should let him watch our collies working. He might pick up a few tips.

by
FlashBang
on 28 February 2012 - 18:32
Herding is A LOT of fun :) When we first brought our GSD out to a herding farm, the trainers commented on what "presence" he had even at a distance of a 100 yards away from the pen. The ewes, including the main ewe, were ready to do whatever the heck he asked them to do. Needless to say, that was a few months ago, and we will have our first trial in a few months :)
by
ggturner
on 28 February 2012 - 19:49
Congrats! Have fun herding!
You must be logged in to reply to posts