My Pup
by
Runag
on 26 February 2012 - 12:33
Hi folks
just want to share a pic of my 10month old boy.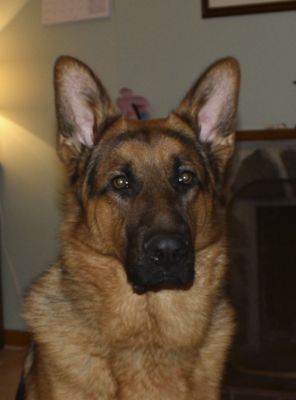 He is much redder in real life, flash is bleaching his colour - but isn't he gorgeous!
by
Gershep2
on 26 February 2012 - 13:11
Beautiful head for a 10 month old pup!

by
isachev
on 26 February 2012 - 15:51
Nice looking boy!
by
Nans gsd
on 26 February 2012 - 15:58
VERY, VERY handsome and looks so mature for 10 months, enjoy him. Nan
by
Runag
on 26 February 2012 - 20:49
Thanks for the comments - I have never had such a loyal dog. I now understand the bond between a shepherd and his owner. He won't leave my side, He is one in a million - I love him to bits!
by
Eldee
on 26 February 2012 - 21:51
I uploaded a picture do you know how i post it. thanks
by
Runag
on 26 February 2012 - 22:53
Hi Eldee
I clicked on the image icon (beside the f in the red circle) Then select the upload tab along the top this give you an empty box and a browse tab beside it. Click browse which should enable you to select the file from your computer. Click send it to the server and then it should appear in your message. Hope this helps,

by
Kalibeck
on 26 February 2012 - 23:20
Your boy is very handsome! And yes, the bond between a GSD & their person is very special. I really wasn't a dog person before I got a GSD, now I am hooked! They are the most loyal & intelligent. Enjoy him. jackie harris
by
Slamdunc
on 26 February 2012 - 23:21
He is a good looking dog. Good luck with him.

Jim



by
Berniemac
on 28 February 2012 - 22:34
He's beautiful. Only 10 months? Wow! He looks older and filled out. He should be huge in another year. Enjoy him.

by
ggturner
on 29 February 2012 - 00:12
Handsome fella! Nothing like a gsd!
by
Ruger1
on 29 February 2012 - 06:11
Nice head!!..pedigree??...:)
You must be logged in to reply to posts