German Shepherd Dog > Experiences from breeding showlines with working lines (158 replies)
by
Blitzen
on 04 March 2012 - 16:00
LOL. OK those dogs were not aggressive. What in your opinion would constitute an aggressive dog?
by
GSD2727
on 04 March 2012 - 16:27
Blitzen, when you did the BH with your dog - the other dog broke the long down and tried to bite you then your dog? What a horrible experience that must have been for you. I cannot even count the number of SchH trials I have seen (either trialed in, attended to watch, etc..) and while I have seen dogs break the dog long down, even seen one or two dog scuffs - I have never seen one go after the other handler.

I have seen "aggression" in dogs of all lines, but IMO it is usually more of a "fear" or nerve issue than true aggression. Not so common to see TRUE aggression I think.

I can see where the examples you stated could be training issues. I am curious of no. 3.... no longer welcome in training because they indescriminately bite the helpers? Helpers as in guy wearing the sleeve? or helper as in someone just helping out with the class? If they are biting the decoy/helper, why would they no longer be welcome? If they are biting someone in the class who is helping with training, then I understand that.

It is sad to me that out of 25 working line dogs you have seen most have been "aggressive". Also shocks me quite a bit.... as I do not know of anyone else who has had such horrible experiences. I have to wonder if maybe if you would have gotten to know the dogs/situations better you may have a different opinion? Maybe they were having training issues when you seen them? or?

Just find it odd that you have not met many (any?) even decent working line dogs. I have had the exact opposite experience with a much higher number of dogs.
by
Blitzen
on 04 March 2012 - 16:38
The dog that was biting the helper would run from the handler and bite the helper anywhere it could. I don't know why the owner was asked to not bring the dog back to class. The owner told me the story, she didn't elaborate and I didn't ask since she was visibly upset.

The dog that broke the long down ran after my dog and the handler. I was not handling her. The handler got bit trying to keep my dog from being attacked. The workingline has since earned his Sch 1 and seems to be doing better now. He was probably after my dog, not the handler.

I'm beginning to regret having said anything negative about workinglines. I know how you feel when dogs you love are critisized. Sorry I even mentioned any of this.
by
joanro
on 04 March 2012 - 17:20
Misinterpretation of dog behavior is what gets a lot dogs in hot water. Sharing one's experience is not necessarily criticism. Most of the time lack of knowledge is the reason for misinterpretation. Therefore education is the key.
by
beetree
on 04 March 2012 - 17:47
Not odd at all to find aggression in workingline dogs, just check the rescues and shelters. Let's not sugar coat this! Agreed education is the key, would be nice if it could be a two-way street.

Yes, Blitzen, time to backout gracefully, now, while you still can.

by
darylehret
on 04 March 2012 - 18:21
Agreed education is the key, would be nice if it could be a two-way street.

I'm learning a lot. So did your handler ever get your BH for you?
by
Blitzen
on 04 March 2012 - 18:29
Daryl are you talking to me? My current dog was BHOT handled to her BH which she had when I got her 6 months ago. Thanks for asking.
by
Blitzen
on 04 March 2012 - 18:33
Yeah, BeeTree, descretion is the better part of valor

.
by
VIANDEN
on 04 March 2012 - 18:40
I did a show/working cross with excellent results.All four of the pups grewup with very nice conformations,temperment and working abilitys.They all can be with the family and be calm or go out and do want ever you want them to do.In my eyes that is a true GSD.
Would I do this cross again you bet I would.

beetree your right people are breeding to much aggression with these dogs and there owner can't handle them and guess want the dog pays the price there taken to the shelter or offten PTS.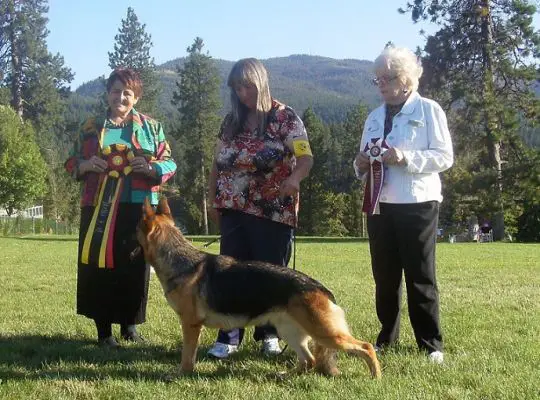 INT/NAT BIS Champion Xonna von haus Vianden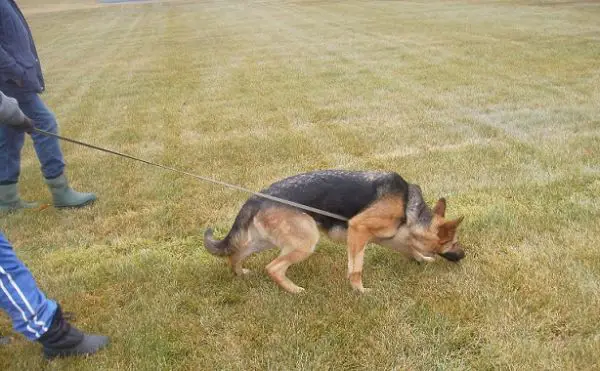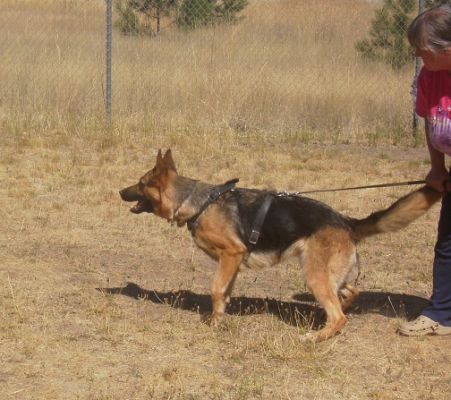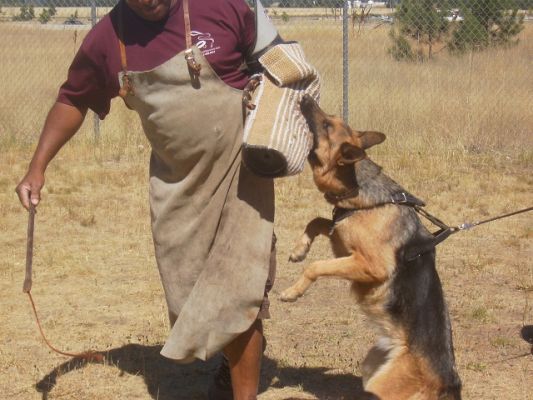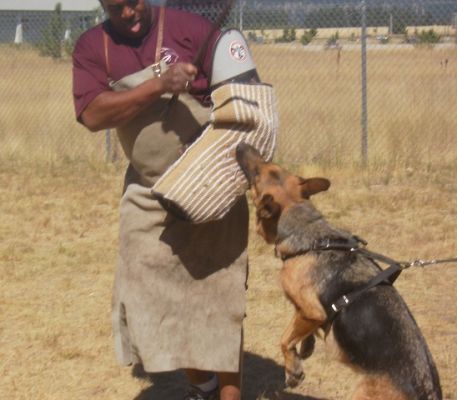 Can't get any fuller then this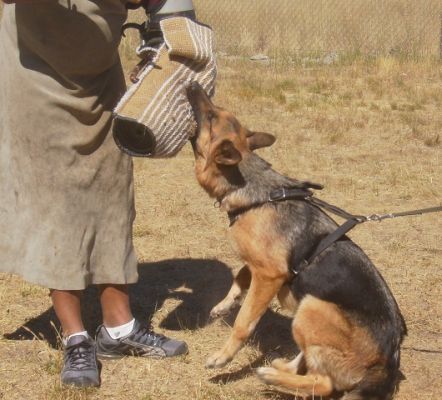 by
joanro
on 04 March 2012 - 18:58
Hey, Daryl, I learned a lot about people here. How about you?
by
darylehret
on 04 March 2012 - 19:11
Oh, so you don't have that dog anymore. You're welcome.

Anyway, dog aggression really sucks for anyone that has to deal with it. Happens in dogs with weak nerves, and happens in dogs with strong nerves too. Though dogs with strong nerves can have a higher tolerance to other dog's crap, they don't generally push for a fight, but they don't back down when one is inevitable either. A dog can be genetically predisposed toward gemerally disliking other dogs, but environmental triggers and conditions and trained behaviors sort of rule what is expressed and what isn't.

Some dogs that HAVE it don't display it, because they fear and/or love their master's wish, but it still lies under the surface, albeit curbed under general circumstances. Some dogs DON'T fear the cost of their dog aggression behavior, or their handler compliance for whatever reason is of a lesser priority than their drive to fight and never back down. With some dogs, the anger of their master is enough to escalate their drive in the matter, and have the opposite effect of the handler's intent.

So whether they have it or not, still doesn't cover whether it's suppressed or not, or even fueled by the handler's mental state.

I remember observing one BH where the dog was literally a complete nervous wreck, and then after later meeting and conversing with the handler, it was absolutely no wonder why at all. To some extent, we can affect our dog's behavior, wantingly or not.
by
Blitzen
on 04 March 2012 - 19:20
I still have that dog, Daryl. It's the same dog. I'm a one dog owner these days.
by
Blitzen
on 04 March 2012 - 19:25
She looks like a very nice dog, Vianden. I'd be proud to claim her too.
by
darylehret
on 04 March 2012 - 19:26
Handler Owner Trained, you say?
by
darylehret
on 04 March 2012 - 19:29
Oh, I get it. You didn't own her UNTIL she got her BH. Sorry I was confused.
by
Blitzen
on 04 March 2012 - 19:35
Correct.
by
vomeisenhaus
on 04 March 2012 - 20:24
Blitzen.... I went to steves website and I see that he did whelp a show/work cross last july. And for us wl enthusiasts check out the litter he had last year out of NITRO VOM KARUSOHOFF winner of the "83" national championship.. Talk about getting some old bloodlines from yesterday..... check this dogs pedigree out :) vomhausmiller website and click on puppies. Kurt
by
Blitzen
on 04 March 2012 - 20:44
Thanks for that information, Kurt. What a nice website with so many impressive dogs.




by
Gusmanda
on 04 March 2012 - 21:20
hey Blitzen, what happened to the handler of the dog that deserted the stay to attack? I would be EXTREMELY SUPER upset at the handler more than the dog.
You must be logged in to reply to posts