German Shepherd Dog > Any current DDR/East dogs with herding titles? (39 replies)
Any current DDR/East dogs with herding titles?
by
Smiley
on 22 February 2012 - 19:51
Hi, there! I am popping on-line to ask if anyone knows of any current DDR/East dogs with HGH or AKC advanced Herding titles (not just instinct tested) or dogs that have working farm exp? I ask because I am starting herding this week with my DDR bred girl but I haven't seen many dogs with these bloodlines herd. So, I am curious to see if she shows instinct.....Anyone know of any modern dogs with these bloodlines that can herd?

Thanks,
Sara
by
darylehret
on 22 February 2012 - 21:00
One of my girls, Nickie, has over three quarters east german blood.

JHD

(AHBA - Junior Herding Dog), PT (AKC - Pre-trail Tested), and about 8 months training toward her AKC "C" course, which I might have the opportunity to finish at a newly started training facility nearby. She's just as effective on cattle as she is sheep and goats, works well with other dogs in the field, and there are plans to train with a local rancher and his border collie. Nickie clearly shows a lot of natural talent, and it's been said she's "championship material" from a respected championship handler.

http://www.pedigreedatabase.com/german_shepherd_dog/dog.html?id=554438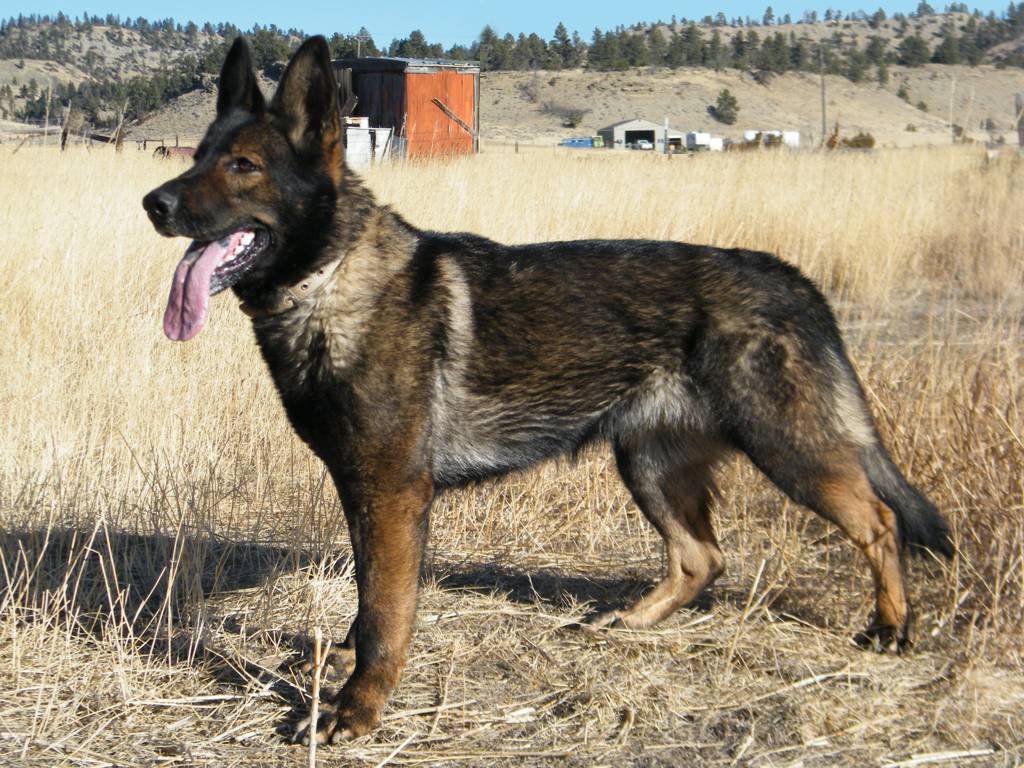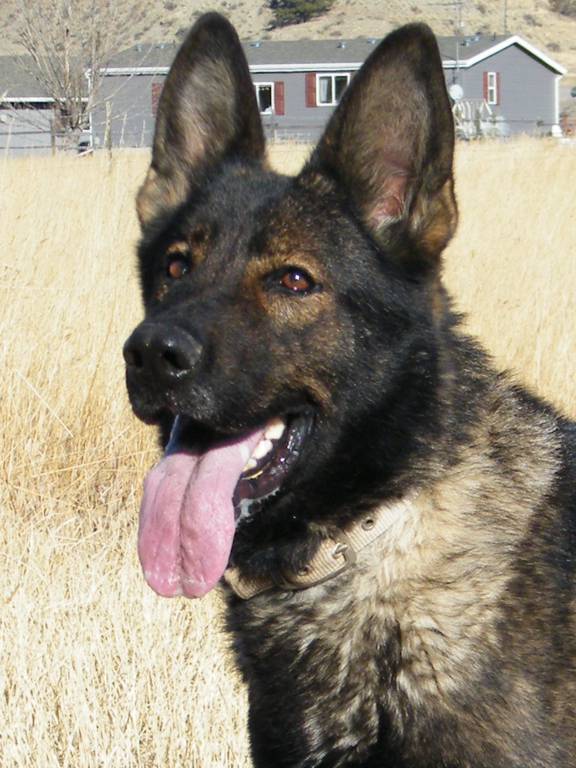 by
Smiley
on 22 February 2012 - 23:58
Dary...thanks for sharing your comments and for photos of your girl!! She looks like a beautiful working girl!! Any reason you switched to C course? Are you thinking of trying for the HGH down the line? I am starting with Course A (assuming she shows insinct although we also have Course C instruction local). "A" course seems more practical to me if I get a small herd of sheep (3 to 5) than C course.

Black- thanks for the information and pedigrees! I know about Brix (as I try to follow all the HGH dogs in America) but didn't know he was 1/2 DDR! I didn't know about Hetty though.... :-)

I feel much better going into this herding "lesson"!! Of course, I know it's an individual dog thing, as well, and not just a bloodline thing! I am hoping she shows instinct so that we can title in AKC.

Thanks again,
Sara


by
darylehret
on 23 February 2012 - 01:13
There was no switching, we were always training for the C course, and the other titles were easy snags along the way. The AKC C course or the AHBA's Ranch Large Flock are both scaled down emulations of the HGH. If you want to train for HGH there are only a couple places in the country that train and trial for it. I'm definitely not serious enough to relocate from MT for the sake of training a dog. And sending my dogs off for other people to train has no appeal for me.
by
Smiley
on 23 February 2012 - 01:42
Yeah, I know....NY and NJ. :-(

I have local C course instruction but I just feel like she may be more A course...of course, what do I know!! I was told to do C course if I wanted to try for HGH. But, like I said...I am hoping she is A course as it seems more applicable to someone with a small number of stock. Plus, I had thought about trying for HGH but I just can't pack up and leave my family and working farm to travel that far to train on a weekly basis.

I did find a local A course instructor who is familar with loose eyed breeds. She has belgian Tervs and has trained quite a number of non-border collies which I felt was a plus!

Should definitely be interesting this weekend!! I'm actually super excited. I hope she shows instinct. But, she just turned 9 months so I have been told that I may have to wait for her to mature more......

Thanks,
Sara


by
Jenni78
on 23 February 2012 - 02:01
Eicke and Eron vom Haus Kind.

Eicke was actually herding when she was purchased in Germany and imported here to the US. Real, working, herding dog. Not titles, actual real-life herding.

Eron, I believe, is used for stud. They are both "pure" DDR, if you believe there is such a thing.
by
Smiley
on 23 February 2012 - 02:15
Jenni, thanks! I wish more breeders would advertise the fact that their dogs can herd!! Working farm dogs are THE best which is why I included them in my original request.....



Sara
by
BlackthornGSD
on 23 February 2012 - 02:25
Jenni--

How would one get in touch with Eron's owner?

Christine
by
Jenni78
on 23 February 2012 - 02:28
I have a farm/herding/catch dog. He has worked just about every kind of animal you can think of, from elk to mink.
http://www.pedigreedatabase.com/german_shepherd_dog/dog.html?id=654402

I don't know why it says "HD- not tested." He was xrayed but not certified. I will probably have him redone before breeding, as it's been several years. I have his old xrays on file. I haven't bred him yet. My co-owner has, but I haven't. I plan to.
by
Elkoorr
on 23 February 2012 - 04:11
I have a daughter of Eicke vom Haus Kind. Sadly I do have only collie herding in my area and nobody was even willing to give her a try as spaces are so limited. But behavior wise she displays everything a good herding dog needs. Easily voice directed from a distance, light footed, soft mouthed, is very independent and a thinker. (which makes us kinda suck in SchH...lol) Right now she is herding my other dogs around, especially the schnoodle....guess because he is a bit whooly...

by
The Good Shepherd
on 23 February 2012 - 16:16
We just started a small "Tending" group at my place since Mary Weir moved back to NM. Right now we have 3 GSD's, 2 Belgians, 1 Terv, 3 Briards and one Beaucron (SP?) from AZ. But all of us also do the "traditional" - A course, AHBA and ASCA.
Most of the dogs already have their JHD (AHBA).
Do not give up, it can be done and its fun.
Where are you?
Anyone who wants to give it a shot or who just wants to watch is welcome, PM me

Claudia

by
Smiley
on 23 February 2012 - 20:30
Thanks for the additional responses!

So, sounds like there are, practically, zilch heavy bred DDR stud dogs out here in America. Bummer. I guess finding a predominantly bred DDR stud with proven herding experience and a "V" rating would be pushing it, huh!! Rats!



Sara


by
mollyandjack
on 23 February 2012 - 21:58
Elkoor, there is a woman in Pittsboro who will train GSDs in AKC course C. She specializes in all breeds that aren't border collie or kelpie ;-) I haven't had much luck getting Jack started with her because she trains during the week, which doesn't fit my schedule. If you're interested, I can pass along her info. I think there is also someone in Western-ish NC who recently titled their GSD in HGH.
by
Blitzen
on 23 February 2012 - 22:42
Anyone looking for herding classes in the Tampa area? I understand there are 2 or 3 good trainers here. I'll get the contact information if there is any interest. This won't be HGH, it's AKC herding.
by
darylehret
on 23 February 2012 - 23:00
Thing is, there's just not many german shepherds (period) doing this sort of training. My opinion is the DDR lines could have a slight advantage over many of the schutzhund sport bred lines in a general sort of way. Selective breeding for pronounced drives, due to overspecialization toward protectionwork and handler-focused obedience can be an impediment toward working with livestock. That is NOT to say that lower drives by themselves are ideal, nor that the dog doesn't require some inherent instinct for the work.

Nickie herself had little interest in chasing balls or sticks when she was young. She would instead chase the dogs that were after the retrieve items, and peg them in the withers. That was a good indication that she had an instinct for it. Still though, it took a couple months of working with the livestock before the light bulb really came on, and she realized the truer power of her presence. For example, how with minimal effort from a simple standing position, a slight turn of her head could make the flock move one direction or another.
by
Blitzen
on 23 February 2012 - 23:42
Daryl, in the Tampa area there are quite a few GSD's working in herding. We have a very versatile bunch of GSD's and owner/handler/trainers here. Some dogs are also dock diving, doing nose work, agility, rally, tracking, IPO, OB, flyball, cadaver, SAR, etc and doing well. It's pretty exciting to see GSD's doing so many different things and enjoying it.

I'd say about half are working lines, at least 2 Czech dogs; the other half Am and German showlines or combinations.


by
darylehret
on 24 February 2012 - 01:39
Was there that much involvement a couple years ago, or is it really growing that fast?
by
SummertimeGSD
on 24 February 2012 - 01:41
I have 2 dogs that are from Puck vom Grafental lines, they have both done herding training and showed a lot of promise though I had to drop our lessons due to finances for the time being.
You must be logged in to reply to posts