German Shepherd Dog > Degenerative myelopathy and my girl (29 replies)
Degenerative myelopathy and my girl
by
1doggie2
on 18 February 2012 - 22:01
Not formally diagnosed yet. When she walks she drags her rear feet, does not feel them when you turn them, she looks like a drunken sailor in the rear when walking,trips over her feet, they get crossed up, falls down, and is dribbling urine. She is in no pain, just upset when she falls down. She is 8 years of age and such a good girl, just a sweetheart. I have researched some of the posts regarding this horrible probility. They ran blood work on her none of her organs are an issue right now. What can I do for her, I did see where one poster felt the towel method of stabilizing when walking was not a good idea. I also saw a diet recommend. Can someone who has been down this road offer some advise, is there a timetable to fast progression, or things I can do to slow it down. Looking back, this came on slowly and not very noticeable, just small hints, but once it has taken hold is going fast. They put her on predizone so if any chance this is not dm, would reduce swelling immed. Bladder infection, on meds for that also. And anti vomit due to prednisone. Thank you in advance for any information you can provide. Ps. I did see some other posters having health issues with there dogs, so sorry for all of you.
by
beetree
on 18 February 2012 - 22:19
1doggie2, I am so sorry for you and your girl! I really don't know what else to suggest you use besides the towel, and the great big tail they have, I used that too. Just keep an eye out for injury to the dragging foot. I also bought those giant wee pads to lay under the dog when in the house for the incontinence. Do know things do not get better. They gave me prednisone, too. Said you could give them low dose prevacid for the stomach acids side effect of prednisone. You will know when the quality of life makes the struggle too much.

My dog probably was one of the fastest of progression, and I would say you are at least half way or more. The fact your vet gave you the prednisone says much to me. Not good. Just my gut feeling from my experience. Again, so sorry.
by
Mindhunt
on 18 February 2012 - 22:37
So sorry 1doggie2, my Loki was euthanized a couple days before his 10th birthday due to an aggressive form of DM. Watch for accessory muscle use when breathing since that is a late sign and usually you don't want to reach that stage (I can PM you the signs, trust me you don't want to get to that point). Swimming and acupuncture made a difference for Loki. Unfortunately you are doing palliative care not currative. Also, you may want to decide ahead of time what your bottom line is for euthanizing since you don't want to have to make that decision too late. Dogs with DM can live a long life with decent quality of life or can go down hill quickly like Loki did. Hopefully yours is the former. Loki the day before we took him in for euthanizing.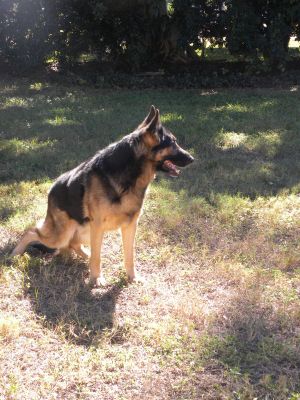 by
XenaGSDCKC
on 18 February 2012 - 22:46
Hugs you 1doggie2, My girl xena who had DM and was 14 went to the rainbow bridge last friday, so I have some experience with it. She didnt develop symptoms until last spring, some slight dragging of her right hind leg, some slowness of getting up also. I took her to my vet who said it could be DM or a disc problem, she suggested we try the prednisone also, to rule out disc disease. But I have worked for a vet for 4 years and knew that she would be more thirsty and need to go outside more, AND my vet said she thought it was DM instead of a disc problem. SO, I did not try pred, instead my vet suggested vitamin therapy and K-laser therapy to help the circulation in the spine sheath and regeneration of tissues there were being destroyed. So I gave my girl the vitamins and glucosamine my vet suggested and 6 laser treatments, it all helped. The laser treatments were 6 for $300.00 plus her rimadyl (arthritis), proin medication (for urine incontience) it was very expensive. But I tried it and it helped, the last few months she was going downhill on the walking department, she did not want to get up unless I coaxed her and I hand fed her also. I searched online for a walking aid for dogs but didnt purchase it. I walked behind my girl to steady her and held her up by her haunches when she wanted to drink water, she would never drink laying down.
The urine dribbling your dog has may be due to the pred, or her lack of feeling back there that she has to go potty. My girl would not pee in the house laying down, she would have a BM thou that she didnt realize was coming until she smelt it, thats because she didnt know she had to go, the DM took the feeling away from her back end, also that they dont know that they are walking with their back feet knuckled over, no feeling there.
I hate to say it hunni but I think your doggie is more than half way, I agree with Bee. I totally hate hate this disease. When I did the therapy with my girl she was not as far along as your dog is hunni.
I'm thinking you need to do what is right for you and your dog sweety. Read up on the DM and PM me if you'd like to, hugssss and prayers for you both <3
Angel Xena & Julie
by
melba
on 18 February 2012 - 22:47
A suggestion for the nails so they don't wear down from dragging... soft claws. I think you can get them at petco. You just super glue them on.

I was lucky with my Bonnie as hers did not progress very fast at all. We PTS this past September. She was 16 years old.

Melissa
by
Abby Normal
on 18 February 2012 - 23:08
Don't know where you are but you could contact Starcharr who has got her dog onto a drugs trial for DM, who could give you details. I don't know whether it would be any help to your girl at her stage in the disease. I expect she will see this thread and drop in anyway.

This harness looks very useful as an aid to help steady and support dogs with DM.
http://www.hartmanharness.com/ they can wear the harness all the time and the rear part is detachable. I haven't used it, but it looks very good and I wish it had been around when I had a dog with DM many years ago, as I certainly would have tried it. Just a little bit of support now and then when they get in a tangle can make such a difference to you both.

I am very sorry that you and your dog are having to deal with this awful disease.
by
starrchar
on 18 February 2012 - 23:09
My dog, Shelby has DM, so I will tell you all that I have found out. Sadlly, there is no cure for DM, but in some cases the progression can be slowed down or even arrested for a time.

I am so sorry to hear your sweet girl is having these health issues. I am guessing she has had some x-rays of her spine to rule out any significant arthritis of the spine or other spinal issue, such as a disc out of place or something like that.

First I would recommend that you do a DM DNA test to confirm she has DM. If she does have DM, you can start on Dr. Clemmons protocol. Dr. Clemmons is the DM guru. Some dogs have been helped significantly taking his meds. Here is a link that will be helpful http://neuro.vetmed.ufl.edu/neuro/DM_Web/DMofGS.htm Dr. Clemmons prescribes two medications: Acetylcysteine 25 mg/kg 3 times a day (every other day after 2 weeks) Aminocaproic acid 500 mg 3 times a day. He also prescribes a supplementation cocktail called Antiox-Q. The ingredients are on the website. I get the medications from WestLabs. Medications must be prescribed by your vet. Start all meds and supplements slowly to try and avoid stomach upset.

Another thing that will help her is physical therapy in order to maintain as much muscle mass and strength in the back end as possible. Walk her everyday at least 4 or five times a day. Start out with short walks and increase the time slowly. Exercise her as much as possible, without overdoing it. Swimming is of great benefit too. If you are interested in the PT excercises please PM me.

Massage therapy helps them feel better, as does acupuncture and laser therapy.

Shelby had stem cell therapy, but it didn't help much. Her own stem cells were used. There is lab in California that is using donor stem cells and is having pretty good results. One dog is two years out and holding his own. It is expensive and will cost you at least $2000. If you are interested in more info on this please PM me.

I don't feed Dr. Clemmons' diet. I feed Shelby the same diet she's always been fed: raw meat of various proteins with steamed veggies and various supplements and herbs. My holistic vet feels that the diet Shelby's diet is good and does not need to be changed.

One more thing- my vet told me that incontinence usually doesn't occur until the dog is completely down in the rear, so it is likely your girl's incontenance will clear up with the medication she is on for bladder infection.

I hope this helps. I really feel for you and what you and your girl are going through.






by
1doggie2
on 18 February 2012 - 23:17
Bee tree, the prednisone has not helped no changes. Mind hunt, Loki was beautiful so sorry for your loss. XenagsdCkc, thank you for the information, but I think I will skip the breathing issues, I watched my dad go with congestive heart failure and even with the morphine, it sounded as thou he was drowning. I will never forget that and would have left, if not for not wanting him to go alone. Melba, I do not think an issue with the nails at this point, she will only get up about 3 times a day. But thanks for the information. Videx, I sent an email asking what they would like from me.
by
Alamance
on 18 February 2012 - 23:22
Wayne L. Berry BVSc, MMed Vet, MRCVS Diplomate Neurology, Diplomate Internal Medicine Irvine, CA 949/ 833-9020 is a well known vet in S. CA for backs and nerves. Said my friend's dog's spine was a REAL problem and not the arthritic hip [not hd]. Surgery was done on a compressed disk and that WAS the problem, not the hip.
by
starrchar
on 18 February 2012 - 23:24
As I was typng my previous post a lot of others responded. The people on this board are awesome!

I see Abby mentioned the clinical trial. It has not started yet and I'm not sure why. Something to do with the drug company I think. The trial will be taking place in S. Florida and the dogs must be examined on a regular basis, so it is not something that can be done long distance unfortunately.

I'm glad Melba mentioned the soft claws. They are great! My girl is 25" and 77 lbs. and I order the xxx-large size for her.

I have tile on my floors, but put down carpet runners all over the house to give Shelby more traction. It really helps. I've tried boots, but they are not very beneficial. Shelby trips terribly with them.




by
beetree
on 18 February 2012 - 23:28
1doggie2, and that is what worries me, the prednisone-- it did nothing positive for my dog, just like yours. It is a last ditch effort, I think, the vets do it for us. The incontinence and the ineffectiveness of any treatment are the most worrisome symptoms, to me. Make sure you wash the legs daily to prevent rash from the urine.
by
1doggie2
on 18 February 2012 - 23:37
Starrchar, Walking her 4 to 5 times per day, she is to the point she goes 4 to 5 steps and is down. Then she will rest and go another few. If she goes from the kitchen to the garage there is a small step, it is 50/50 on accomplishing this. I recently put in a pool, knowing she had dysplatic hips and thinking it would be good to swim her and build up those hips with no pressure points. She could not get out of it and I can not lift her, I have a crushed disc and cracked vertebrae in my back (one to many dog fights). So I am so dissatisfied, I was so looking forward, I love to swim with my dogs. Thank you for the Information i will contact both alternatives? Can I ask you how far where your symptoms when you began the protical? Please email me any information that you have, cmdonna@me.com
by
Blitzen
on 19 February 2012 - 00:27
Doggie, you might want to consider having her DNA tested to be sure it is DM.There are a lot of other things that can mimic DM. I'm really sorry to hear this. It's every GSD owner's nightmare.

PS: Ignore the first 2 sentences. I see that Char has already offered that suggestion to you.

by
oregontnt2007
on 19 February 2012 - 01:48
I lost my baby girl to DM at age 3

RIP TESSA VOM HIDDENHAUS!

you were the best thing that ever happened to me!

I will love you & I have never forgotten you!
by
Kalibeck
on 19 February 2012 - 03:02
1Doggie2, I'm so sorry for you & your dog.

And to all the other posters here God bless you. It is so hard to lose your best friend.

jackie harris
by
NIKKI04
on 19 February 2012 - 05:03
1Doggie2 ,

So sorry to hear about your girl .. I posted about about the towel when Starrchar was asking about the disease last year .. I used it to walk my Missy around using it she felt much more secure with it ..I also used "booties" so that her back paws would not get scraped up .. she like your girl was also on Prednisone .. it helped for a period of time .. there were days when she could not get up at all and I would have to pick her up .. which was hard .. as I said before its such a hideous disease .. I feel your pain because I know what you are going through. When I first saw her signs of the disease .. I immediately looked it up and found Dr. Clemmons in Florida .. there are trials now .. they so need to find a cure for this darn disease .. I hate to keep seeing these posts on DM .. try to keep her at the least walking as much as she and you can at this time ...


Lisa
by
Sunsilver
on 19 February 2012 - 05:43
Other diseases can mimic DM. I lost my first GSD to ankylosing spondylitis of the spine at age 9. The symptoms were pretty much identical to DM: progressive loss of control of the hind legs, plus incontinence of stool. When she reached the point that she was dragging her hind legs along the ground, I very reluctantly gave permission for her to be euthanized.

I would have the genetic test done. If it is negative, have an x-ray taken, as that will show if there is arthritis in the spine. Spondylitis is an advanced form of arthritis where the vertebrae actually fuse together, blocking the transmission of nerve signals.
by
1doggie2
on 19 February 2012 - 15:58
Sun silver I googled the a s, I read where there is pain associated with this, was your dog showing signs of any pain? She is to be tested next week for dm.
You must be logged in to reply to posts