German Shepherd Dog > If the Capt. was alive today (254 replies)
by
Blitzen
on 21 February 2012 - 18:55
Felloffher, the dog they used was an extreme example of a very poor quality GSL. Very few I know would ever enter a dog that bad in a show. The WL looks like a fairly good representative of those lines. Why didn't they use a poor quality WL dog so the comparison was fair and accurate. That's like comparing Heidi Klum's feminine traits to those of Whoopy Goldberg.

What do you mean by "champions"?


by
Felloffher
on 21 February 2012 - 19:17
Wrong video, I thought you were commenting on the Changes in the GSD video. Sorry.
by
Blitzen
on 21 February 2012 - 19:22
Well, I could have made that clearer, couldn't I? The other videos are really good, that one not so much.
by
gharsha
on 21 February 2012 - 19:37
Excellent thread Gustav.

I feel like I can distinguish from the replies who has studied v. Stephanitz's literary work.

He did memorialize his goals in Word & Picture.
by
Preston
on 22 February 2012 - 01:17
I once had an interesting discussion with a friend of mine who has been involved in the GSD breed for over 40 years. His view is that the too many of current crop of black and red tops SV GSDs are like the hollywood starlets. Too much curbside beauty and too little character and temperament under the exterior. GSD enthusiasts can easily get "seduced" by the raw beauty and synnergy of these near perfectly conformed GSDs which just happen to have stunning red and deep black pigment. I know because it has happened to me. And it can happen to anyone. I admit it, I was a sucker one for a high priced "showdog", a most stunning GSD which turned out to be very deficient in temperament and health. Some carry far too many problems genetically and various deficiencies of working temperament. But not all, because there are always some which are themselves exceptional in all manner and can and will produce healthy progeny with good temperament. These dogs are more frequent in the Landsgruppen shows where one can find less conformity to the current cookie cutter type, but nonetheless great GSDs in everyway and some better than any cookie cutter type. I think there are about 1200 SV clubs in Germany and many more in other European countries. Just about any type of GSD preferred is available and many are well within a reasonabble range of the standard, some with even better conformation than what you might find at the Siegerschau.

There are many great breeders that are responsible and ethical and sell quality GSDs that do not conform exactly to the cookie cutter type, but are nonetheless very close to the standard and all around magnificent specimens. Many of these GSDs make wonderful 24/7 in home family pets and protectors. There are many excellent SV GSD breeders in the USA and all around the world that produce very worthy GSDs also. One just must do the necessary research and be willing to travel to find these kennels. Often one must put a down payment on a puppy and wait in order to get one from these excellent breeders because their puppies are in demand.

The problem is not with the SV and nothing can be done to legislate quick fixes for the GSD breed. The problem lies in the hearts and minds of the owners, buyers, breeders, and judges and change must occur within first, after honest evaluations are made of the breeds top blood lines and top winning GSDs. Actually if one looks at the whole picture, the SV has done a great job overall. How can I suggest this when there seems to be significant problems in the breed? It's easy because there are so many SV GSD breed clubs and breeders it is more possible than ever to find the GSD one really prefers IF, one takes the time to properly research breeders and dogs and is willing to save money to finance a purchase of a qulaity animal from a quality, ethical breeder. I say hat's off to the SV and a big thank you for so many years of good service. The great GSDs are still here and they are available if one really looks for them and does proper reserach. Without the SV system, there would be very few good ones available at all, IMO. Let's not bite the hand that feeds us.
by
Preston
on 22 February 2012 - 01:48
Here is my view of the best conformed SV GSD ever bred in the history of the breed as far as conformation, Lex di val Sole, son of the legendary Quanto. By the way he did have great working temperament. http://www.pedigreedatabase.com/german_shepherd_dog/dog.html?id=1744



For whatever reasons he was not the producer of his less perfectly conformed brother Lasso di val Sole. But notice his perfect short back, short loin, correct front, small rear hocks, correct angles, proper wither, fantastic male head. He had deep black pigment and was an impressive GSD in every way. If you use him as the blueprint for the ideal type that the FICA/SV standard specifies, you will be on the mark. Many top VA zuchtschau choices have been selected which do not even come close to this type of conformation, especially lately with so many roach backs, dogs that roll up in the rump somewhat or fall off in the front unless they are on a tight lead and pulling hard.
The correct short straight back is the hardest thing to breed successfully.

Here is the good news. there actually are GSDs that share this wonderful type being bred and shown in the many small cluds in Europe and Germany which are shown in Landsgruppen shows. They are not black and red, but are stunning in curbside appeal and tend to be near perfect in conformation. Some have perfect short backs and great working temperament. It's all available in Europe and Germany and many other countries worldwide if one does the necessary homework and research.
by
Chaz Reinhold
on 22 February 2012 - 05:19
Well said, Preston. They are out there. Do your homework and you can find them. Problem is, some people have a different vision of what a gsd should be.
by
darylehret
on 22 February 2012 - 14:54
Do your homework to find out which ones were fairly admitted into the SV system and which ones passed when someone looked the other way? Not supposed to work that way.

The pretense is that the SV endorses these dogs as representatives of the breed. If you can't rely on the organization's stewardship of the breed, what other purpose do they serve except to collect fees for registrations and sanctioned events, just like the AKC?

I agree, we have some different visions, but when they fall within the parameters of the breed standard, that's OK. The SV shouldn't be putting it's stamp to the specimens that DON'T. It defeats what should be their primary purpose, makes them an unreliable 'stamp of quality', no different than the USA's AKC.
by
joanro
on 22 February 2012 - 16:06
AKC doesn't do anything or claim to do anything other than register breeds of dogs and the the accuracy is only as good as the person registering the dog. The way of the breed is on the judges putting dogs up in the show ring.
by
Char Pazin
on 23 February 2012 - 01:37
Well if the Captain was alive he would love my dog Garris Arminius

Von Chaos Garris stands out in the crowd is a eye catcher just stunning he is like

Horand von Grafrath.


A wolflike dog with speckled yellow and gray fur, a powerful gaze, and a strong demeanor that bore traces of the primal animal within. The dog was intelligent

Garris does look like a wolf sure looks like Horrrand to me what do you all think?

Char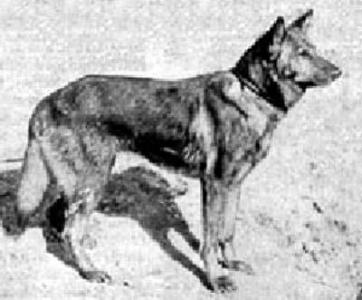 by
Preston
on 23 February 2012 - 07:21
Daryleret, yes the judging has drifted likely due to kennel blindness caused by $ motivated perceptual shifts, especially at the SiegerSchau (some regard as the grand sales convention for zuchtschau). I do not believe the problem lies in the structure of the SV, but the hearts and mind of individual SV members. When enough members reach a critical mass who demand more true use of the FCI/SV standard, a major tipping point will be reached and better GSDs which are truer to the standard will be put up at the SiegerSchau. True to the standard judging is really easy to use if one uses transparency projections of each dogs photos with the standard to compare conformation with. After a while it becomes automatic for many. Use thin vellum paper and trace any correct GSd like Lasso or his brother and compare any other dog by placing that tracing over it. You will see what is correct or not correcty easily.

It is not fair to judge the way the GSD breed is being evaluated in total by the central sales convention each year, since it is often pre-arranged due to market realities related to the cartel which emerged from far too much success selling the Black and Red show lines dogs all over the world. I have had it both ways, bought a B & R super star that was unhealthy and deficient temperament and also later on, two that turned out to be far better than I expected in temperament and health. The key was I did my homework after the first mistake. But I admit it has always been the stunning B & R beauty and curbside appeal that drew me toward each acquisition.

I truly believe that there are many excellent GSDs back into the V ratings at the Sieger Schau that vary from the cookie cutter (roach back) type and are far better conformed in many cases. Some are excellent specimens and terrific producers, but do not have the political backing of the cartel members. There are many fantastic GSDs at the Landsgruppen shows (regional SV shows) in Zuchtschau that are excellent in every way and bred by folks who refuse to breed the type of dog and play the politics required to compete in the top ranks at the SiegerSchau. They chart their own path and breed responsibly and often produce impressive quality, GSDs very worthy of acquisition and true to the standard. There are very good SV GSD breeders all over the world (with the highest concentrations in Germany and Europe of course due to the huge number of clubs). Some GSD at the shows are great dogs but not adequately trained for show and have huge untapped potential. Nowdays, the breeding numbers are dropping due to urbanzation, high costs and women often having to work outside the home. And there is much less time for training in many cases, so some great GSDs don't get the attention they should when shown.

by
aaykay
on 23 February 2012 - 12:11
======================
And when balance is moved one way it suffers in another.

THIS. It becomes unbalanced.

The people who like all of these things, that are necessary for winning in sport or show, are responsible for dogs like Marko, Mutz, and Bernd no longer being fashionable. They also yell the loudest when you point these things out because they want to continue to travel down these paths, although everybody not playing the show/sport game can see the damage.....Winning and money run the breed today....period!!!

Yes. The dog is not being used for a job like the old Schaefermeister's did.. where they were paid to handle large flocks of sheep that were a composite of small flocks owned by various people in a town or village. If the Schaefermeister lost a sheep HE had to pay for it.. just as those who owned the sheep were paying HIM to care for them, grow them, lamb them and fatten them! The dog had a real job to do and the living of the Schaefermeister and his family depended on the dog(s). ONLY DOGS THAT WORKED LIVED AND BRED. Others were removed from the gene pool.

No one does this anymore.. and the dogs are used for sport and showing... and money is made FROM the dogs, not from the work the dogs do.
==========================

Totally agree. The people doing both sport and show are responsible for balanced dogs not being fashionable. The sport side breeding prey monkeys and the show side breeding pretty (but otherwise totally useless - temperamentally and structurally) black/red/tan dogs that can trot prettily around a ring. Neither of these groups are of any interest to me, since neither side have the balanced temperament that the GSD is known for. In fact, the sport breeders have the temerity to call these prey monkeys as "working dogs".

I used to be into show GSDs a couple of decades back, and after recently coming back into GSDs, I am amazed at how far the show GSD had deteriorated, under the "guidance" of the leaders (SV et al). Thank goodness the new RSV2000 organization is drawing a firm line in the sand and driving against the current trend and breeding for balanced specimens.

I passionately dislike the "stacked" show stance. What is wrong with the dog standing normally ? I like the stance adopted by the RSV dogs.....just a beautiful GSD standing normally.

That posted video of the useless, weak show GSDs (that actually are "champions", believe it or not !) trotting weakly around the showring, was the most telling sign of how far this breed had deteriorated, in the space of time that I was away from GSDs. That silly show judge had the temerity to call the show GSDs that he was judging, as a better representative of the breed (structurally no less !) than the sound working line dogs ! Once I got back to the GSD (recently), I never could even consider buying anything less than a good, solid working line dog.

by
aaykay
on 23 February 2012 - 14:35
Blitzen: What do you mean by "champions"?

Maybe the ones who typically win the dog "championship" during the dog-show ? If the ones shown in the video actually became "champions", then no wonder why the German police have started to walk away from the GSD (German Shepherd Dog).....something they have happily used for nearly a century......and switch to using the Belgian Malinois (unfortunately, not enough working line German shepherds to bridge the requirements gap and the flood of useless showline shepherds just don't pass the temperament/structural muster any longer) !
by
johan77
on 23 February 2012 - 18:02
I guess the problem is that both SV and similar breedclubs have too much influence of showbreeders then, hence they have more impact than those who want a workingdog in structue and charuacter. The most intressting question is how the charater should be in a true GSD. I don´t know if RSV preserves the GSD better than those workingpeople in SV, or if it´s even importat that a dog could do more than SCH in their view, their talentsichtung seems like a pretty basic temperamenttest and their korung is not so different from SV what I´ve read, but maybe someone knows the difference more. In the end it´s up to the breeders to produce the type they like, and what people probably wants, both the requiremnts of SV and RSV is just a minimum standard as I see it and no proof the dog are breedworthy or "versatile".

RSV is nothing new either, a similar club was formed in sweden 10 years ago, a place to gather those breeders who are workoriented and feels the official breedclub is to unintressted in the working GSD. Not so long ago a showchampion could also be a workingchampion or PSD, like this dog, it´s really no point in breeding for a type that is more "correct" to the standard than this type, surely max wouldn´t do so anyway,
http://www.pedigreedatabase.com/german_shepherd_dog/dog.html?id=128843
by
aaykay
on 23 February 2012 - 19:22
it´s really no point in breeding for a type that is more "correct" to the standard than this type, surely max wouldn´t do so anyway,
http://www.pedigreedatabase.com/german_shepherd_dog/dog.html?id=128843

Excellent structure in the above dog. It is the sinking rear-end in the showline dogs of recent years, that turns people like me away from them. How did the GSD (which I love passionately) get to such a poor structural state ? In my opinion, it occurred due to the poor direction provided by organizations like the SV, who wields an outsized influence in the shaping of the breed.

by
duke1965
on 23 February 2012 - 21:52
Johann make no mistake , RSV is making many changes on many fields , health , workability , certification of securitydogs , many many things are happening there , they organize this years German national trackingchampionships

to give example the SV never send dogs/teams to the german national all breed workingchampionships , since RSV is presenting itself and german shepherds there very well for several years ,suddenly the SV forms a good team to go there , and since Helmut started the RSV more and more things that got stuck for ages inside the SV suddenly start moving

you can read the english HELMUT RAISER interview and RSV2000 article in next World of K9 Magazine
by
Blitzen
on 23 February 2012 - 22:02
aakay, the SV does not issue Championship titles. The dog on that video is clearly a GSL.

aakay, I get it - you hate showlines and would never own one. Fine with me and I doubt anyone else reading this who likes SL's is going to lose any sleep over that either.


by
Gustav
on 23 February 2012 - 22:12
I guess "hating" and "critical" is like "fearless and "viscious", they really have nothing in common, but people see the one as a way to neutralize the other....We need balance in dogs and people.
I criticize the sport dogs all the time, but I don't think they feel I hate them...they need to be more balanced, imo. But when it comes to SL, mad phobia comments arise about your criticisims. That's why it will be hard to improve them; in my opinion....too much sensitivity with the dogs and owners.
by
aaykay
on 23 February 2012 - 22:13

aakay, I get it - you hate showlines and would never own one.

Blitzen, no you are mistaken. My family used to have showline GSDs (balanced dogs, mind you) in the past - a couple of decades back. Those were balanced dogs with none of the sinking rear-end that characterizes the recent showlines.

Capt.Von Stephanitz, who is the breed founder, would be turning in his grave, looking at what his beloved breed has deteriorated into.
by
Blitzen
on 24 February 2012 - 00:43
Sorry if I'm not impressed by disparaging remarks about ANY line GSD. Any fool can fault judge dogs; given a 10 minute orientation, the man off the street can see a roachy topline, a "sinking rear", an out of control vicious dog and flap his/her jaws about how horrible ths dog is, how awful the breed is, yadda, yadda, yadda.

The hard part is recognizing the good qualities and understanding how to prioritize them and use them to accomplish a specific goal that benefits the breed in general. As with the best breeders in all breeds, that was most likely the Captain's greatest strength. I suspect he wouldn't be all that pleased with the breed as it is today, but I also suspect he'd be a lot less pleased with the elitist attitude of some of the breeders.

You must be logged in to reply to posts