German Shepherd Dog > If the Capt. was alive today (254 replies)
by
vomeisenhaus
on 26 February 2012 - 13:50
Duke1965.... youa are correct about my post. I'm in florida for winter and doing this from my phone with not good service so I keep it short and it don't always come across exactly how I meant it.hardness has nothing to do with being sharp. But maybe we have 2 different interpretations of what sharp is. To me a dog coming to the door barking with great intensity and confidence and saying. (If you openthat door your getting bit) and being very convincing is not being sharp. To me that is defence....so actually yes defense and hardness are 2 different things but also one is not much good without the other. The hard dog threads are always startes by a newbie who usually don't know Much but I understand why they pop up often as many and newbies probably feel awfully cheated when they find out their 15000 puppy won't protect "ANYTHING"IN REAL LIFE unless someone is wearing a sleeve and cracking a whip..... of course walking in the house with a suit on and putting pressure on many of the sl dogs I see with good defence is the only way tosee if he is going to crumble or not but you are definately getting bit regardless. Much more of a deterrent than many wl dogs bouncing around with a ball in its mouth. I'm all for working line myself but I am disgusted to see what is being peddled here in the usa as wl gsd...... I paid 2850euro for a female :) she is all I was looking for for my next sport dog. I like tough bitches. And the statement about the good studs bred to "crappy bitches" is the first place to start to fix the probblem IMO. I bred ALEX VOM EISENHAUS 2X universal sieger schH3 IPO3 FH. I imported her bred and wanted to keep a female pup. The best female pup was a longhair so I didn't keep one. After the litter was gone and I sterted working the mother I did not like her. Very weak in protection. I could have bred this female many more times but chose not to.there are a few of us that are not in it for the money. If I had a $100 for every crappy schh1 female I've seen imprted and bred purely for the $ id be very well off.lol. luckily troll v h milinda was pe-potent enough to give me 5 pups in a litter of 10 that I liked. Too bad my top 2 picks were lonhairs. Until it stops being about the money I thinkthings will stay just as they are. Kurt
by
duke1965
on 26 February 2012 - 14:05
its not only the money ,but many people think if they buy a pup from whatever famous male it will be a great pup , as long as that mindset wont change , the bigger picture will not change
its maybe easyer to go with the flow and breed names and sell the pups fast , but were will it bring you or the breed
by
joanro
on 26 February 2012 - 14:37
Duke1965, you are so very wright about the famous studs. I would like to add, with much respect, that "famous" can be created in two ways; fame through advertising and campaigning; fame through word of mouth and reputation. I know you already know that, but I would just like to point out that the general family looking for a pup do what they have been conditioned to do, rely on publicity to make a choice. Therefore, breeders "in it for the money" monopolize on this to sucker customers in. No, it is definitely not good for the breed, and a large majority of people breeding dogs couldn't care less. A personal example: I know a man producing GSDs that boasts on pedigrees of his dogs. One of his males has a very obvious back problem(drags back legs at times)which the guy has not had diagnosed and proudly bragged on new Litter from that dog. I was shocked, he said, "his back isn't too bad, he can still breed". Sells pups like crazy by that dog.
by
aaykay
on 26 February 2012 - 16:18
Vomeisenhaus: Much more of a deterrent than many wl dogs bouncing around with a ball in its mouth.

I see a classic mistake being stated above, and that is equating sport-dogs with working dogs. I personally don't consider dogs bred for high-prey drive and nothing else, primarily for top sport, as WL dogs. Those are just sport-dogs not working dogs.

A WL dog is FAR more than a prey-monster. They have solid structures built for work, in addition to a temperament that balances prey-drive and defense drive, along with the mental capability to solve problems, independently of their master. They have "off" switches that allow them to settle down at home, once "work" is done.

For instance, WL dogs like say Norbo Ben Ju or Quanto Jipo-Me or Dargo Ha Ja Da or Balli Panta Rei, who are hard, uncompromising and absolutely unstoppable out in the field, and simply will not back down from a threat to his/their master, will settle down and become pussy-cats at home where they gently play around and allow themselves be handled (even mis-handled !) by little children in their master's home. These are not jumpy, frenetic prey-monsters bred purely for sport, who mistakenly keep being referred to as "working dogs" on these forums.

by
vomeisenhaus
on 26 February 2012 - 16:51
Aakay.... you are telling me something I already know. We are talking about lines not individual dogs. Or at least I am. What I am talking about is the misleading of people of what they are actually getting. And don't kid yourself. I've seen dogs just a cple of generations awayfrom dogs you mentioned that I wouldn't give 10cents for. Do you see what I'm getting at?
by
vomeisenhaus
on 26 February 2012 - 17:13
What you just said to me is the winner of the wusv is not a wl dog..... would you say that dusty van tiekerhook is not a wl dog? I really like dusty as I believe he is a dog that can scoe high and also be a very serious dog. This is a classic mistake that is made. Serious dogs can score high in if in the right hands and the right support group. A great example is gary hanrahans bastin vom kokeltal. Very serious dog whohas produced serious dogs and is also winner of usca nationals and bsp. I know first hand of some of his offspring.that are very serious with crushing grips, and awesome power not to mention that dusty van tiekerhhok was 3rd in wusv 2x in a row so that kind of throws a wrench in the gears of the sport dgs are not working dogs aakay.
by
aaykay
on 26 February 2012 - 17:30
vomeisenhaus.... I've seen dogs just a cple of generations awayfrom dogs you mentioned that I wouldn't give 10cents for.



Can you point to some specific examples of Norbo Ben-Ju or Balli Panta-Rei or Dargo Ha-Ja-Da or Quanto Jipo-Me grand-children (couple of generations away from them) that are as worthless as you state ? Thanks.

I have seen quite a few of these grand-children and great-grand-children and none of them disappointed me, to be quite honest. They all seemed to inherit the balanced prey/defense drives with a civil edge, of their ancestors.....even the "worst" members of the litter, unless subsequent environmental conditions (going into a home where even the best of pups can be destroyed) took them down the wrong path.
by
aaykay
on 26 February 2012 - 17:38
Vomeisenhaus: You keep referring back to sport-dogs that I personally am least interested in. Their "scores" matter very little to me, as long as they lack the balance of defense and prey and can settle down at home, once work is done, and have the versatility for a wide variety of tasks that the GSD is known for. If they are not balanced, versatile dogs, IMHO, they should not be bred, regardless of their "scores".

As soon as many of these sport-dogs get these high sport titles, they are pretty much worthless for any other work. Even if they are capable of being worked, they will need to un-learn some of what the sport (or schutzhund) training put them through, and re-learn how to do real work.

A key difference between the Malinois and the GSD....if you need one-track prey-monsters, who cannot switch gears and engage in multiple tasks, then a Malinois is what you should get and not the FAR more versatile GSD. One gets a GSD for the supreme intelligence that characterizes the breed, with a brain behind those sharp eagle eyes, that can solve problems, than (like a Mali) go after a target like a prey-monster, that functions like a fire-and-forget missile.



by
vomeisenhaus
on 26 February 2012 - 17:48
I can't specify aakay but trust me they are out there. Most were owned by newbies who bought into the "CZECH LINES ARE BEST" and faded away when they found out there czech pup didn't mature into all it was bragged up to become. What I'm getting at for the most part is any good dogs lines and go sour without good selective breeding practices. Just because something is out of so & so doesn't make it a good dog for breeding. This goes for any working breed whether hunting dogs or working dogs.
by
vomeisenhaus
on 26 February 2012 - 18:04
So your again telling me dusty van tiekerhook and bastin vom kokeltal could not do anything else but perform on a trial field? You think these dogs are not balancedd? Lmao. Trust me they are not prey monsters aakay. Many sport dogs are but not the ones I've mentioned. The dogs you spoke of could scre well on the sport field if in the right hands aakay......
by
duke1965
on 26 February 2012 - 18:41
vomeisenhaus , we have to be realistic that dogs like you mentioned are more the exeption than the rule.

aaykay , better not go there ,dont throw names in the discussion, because the dogs you mention could be as well examples of names used to sell grandpups or great grandpups , born out of dogs that have nothing more to offer than a famous name somewhere on the pedigree , and that is the problem as seen many times on PDB ad section

for sale Norbo great grandpups
for sale Tom Leefdaalhof great grandpups
For sale grandpups from VA 5 studdog
For sale pups of WUSV participant


what do and can we really expect when we buy a pup here.
by
vomeisenhaus
on 26 February 2012 - 19:23
Duke.... you are correct they are the exception to the rule. But they do exist and there are more out there than people think. Since your in czech rep (correct me if I'm wrong) you know as well as anybody there are some nice balanced dogs out there owned by small hobby breeders/sport enthusiasts that don't have fancy websites and little is known of them because they do it for the love of it and not the money or fame. Kurt
by
vomeisenhaus
on 26 February 2012 - 19:36
Another nice dog is 2nd place bsp zico von der adelegg. Super nice dog balanced prey-defense that could probably do any "real work" asked of him. Kurt
by
darylehret
on 26 February 2012 - 19:55
the SL have been intensely linebreeding on Canto and Quanto since 1970 to 75......Do the math on how long and saturated this is.

holly crap, I didn't realize it went that far back.


To add emphasis to this, that's over a third of the entire breed history! It took fewer generations and years to "create" the breed with it's founding producers. No one could convince me they don't deserve to be seperated by breedname.


duke, you've explained a very depressing truth.

I think I'm ready to start my own breed, just like Max did, not from scratch, but from the best available dogs of the type he favored. Before that, they did well for thousands of years, until he attached a political organization to the welfare of their breeding. I might even put in the standard that "aesthetic appeal" is a breed disqualification, ha ha.

Seriously though, it's hard to keep politics out of any given entity. Hard to keep it out of religion, hard to keep it out of science... What sorts of precautions against similar corruption would help keep the RSV2000 from falling down the same rabbit hole?
by
vomeisenhaus
on 27 February 2012 - 01:26
Wow aakay..... forgive me for my czech lines ignorance. I knew the name norbo ben ju but didn't know he was a 6x wusv participant????? You couldn't possibly be bragging on a SPORT DOG such as him??? Lmao. Another SPORT DOG I think any k9 handler would be proud to have on the end of his leash is opal von der roderburg the father to my new pup. A 6x bsp participant and placing 6th (correct me if I'm wrong) with dirk stocks. Shall I keep going ? Kurt
by
Cassandra Marie
on 27 February 2012 - 01:59
Duke1965: the problem is the puppybuyers ,as a breeder can only breed what he can sell , and demand for good dogs is low , demand for offspring of famous stud with watever crappy bitch is high "

I would have to disagree with this statement, at least in my neck of the woods. For several years, the SAR team I was in had a booth at an AKC bench show. A bench show is one where dogs entered have to stay at the show site from sun up to sun down so that the public can see each breed representative. There are only a few bench shows in the US as most dog shows are what I call "show and go". I entered my SAR K9 partner and several of his offspring for the breed ring. In large part this was so we could set our GSD in the benched area assigned to GSD. Myself and the owners of my pups knew full well that our dogs wouldn't do anything in the breed ring because they are from WL. However, our goal was to expose the general public to what we refer to as the "real German Shepherd". This particular show attracts thousands of spectators. While in the benched area, we had spectators wait in line up to 15 minutes so they could get a picture taken with our dogs!!! We initially did not offer pictures taken with our dogs but it was the spectators that asked for a pictures. The general theme of comments from the spectators was " we didn't know German Shepherds were supposed to look like this". Additionally, we had many retired LE K9 handlers, breeders from the 1960's and 1970's, as well as old time Schutzhunders, wait in line for their picture taken with our GSD. The general comment from these folks were " this is what our dogs used to look like". The SL people were hot as a hornet because very few spectators meandered over to their exhibits to talk with them about their dogs. I was very proud of my dog and his offspring because they literally had hundreds of people come up to them over a 2 day period, petting them, getting pictures taken with them, and the dogs did not show any stress at all. The point I am making is that it is OUR responsibility to show the public that they do have options when it comes to selecting their next family protector and best friend.

Vomeisenhaus: in a few of your threads you mentioned having a couple longhairs in your litters. I know that each person has their preference in coat type but for a different perspective I thought you may be interested in this story. A few years ago at one of the NAPWDA certifications my dog and I were participating in, a Master Trainer in Bomb Detection was brought in. I was told this man was nationally respected and considered the best in the business in Bomb Detection. When I pulled my long stock coat SAR K9 out of the truck, the Master Trainer turned to me and said " Czech or East German?". I told him " both on the paternal side. Orthos van Tiekerhook on the maternal side". He said " I thought so". He went on to share that after many years in the industry, he was now only importing coats for bomb detection. He thought they had a different personality from the standard coated Shepherd. I proposed to him - that perhaps the personality was only different because coats often times receive more attention and handling as babies as they have the cute fluffy puppy look. I don't have a preference either way and like in your litters, my dog has sired both coat types.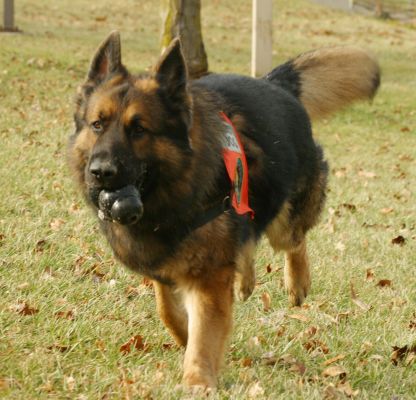 by
duke1965
on 27 February 2012 - 06:05
cassandra , im not talking about the general public being unknown with workinglineshepherds , but ONLY talk about choices made within the workinglines

these breders breedingprogram depends on who scores well on BSP or WUSV this time ,
by
Cassandra Marie
on 27 February 2012 - 12:40
Duke1965:

Got ya. So going with the premise that some WL breeders develop their breeding program around scores, than very little seperates them from the SL mentality. I guess the concern would then be that the breed will be divided even further as 3 different types emerge: SL, sport driven WL and lastly those WL GSD that are balanced in drives and conformation and can be used in the workforce or as family guardian. It provides little comfort to know that similar debates take place in other breeds.

Cassandra
by
duke1965
on 27 February 2012 - 12:46
yep , I wrote something similar , previously in this thread

by
Blitzen
on 27 February 2012 - 13:20
Question - can anyone tell me what the original Sch exercises consisted of and how the dogs were scored? By original I mean as set down by the Capt. Thanks.......
You must be logged in to reply to posts