German Shepherd Dog > Otitis - treatment - GSD ears (8 replies)
Otitis - treatment - GSD ears
by
Yuuki
on 07 February 2012 - 16:21
Hello everyone!

Have you ever had a GSD with an otitis?
My GSD has 2 and a half months, and it seems he has an otitis. The vet said he would be fine once the treatment was finished (during 10 days we have to clean his ears with cotton and then put some drops...twice a day).
He is just beginning to stand up his ears and now i´am a little afraid of what this treatment and all the handling could do to his ears.
Any ideia/opinion/suggestion or experience in this matter?

That´s him :)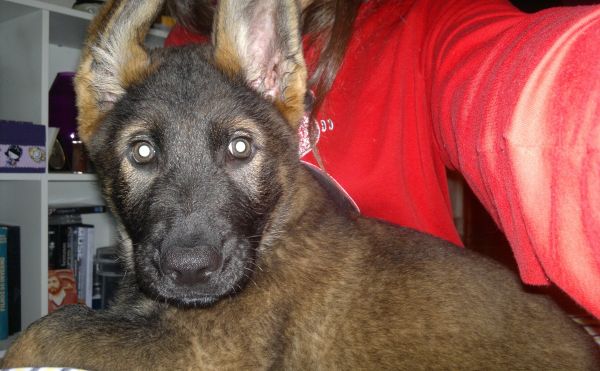 by
mariaartashes
on 07 February 2012 - 16:24
Nice baby!
What for treatment?
Otitis can be an allergical.
by
Fenrir
on 07 February 2012 - 16:31
Mine got a yeast infection at around 14 weeks old I know your concern. Honestly everything should be ok the ears look like they should come up just fine. I have heard that Glucosamine supplements help with the ears and that giving them things to chew on helps as well. Like I said it does not look like there are any problems with the ears, just be gentle while dealing with the underlying issue. When mine got the infection I was efficient while being very careful not to put too much pressure while cleaning. Not an expert on this but hopefully it helps a little.
by
Yuuki
on 07 February 2012 - 16:44
mariaartashes is on conofite (Antibacterial, antifungal and anti-inflammatory steroid in otic suspension).

Fenrir, it´s pretty much what i´ve been doing. Handling the ears with the less pression i can...not easy though cause he struggles a lot. Hope not to damage his ears...
by
hexe
on 07 February 2012 - 17:49
Yeasts love little puppies, unfortunately. It's not unusual for pups to develop yeast-sourced ear infections, vaginitis and skin infections, unfortunately. It *may* be helpful to add a teaspoon of apple cider vinegar to the pup's meals, or to use an ascorbic acid (Vitamin C) supplement, which can alter the pH of the dog's bodily fluids, making it more acidic and less hospitable to yeast growth. Either one is generally considered to be harmless even if it doesn't help the problem (though I have to admit that my dogs are on Vitamin C, twice daily, from the time they are puppies--250 mg twice daily when they're under 6 months, then 500 mg twice daily up to 12 months, and 1000 mg twice daily from that point forward--and ear, skin, and vaginal infections in my dogs have never been an issue).
by
TingiesandTails
on 08 February 2012 - 01:07
Yes! I have experienced Otitis with 2 of my females. The first one got the traditional vet treatment and ended up with an operation that opened up her ear canal. After that, her ears were much better.

I use only alternative options for my second dog. I found out that she is allergic to chicken and chicken fat (in most dry foods). Now she is only getting raw food without chicken and no dry treats and is doing really well. If there is any excess earwax I wipe it out by hand with baby wipes that don't dry out her exterior ear.

I would check for food allergies and try different food choices, marking down the ingredients for each choice and note when your puppy is doing better. To determine a certain allergen you would have to feed a particular food for about a week, then stop. There are many limited ingredient dry foods that make it easier for you to try out for allergies (e.g. Natural Balance or Simply Nourish).
by
EchoEcho
on 08 February 2012 - 05:03
Go grain free for food and stay away from food with potato (sweet potato may be okay depending on the dog). Also if it is yeast you can clean the ears with a 1:1 solution of Apple Cider Vinegar (the real stuff, I suggest organic Braggs) and water to clean the ears. Adding ACV to the diet or water is good as well (about 2 teaspoons/50 lbs). Yeast won't thrive in an acidic environment. You can also add some hamburger to the food. Beef is acidic. Stay away from chicken and turkey as it is alkaline.
by
vom ost see
on 09 February 2012 - 17:32
i've had good results with "zymox",i'll usually purchase this product with hydrocortizone,which should be used in conjunction with the "compatible" wash...i'll clean out all areas i can reach with the "wash" and cotton balls...however if it's really ugly,i'll squirt some down the canal,or better yet,saturate a cotton ball and squeeze the cotton ball dry against the lower ear flap(not too wild about squirting stuff in a dog's ear) the solution gets in with the dog barely noticing,a bit of massage below the ear,then he'll shake it out,don't let your dog get "pre-occupied" with head shaking...hematomas are a pain to deal with...a few shakes,then adminster the medication(zymox) per instructions..little massage them either play with the dog(gets his mind off "head shaking")of give him an irresistable treat(kong/p'nut butter,raw meaty bone,ect)...good luck
by
Valerie Clayton
on 09 February 2012 - 21:45
My 10 yo rescue german shepherd came with "chronic ear yeast infections" and greasy, smelly skin with sores. I immediately started him on Taste of the Wild dog food, along with as many fruits and vegetables as he wants to eat, and Viola, the "chronic" ear infections disappeared, his skin cleared up and he is absolutely odorless now. I'm not necessarily shilling for TOTW, just seconding Echo's suggestion to switch to a grain-free diet.
You must be logged in to reply to posts