German Shepherd Dog > Ok, I've found out that she's not a Malinois, and GSD seems to be the concensus (16 replies)
Ok, I've found out that she's not a Malinois, and GSD seems to be the concensus
by
Balanchine
on 06 February 2012 - 17:25
Katie was a shelter pup I rescued at, so the vets have told me, about a year old. 49 pounds of fur and bones in that awful cage and now she's 65, even a few pounds heavier before she convinced me that we need to go to the park twice a day instead of just once. I'd owned a long-haired black GSD in the past but never a Malinois, and someone told me that she looked like the latter, so I posted these shots on the Malinois forum. Two helpful readers opined that she was GSD, with one suggesting western European working lines.

I'd love any other opinions. She's very sweet and gentle, runs like the wind and when she trots it's with the kind of fluid gait I associate with GSDs (I'm far from an expert). She's very long and lean and seems bright as a whip. As I wrote on other other forum, I'm just curious and whether she might be a purebred, a mix or even half cat. I'd love her like crazy all the same.

Something else: is it worth my cash to get a genetic test done on her? I've heard mixed things about their reliability, mainly negative I must say. Somewhere in here I read of a company called "HealthGene". Wondered if it was recommended (or maybe the poster owns it...).

Many thanks to all of you. What great forum resources these are!
Balanchine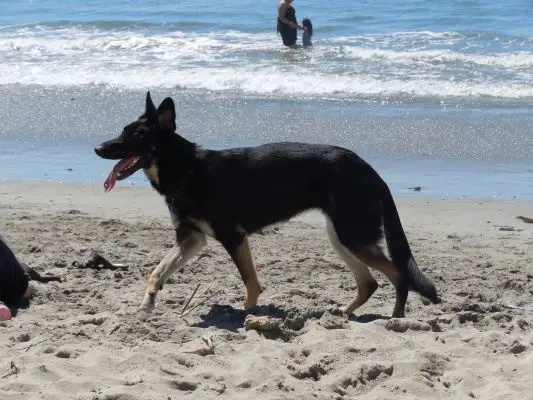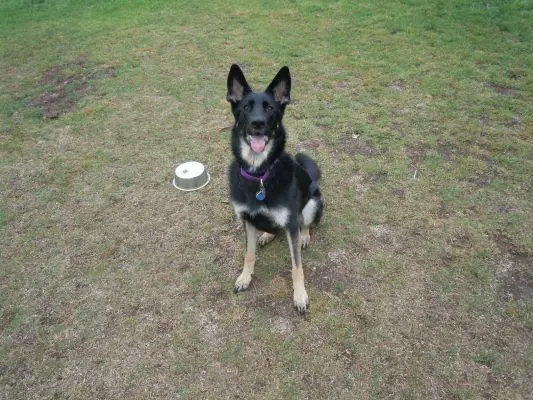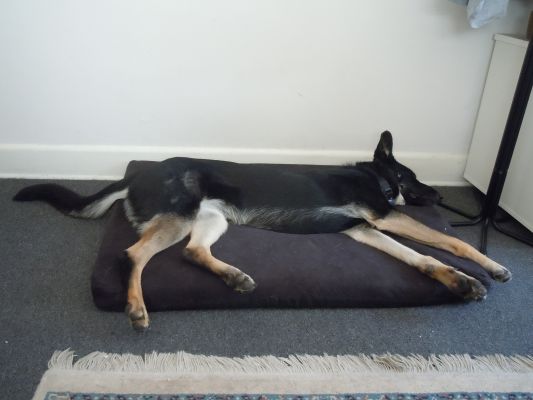 by
AmbiiGSD
on 06 February 2012 - 17:39
I'd say a cross... Possibly shepherd cross some type of sight hound... those back legs look more sighthound than shepherd. bet she's fast!! Lovely girlie no matter what she is... enjoy her.
by
mirasmom
on 06 February 2012 - 18:02
I agree, she must be part sight-hound, like Shepherd-Greyhound, cause she has a tucked up belly,
and her back has that sight hound looking bumped up curve, she's beautiful, I bet she is fast!

Give a try at Lure coursing!

http://www.lurecoursingfanatics.com/

Good luck with her, enjoy!
Paula
by
mfh27
on 06 February 2012 - 18:13
Looks pure bred to me. I'd imagine being spayed young would cause her to have long legs.
by
Kalibeck
on 06 February 2012 - 18:24
She is flat! What a cutie! I will go for shepherd mix....with shepherd being predominant. She's very pretty, & looks like a happy, personable girl. She'll likely fill out as she gets older, & be a perfect companion for you for a long time. Our girl was very flat like that when she was young, & when she got to be 3 years old she started filling out. I wouldn't bother with the DNA testing. What matters about her you already know! Congratulations to both of you! jackie harris
by
joanro
on 06 February 2012 - 19:06
She looks pure to me. Her ears are too erect to have sight hound, especially saluki mixed in. My shepherds have a definitive tuck up. The legginess, as mfh said, could be the result of early spay. She's very pretty.
by
Red Sable
on 06 February 2012 - 19:35
Looks pure GSD to me also.
by
EchoEcho
on 06 February 2012 - 20:33
She looks like she could be pure GSD. I would like to see some better shots of her face... particularly her nose and a side shot of the face which shows her nose. GSD has a very distinctive nose and the top of the head. She might be mixed with Belgian Malinois or Belgian Sheepdog. I have a female GSD that was spayed very early (8 weeks) from a shelter. She is pure bred but she is very long and lanky so people often question if she is a pure because she is so tall in the legs.
by
Balanchine
on 06 February 2012 - 22:55
Wow... you folks are the greatest. So many thanks for all this incredibly valuable info!

Ambii and Paula: I must say looking at the shots of the Saluki I see a resemblance in the leg architecture, particularly the rear legs, and the way the stomach tucks up. And that lure coursing looks like a ton of fun, I'll have to look into it because she loves to run more than anything (except eating of course....).

For the record, she was spayed the day after I rescued her, when the shelter people as well as two vets estimated her age at about a year. So dunno what to say about the leg length, guess it must be natural.

Echo, here are a couple more pix per your request. (yes, photographing a black dog is a challenge...)

Thanks everyone!
B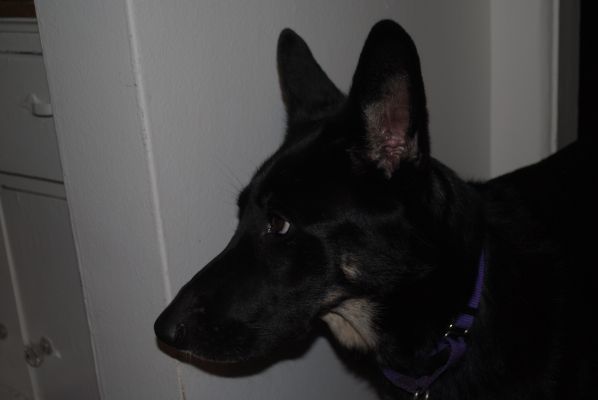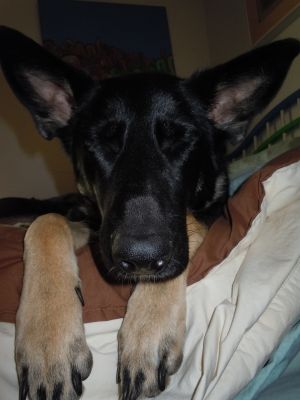 by
mirasmom
on 06 February 2012 - 23:28
Awww!!
Last one is precious!

by
SitasMom
on 06 February 2012 - 23:31
about how old is she?
please post a photo in a "stack" position........ i bet her tummy wont look nearly as tucked.
to me she looks like a full GSD...
by
Balanchine
on 08 February 2012 - 00:28
Thanks again, all.

Sitasmom... by general calculation she's about 2 1/2. I read up on stacking and did my best here, which I realize ain't so great. She was not exactly enthused.... so hope it helps.

(btw, I'm loving looking at all the pix on this forum!)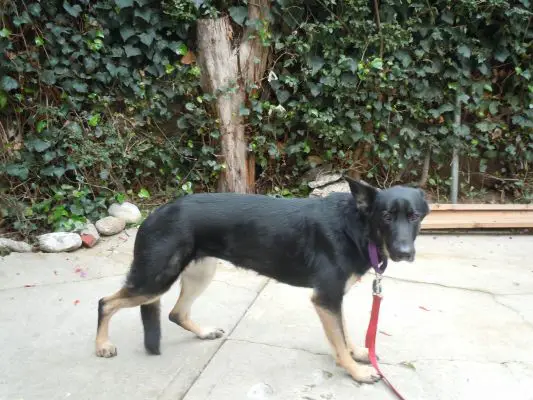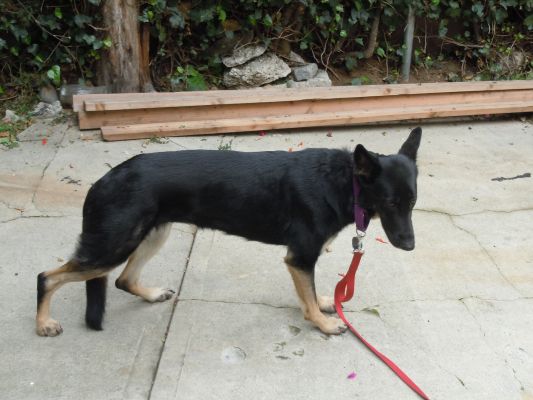 by
SitasMom
on 09 February 2012 - 20:02
she's a shepherd!

stack is pretty good for a first timer.....

if you want to improve, it takes 3 people.....

#1 holds the camera about 24" above the ground
#2 positions the dog
#3 is in front of the dog with a treat or toy


Stack 1, is the usual over stretched stack, note that the lines drawn are not horizontal.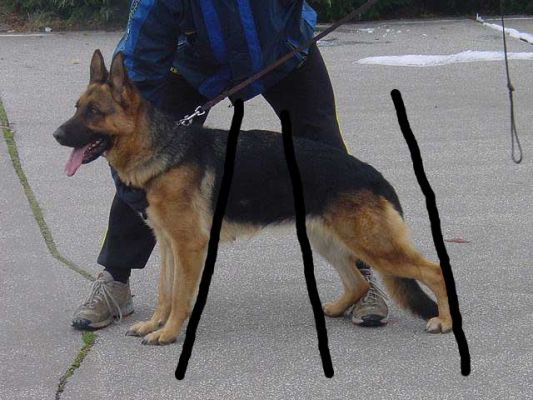 Stack to, while not perfect is better....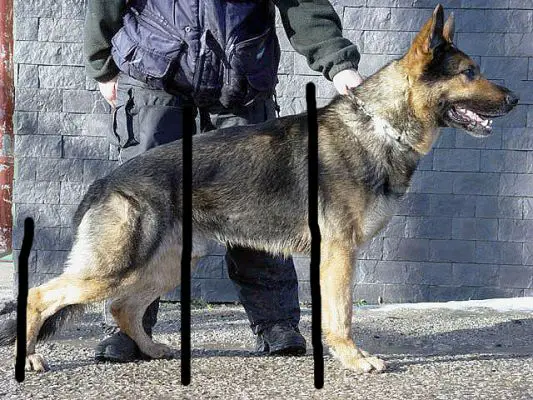 Start with by placing the front legs and then adjust the hind legs. It takes a bit of training, at first the dog needs to be rewarded just for standing still, later rewarded for standing with the the close leg positioned, and then the far leg positioned... once she will stand quietly in a position, then you can take photos and decide which you like the best....




by
EchoEcho
on 09 February 2012 - 20:48
It is hard to say (like you said she is very dark) but it does look like she is a purebred GSD to me. I love the photos even though she doesn't look like she is enjoying herself very much. She looks like a smaller and darker version of my own rescue dog. I am surprised someone would call her a belgian malinois as I don't think she looks anything like that. Enjoy her!!
by
Balanchine
on 10 February 2012 - 02:40
Sitasmom: you're the best. Thank you thank you thank you. I definitely need to work on my stacking and will rope a few friends into it. Those pix are very helpful and I see a big difference between them. I was actually amazed that Katie stood still in that position long enough for me to step back and take the pix. She was a trooper! And I rewarded her with treats of course.

Echo: you're also the best. I really appreciate all your comments!

This is a great forum and I've learned a lot already and will continue to be a regular visitor.

Thanks to all of you for your help.
Balanchine aka David and Katie the GSD

Here's the last pic I'll post, the day I rescued her from the shelter here in Los Angeles. They'd had her listed as a stray. I didn't even see her ears go up until a day later... and didn't even know they would, she was so scared. You may also be able to see how her ribs were sticking out. But so sweet and gentle despite all she'd gone through. Ultimately of course, as the saying goes, I'm not sure who rescued whom!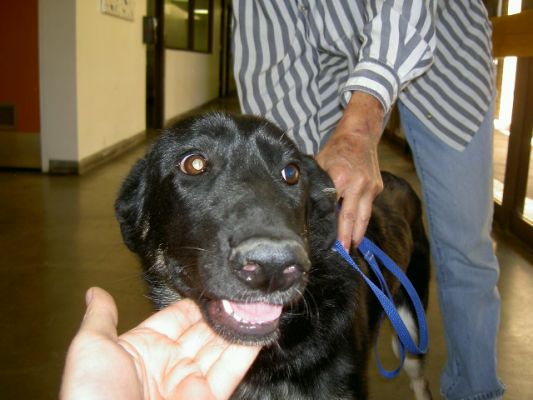 by
SitasMom
on 10 February 2012 - 02:47

she seems like the ideal pet! i'm so glad you rescued her...... too many good dogs at shelters.
You must be logged in to reply to posts