German Shepherd Dog > Police K9 brag, Nova von den Sportwaffen (15 replies)
Police K9 brag, Nova von den Sportwaffen
by
grimmdog
on 04 February 2012 - 07:15
Stuka vom Enckhausen daughter Nova von den Sportwaffen was narcotic trained and certified on 7 odors at 12 months of age and was sold to a department in Arizona. Her very first day on the street she alerted to narcotics in a sealed and gasketed glass container from the exterior of the vehicle on the traffic stop. Needless to say, I'm very proud of her. Nova was bred here at my kennel and wonderfully handled by my friend Lorna Thomas. I love seeing another one of my little ones doing the work! Congratulations Bill and Nova! You have years of success ahead of you! Keep up the good work and stay safe out there!
by
workingdogz
on 04 February 2012 - 10:08
Super news Nate!
Job well done to all

by
grimmdog
on 04 February 2012 - 11:05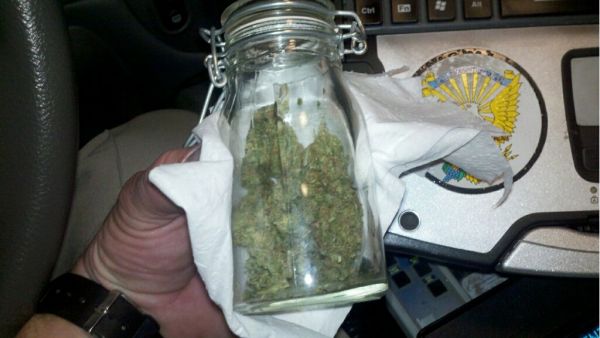 by
Red Sable
on 04 February 2012 - 11:27
Great job done by Nova!

Congratulations to you and Lorna!


by
hoof n paw
on 04 February 2012 - 15:08
Way to go Nova a

nd congrates to Nate on your breeding program. Nothing is quite as much fun as working a real "Working" dog doing substance or person detection! Keep up the good work. Makes me long for a Stuka offspring even more, once I can afford one.
by
Blitzen
on 04 February 2012 - 15:16
Outstanding!!!
by
GSD2727
on 04 February 2012 - 15:34
Awesome! As a breeder you should be very proud! I love seeing those females out there working :) Big congrats!!!

Valerie
by
vomeisenhaus
on 04 February 2012 - 19:51
I'm sure your proud as would be too. I sure agree with gsd2727. Its nice to see females doing some work & and also campaigned as sport dog. Something other than pumping out puppies. Congrats... Kurt
by
Gustav
on 04 February 2012 - 20:03
Nice Nate.....I always was a sucker for Stucka.....Cyras the Virus got a drug bust about two weeks ago.....lets keep it going!!lol
by
vandykan
on 04 February 2012 - 22:46
awesome. I have the granddaughter of sunshadow's caine and that doesn't surprise me in the least. You breed awesome dogs. My parents don't appreciate all the things that my four legged child does. Sadly, got laid off shortly after I started training with her and had to quit my classses. hasn't stopped her from climbing 90 degree ladders to roofs or opening up doors to get to me or to get at her treats.. This summer she escaped out of containment and my parents caught her tracking down my verhicle on an extremely busy street and had near car hit misses. I mostly love my dog "shenanigans".
by
yellowrose of Texas
on 04 February 2012 - 23:23
I know you are very proud of a Female to carry on your spectacular breeding and training practices..and be in the service of making our world a better place.
I have recommended you to many persons as you are one in a great number of American breeders who we are very PROUD OF

Congratulations for one more BRAG
Have you taught that baby to wear a SLEEVE YET??

You know the saying, Like Father , Like SON!!!


LOL

YR
by
grimmdog
on 05 February 2012 - 00:59
Thanks everybody for the kind words. It's great as a breeder to research and identify the types of dogs you wanna produce and plan the breedings with goals and markers planned along the path, and then see it all come together as planned. It validates your work and tells you your path is the right one. It's easy to "just breed." But the real pleasure is producing the dogs needed to not just try and do the job, but really excel at it. It's what I love about the breeding... The proof is in the pudding. All the theory on paper is worthless until you put to action, give it life, and show success in it's intended purpose. That's when you can step back and smile and feel you did the right things for the right reasons.
by
hexe
on 05 February 2012 - 01:46
Very cool, grimmdog... You've really being doing an outstanding job as a breeder--putting the time and effort into producing dogs that are capable of doing (and excelling in) the non-stylized, non-rote, non-patterned *work*, not just the sporting activity many consider to be 'work'. And they're good looking dogs, too. No reason one has to be ugly to be effective, after all! ;)
by
sable59
on 05 February 2012 - 19:12
i was wondering how many of your dogs excel as this one did? it is nice to see that someone appreciates a good dog and lets you know. so many times when a dog leaves the kennels a breed er never hears from them again until they need a dog.
by
grimmdog
on 05 February 2012 - 19:39
This dog was bred, raised, and trained here and just left a few days ago so it wasn't hard to keep up with her. I encourage all my buyers to stay in touch because I wanna know how they do. It's important to me. I've been pleased that so many of my dogs have done so well. It's largely the genetic breedings and the selection/placement. That's key. Getting the right dogs in the right homes, bred from the right dogs to begin with. That's largely it.
by
Slamdunc
on 05 February 2012 - 19:45
Nate,
Congratulations. It must be very rewarding to get feedback like that. Awesom job on the breeding and training, keep it up. This reminds me; I have to send some video to Jody and tell her about some of Boomer's latest apprehensions.

Jim




You must be logged in to reply to posts