German Shepherd Dog > Bi- Colors from Pups to Mature Dogs (18 replies)
Bi- Colors from Pups to Mature Dogs
by
Bundishep
on 30 January 2012 - 02:03
To thoses with exper.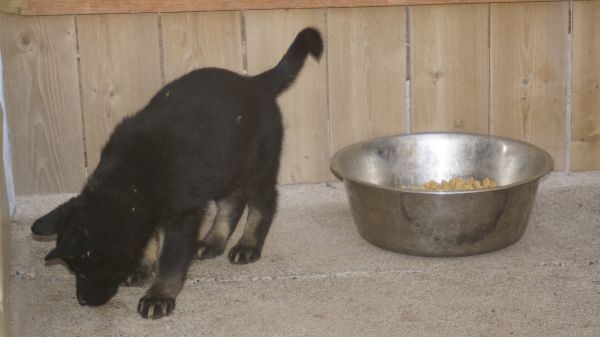 of breeding Bi-Colors will this pup tend have have more tan on her feet as an adult ? She has a tan undertail and no tan on face at this point and no tan behind the ears, 7 weeks old, any chance she can be a black with but heavy bleedthrough ?
by
Jenni78
on 30 January 2012 - 02:56
No, she's bicolor. Blacks do not have tan under their tails. Her markings may fade a lot, or might stay the same. But she will never be a black. Blacks are black at birth, no tan under tail, and might develop bleeding later on. Here is one with bleeding who was jet black, no white spots anywhere, as a pup. It's much easier to see in the first pic. He is only a year old; he may get a little bit more bleeding. Hard to say.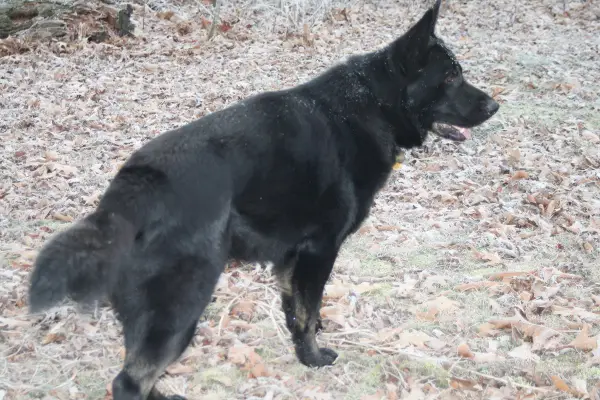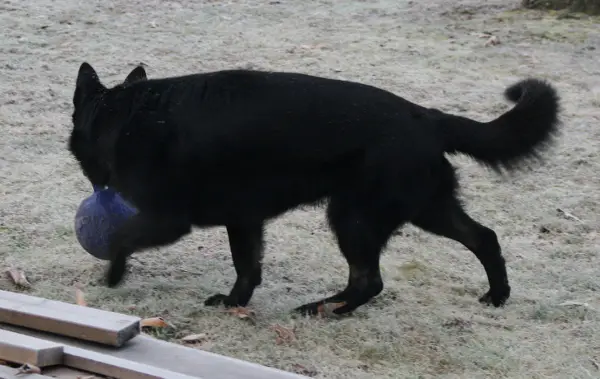 by
Bundishep
on 30 January 2012 - 03:10
yes she has tan under her tail but it is a darker tan than some that you see on many Bi-colors out there and less tan under her tail than 2 other Bi,s in the litter, I was surprised to get any Bi-colors in litter since the closest relative is a Grandsire thats a dark Bi like she is. This is what a sister looks like.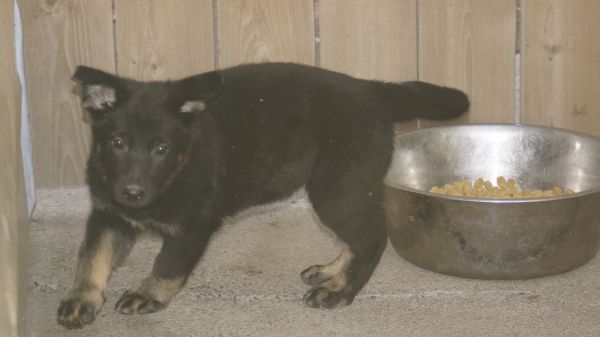 by
eichenluft
on 30 January 2012 - 03:19
Blacks are born black, they are not born with tan vents and bleed-through. Some develop bleedthrough as they age, others dont. but blacks are born black, bicolors are born with at least tan around the vent if nowhere else (on feet/legs) though some very dark bis appear black at first except for the tan vent area.
by
Bundishep
on 30 January 2012 - 03:43
Is it true a sable with penciled toes like a Bi-Color means that the dog is carrying a black ressesive gene ?
by
melba
on 30 January 2012 - 05:06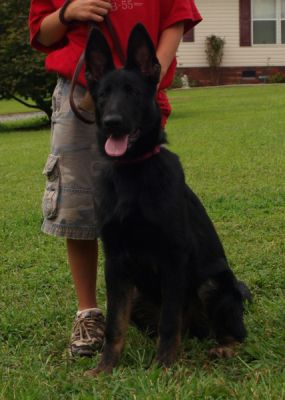 I wouldn't necessarily say bi-color..... This puppy (pictured at 5 months old) turned out black and tan. And she was much darker then that as a puppy.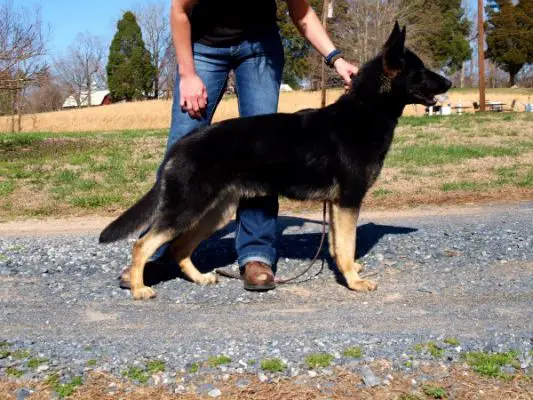 by
eichenluft
on 30 January 2012 - 05:33
the very black toemarks indicate the pup will remain bicolor - can't see the toes on your handsome puppy, but you are right, I would have guessed him to be bicolor also. It's also quite genetic (bicolor gene) so you should be able to know if the parents are able to produce bicolors or not, or if the apparently-bicolor puppy will instead end up black/tan like yours, because of genetic possibilities (and non-possible color gene inheritance)


by
melba
on 30 January 2012 - 11:39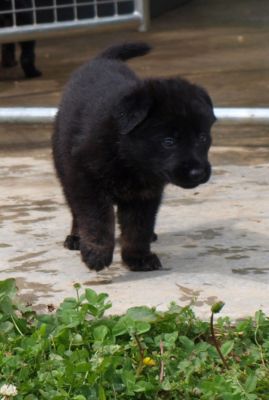 She was always very very dark. On the older pics there were tarheels and toe marks that completely vanished by the time she was a year old.

I thought she was a bi-color too and was totally dissapointed when she changed.
by
eichenluft
on 30 January 2012 - 17:56
This is Lea v Cap Arkona - a very dark black/tan, I bet she was similar "bicolor looking" as a puppy - she is all but bicolor now (she is not).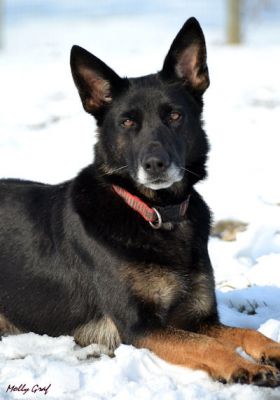 by
cphudson
on 30 January 2012 - 18:35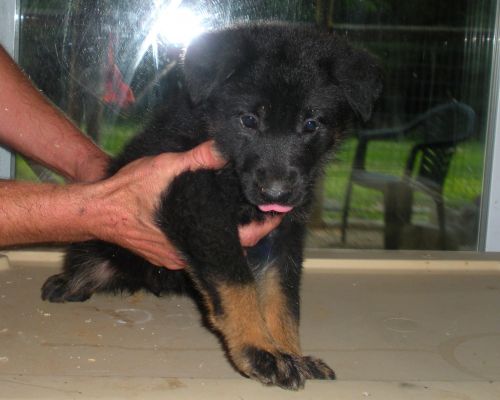 Seems to be a Bi-color girl at 7 weeks old. When born she was totally solid black expect for her toes.

Same pup at 12 weeks old.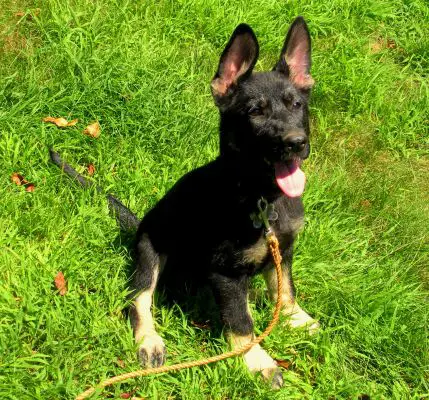 Puppy at 6 months old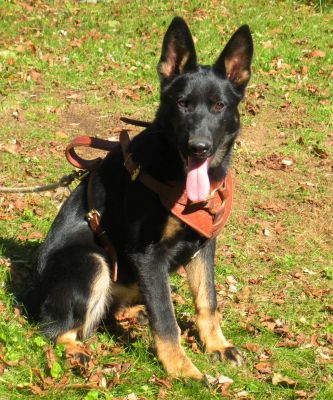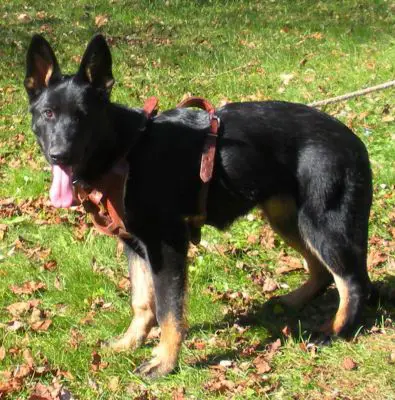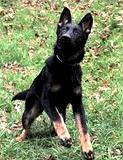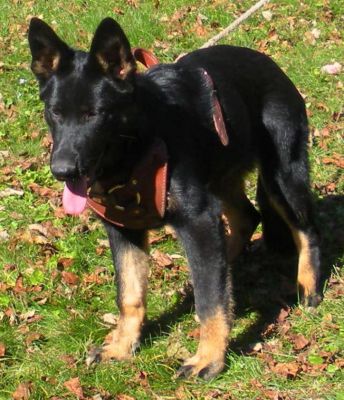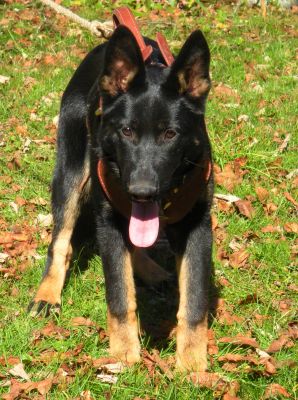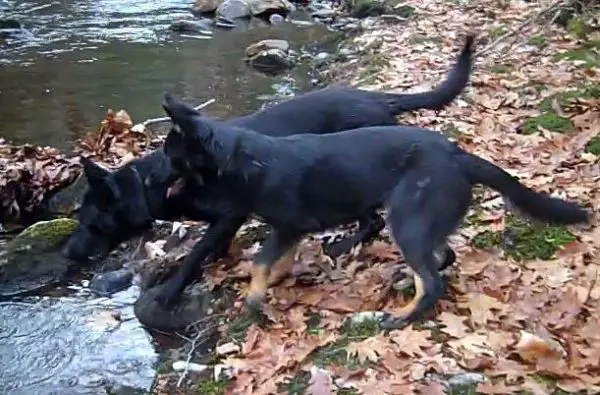 But as she matures think she will turn into a very dark black & red. I hope she stays bi-color though. She is starting to show just little red patches on her chest & neck now.



by
BlackthornGSD
on 30 January 2012 - 18:48
Does she have any cheek patches or behind her ears? If not, she may just stay bicolor. It sure can be hard to tell while they are growing, though.

Christine
by
eichenluft
on 30 January 2012 - 20:17
Nah, she's going to stay bicolor.
by
cphudson
on 30 January 2012 - 23:02
No cheek patches or red behind the ears. I hope she stays bi-color.
by
eichenluft
on 30 January 2012 - 23:21
bicolors can have color on the cheeks, chest, under the throat, feet/legs, vent, between the back legs, and on the underside of the tail. No tan should be in the armpit/underchest or belly area, on the back/shoulders, or around/behind the ears. No tan shadings should be on the face either except for cheek patches and eyebrow marks, if any. and of course the black toemarks and tarheels are the sure sign of a bicolor.
by
Bundishep
on 31 January 2012 - 05:09
Melba very surprised to see that young pup not turn out to be a Bi-color that the pup seems younger than mine is currently,, at what age did you start to see the penciled toes vanish or the tan appear behind the dogs ears ? Also very nice Bi-color cphudson did you get that pup out of the solid black stud that you have?
by
melba
on 31 January 2012 - 11:24
Hi Bundishep,

I was looking for pictures, and I know I have them but where they are I have no clue.

She was born all black except a few tan hairs in between her toes and a few hairs under her vent. Her one brother was definitely a b&t.
Her other brother was very dark like her and stayed that way for a while too.

I think she lost her tarheels and toe marks on her first shed at around 10.5-11 months and started her first heat right after her first birthday.
Their father is black, mother carries for black. Their mother is what I would call somewhere inbetween a blanket b&t and bi-color as certain
times of the year she gets tarheels and the hair on her front feet surounding the pads is black. Could that be a seasonal bi-color?? LOL By
one year the little girl had lost the black markings on her legs and feet, and from what her owner tells me looks like mom, except darker
with more black coverage.

I'm trying to dig up some more pictures.
by
melba
on 31 January 2012 - 12:05
Found one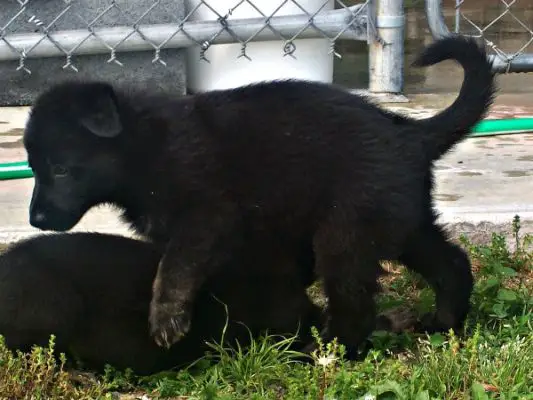 There's a few more on my phone I think. I'll download them here in a little while
by
melba
on 31 January 2012 - 13:59
Ok, found another. It was taken on my phone. I think she was about 10-12 weeks in this picture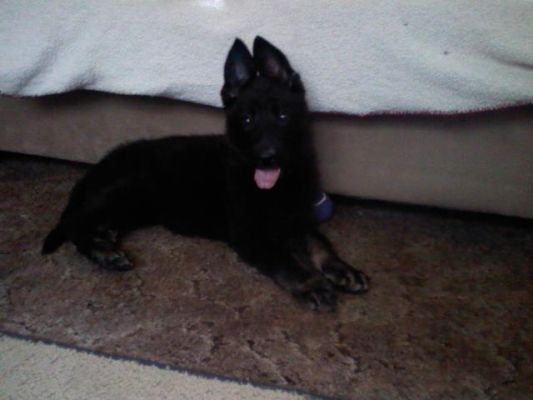 by
cphudson
on 31 January 2012 - 16:37
Wow Melba your girl was so dark when a puppy. She look to be a bi-color, but either way she's beautiful.

Hi Bundishep, thanks my bi-color girl, Cleo is not out of our stud, Ellex. He wasn't with us yet. We were very excited for a breeding between
my bi-color's dam & Ellex, but we decided to retire the dam this year in order to benefit her long term health.
Her sire is; Charli Kampftrieb SCH3 IPO3 KkL1.

We're excited to see how Cleo does at next years trails.
She is doing very well in her training so far, especially in tracking & protection.

Keep us updated on your pup. Like to know if she stays a bi-color.



You must be logged in to reply to posts