German Shepherd Dog > The Dominant Black Gene (28 replies)
by
eichenluft
on 29 January 2012 - 16:17
Queen v Teufelsgrund is my dog, she is a bicolor (tarheels, toemarks) - she is however a "bright" bicolor with more tan markings, and lighter undercoat than the black-recessive bicolors you might be more used to seeing. Because she doesn't carry black recessive? Here is Queen - blowing coat in this picture so you can see her lighter undercoat in places.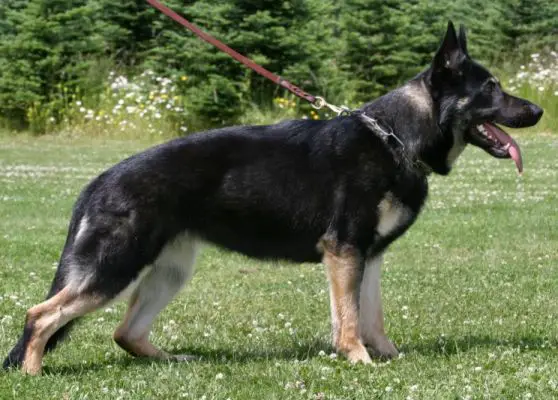 she is bicolor/bicolor - she does not have a black recessive. She has been bred to two solid black dogs, and a sable with a black recessive, she has never produced a solid black puppy, only bicolors, and sable/bicolor.

Here is a daughter of Queen, bicolor from a black sire - darker but still has the lighter undercoat from her mother (you can see the lighter undercoat @ the collar area)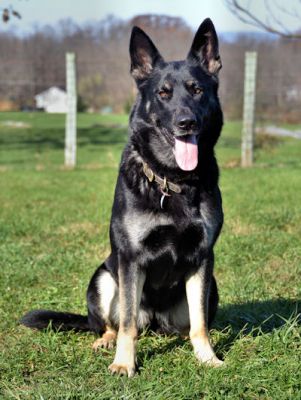 another daughter of Queen from a different black sire - clearly a bicolor/black, without the lighter undercoat this time.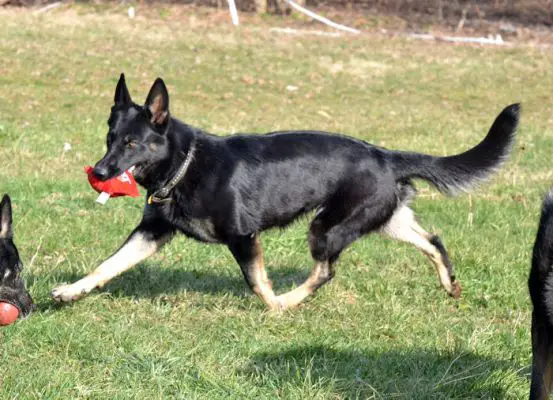 by
darylehret
on 29 January 2012 - 16:31
So, when you bred the non-black carriers to blacks, did the pigment intensify? Red or black pigment?
by
eichenluft
on 29 January 2012 - 17:51
just more black coverage, less tan markings. No, blacks do not improve red or brown or tan color or pigment, only add more black coverage. In sables the black recessive would add "more black" to the individual hair shaft, making the dog "darker" but really in fact only making the dog have more black coverage, less undercoat showing through.
by
pod
on 29 January 2012 - 18:49
Daryl, one pigment can't be epistatic to the other. Epistasis refers to inheritance mode - gene interaction. In some genes eumelanin takes the role of dominance and in others its phaeomelanin.

The gene under discussion here, the A locus, phaeomelanin takes dominance. And as this is a pattern gene, not a colour gene, the shade of phaeo is not affected. What is under control is the balance between the two pigments. Gain of function is more phaeo and less eumelanin, and loss of function is the reverse.

So intensified pigment is the darkening of the whole dog by increased eumelanin, which occurs with recessive alleles. Just had a quick read through, I think Molly has made some good comments above.
by
Ibrahim
on 29 January 2012 - 20:33
Very nice post Eichenluft, yours and Christines" are easier to follow than Pods' and Daryle's, I think they are using too many hard scientific terms, lol.

Ibrahim
by
eichenluft
on 29 January 2012 - 20:38
I like to keep simple things simple. Making it more complicated than it really needs to be isn't necessary, IMO. thanks Ibraham.
by
pod
on 30 January 2012 - 08:27
Sorry Ibraham, I was just trying to address the points that Daryl had raised.

If there is anything there you would like explained a little more, please say. Only too happy to help :)
by
Ibrahim
on 30 January 2012 - 08:49
Thanks Pod, I do enjoy your posts as well as Daryl's and his interesting illustrations, I can say I understand the basics of what you were discussing but some parts here and there do escape me, I assure you that when I feel the need to verify a certain point I won't hesitate to ask for more clarification or a more simple rephrasing, I know you won't deny my request, a beautiful day to you and Daryl, also to Eichenluft and Christine, oh ... and to all the good guys.

Ibrahim
You must be logged in to reply to posts