German Shepherd Dog > ** Elbow - X-ray - Injury or Dysplasia - Opinions Please (27 replies)
by
leoetta
on 24 January 2012 - 01:11
This is what the radiologist said



Elbow dysplasia, with an ununited anconeal process and possibly involved coronoid process.
by
SitasMom
on 24 January 2012 - 01:23

There's a surgery for this, it can "fix" the pup. It doesn't have to live in pain.
by
Rik
on 24 January 2012 - 01:44
I'm not good on elbows, but don't see the UAP. I do wonder about this: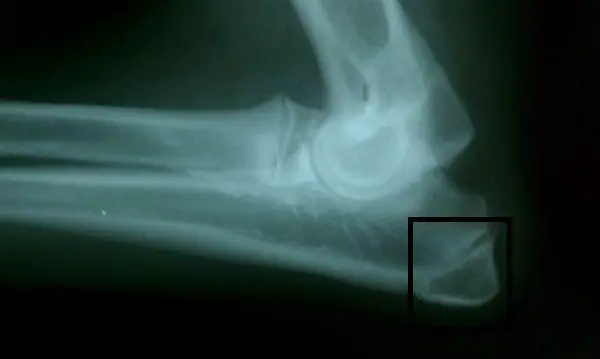 by
leoetta
on 24 January 2012 - 04:38
I know Rick, that is the part that looked kinda freaky to me too. My friend has two of her vet's looking at the x-ray as well, she'd like a more detailed report. Lucky for the pup he'll probably get surgery as his owner is a human doctor she said, albeit a plastic surgeon but still a doctor LOL.
by
Jenni78
on 24 January 2012 - 14:28
THe problem with "elbow dysplasia" is that it's a catch-all phrase for SO many different things that can be going on. UAP surgery is pretty minor and is great at stopping what's causing the pain, if that's all it is.



by
Mr.GSD
on 24 January 2012 - 21:44
There's no way that's a picture of an eight-month-old dog's elbow!

One thing appears to be OK: the anconeal process has fused, which normally happens at about 3 months, and is possibly the most frequently seen type of elbow dysplasias in the GSD. I would have taken a picture with the elbow flexed to the maximum, not just to that approx. 60-degree angle.
Dog is too young for FCP to have shown up.
E-mail me if you're interested in getting the whole story on canine orthopedic disorders (the book).
Mr.GSD @netscape.com
by
Mr.GSD
on 24 January 2012 - 21:58
The key word in my previous reply was "appears" ... If the arm had been flexed more, it would have been a more definitive picture. Pups over about 4 months almost never have UAP. That is, almost all anconeal processes fuse by about 3.5 months. In my book, page 377, you will read that the anconeal bone center fuses with the rest of the ulna by around the 16-24 week timeframe. They don't "wait" until nearly 8 months age!
The olecranon (someone drew a black square around it on the radiograph) also fuses long before that 8-mo age. Fred (the author of the big orthopedics book, and lecturer in canine orthopedics in some 30 countries).
by
Jenni78
on 24 January 2012 - 23:03
Hi Fred...I know who you are. Welcome!
You must be logged in to reply to posts