German Shepherd Dog > ** Elbow - X-ray - Injury or Dysplasia - Opinions Please (27 replies)
** Elbow - X-ray - Injury or Dysplasia - Opinions Please
by
leoetta
on 22 January 2012 - 19:30
Here is an x-ray from a puppy sold that was bred by a friend, dog was born May 2011. He is a large puppy, since birth he was the biggest, he has now been limping for a few months, owners treated for Pano ie: change diet, less exercise etc. Now dog is still limping so they x-rayed the elbow, below is a photo of the x-ray. Currently on it's way to be viewed by a radiologist. What are your opinions on this elbow?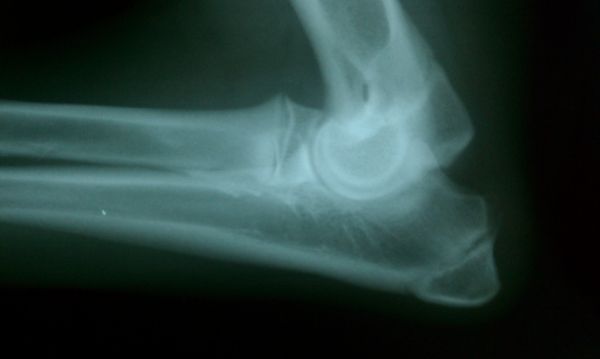 by
trixx
on 22 January 2012 - 19:44
elbow looks good
by
trixx
on 22 January 2012 - 20:28
if the pup has panno i would put him on ester C 1000mg, i did have a male that had pano and it worked great for him,it can take 2 years for the pano to go away. elbow like very good to me.
by
jdiaz1791
on 22 January 2012 - 20:45
X-ray is excellent,no dysplasia...what are the symptoms? maybe the puppy is been over exercised and naturally will limp...limpimg may take up to 3-4 weeks to go away if is an injury,pulled muscle,strain,etc
by
DenWolf
on 22 January 2012 - 21:16
Could be UAP..

I'm no radiologist.. but the elbow doesn't look closed up correctly..

Just curious, what did they feed??
What did the breeder feed before sending home the pup??



Here's some useful info on joint dysfunction:
http://www.gsdcv.org.au/node/1148
by
k9queen
on 22 January 2012 - 21:47
Growth plates aren't closed yet due to the pups age. Looks fine to me. X-ray the shoulder to rule uoout OCD.
by
Blitzen
on 22 January 2012 - 22:03
I wouldn't rule out pano just yet. I think there may some irregularities in the density of the long bones, not sure. I'm not great on elbows, but I don't see any reason for concern. The radiologist will know and may want to see an xray of the shoulder as k9queen has suggested. Sometimes it's very difficult to identify the source of lameness in a dog of any age.
by
Jenni78
on 22 January 2012 - 23:17
I couldn't see as much as I'd like to, but wondered about possible pano. I am not nearly as good at elbows as I am hips...so can't definitively say anything about the elbow itself, though nothing jumped out at me as irregular. I agree with K9queen on the OCD xray. That is a prime age for pano, though. Good luck; hope it's some minor soft tissue injury or pano or something that will work itself out.
by
joanro
on 23 January 2012 - 00:09
The point of the elbow looks to me like it is misplaced at a slight angle. Even if the bones aren't yet fused because of age, I don't think the bone should be misaligned like that.
by
DenWolf
on 23 January 2012 - 00:33
I saw that too..

Its a 9 month old... (according to the post) so should look better than it does. (closing up)

I have seen x-rays like that, with similar symptoms..

I'd be very interested in hearing what the specialist has to say.
by
Rass
on 23 January 2012 - 00:34
Compare this to the image on this site:
http://www.offa.org/ed_grades.html

Does this image posted by leoetta not look a bit like sclerosis as noted in the image on the OFA site?

It looks to me like there is some remodeling going on near the joint.. as increased bone density as opposed to shadows caused by bone loss. The increased density might be indicative of bone inflammation.. (I have a bad knee that looks like that).



by
SitasMom
on 23 January 2012 - 00:48

in the x-ray what is the vertical line in the radius to the left of the actual joint?

ive never seen this before.

did the end of the bone not fuse correctly or is it an injury?





by
BlackthornGSD
on 23 January 2012 - 01:04
Sitasmom asks good questions--please let us know what the specialist says. It almost looks like there was an injury to the radius....

http://knol.google.com/k/canine-health-elbow-dysplasia-in-dogs

Christine
by
B.Andersen
on 23 January 2012 - 01:12
I see signs of Pano in the Hair like shadows on the long bones. I also see a partially fractured or ununited process. Could be injury could be genetic how does the other elbow look?
by
Jenni78
on 23 January 2012 - 01:22
I saw some "weirdness" in the elbow, but I don't know what they are supposed to look like at that age, if they're not mature. I don't really know how to describe it. Please let us know what the specialist says.
by
JRANSOM
on 23 January 2012 - 01:29
I am no expert but looking at the elbow it looks really good to me but the middle bone looks to me like there is a fracture.

by
Judy P
on 23 January 2012 - 02:29
I am leaning towards an ununited anconeal process

. It w........
by
amysavesjacks
on 23 January 2012 - 04:17
Is it just me? It looks like the tip of the Ulna has an old fracture/BREAK? (Far lower right). It looks like it was broken and is only partially healed? The rest of the elbow looks good to me. I REALLY WANT TO KNOW NOW!! LOL
by
leoetta
on 23 January 2012 - 07:36
I will be sure to let you all know what the specialist has to say about the elbow, I don't think they took an x-ray of the other elbow unfortunately. I hope for the puppies sake that it will end up okay, as far as the owner goes they will of course depending on the results be offered their replacement puppy according to the breeders contract and will keep this dog as well because he deserves to stay with the family he knows and loves. I'll let you know as soon as I do, thanks so much for all the opinions.
You must be logged in to reply to posts