German Shepherd Dog > Opinion on Schutzhund prospect.. (79 replies)
by
vomtreuenhaus
on 20 January 2012 - 15:01
I promise there were paragraphs in there!
by
Rass
on 20 January 2012 - 15:55
"I know some of the things are my error, but there is the probability that it his his genetics. Time will tell,.."

Yes. Just give it time. This is an 8 month old puppy. Rome (and any good dog) is not built in a day.
by
atc237
on 21 January 2012 - 01:30
Get a nice drivey working lines male that's ready to get his 1, in other words pay someone to put the proper foundation and training on the dog. Don't get a puppy. The dog sounds like a normal showlines. I like a dog that is focused on me. A dog is confident or it's not. A dog is drivey or it's not. If you have to "build" it, it's not the right dog. If you absolutely feel the need to get a puppy make sure you get the one that acts like it NEEDS the toy to live and is confident, that's a good beginning.
by
EchoEcho
on 21 January 2012 - 04:37
I would like to ask why it is you chose this puppy and this litter in particular? I know you would like to start breeding however, what are you wanting to accomplish with the breeding? If you have to work really hard at overcoming his genetics then maybe his genetics shouldn't be passed on? What are you going to tell prospective buyers or people who would like to breed to him when they ask about his overall temperament and confidence? I am not trying to burst your bubble but I am just trying to give you something to think about.

Very rarely do you get a puppy that turns out to be breeding quality. This is why breeding quality dogs are purchased as adults. Seems to me that only the top 2-3% (maybe less) of dogs (especially males) should be bred so I would think it would be incredibly hard to find these dogs as puppies. Puppies are kind of a crap shoot.
by
hexe
on 21 January 2012 - 06:30
vomtreunhaus, speaking from the vantage point of being the person who has the langstockhaar showline bitch you spoke of, I must say that this thread has been *extremely* eye-opening for me...now I have a better insight as to what's going on in Rykkah's head when she does some of the things she does, as well as how some of the things she's learned NOT to do anymore originated in the first place. Virtually everything you've written about your current showline male fits how I would have described Rykkah at nine months of age when I first brought her home with me. If you changed the pronoun, and were speaking in past tense instead of present, I would think you were writing about her instead of the male you have now.

Now I know why I had to teach her that it was NOT alright to come running at a person at full speed, and then bounce off their chest, or snatch their hand or forearm if they tried to redirect her attention so she didn't do the chest-bounce. When I took her to be groomed about three or four days after I brought her home (she'd had a little too much fun in the cow yard, and had a distinct manure aroma to her), now I understand why she acted as if she'd been with me since birth when I handed them the leash and started to walk out of the shop--she screamed bloody murder and strained at the leash to follow me...

Maybe I now have an answer to why, three months after she came here, she hid in an unused VariKennel in the basement when my father raised his voice to her, telling her 'bad dog!' because she'd torn up some newspapers while my mother & I were out getting groceries, and my dad went outside to work on something and didn't think to crate her. He didn't touch her, he didn't even move toward her--he just did what he always did with our dogs when I was a kid--he chastised her in a loud, deep voice, and then waited for one of us to clean up whatever mess there was. That's all he did--raise his voice--but when I got home, I couldn't find her, and she didn't respond when I called her, so I had to hunt her up. She'd gone down into the basement, found the door open on one of the spare VariKennels I store down there in a far back corner, crawled in there, curled herself into a ball and hid there until I came down and got her. It's been more than a year and a half since that happened, and while she no longer avoids my father when my folks come from back East to visit, she's still not entirely convinced that she trusts him. She doesn't run or hide if he raises his voice about something, she just gives him a sour look now. (And he doesn't raise his voice at her anymore, as I've made it clear that won't fly around here, especially from a visitor, even if they are family.)

Now her initial dislike of the sight of a flyswatter seems like it might have a foundation...she's gotten past that, since the only thing it ever gets used for is to swat flies, but for those first months, if I took it off the hook to go after a fly, Rykkah would quietly sneak away to the opposite side of the room. It would definitely have been fair to say that she lacked self-confidence...and from what you've said here, I'm inclined to think that you've inadvertantly created these behaviors in your present male, partially through your own interactions with him, and probably just as much via the environment where they're living. If the only person who actually likes the dog is you, and everyone else in the household is not thrilled that the dog is there, it's even money that at some point, somebody's going to yell at the dog for barking (which is what bored dogs do in kennels when they see something that catches their interest that they can't get to, and they get frustrated).

If you take a puppy and raise it in the house, with people around more hours of a day than not (even if those people don't actually interact with the pup), and then after three or four months of that, you put the puppy out in a kennel run for a large part of a 24 hour period, that puppy isn't going to understand why it's suddenly been isolated from the everyone else. And when you return and let the pup out of the run, it's going to turn itself inside out because it's so happy to have the company of humans again....because it became acclimated to having the company during some of the most important developmental periods they'll experience, and because you continue to reinforce that behavior by engaging in it with him. Basically, you taught the pup to be reliant on you initially, and then you switched things up and pup was now on his own, without having had the opportunity to develop his independence during the stage of development when it usually happens naturally.

Rykkah will be three this coming May, and her self-confidence now is vastly superior to what it was when she was 9 months old. Some of that is maturity, some of it is likely due to her being a full-time house dog since she came here, some of it was gained through our participation in several general obedience classes and through agility training, and from helping work the cows, and helping with the chickens (which are free range, but she hasn't killed any...they're mine, and she knows it). But a large part of the self-confidence came from the balance of the relationship we have--I can't spend every moment paying attention to her when I'm home, since I work from home often, so she's learned to entertain herself productively and not expect me to engage her just because we're sharing the same space. I don't make a big deal of leaving the house, nor a big deal about coming back home, either...there's no reason to, and so there's no reason for a big, emotional reunion just because I've walked back in the door after a day working out in the field.

If you give this pup time, and continue your new plan of keeping the release from the kennel at the end of the day very low-key and relaxed, his attitude will likely adjust and his confidence should improve. He will probably always be a touch-sensitive dog, but that's not insurmountable. If you decide to wash this dog out, too, then I would have to agree with the suggestion made earlier: your next dog ought to be an adult dog who someone else has done the foundation work on, and who is less likely to be affected by any negative experiences it may have with others on the property who would rather the dog not even be there.

If you'd said at the time that the reason you were selling Rykkah was because she lacked sufficient confidence for SchH, I still would have bought her, because SchH wasn't a concern of mine, I knew I wouldn't be breeding her, and I'd already determined that she was the right dog at the right time...I do find it perplexing that the breeder told you the dam was of similar disposition, though, given that this wasn't the dam's first litter, nor was Rykkah's litter her last one, either. If there's a weakness in the dam's temperament, why even breed the her once, let alone multiple times?

For the record--I'm not the least bit disappointed in Rykkah--in fact, I adore her, and wouldn't part with her for anything. She's perfect for the lifestyle I live, and the place I live it, and hopefully I'm fortunate enough to get at least eleven or twelve more years with her at my side. I'm posting on this thread only because I'd hate to see you burn through more immature dogs that will then need to be placed, given that there seems a pattern may be emerging as far as the foundation your present circumstances are creating when you try and start with a young puppy. Might be best to wait on working with young pups until you're living in a situation where everyone else who lives there is on the same page as far as the dogs are concerned.
by
hexe
on 24 January 2012 - 04:37
<bump>

Wondering how the evaluation with the trainer went, too.

by
Red Sable
on 24 January 2012 - 11:07
"Ladies and gentlemen...let me interject here and state something that I repeat daily to people I work with and I mentioned in here last night as well in another thread. ALL the love, care, understanding and patience in the world will NOT and CANNOT change genetics. A dog either has it or it does not, end of. If it has it, it can be developed and brought out, if it does not, all you will do is frustrate and question yourself.
While the young lady asking this question is indeed young and may not have much experience, there is nothing wrong with "washing" a dog out of a program. Having said that, I will also add that when choosing a new candidate, either have someone with a lot of experience guide you or deal with a breeder you trust implicitly. Choose a dog for the particular sport/discipline you want to do and realize that show and real working dogs often dont mix.

Beyond weaning the pups, the dam has NOTHING to offer them that is positive, keeping the litter together though has MANY negatives that will come back to haunt us later in life.
6-12 weeks is THE single most crucial socialization period in a dog's entire life. What it will learn/be exposed to then, will affect it for ever.
This is THE time to have that puppy bonded to its new owner and exposed to EVERYTHING it will have to deal with in this world. Leaving the pups together will teach them how to be bullies or submissive, depending on their genetic make up. One will bully the others around and they will learn to fear and react aggressively towards other dogs when they grow and the bully will just think that he is IT...not a good idea.
Also, this "bite Inhibition" lunacy is not something that happens while the pups are with the litter, its the handler's job to curb it or bring it out, plus, who wants bite inhibition on a sporting/working dog candidate?
The pups I have always gotten are 6 weeks or age, max, that way I can instill in them what I want, the behaviors I want to see, bring out drives they will need later in life. By the time they are 12 weeks old, they understand basic obedience, are afraid of nothing environmentally, their prey drive is through the roof and are well on their way to becoming serious working dogs."






Agree.
by
magdalenasins
on 16 April 2012 - 15:08
I agree that a good handler can take a 6 week old pup and imprint it but just as easily shouldn't a breeder be able to keep a litter together until 8 weeks and socialize and imprint the litter (mother not involved)? I like to see a breeder with crap all over the puppy pens and outside, colors, textures, noise makers, toys, tugs, rags, etc and know those puppies are also worked individually before I will ever consider getting a puppy from them. A lot of breders i have come across have this you can't take the puppy outside it will die of parvo mentality and the pup is barely socialized.

As for the OP if I was training a dog as a sports or working prospect I'd have that dog with me 24/7 or as much as possible (other dogs allowing) if I was only working the one.
by
vomtreuenhaus
on 16 April 2012 - 15:39
I only work one, and she is not with me 24/7 (as she shouldnt be) and she is excelling far faster than alot of dogs her same age in our club that are kept as "24/7 companions". Shes 6 months old, nice full grips on the rags/puppy sleeve, started doing 50-75pace tracks, retrieving dumbells, and can happily and fully focused do a BH routine (minus the sit/down in motion), Keeping a puppy you intend to be working with you 24/7 will do more harm than good IMHO. And letting them socialize with other dogs 24/7 doesnt sound too great either. If my dog is with me, no one else and no other dogs matter, unless we are on the protection field. I've had her for about 7 weeks, and she had only had some bare minimal foundation rag work/scent pads. I work her every morning before work, and after work. I have club training thursdays and sundays, and go see my trainer friday nights and sometimes saturdays.

I no longer work the dog in the original post, he had very soft temperament, a little weak nerved (in every day experiences not just sport work), and the last few times I had him on the protection field he wanted nothing to do with it. So i wasnt going to make him. He wanted nothing to do with any of the aspects of schutzhund. I raise all my puppies the same, do the same imprinting and foundation work, so it was a matter of genetics.

Thank you to all that gave advice.
by
BoCRon
on 16 April 2012 - 16:39
There is an expression, "What you fear, you create". I'm not saying it is intentional, but it does happen. We have a client who has 2 dogs of very different types and both have the same nervous behavior. The owners are really nice, but I think give off an aura of nonchalance that worries the dogs, and both dogs are constant worrywarts, it's very interesting. (one is a shelter dog, the other not).

IMHO, I think that dog would benefit from the opposite of what was recommended at first. As much time as possible in your presence, not necessarily being trained or cuddled, just hanging out. We have even done tethering with some dogs (long line around the waist, attached to dogs collar). With many dogs, if they feel the devotion is mutual then they can back off and learn to stand on their own 2 feet. I have a SL male, who at that age was a total momma's boy. My male came with me to work every day of his life once I realized he needed it. He is always by my side and was pretty clingy at first. Once he realized he was top dog (or so he thought :)) he became a different dog. I almost made him a bit sick of me, and I swear if he could have rolled his eyes at me like a rebellious teenager I'm sure he would. I didn't get him with the intention of breeding or anything, so I wasn't overly invested in the outcome, just wanted to see where this would take us. I hoped it couldn't make him any worse, confidence-wise, and knew I could go back to more crate time if it worsened things. But now at just over age 2, he has become a great ambassador for the breed. He is the first out front to meet the new people or dogs, is now the best at enticing the unsure new dogs into play and allows the really young pups to crawl all over him and just patiently accepts it. A year or so ago he would have been nervously checking back with me, getting upset with the timid or young dogs, but now he's like "stick with me, I'll show you how it works around here."
My daughter owns his littermate, who is very different and was obviously raised pretty similarly.
I am a firm believer that no 2 dogs are exactly alike, even within litters, and sometimes you have to try something that may not be the norm, even going so far as the polar opposite of what you feel.
On the other end, I have a younger WL female who came out of the box like some sort of broadway performer reincarnated. She has been outgoing and excited about everything from the get go. I kept her with me sometimes as a pup and sometimes not, it didn't seem to effect her in a negative way no matter what. So there is much to be said for the genetic aspect. I think a strong nerved dog can overcome more negative experiences which is a tremendously valuable trait, but conversely a weak nerved dog can be improved with a good foundation and a bit of over-parenting LOL. Of course, any dog like my male would not be a prime candidate for breeding, but as to his quality of life and the level of trust any owner would want in that dog as a family member, then helping him overcome his shortcomings has been worth the work.

by
Keith Grossman
on 16 April 2012 - 20:23
"Keeping a puppy you intend to be working with you 24/7 will do more harm than good IMHO."

I've been to clubs where the idea was espoused that the dogs should spend most of their time in a kennel except when training and consider this a ridiculous notion for a breed that was intended to live and work with its family 24/7. If such extraneous measures are necessary for a dog to prove its breed worthiness, is it really breed worthy after all?
by
vomtreuenhaus
on 16 April 2012 - 20:41
Keith,

And how many people do you know that have their dog with them 24/7 that actively work them throughout that 24/7..and dont let them be lazy house dogs? How many people raise and imprint schutzhund/working puppies in the house and put pressure on them young via house manners, no chewing/jumping/constantly up the dogs a$$..etc and then expect that puppy to be a monster on the working field?

If you have a genetically solid dog, sure, great, theres nothing that can really mess it up or hinder it, may just take longer to bring out. But weaker, not genetically capable dogs that NEED not be allowed to be kept lazy and house pet that are expected to excell in high pressure work...I think a kennel lifestyle would be better suited for those types of dogs...take em out hot, put em up hot..

YES, the breed was designed to work 24/7 and be with its family in doing so. But times have changed, "bring your dog to the office day" is not exactly "herding hundreds of sheep through the fields".

Varies with dog, bloodline, and expectation.
by
BlackthornGSD
on 16 April 2012 - 20:58
I raise all my puppies the same, do the same imprinting and foundation work, so it was a matter of genetics.

Until and unless you've successfully raised and titled a few dogs, how can you claim that your foundation work hasn't created problems? It doesn't sound like you've had any pups long enough to raise them all the way to adulthood much less to title them.

I think the weirdest period in a pup's life is between 6 months and 12 months--drives and confidence levels are fluxuating so much during this period. I do stuff to build their confidence and to lay good foundations for work and to have a good relationship, but I think too many dogs, too many GSDs, are washed out before they are a year old.

I don't mean you should have a major project on your hands to build confidence--but it is *natural* for a young dog to duck head and ears when approaching a human. This is very much a normal puppy thing. Barking at not-so-strange things like vicious trash cans is also normal for pups in this age range. What I watch is recovery time and how the dog works through things. Not all bloodlines come into their drives at the same time. Some pups won't see their drive start to really surge until they are over a year. Some others will never get more drive than what they have at 8 weeks.

Christine
by
BlackthornGSD
on 16 April 2012 - 21:17
From previous discussion....

Beyond weaning the pups, the dam has NOTHING to offer them that is positive, keeping the litter together though has MANY negatives that will come back to haunt us later in life.
6-12 weeks is THE single most crucial socialization period in a dog's entire life. What it will learn/be exposed to then, will affect it for ever.


Also, this "bite Inhibition" lunacy is not something that happens while the pups are with the litter, its the handler's job to curb it or bring it out, plus, who wants bite inhibition on a sporting/working dog candidate?

I believe the key socialization period is 6-16 weeks, so not just up until 12 weeks.

I have seen pups learn good skills from interactions with their mom and other adults between 6 and 8 weeks. They learn a lot about canine social behavior and communication--what does a growl, a lifted lip, a play bow, a warning snap mean. I've seen mother dogs deliberately lie down in the middle of a group of pups and teach them what a growl means (so they learn it's a warning and to back off, and they learn it safely, from a dog who won't kill them with an overzealous correction).

I think pups at 6-8 weeks are really babies and need a lot of contact and interaction--if the person getting the pup is prepared to meet the pup's needs, I can see that working for the right person. Otherwise, 99% of puppy buyers are going to be better off leaving their pup with its siblings (as long as that is a good situation). At 8-9 weeks, most GSD puppies seem to be primed for bonding with their own humans. At the latest, I like to see puppies with their new people by 10 weeks if at all possible. If not, then hopefully the breeder is doing one-on-one interaction and socialization and not just leaving the puppies in a pen to wrestle with each other.

As far as pups together to learn from each other... I think littermate-to-littermate interaction is of gradually decreasing usefulness for a working dog prospect after 8 weeks. I think a lot of GSDs don't learn too much bite inhibition from each other--they seem to learn "oh, good, I made him squeal, let's bite harder"!

But I also think there's some major misunderstanding of what is meant by "bite inhibition" -- that is, it's learning to self-rate, self-inhibit, the force of a bite--it doesn't mean a dog won't bite, just that a dog learns to play more gently or more roughly depending on the playmate. They also learn that they can give a correction to another dog that isn't a full-force bite that is intended to do major harm. Later on, if that dog is raising her own puppies, she may know how to give a correction without breaking a skull. This transfers over to humans--say you trip over your dog (or say a neighbor's kid trips over your dog....), the dog can learn to give a warning bite not meant to cause major injury. If you want your dog to interact at all with other dogs or with any humans other than the main handler, I highly recommend that your dog learn some degree of bite control/bite inhibition.

With a schutzhund dog, you may encourage rough play very deliberately and may work to build a dog's confidence, especially in rough-housing and bite/tug play, but I firmly believe that it's still worth teaching a dog how to self-inhibit--and how not to self-inhibit--in order to live safely around humans and other dogs.

And, yeah, I've raised and titled more than one dog in schutzhund.

Christine
by
magdalenasins
on 16 April 2012 - 22:03
To clarify, I meant I keep the dog around me as much as possible unless I have other dogs that need my time as well (not that I keep it around other dogs 24/7 which I would not do with a sports prospect). I also tether like crazy and love a velcro dog and since I don't work when the dog is out it is almost always working if it isn't sleeping or eating or chewing/working on some sort of stimulating toy/treat.
by
Slamdunc
on 16 April 2012 - 22:09
Christine and Keith, Thank you both!

I raise and title all of my dogs from pups and title and work them. They live in my house and work their butts off. I am not big on house manners for pups, I let puppies be puppies. I do train them starting at 7 weeks, but it is motivational foundation training and imprinting. I have my own system for raising working dogs. I have raised and titled several dogs from pups and have never had any issues with poor temperaments or dogs lacking in drive. Exactly the opposite. My current dog is literally with me 24/7 and is never low in drive or desire when he comes out to work or comes out of the car.

I teach my dogs to want to work; and focused high energy working gets them their reward. I teach my dogs that I am the center of the universe and that being with me is fun. My biggest problem is getting my dogs to run off and pee when I bring them to a field. They are constantly pushing me to work. That is how I like it, but that is just me and may not be for everyone.




by
Bob McKown
on 17 April 2012 - 12:54

So would this be giving them too much attention?. You could say I live with my dogs.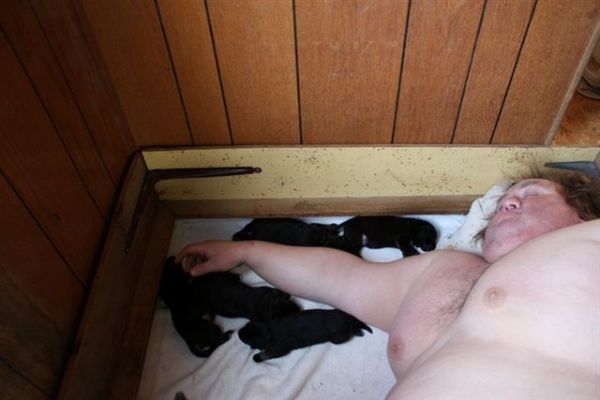 by
hexe
on 17 April 2012 - 17:55
Bob, a bigger 'pig rail' (nothing personal, that's just what they're called) is needed here. They need some space between you and the wall, if you roll over in your napping!

Other than that, I think you're showing acceptable attentiveness to them for their age.

by
live4schutzhund
on 18 April 2012 - 00:02
Bob....I read this whole friggen thread while formulating something intelligent to say.....then your post.

Friggen hilarious. Awesome. Can i put that on Facebook?

Just made my day.
by
Bob McKown
on 18 April 2012 - 01:53
Live4:

Have at it my friend.
You must be logged in to reply to posts