German Shepherd Dog > The Sorrow of DM and other inheritable diseases (108 replies)
by
Diane
on 15 January 2012 - 15:48
The hardest part is that they cannot understand. One day he made a mess on the sofa as he lost control of his bowels. He looked stricken. It didn't matter and I told him so. But it mattered to him and I couldn't change that. One day his eyes told me everything I needed to know

Abby Normal, your words here made me so sad. The word "Dignity" keeps coming to mind when I read this and what others have so eloquently written. These dogs all make it clear they cherish their dignity and understanding that fact is the only way to comfort ourselves when it's time to say goodbye. I made 3 appointments for the final trip to the vet with Daro and turned around before getting halfway there each time. I just wasn't ready to let him go, but it was purely selfish on my part. Whenever he had an accident I told him it was ok and then took him to the deck to bathe and comfort him. The night before I finally completed that final trip to the vet he had an accident late at night. It was Sept and it was chilly outside, so when I took him out to clean him off he shivered and looked at me with "those eyes". I was so angry with myself that holding on to him just a little longer meant he had to shiver and feel a loss of dignity like that. The 3 previous times I tried taking him to the vet, I had to lift his back half into my van. That last Sept morning, though, he grumbled at me when I tried to lift him, then he held his head high and he managed by some miracle to get in the van on his own. He wanted his dignity intact when he left and he got it his way that day...I didn't turn back and made it to the vet's. For those with dogs that currently have DM, like Abby Normal said, their eyes will tell you what you need to know. So sorry Abby Normal that you didn't have support when you went through this! You did it all right in spite of that. HOpe
by
shepherdhope
on 15 January 2012 - 17:35
I knew it was time for Kee as it was the first time in her life she WOULD NOT let me help her. I have just joined the forum about 2 weeks ago and this thread has been life changing for me. Just knowing one person has shared a similar experience is comforting and healing. I didn't think I could have another shepherd in my life because my life sort of stopped when Kee went. Her illnesses put me off. I still have my other dogs and love them but they are not a shepherd. Nearly 3 years on and all I think about is my next SHEPHERD. Time does heal but you never forget.
by
starrchar
on 15 January 2012 - 22:20
I haven't been on this thread since yesterday and here I sit, unable to stop the tears from flowing. My heart goes out to each and everyone of you who has or had a dog with DM. I loved reading about the rainbows you found while you were in the midst of the awful DM storm.

This is a very special thread and I too have found comfort and solace here. I went back and looked at the pictures of every dog on this thread. All such beautiful dogs! Thank you so much for sharing. Here is to honoring each and every person on this thread for the love and devotion you gave to your beloved dogs. You gave them your best and they knew it. Many dogs live their entire lives never feeling the love our dogs have felt. Those are the things I try to hang on to....






by
Mindhunt
on 15 January 2012 - 23:01
My good friend who had to euthanize her champion USET horse told me the best gift we can give our animals is dignity, of letting them go while they still feel 10 feet tall and bullet proof, before their head realizes how bad off their bodies are. Let them go while they still have an intact belief of invincibility and that they are still a force of nature. The vet tech was the spitting image of his old protection decoy and when he saw that tech, he perked up and was raring to go do some much enjoyed bite work, he had that "lets kick some a**" look in his eye as he died in my arms. I was ok with that. He went out the "big dog" he always was before DM.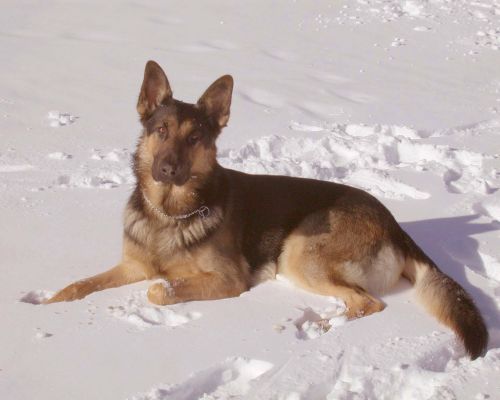 by
Blitzen
on 15 January 2012 - 23:39
I think you are the best dog owners I know.


by
Abby Normal
on 15 January 2012 - 23:46
Diane thank you. And thank you to all who have contributed to this thread and to Beetree for starting it.

Shepherdhope - 24 yrs after the event and this thread has been comforting and healing for me. I hope you get your next shepherd soon. I have never been able to live without (at least) one, despite the health problems. At least now so many of these health issues CAN be avoided.

And lets not forget those who are in the midst of dealing with DM right now, who are giving their hearts and souls to help their beloved dogs cope with this disease.
by
hexe
on 16 January 2012 - 00:06
I was lucky. I didn't lose my DM-affected girl to that disease; I lost her to splenic hemangiosarcoma instead. People who have never watched how DM progresses, seen what it does to a dog whose mind remains clear even as their body fails them, find it bizarre that I consider it 'lucky' that Jess developed hemangiosarcoma...but those of you who have know exactly what I mean. She was 'diagnosed' at 13.5 years old with DM based on a video I sent to Dr. Clemmens--in fact, part of that tape is seen in his video presentation on the clinical signs of DM at the various stages [ http://neuro.vetmed.ufl.edu/neuro/dm_web/DM_signs_ss.html ...she's the second dog seen in the "Early signs" segment]-- and we started the original treatment protocol right away, the aminocaproic acid and the vitamin supplementation and the scheduled walking. It did seem to delay the progression to some degree, but it was there none the less. A week after her 14th birthday, she had surgery to remove a mass that appeared on her inner thigh literally overnight--and it was obvious as soon as the skin was incised that this was a cutaneous hemangiosarcoma lesion, and the x-rays showed the liver and spleen were already a mess, too. An fever spike that could only be kept at bay, not resolved, followed, and she told me it was time for her to go. I never had to see her experience any incontinence; never had to watch her exhaust herself trying to get to her feet on her own, or witness her struggle to breath as the demyelination progressed forward on her body...and for that, I am eternally grateful to an awful and insideous cancer that sneaks up on our dogs. She was my first GSD, and she schooled my next one well in the year they had together, and every non-dog and non-GSD person who ever met her later told me that she set the standard for disposition, obedience, personality and intelligence by which they viewed every other GSD they've met ever since.

My coming-3 year old WGSL bitch will be tested for DM when she's spayed and has her hips done this spring--she's not going to be bred, but I want to know her status, and contribute to the database of info; I'm going to have my 8 year old rescue tested as well, even though I have no idea as to his breeding...if he's clear, that's one less thing I'll probably have to watch for as he continues in his senior years (he's got discoid lupus, so he doesn't need more issues). And if I ever buy a pup again, it will be from parents that have been tested; no matter how I acquire future dogs, I'll be testing them, if for no other reason than to help validate the test further. It's cheap enough, it's non-invasive, and it's the least we can do for a breed we love...and we owe it to the dogs we've all loved who were afflicted with this disease.

This is Wynthea's Imp, my Jessie...she was the breath in my lungs and the blood in my veins, and without her in my life when she was, I never would have made it through those years.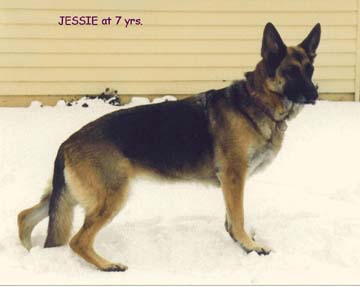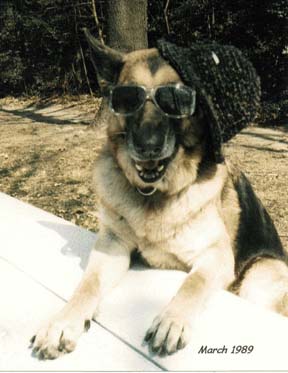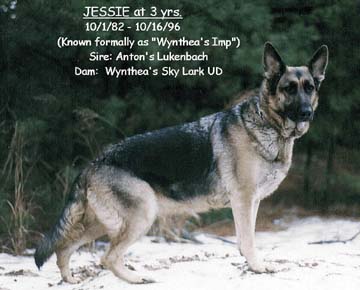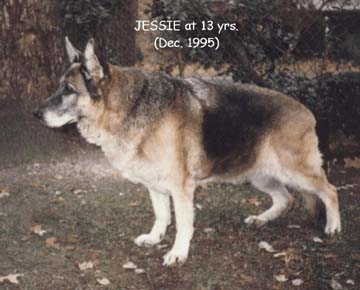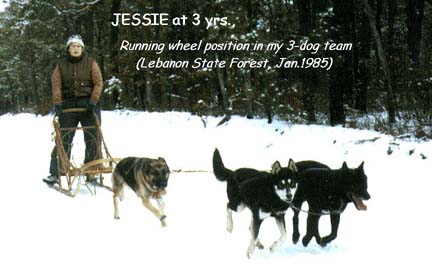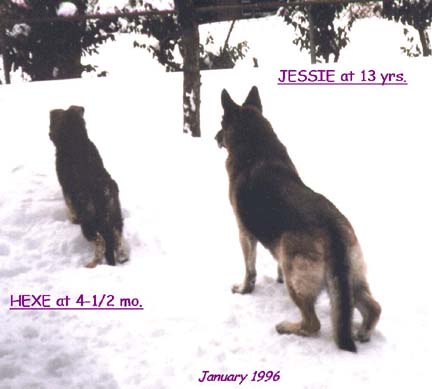 and this is my favorite picture of her....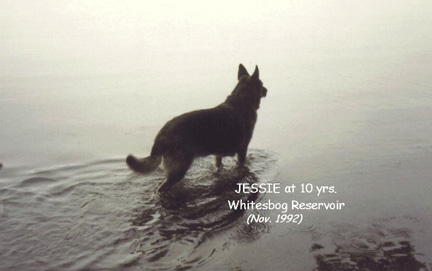 by
starrchar
on 16 January 2012 - 01:01
"And lets not forget those who are in the midst of dealing with DM right now, who are giving their hearts and souls to help their beloved dogs cope with this disease. " Thank you, Abby.

Yes, thank you for starting this thread BeeTree. I hope there is away to save this thread, so in some of my darkest moments as we are in the last stages and after Shelby has gone to the Bridge, I can go back and read these posts. I just can't bear to think about it...

Hexe, Thank you for sharing your photos of Jessie. What a gift it was to have her until she was fourteen, but it is never long enough. She was a beauty! I think we all understand why you felt the way you did when Jessie developed a hemangiosarcoma. I keep wondering if Shelby will develop something that will make my decision for me, but so far she is extremely healthy otherwise...





by
shepherdhope
on 16 January 2012 - 12:30
As stated in the other posts thank you Beetree. Out of something that has devastated us all there is a huge comforting vibe around this thread.

Abby Normal I think because Kee was my first shepherd and had nearly all the health problems a shepherd can have a some point it was hard to look beyond that. I totally get what you mean about not being able to live without one. I can not wait till I've got a shepherd looking at me the only way they can.

To anyone who's dog is suffering form DM keep strong and I think all our though are with you.


by
beetree
on 16 January 2012 - 14:17
Okay, guys, no more thanks, you are all hero's in my book! It takes guts to open up to strangers like you have, but I too, feel this thread is special, so I thank all of YOU! And especially Blitzen who was my inspiration for this thread.

I hope more stories find there way here, as they are stories of love.
by
Blitzen
on 16 January 2012 - 14:41
Thanks, beetree, that made me feel proud.
by
Abby Normal
on 16 January 2012 - 18:56
10 feet tall and bullet proof !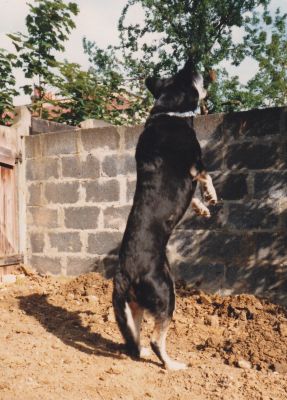 Helping with the building work

Thank you to the two 'B's'
by
hexe
on 16 January 2012 - 18:56
Just found out that the URL for the UofFL/Dr. Clemmons video is not active any longer...I've got the full video itself saved, however, so I wonder if permission could be gotten to host it somewhere else (here?), since it shows the progression of clinical signs so thoroughly?
by
beetree
on 16 January 2012 - 19:49
Great idea! What would you do, upload to YouTube and then post the embed or link? I hope you know how to do that.


by
Mindhunt
on 16 January 2012 - 21:14
I would also like to see a link to list those breeders who test their dogs for inheritable diseases so that when I am ready for another pup, I can look up the breeders. You breeders are doing the expensive and time consuming work of testing your dogs, there should be some list that recognizes how much you have done and how much you care. It would be nice to have the breeders all in one place, but that is just my wish
by
Nans gsd
on 16 January 2012 - 21:59
good idea mindhunt; I will need that also in the not too distant future. Nan Wow and Jessie held up pretty well Hexe; at least you could enjoy her for the majority of her life. She was quite pretty. Nan
by
LilyDexter
on 16 January 2012 - 22:10
Remembering my beautiful GSD Dexter, a registered PatDog who represented GSD's at Discover Dogs for several years & introduced me to my husband. A kind & gentle friend who loved everyone he met.

Big, strong & noble he was sadly affected by DM at the age of just 7yrs. He enjoyed his cart from Eddies Wheels so much & it gave us time to come to terms with losing him.

Sadly PTS aged 9yrs following the death of his sister & brother with the same illness.

DM is a terrible disease as it leaves it entirely to us to make the decision of when to take the life of a dog that lays in front of you looking as perfect and alert as it always has done. This causes much anguish for the dogs carer, but for the dog, luckily there is no pain & that is the only comfort for anyone faced with this.

Breeders need to wake up & see what has been done to this once magnificent breed. It is ruined! There are too many illnesses & they are occuring in dogs way too young. It's cruel to the poor dogs & their poor owners. I hear sad stories everyday.

My current GSD, as I have mentioned time & again has suffered beyond belief. A severe food allergy & seizures from 9wks, fmeoral head way too small inone hip, HD in the other, allergic sores on her mouth that stink & itch, not to mention the anal furunculosis.

She is of excellent bloodlines, it makes me depressed to hear what is going on out there.

My advise to everyone is not to get a GSD. She is my thrid & each one has been more unhealthy than the last. We have now chosen another breed & we are so happy. It has been wonderful to see a pup born healthy & walk with good parallel rear action on strong legs, no ropey backline, but good & strong. Intellegent, happy & free from exaggerations that lead to suffering.

I'm not saying he will live forever or that he won;t have some hereditary illness lurking in the closet, but he has been a breath of fresh air & I won't be going back to the trauma of trying to raise a crippled GSD.

I pray that breeders will start to do right by the breed not their pockets & breed a healthy, intellegentt, biddable dog that can enrich the lives of it's human carers over a long life.

It's time for them to take their heads out of the sand & see what they are REALLY looking at, not what they THINK they are lookiing at. I hope that day will come but I doubt it. It makes me VERY angry!


by
ggturner
on 16 January 2012 - 22:20
Hexe,

This summer, we lost a 13 year old little terrier mix that we rescued to hemangiosarcoma (spleen and liver). We put her down when she began bleeding internally and having seizures. Very difficult decision, but we did not want her to suffer. She was my daughter's dog and had the cutest personality. RIP Maggie!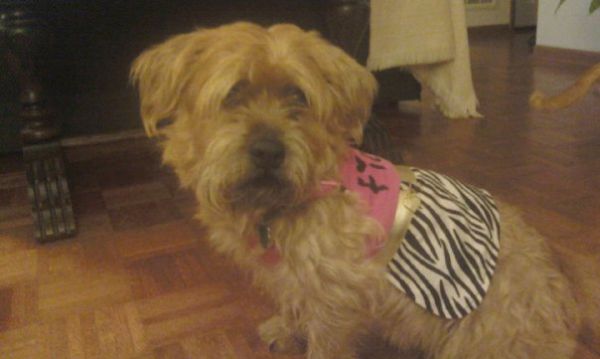 by
beetree
on 16 January 2012 - 23:51
Lily Dexter, I understand how hard it was. I'm sorry you gave up on the breed because of this disease. I won't do that myself, but your pain is real.

ggturner, thanks for sharing your lovely dog with us all.
by
Blitzen
on 17 January 2012 - 00:39
Hi Lily,

I've wondered how your girl was doing. Sorry it worked out the way it has. I've often thought about giving up on the breed too and my current dog will be my last bite at the GSD apple if she ends up with as many health issues as my first two. She's 4 now, so far so good. My first breed lived til 13, 14 and few ever saw a vet for being sick. There's just something special about a GSD that keep me coming back, for how long I don't know.

Good luck with your new breed. Nice to hear from you after all this time.





You must be logged in to reply to posts