German Shepherd Dog > The Sorrow of DM and other inheritable diseases (108 replies)
The Sorrow of DM and other inheritable diseases
by
beetree
on 12 January 2012 - 14:20
This is the guy I mentioned on another thread, and it was what Blitzen said, something like "...how it is hard to imagine worse to lose a dog to DM, much less a very young one." If you have a dog you loved and lost and want to honor their memory here, I think that would be great. This dog was PTS before he was 15 months old, when he was struck with the paralysis of DM or a DM like disease.

There has been debate about the awareness and use of new tests for genetically inherited diseases, that have not been around for very long. I'm hoping to put a dog face, a visual reminder why it matters so very much to many dog lovers everywhere to finally know what can be avoided or even to just better the odds.





by
Blitzen
on 12 January 2012 - 14:35
Wonderful idea, Beetree!! I have been lucky to not have a dog with DM, but 2 friends have. I don't know if they have any photos I could post, but I'll ask.

Your dog looks so happy on the photos. I'm sure he had a great life albeit way too short.


by
shepherdhope
on 12 January 2012 - 15:54
I lost my girl to DM she was just over 12 years old. It was devastating watching her pull herself along like her legs were not part off her. 15 months is NO age. I have only found a hand full of breeders on the Internet in the UK doing this test. I also wish more would do the Anal furunculosis test as I know of only one breeder in the UK testing for this horrific and again inherited condition. The prices for both test seem reasonable. Again 15 months how can this be happening?
by
Jenni78
on 12 January 2012 - 16:04


So sorry about everyone's losses.
by
melba
on 12 January 2012 - 17:06
My very first dog Bonnie was affected by DM. She was not a German Shepherd.... just a heinz 57 from the local animal shelter but she was
the best dog ever. Of course she had her flaws, but for a 15 year old girl (when I got her) she was perfect in every way. The disease presented
itself after a surgery to remove a cyst when she was around 9 and I watched her very slow deteoriation. She had other problems as well that
I honestly attribute to over vaccination..... autoimmune issues mostly... she was the poster dog for vaccinosis. But she was MY dog...
(The one picture she looks very plump.... it was due to a very enlarged liver) She was 16 when we set her free.

RIP Bonnie
11/16/2011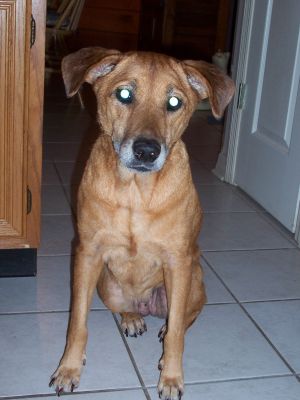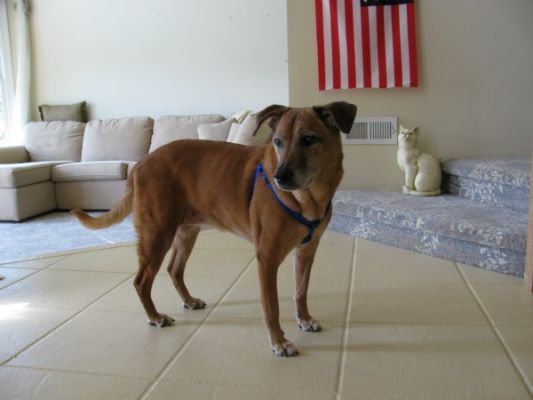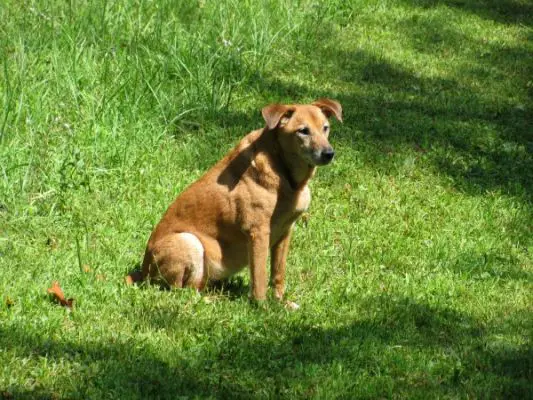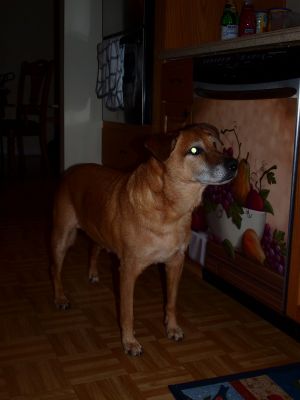 Melissa

by
rbud.rm
on 12 January 2012 - 19:49
Ok,I looked over the OFA site and can find no referance of DM, Im not new to gsd's or hip/elbow ofa's but what is DM for the people out here that dont know.
Thanks,
Rbud

PS I had a fellow contact me last night wanting to have his female bred by my male, he said his female is a DM carrier. Then I find these comments on the database this morning. A little help here please.
by
rbud.rm
on 12 January 2012 - 20:11
Diseases of the nervous system, thanks for the link.
by
Red Sable
on 12 January 2012 - 20:20
Wow Bee, he was a beautiful dog. Much too young.
by
beetree
on 12 January 2012 - 22:18
Thanks, Red and others. Way too young, I know, it is very hard to believe. When I say sorrow, you can see it in his face too, from these other photos of when he could no longer walk without our help, and using the sling. We used that brown towel in the pictures. You can see the evergreen in one picture, that was our Christmas tree, (live). Our poor dog never made it that far.

We had already spent three thousand dollars on every test and treatment possible. If they had a DNA test back then, it would have made it so much easier on us, and especially the dog. Perhaps I wouldn't have put him through some of his ordeal, but as everyone noticed, he was just so young. I couldn't give up on him. Sometimes though, we don't get to call the shots.


by
3Shep2
on 12 January 2012 - 23:20
Congential Megaesophogus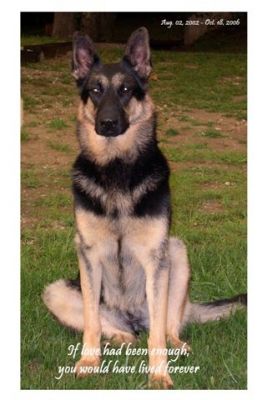 by
Betta Wolf
on 12 January 2012 - 23:53
I am Extremely Sorry for any & all who have dealt with this disease.
I have lost a dog to wobblers (non gsd).

Please excuse my question, I ask only for clarity, & I am not a breeder.

I assume that a carrier, carries the gene for DM?
Does that mean the carrier will get the disease at some point? or is that not known, or rather, they may develope DM, or they may not; but they can pass DM if bred?

& an at risk? is at risk to develope DM?

Also, the reason for the above question, is that it seems to be something only breeders, or breeding dogs, are tested for. So my reason for asking, as, some dogs who carry this gene may not develope DM?

Thank you for any answers in regard to the above.
by
beetree
on 13 January 2012 - 00:20
Carrier (A/N)
This dog is heterozygous A/N, with one mutated copy of the gene and one normal copy of the gene, and is classified as a carrier. In the breeds studied at the University of Missouri in depth so far, dogs with test results of A/N have never been confirmed to have DM. While it is highly unlikely this dog will ever develop DM, this dog can transmit either the normal gene or the mutated gene to its offspring.
by
Mindhunt
on 13 January 2012 - 00:54
From the first definitive signs to the day we euthanized Loki was 9 months and he died 2 days before his 10th birthday.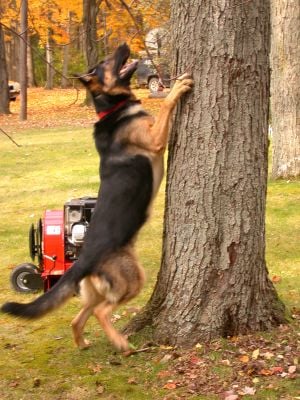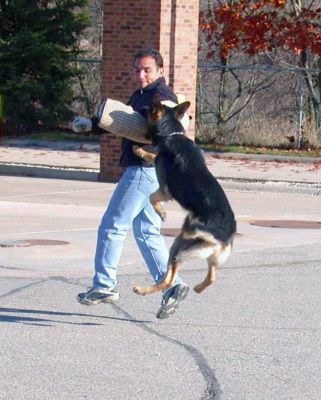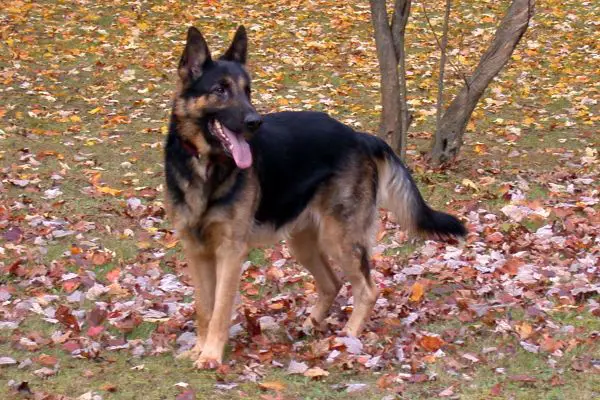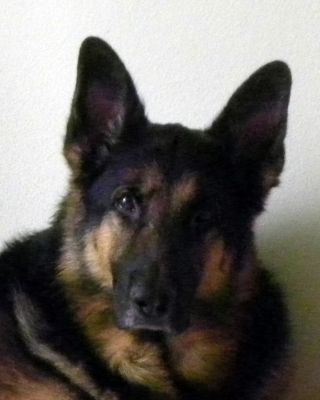 The day we euthanized him and he was still feeling 10' tall and bullet proof but his body no longer could keep up with his spirit. We are glad he never really had to realize how bad off he really was.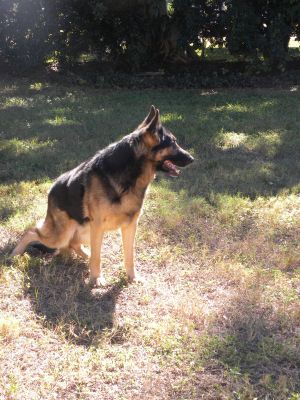 by
Renofan2
on 13 January 2012 - 01:13
My Libby, 10.5 years old. Vet suspects DM. Still with me, but not looking forward to the progression of the disease. Beetree - cannot imagine losing a dog so young. That must have been so difficult. Cheryl


by
Diane
on 13 January 2012 - 02:45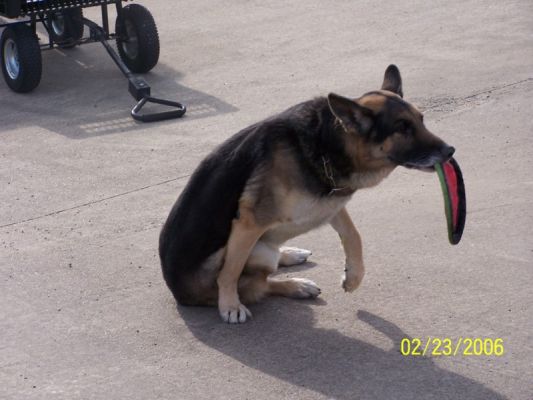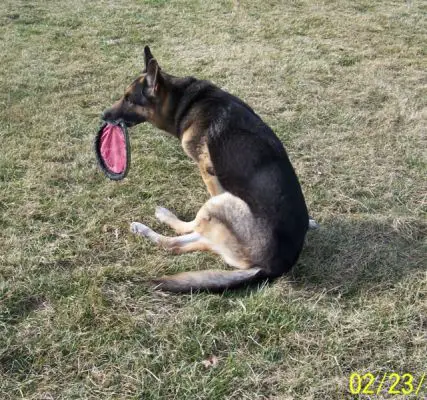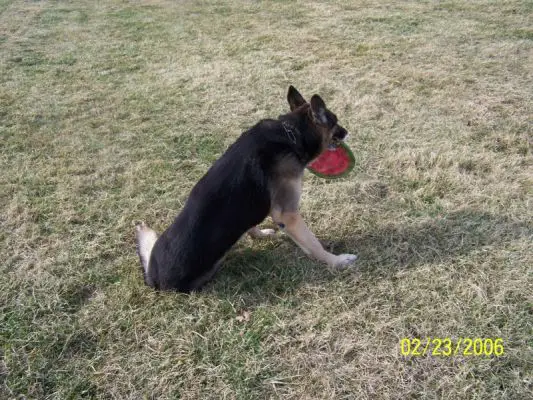 by
Diane
on 13 January 2012 - 02:45
My male pictured below was put to rest in 2006. He had a presumptive diagnosis of DM after ruling out every other possible cause of his rear limb paralysis. He had OFA Excellent hips and dysplastic elbows, but his elbows never caused him any problems at all and those great hips didn't help him once the DM set it. He started out with occasional broken/sprained toes on his rear feet and that prompted the vet visits. His rear nails were worn very short and he knuckled under and failed to right his feet on his own. He didn't progress much beyond that for quite some time, though his gait slowly changed and he couldn't jump well. Ultimately he lost the ability to use his rear limbs much at all, and when he did he could only take a few steps before the legs crossed behind him and simply didn't follow where the front was going. He was a very strong dog and would will himself to get back up and try again, often succeeding on his own even in the late stages. That made it difficult to end his ordeal because his front legs and his mind were so willing and able in spite of the deterioration of his rear limbs. He insisted on taking his frisbee with him every time he went out because he was certain he'd somehow be able to play again. He tried so hard, but just couldn't do it. RIP buddy.
by
starrchar
on 13 January 2012 - 03:37
Reading the posts and seeing the pictures of these beautiful dogs made me cry. My sincere sympathies to all who have a lost a beloved dog to one of these heartbreaking diseases. I am so sorry.

I would like to know more about AF.


by
starrchar
on 13 January 2012 - 17:32
Here some pictures of my Shelby who has DM. As you can see she is not "working dog" LOL. I think she has the softest eyes I've ever seen.The first two were taken in 2008, the third one taken in 2010 and the last one was taken in November 2011 (looks a little washed out due to lighting). Even now she can stand and look fairly normal, but if you see her move, you know...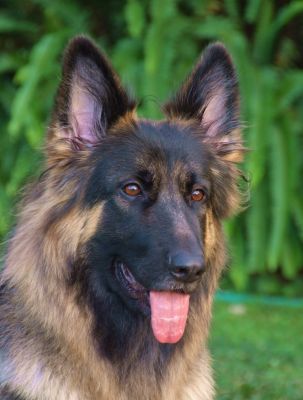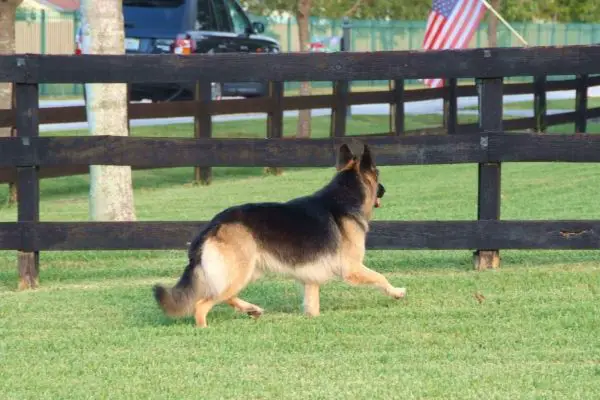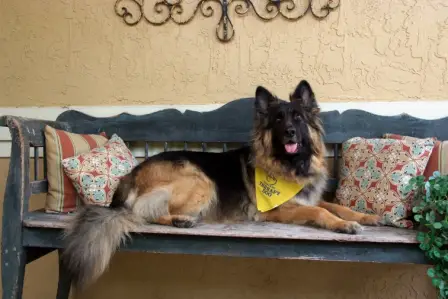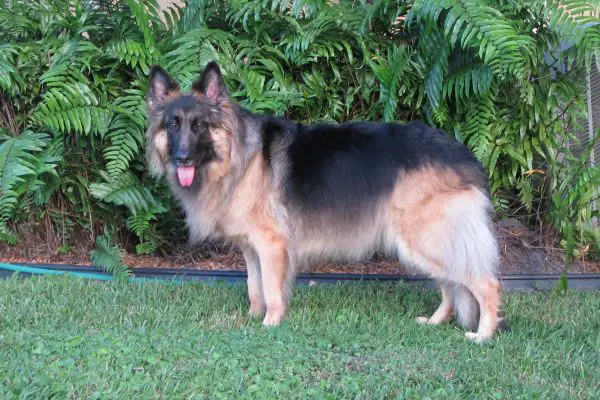 by
hunger4justice
on 13 January 2012 - 17:39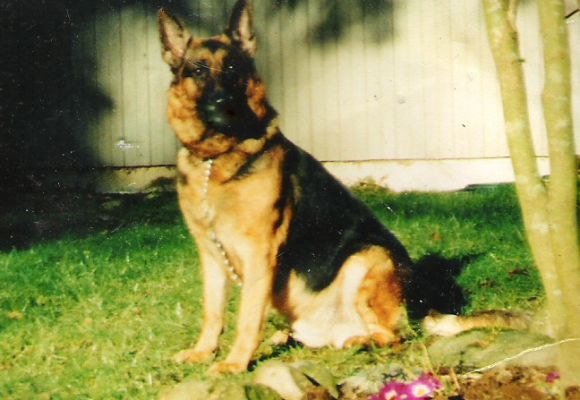 This was my boy at nine, my heart dog, my best friend for 13 years, the most couragous dog I ever knew. I kept him walking until 13 and his excellent hips through his pedigree did not save him in the end. His DM didn't kill him, the cancer did. Yet, I would not want to have given up knowing such a magnifcent peice of heaven. I was truly blessed but it was hell when a dog this big cannot move any longer.

Your dogs are beautiful everyone.
You must be logged in to reply to posts