by
Zep
on 31 January 2012 - 09:53
Jackie,

It was actually 3 and a half miracle years with Duke, Hope you get the same or more with Kali!

Zep--

by
Dotty4
on 31 January 2012 - 14:53
I am just checking in to see how Kali is this morning and thinking of you and your pup.

You do know when it is time, it hits you on the head like a ton of bricks, then there is no question, whatsoever.
by
Kalibeck
on 31 January 2012 - 16:58
We feel the love from everywhere, I swear this love is sustaining Kali. This morning, she is brighter, her tail tumor is drier & seems less uncomfortable. She no longer needs a dressing on the tail, & we took the e-collar off again, thank goodness. That collar makes her very unhappy, I'm so glad we don't need that today. So, whether it was your love, or the meds, or both together, I don't know; but I'm so grateful she's feeling better this morning! Thank you so much, jackie harris
by
Kalibeck
on 01 February 2012 - 03:50
Just thought I'd share some pictures from this afternoon, the weather was so nice I thought it would do us both good to just sit outside & soak it in....& Kali looked so beautiful....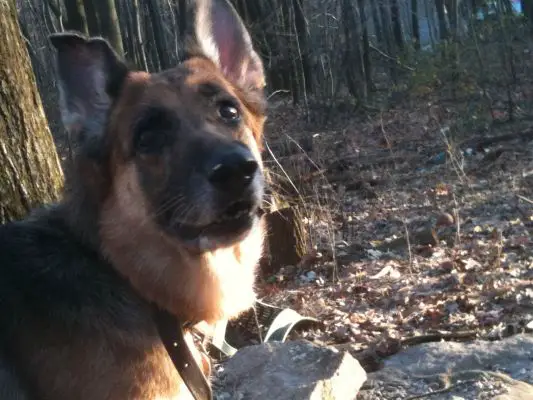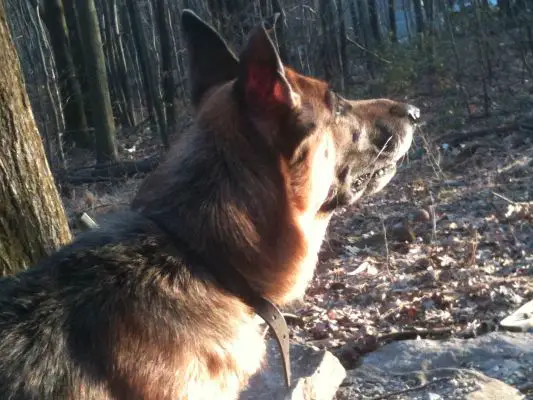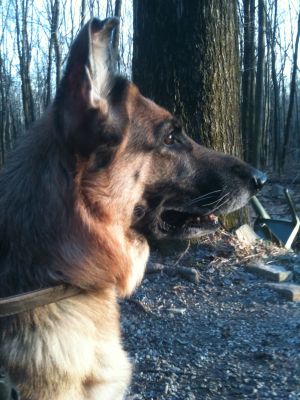 So full of life, & love. jackie harris
by
Dotty4
on 01 February 2012 - 21:31
Kali is really beautiful.
Thanks for sharing the pictures.

My thoughts are still with you and her.


by
ShelleyR
on 01 February 2012 - 22:29
Lovely pix of Kali in the sunshine. I wish I could find the ones I have of her on my sofa, being a silly girl, trying to give T a hard time.
My thoughts and prayer are with you all.
Portia did not suffer unduly. Stoic bitch, as ever, she showed no symptoms other than she quit eating for a couple of days, so she went to the vet, where she was found to be riddled with tumors. No hope for improvement. She was not allowed to suffer, passed peacefully to join her Daddy Pallo and Momma Conni, waiting for me at the Bridge. T and Bijou send their positive doggy ju-ju for Kali too.
by
starrchar
on 01 February 2012 - 23:02
Wow, what great photos. Kali is such a beautiful girl. I'm so happy she seems to feeling better. My thoughts continue to be with you both.
by
EddaSG
on 02 February 2012 - 00:38

Beautiful photos of Kali and beautiful Kali.
Prayers go out to your sweet girl and family.
It is nice to read her stories and see more photos of her.

by
animules
on 02 February 2012 - 01:44
Wonderful pictures Jackie. Thank you for sharing them with us.
by
Kalibeck
on 02 February 2012 - 03:58
Thank you, Kali really enjoyed herself yesterday. There were a pair of teenagers necking on the big rock at the front of our property, & Kali took great delight in doing her bark & hold when I asked her "Who's out there?" Of course they left, & she returned to platz by my side with a swagger, very proud of herself. But it tired her out, & today she's still kind of pooped & droopy. Carl & I had to go to our MD appts again, she really hates being left behind. Her poor right ear developed a hematoma when all this started, probably secondary to a little tumor, & even tho' the swelling has gone down, her ear is still crumped. I think it gives her character... her ears were always the thickest felt! And so-o-o-o soft! She would allow the grandkids to pull her ears & climb all over her.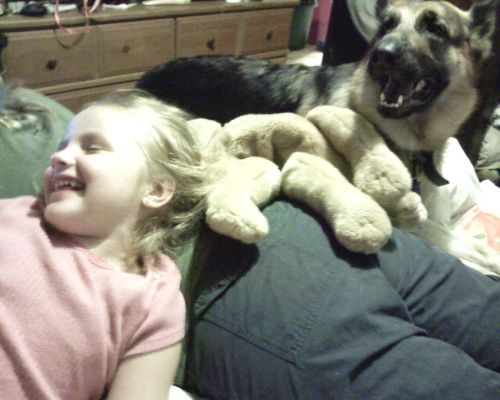 Thanks everyone, for your support. Kali thanks you, too. jackie harris
by
shepherdhope
on 02 February 2012 - 21:24
Kali looks like she's smiling, fantastic

by
Abby Normal
on 03 February 2012 - 00:51
How beautiful is she? Wonderful photo's and she does look like she is really enjoying herself and in that last photo she DOES look like she is smiling, no - laughing. It's strange, but I dreamed of her the other night, and in the dream your vet came up with a completely new treatment plan. I can't remember more than that. I hope my dream comes true for her, I am still praying for a miracle for your beautiful girl.
by
Kalibeck
on 03 February 2012 - 01:12
Thank you so much! Right now she's status quo, which is fine by me! As long as she's got liverwurst to take her pills in, & her pills, she's holding her own. I'm thankful for every single day we can have her with us, as long as she's a happy girl. We're still hoping for a miracle, too. I hope your dream comes true, too. Thank you for dreaming of her! jackie harris
by
starrchar
on 03 February 2012 - 03:36
As long as they have the will to live and their bodies will endure, we can't give up hope. Kali is one very lucky dog. The story about Kali doing her bark and hold yesterday put a smile on my face. I loved the photo of Kali and your granddaughter. THey both look so happy. Thank you for sharing.
by
Dotty4
on 04 February 2012 - 01:41
Just checking in on how Kali is.

Love the latest photos, thank you for sharing.
by
Kalibeck
on 05 February 2012 - 01:35
Well, I tried to post from my computer, & couldn't, so I'll try again from my phone. Thanks for thinking of us. Kali has had a good weekend so far. We are keeping her on the tramadol, the anti inflammatory meds, & the antibiotics; & they are keeping her feeling good. Yesterday she went with me to pulmonary rehab, she & Carl sat by the bubbling stream behind the facility under the pine trees. Everyone stuck their heads out & waved at them. We've been spoiling Kali shamelessly. It's a win-win situation, she's too special to waste a minute of good time! And right now, she's happy. jackie harris
by
hexe
on 05 February 2012 - 06:29
You know, Jackie, I'll bet taking Kali with you and Carl when you go to your appointments is probably better for all three of you--whoever is having a treatment or therapy session isn't worried about whether Kali's all right at home because she's with you, which likely makes the session more beneficial to you, and she's not worrying the spot on her tail or anywhere else because she's with you. Win-win-win for all three of you. :) I'm so happy to hear that she's had a good week with a bit of help from the meds...nothing wrong with a bit of pharmaceutical help when it's needed! And I agree with you--the slight wrinkle in her ear only serves to enhance an already-expansive character. She's beautiful, and her happiness shines in those pictures from earlier this week.
by
Kalibeck
on 05 February 2012 - 21:58
Hi Hexe, yes Kali is a very happy, spoiled girl for now. Living for liverwurst, thanks so much for that suggestion, pills are easy as can be rolled into little balls of liverwurst. So, now she & I are going to therapy together while we await her re-eval by the vet, & my repeat CT & PFTs, & then a re-eval by the pulmonologist. You were spot on about my issues as well (being more than pneumonia), now I have to wait for the pulmonologist to make a diagnosis. Waiting is difficult, I'm so glad I have my Kali here with me still. Thanks for your help & support. jackie harris
by
ggturner
on 07 February 2012 - 23:26
Glad to hear Kali is holdering her own. Keep us posted.
by
Kalibeck
on 08 February 2012 - 01:23
Thank you, ggturner, & Sunsilver; I guess I'll kind of cross reference my comment on the all breeds thread about medical alert dogs....I really think Kali is fighting back her own disease because she's worried about me. As a nurse, I see terminally ill people keep their own disease process at bay until they have settled issues for their families or loved ones....until the will is signed, or a guardian is established for a child, or until a spouse comes to terms with the situation & can deal with it. You wouldn't think that one could do that, but it happens too often to discount. That power of will just maintains folks who are too ill to even swallow a drink of water, long past what medical science can explain, because of their love & concern for another. I see that in my Kali's eyes. She will sit in front of me & just stare at me, lifting her paw to paw at me now & then. I keep telling Kali I am OK, I will be OK....she is not convinced. She runs back & forth between Carl & I, trying to herd us together. Right now Carl is out to the store, picking up medicine for me & liverwurst for Kali's pills, & Kali keeps going back & forth, torn between waiting at the door for Carl, & staying at my side. She grabbed my hand before, so I did check my sugar, & she was right, it was very high. I wish my health was better right now, so that she would not be so conflicted. But I can't take that true GSD courage away from her. She will put us before herself every time, & in every situation. Even now. That, my friends, is the absolute epitome of what a GSD should be. Fighting, no matter what the enemy. jackie harris
You must be logged in to reply to posts