German Shepherd Dog > New here and just saying Hi (18 replies)
New here and just saying Hi
by
Selaith
on 08 January 2012 - 18:29
Hello everyone. I recently got my first GSD and also found this board. I have always admired the GSDs that I have seen and been around and always fancied that one day I would get one of my own. Unfortunately I did not find this board with all of the wisdom here until after i got my pup. She was a discounted older pup from a breeder who seemed to care about her dogs. I wanted an older puppy or young adult. This translates into a BYB with no titled dogs. That being said, I am very happy with her temperment and disposition and I think she is a very attractive pup astetically.

The vet gave her a clean bill of health and I will have her hips and elbows x-rayed when she gets older unless I have reason to do it sooner. I plan to do it because if there is a problem I would like to know before she shows any signs as she ages so that I can be sure to supplement and all to help prevent more damage as she ages. I am being very careful now in making sure she isn't jumping or doing anything too rough (had to teach her NOT to jump off of the porch and to take the steps one at a time), she is eating bil-jac large breed puppy food. I see that a lot of people here feed a raw diet but I don't think that is something I want to do as long as there is a good option for a kibble. Correct me if i am wrong but isn't bil-jac a very good quality food?

She is very smart and learning at an amazing pace. Eventhough she had been kept outside in a kennel run she was housetrained from the start with only one accident in the house. Learned to heel, sit, down and stay within the first few days. She doesn't seem to have much food or toy drive to me. Neither gets her excited. Her excitement comes from biting the sleeves of my jacket o.O I am trying to discourage this and redirect her to a toy but she thinks my jacket is very tasty. It would almost seem like she has done bite work and loves a sleeve. I don't think that is the case but it just seems funny to me that sleeves are her thing. She is also very quiet...and by very quiet i mean she is totally silent. In the weeks I have had her I have only heard her whine a couple times when she wanted to go outside.

The only problem I have with her relates to the sleeves thing. She is very "mouthy" and simply can't NOT bite at me whenever i try to touch or pet her. The only time I can freely rub down her body is while she is eating. Otherwise she is biteing and nibbleing on my hands and arms. It isn't as if she is trying to be aggressive...it is more like play to her. Other than stopping what I am doing or telling her no when she does it is there anything else I can do to curb this behavior? I have managed to get her to let me pet her neck without biting at me. But other than a good scratching right around where her collar is anything else gets her to biting again.

Thanks in advance for any help on this issue. I have really enjoyed reading the posts here and look forward to spending many more years reading and posting and getting to know people here!!!
by
isachev
on 08 January 2012 - 19:53
Hello Sel, and welcome. I have a girl who did the same thing with sleeve biting. Thought it was fun at first, then it just got annoying. Try and correct her now, before you need a new coat, like me. LOL
I would keep her as lean as possible as she grows. I'm a raw feeder, so not to up to date on what quality kibble is out there. I think you would look for a high end no grain kibble. You will get better replies from others on that. Just wanted to welcome you. Best of luck to you and your pup.


by
Selaith
on 08 January 2012 - 20:30
Hi Isachey and thanks for the welcome!! I am all too aware of how it can turn into a major annoyance if left unchecked. I am just not sure of how to get her to stop when it seems like everything i do short of not touching her seems to encourage her more.
by
NorthwindsGS
on 08 January 2012 - 22:16
Hello Sel! I am also new to the board, at least posting wise. Have been a lurker for awhile.....

Northwinds
by
beetree
on 08 January 2012 - 22:31
I had a black GSD pup from a rescue that the kids nicknamed, the "bitey dog". The marks on my arms persisted as I was informed, it is the nature of the beast. It is a bit of a disappointment, especially for kids who just want a little cuddle every now and then, but if your goal is biting sports, you can't have it both ways. Of course I had no idea about SL or WL's then. That is one reason I do reccommend SL's for families of limited dog experience.


Oh and welcome, hope you aren't thin-skinned, yourself!


by
Berniemac
on 08 January 2012 - 22:43
Hello and welcome.

Don't know about the kibble, never tried that one. I feed dehydrated raw food now because my dog was getting diarrhea from everything else. Now he is fine. How old is your pup? Just wondering.
Wish you luck. My pup will be a year on January 31st. Birthday party?
by
Selaith
on 08 January 2012 - 23:12
Luca is 3 1/2 months old now. (I didn't consider this an "older" puppy but the breeder with a new litter due anyday did) I don't plan to do any kind of bite work with her or anything. Maybe fetch a ball if I can manage to get her interested in the ball enough. Right now she is more interested in the hand throwing the ball. I am pretty thick skinned though. It just concerns me somewhat because I do have children who would like to play with her but so far I have only been able to allow them to pet her when I have her head under control. She wants to play with them also but those puppy teeth are like razors and nibbleing is a bit of an understatement as she will bite down pretty hard.

As for the kibble I have always only heard really good things about Bil-Jac. This isn't my first rodeo with dogs...just my first GSD. I have to mail order any food I have for my dogs because I live in a very tiny town and the only thing available here is the mass market stuff I wouldn't feed to anything but bugs. The breeder I got her from had her on Eukanuba large breed puppy and she was what i considered a bit overweight for a puppy of her size and breed. She is a large puppy in my opinion to begin with...larger than other pups I have seen that were her age. I have never been around growing Shepherds though so she might just be normal sized. I have known for years to keep larger breed dogs a bit leaner because of the stress it can cause their growing bodies to be too heavy. She has lost a couple pounds and is now more lean but not anywhere near UNDERweight. Her coat seems to be a good bit more shiney now also. I would love to post a photo of her but the only working camera I have right now is my phone and all that you would be able to see would be a black blob on a tan floor the resolution is so bad on it LOL!! She is black and tan but the camera would blend it all together.


edited to add her birthday is Sept 26th
by
Betta Wolf
on 08 January 2012 - 23:26
Try re-directing the pup = give it something it can chew, bite.
by
Selaith
on 08 January 2012 - 23:41
Hi Betta!! I have tried that with balls (too big to choak on), treats, bones, rope bones and squeeker toys. The one she is most interested in is the squeeker but she will drop it almost as fast as she takes it and will go for my sleeves again. Just thought I would mention that my sleeves aren't big or billowy or anything. It is a snug fitting fleece jacket. I am just being patient with her, saying no and removing my sleeve from near her face(which means my hand/arm)and offering her something else to chew on or play with. I hope patience and persistence pays off for me LOL.
by
Turk
on 09 January 2012 - 03:26
my boy is mouthy - I tell him to get his bone and while he holds his bone in his mouth I pet him
by
EchoEcho
on 09 January 2012 - 03:42
I feed Taste of the Wild puppy and I add some raw meat and veggies. I would recommend Taste of the Wild or Candidae. Congrats on your new puppy... I just got a puppy myself who will be 3 months old in about a week.
by
beetree
on 09 January 2012 - 14:49
I actually sprayed Apple Bitter on my children's appendages with that "bitey dog", and my arms, just to give our skin a chance to heal, every now and then. LOL
by
Selaith
on 09 January 2012 - 16:29
Thanks Beetree!! I hadn't thought of that. I could just spray it on my jacket. I have been working with her on the biting at hands and she is doing much better with it. If i approach petting her body slowly and very calmly she will stand or sit and let me without trying to get playful. Apparently she is rather in tune with me and if I am even slightly playful or excited she picks up on it and it gets her excited and playful. When I walked my kids to the bus this morning I took her with us for the first time and she did really well. She walked at heel except when i released her to go potty and then when she finished she came right back. She tried to bolt towards a kid a couple times but for the most part she kept it under control. She definately has some strong herding instinct in her. She couldn't stand when they walked behind us but was comfortable with them in front and walking at a calm pace. One of my sons will usually run out ahead a bit and him running got her wound up so I asked him to just walk with us.

I did manage to take some decent pics of her a little while ago and I am going to try to post them if i can figure out how. I am so proud of her!!!
by
Selaith
on 09 January 2012 - 16:48
I think I got this figured out. If so...Here she is!! (pardon the messy house around her. I have been going through old clothes to send to goodwill and clothes are piled up everywhere)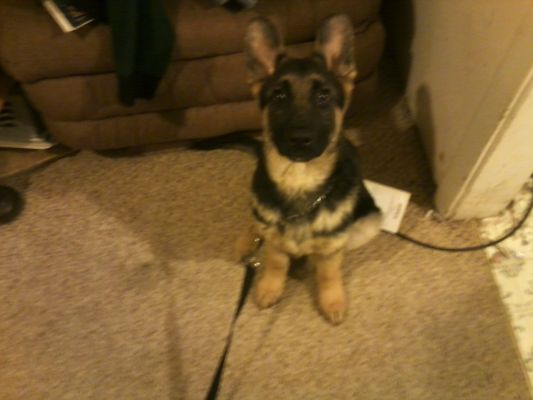 by
Selaith
on 09 January 2012 - 16:52
And here is the photo I added to my profile. She was being such a good girl to be still long enough for me to take decent photos of her!!!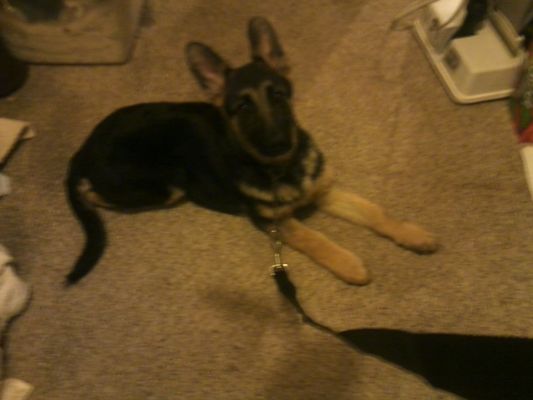 by
brynjulf
on 09 January 2012 - 19:27
Adorable pup! Welcome and good luck!
by
yellowrose of Texas
on 09 January 2012 - 19:46
Hello and welcome

News flash: She needs to be mouthy..just redirect her to toys and IT takes time...DONOT WORRY

SHE WILL SOON REDIRECT HER INTEREST
You just keep making funny noises with toys in front of her..put them on a rope and drag away from you ...

anything you can think of the get her mind off of your hands or arm...THAT is a normal dog ./puppy trait to go for you...only thing she knows is movement of her keeper..SHe use to bite her mom and all pups do this..

Nothing bad just you have to redirect and be alpha..no punishment at all...I would not spray anything on anything..why....for her to get a bad karma for spray bottles...???

You have a pup who has prey drive whether you know it or not...she wants something to grab..so take toys and bones and tie a rope on them tie an old t shirt with a knot in middle and put a rope around it...use it to keep her attention for short periods..SHe will only focus if you make her..then use tiny food rewards when she does focus and keep her busy outside till she soon loves one of her tugs...

Keep toys not in kennel with her but on you when you are around her. Only reward with food when she does good things...If you need food to get her attention use it...use food to get her to sit in front of you..use food to get her to walk by you...and praise her with pats on side not her head..


I use a small coffee can with dog food in it to shake and make her look at you..Then reward with tiny bit of cheese or meat pieces..YOu can dry meat in low heat oven and put in bags for you to carry with you..pr buy the rolls at petsmart for training..very expensive treats though..I always keep my own made and use lots of cheese and chicken treats in tiny pieces..YOu only want to treat them and not spend time for them eating..A treat makes them want more..so make it tiny and they will look to you for that reward only after they do what you ask of them...Use it to encourage them to , and to get their attention..Use commands and push away from you if a pup crowds you for the treat..hold it hidden in hand so they have to sit or do whatever first and then reward them immediatley./
Kennel if pup gets to bitty before it learns..but not as punishment ..just as a cool down and to protect pup and your kids and home...a rowdy pup takes time to over come his puppi traits..

hope this helps...let her bite all she wants just not you or your shoes and keep house picked up so she cannnot make your things a habit...

She is sitting well if only for minutes,,yeah that is a plus...keep commanding her while she is stilll..keep saying stay good stay use few words..no name just sitz good sitz if she sits???lol

you will have fun it just takes weeks and weeks of the same thing over and over and over..till she gets better.. but make it fun for the pup and make it fun for you....

YR




by
yellowrose of Texas
on 09 January 2012 - 19:56
added note :

Only work on sit and stay and come for the next month or so..

sit first and come and then if she does sitz well use the stay and make her stay longer and longer with reward..the minute she gets up ...stop the exercise as puppies have very very short interest time..

YR
by
Selaith
on 09 January 2012 - 22:03
Hello Yellowrose!! Thanks for all of the advice. I just wanted to clear one thing up though. I had no intention of spraying Luca with a squirt bottle. Just spraying the bad tasting stuff on my jacket sleeves to make it so that when she does get one in her mouth it is an unpleasant taste to her with no correction from me. As for training and working on things; her breeder had already started working with her and she came to me knowing sit, down (a bit sloppy but in the photo she is doing it), lay down (more relaxed than the down), heel and drop it. When she is in the heel position she also sits immediately if I stop walking without being told to sit. I taught her to stay back at doorways and let me pass first. I have just kept her reminded of those and started working on her stay. I don't work with her for hours at a time...just a 30 second stay and then she is rewarded and play time happens. When she is out playing I will do this every little while. Have her sit or down and stay for about 20-30 seconds.

She stays in her crate usually when I am not ingaged or directly watching her because of how she will chew on anything and everything in a heartbeat. She is very happy in there and goes in on command. You say no toys in there with her and I fully understand why on that because she could easily chew it up and choak on a piece or ingest something. I am wondering though isn't a bone OK to have in there with her? I have her a very large (14" long and as big around as my arm) rawhide bone that she enjoys chewing on and it seems to have curbed her chewing on inappropriate things. I tried several different things and the rawhide was the only one she was interested in. I let her keep it in her crate during the day to satisfy some of her want to chew. I do not leave it with her if i go somewhere or during the night while i am sleeping. She isn't a strong chewer as she hasn't even damaged the bone yet and she has had it about a week now...she just kinda mouths all over it and loves it. It just gives her something to do that isn't destructive.

Focus is one thing I know I need to work with her on. She is very erratic and it is very hard for her to focus on me. I know this is normal puppy behavior and I have been working with her to learn to focus on me and not everything else. I use treats, balls and squeekers to get her to pay attention to me and it works well. Maintaining focus is just something that takes plenty of time and patience. I will definately try tieing up an old t-shirt and attaching it to a rope to get her attention also. I am sure that would be something she would go nuts over.
You must be logged in to reply to posts