German Shepherd Dog > First pick in the litter cost $10,000 US dollars (77 replies)
by
EchoEcho
on 19 January 2012 - 19:26
Bob, what makes you say (from the pedigree) that these puppies aren't bred for working ability won't be able to work?
by
GSD MAN
on 19 January 2012 - 21:57
Here is my VA1 Ober von Bad Boll pick of the litter. This picture I took with my phone today.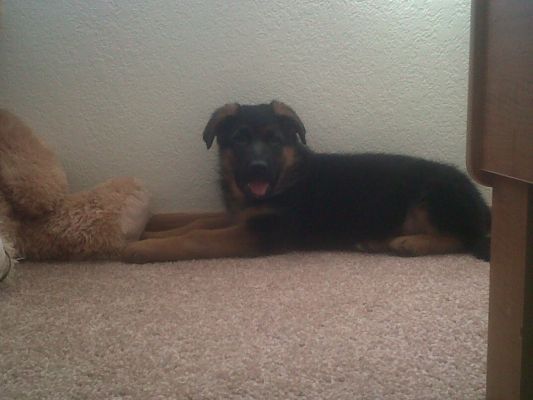 by
EchoEcho
on 19 January 2012 - 22:25
I really don't know how to read a pedigree very well. I know the basics and that is it. That is why I was asking. Hope my question didn't come off as being flippant (I know a lot of people on here are that way). I really was trying to ask because it looks like most of the dogs on the pedigree are SChH titled, many of which are SCHH3 titled. I would think a dog coming from parents/ancestors titled SchH2/3 would mean they have proven they can work and bite? I see there are a lot of VA in the titles but seems to me with all the SchH they can work also? That is why I was asking why you think they may have a weakness in bite and workability. Please don't beat me up too bad if there is something I am clearly missing. I am just trying to learn. Something tells me I am going to regret posting this

by
macrowe1
on 19 January 2012 - 22:41
I agree, they're totally bred for show. Don't get me wrong, they're beautiful dogs, but a $10,000 puppy is ridiculous. I found a great WL pup today who has an outstanding pedigree for $900.
by
wrestleman
on 20 January 2012 - 01:05
LOL this is a joke correct. Bob Eliot is a looker isn't he and seems to produce very good working dogs and when bred to a really hard aggressive bitch he seems to really shine. You would easier to find an honest politician than a pup that would work from the $10,000 dogs pedigree thats for sure
by
beetree
on 20 January 2012 - 13:25
Bob, While I find the question you pose intriguing and fun to consider, I also think your question isn't really 100% fair. The way you say work seems like you are saying work must include a bite. If that is the top requirement of what all a GSD is supposed to be, then yes, the WL ped seems to have those dogs everyone talks about with crazy prey drive.
The SL pedigree, has dogs in it that I have heard talked have respectable bites, but perhaps the level is not on par with the WL pedigree whose purpose is a biting sport. I think honestly, though, most people can't or don't have the experience to direct that drive of the WL ped, and would be quite happy with a dog from the SL pedigree that are within the standard of what a GSD should be, if not necessarily what I would call, an acceptable extreme.

I really don't know enough about the finer points and degrees of all the angles in the GSD conformation, I can just say what I prefer and what appears to be pleasing proportions. I actually don't care for some of the SL heads in the example, they seem too blocky too me, and jowly. Go further back in the SL ped, and I become quite happy.
Please keep in mind this is just my beginner take on these peds, I don't know nuthin' either, so we shall see who regrets posting more, EchoEcho, or me, LOL
by
Bob McKown
on 20 January 2012 - 13:35

Echo:

No offense taken. You must remember this is all opinion driven. I like working dogs to be working dogs. The rub here would be what your opinion of "working" is. I like breeding that show a good working temperament solid in nerve and body as close to unshakable as possible.

A dog with the attitude that life is a challenge and is self confident. Occam,s razor says it best. All things being equal the simplest answer is most often the correct one, the dog,s in the pedigree first listed are not bred with working drives as the strongest incentive for the breeding they are show line dogs. That doesn't,t mean you won,t get dogs that can,t work but they will be the exception not the rule.


Everyone likes what they like and if everyone just liked vanilla ice cream life would be very boring.






by
Bob McKown
on 20 January 2012 - 13:44

Beetree:

No one should ever regret posting a opinion or thought. I do some times wonder why when people talk of workingline dogs the "crazy drive" issue is brought about I,ve had several dogs with great working drives and all are approachable and live in my home and others.


Working,In my opinion I have dogs that I,ve breed doing police work,search and rescue,service dogs for the handicapped. ect work that puts them in the public venue and can cause stress. I would love to have some of my dogs herding instinct,s assessed.
by
beetree
on 20 January 2012 - 13:50
Well, this is just one for instance, IMHO...it is like what Ace is going through right now with his pup, he complains how much he just wants to pet the pup, but it is impossible because the pup just wants to bite his hands. The puppyhood is just so much different, between the lines, in my admittedly limited experience.
by
Bob McKown
on 20 January 2012 - 13:57

Sounds like a little terror. What I have found (this works for me) I,d rather have to cap drive then to build it. Does Ace want a pet or a working dog? sounds just like some obedience needs put in to place.

by
Gustav
on 20 January 2012 - 14:01

by
beetree
on 20 January 2012 - 14:06
You don't know Ace by now? LOL Well, I'm pretty sure he's a Schutzhund guy all the way, he's the one with the pup who won't stop barking in his crate...


by
Rik
on 20 January 2012 - 15:01
echo, you ask a good question and was pretty much my way of thinking going into the German dogs. Sch. title = real GSD. It did not take much exposure at all to realize this is a myth. A sch. title is absolutely no indication that a dog can work, or even that the dog is good for sport. And being good for sport is also not a 100% indicator that the dog is good for work.

I am geared more towards s/l, because that is something I have a little experience in. But I am also a believer in that a dog will perform better at the tasks he is bred to perform. The sticking point comes in that many s/l breeders breed with the heavy emphasis on guess what, doing well in shows. As naive as I am on some of this, I can figure out pretty quick that a dog bred to show, which first requires beauty and gait is seldom going to top at sport the dog bred to excel at sport. Or the dog bred for LE or military.

There are always the exceptions to the rule, the s/l breeder who does put emphasis on good character, the nervy w/l from generations of w/l that runs from the gun shots.

Back on topic, the test of a s/l is how well it does in shows. I have seen young dogs/pups from the kennel the OP asked about. I have yet to see one do really well in show or even one I would care to own at any price. I would think there would be one occasionally just due to the number produced, but a $10,000 price for a puppy is geared toward suckers and very novice.

jmo,

Rik
by
Sunsilver
on 20 January 2012 - 15:47
Echo, let me give you a quick history of the German dogs. Until the early '80s, there was no split between working line and show line in the German dogs. Then, several kennels began to breed beautiful black and red dogs with a slight arch to their backs. The idea was that the arched back was stronger, like the arch of a bridge. There is not one shred of scientific evidence to prove this, but due to the politics of the SV, these dogs became extremely popular, and every one began breeding to them. Soon, if your dog did not look like this, you could forget about getting a top placing in the Sieger show. Thus began the split into working line and show line GSDs.

The show line kennels became focused mainly on appearance, and making the dog show nicely in the ring, and working ability began to slip. Other breeders continued to focus mainly on working ability, and the split became more and more entrenched. Here's an article that will help you understand. Koos Hassing of Tiekerhook Kennels in the Netherlands is one of the best known breeders of working line dogs.

http://www.prlog.org/10507451-word-from-mr-koos-hassing-tiekerhook-german-shepherd-kennel-holland-part-one.pdf
by
Beardog
on 21 January 2012 - 01:08
I would almost sell you a top US young male for 10,000
by
EchoEcho
on 21 January 2012 - 04:13
I really appreciate the background and help in trying to understand this. This bring up so many questions for me though. Everyone talks about "proving" your dogs before you breed them (which of coarse you should do) and titles are usually the way to do this correct? Well if SchH titles don't mean anything as far as workability then how do you prove a dog has the ability to work? And by work are we talking about real working situations police/search/rescue/herding or are we talking about service/seeing eye? In my mind they both are working dogs however these types of things don't carry titles on pedigrees right? Would love help sorting this out.
by
Rik
on 21 January 2012 - 17:53
echo, as I said, I think you ask some good questions and think this topic deserves it's own thread rather than trending towards thread drift from the OP.

there are many folks here who work dogs for real that could share insight.

best,
Rik
You must be logged in to reply to posts