by
eichenluft
on 09 January 2012 - 15:47
Jenni, so what are the facts then? Did you breed a dog who didn't have any sort of health testing, temperament TESTING, or any kind of testing for breedworthiness before breeding? Or not? What are the facts - what work does Caleb do? Where does he do it? with whom? Got any video or pictures of him working? You got x-rays, that's good - and the opinions of people on the PDB to say he's sound for breeding? No doubt he's sound - as many say including myself - bad hips doesn't mean the dog will be unsound, I too have known severely dysplastic dogs who live normal active lives into their teens. But they aren't being BRED with bad hips. Or at least I hope not!

so what are the facts then Jenni? Did you or did you not breed a dog with no health, temperament or work tests? Have you ever titled a dog? Have you ever kept a pup back from your breeding, worked, titled, and health tested it? If not, why not? (what are your excuses?)

It is true, people can make their own decisions about who to buy a pup from. I don't understand why people don't do their research before buying from breeders who do "none of the above" when they breed and sell their pups with "big talk". It is confusing to me. But I guess it's just like the people who buy pups from pet stores (re: puppy mills) without much thought for where they came from other than the cute puppy in the window and the sales hype.


by
hunger4justice
on 09 January 2012 - 15:48
If every single one of your puppy buyers are delighted and all the pups are healthy what competitors say is of no moment. Get references from previous buyers. If you think you have a world class dog and your dog thinks the world of you....that is all that really matters in the end! I love happy endings. (Chaz, please, don't even think about it)
by
GSDPACK
on 09 January 2012 - 16:18
Hunger4justice...leave Jean out of this...... !!! I mean it... and dont you dare ever accuse me of trying to hurt Jean in any way shape or form... !
I only dissagre with breeding a dog that is less then perfect! These are Jenni's words, not mine.
I am not even bashing Jenni, I just think she should not have bred a dog that has non-passing hips because it is unethical..... If she can do that, she better hold hew typing skills if somebody else does the same thing, because she is one of the first ones to get on a high horse when that happens.
Just like you hunger, you love to get on and start researching to find something on people! Anything to go on a personal vendeta about. I have watched you do that many times!

Hunger dont every one of your dogs is a world class? Seriously? you just dont get the point... but oh well....


You need to stop putting words in my mouth .... seriously... you just seem to be all worked up over this and making crap up. You leave Calob's breeder out of this, stop accusing me of some imaginary quests and please calm down woman!

Jenni, you bred Calob a dog that could not pass hips............speaks more than words about you....
by
Carlin
on 09 January 2012 - 17:16
<------- shovels more popcorn in mouth. Am I reading the PDB or watching the GOP debates? The parallels are amazing!
by
Jenni78
on 09 January 2012 - 17:38
Dunno, Carlin. I'm putting together a very intricate train table. Haven't had much time for either. I have missed a lot of the action on both.

Martina, please defer to my earlier posts. All your questions have already been answered. How do you know he wouldn't/can't pass hip certs? You don't. Forgive me for not bothering to submit xrays on a dog who was born in 2003 and whose films have been examined by many DVMs and a couple radiologists. As an aside, he actually was injured as a 2 yr.old (the records are at Sugar Grove Animal Hospital, Arboretum View An. Hosp., and Veterinary Specialty Center, all in IL., and all under my name. Feel free to inquire as to the ACL and other dianostics) which I think is a big contributor to the slight flattening on the left side, commonly seen in cases of atrophy and consequent subluxation. Regardless, not even knowing that, nothing about those hips at that age suggests a genetic defect warranting striking from the gene pool.

As I have always said, breed dogs, not hips, not papers, not titles, not POLITICS!

...And that's pretty much all I have to say. Anyone who really wants answers need only look at what's already been written. Anyone on a witch hunt will continue on that same path regardless. It's as it should be. ;-)
by
sable59
on 09 January 2012 - 17:48
Nancy at westwood kennels is a good place to purchase and they are honest folks.
my friend got apup from her. he was a son out of her norbo son.
he has been bred so many times to so many bitches and has for the most part help produce some of the best police/per. protection dogs out there.
i use him and the pups i get and got are SUPER!
by
GSDPACK
on 09 January 2012 - 17:52

Jenni,
you dissapointed me... I am not vicious, I am only honest... I x-rayed a 6 year old dog that worked on streets and I tell you plenty of injuries... the hips looked better than that... oh well you are the one who has to live with that, not me.







by
duke1965
on 09 January 2012 - 18:10
Im small breeder , and breed real old czech lines ,only few litters a year , and dont sell dogs that are not from my own breeding , only sometimes help somebody to find what they are looking for ,, and recently moved to czech republik , If I had known that after 5 months of living here the shit would hit the fan about czech breeders and brokers , Id better moved to some other country

by
GSDPACK
on 09 January 2012 - 18:42
Duke... There are nice people out there, very nice! Honest and hard working..... and besides, you like it there!
by
Rik
on 09 January 2012 - 18:53
I do not think it a good idea for a novice with no contacts to buy a dog from a pic or ad on the internet.

When I was looking for a w/l dog, I started with the clubs in my area. It was really surprising the quality of dogs I found and I am in a very remote for sch. clubs. There are very good dogs all over the U.S. owned by people that do not breed often and do not advertise heavily, if at all.

I ended up with a pup from a KKL 1, V rated male (a real world class dog

) with the credentials to prove it and a KKL1 female. The breeder was 20 miles from my home and I do not feel I could have done any better anywhere.


jmo,

Rik
by
duke1965
on 09 January 2012 - 19:02
I like the pace of life here pack and more , made some nice friends , but hate that czech dogs and breeders are getting bad name because of handful of screwups , and it aint over yet , there is more to come , honest people are getting screwed as we speak , just saw a IPO 1 titled dog being sold to an american for big money , that dog doesnot even know what is sit or down ,all titles in his book written in it on the kitchentable , I guess I just enjoy living here and wait till the sky clears(if it ever does)

buyers just need to do their homework triple and more
by
GSDPACK
on 09 January 2012 - 19:11
Duke I know abut this and "the wheels in the sky keep on turning"... I need to get away from Journey!
I am going to get my teeth cleaned. I will PM you later. Maybe together we can help or at least try to help!
Martina
Have a good cold Staropramen for me.. 12% ......


by
duke1965
on 09 January 2012 - 19:21
somebody just gave me a couple of svijany 11% must be very good they say , I must add that these cheatings happen in every country , know of quite a few of them , but czech is in the spotlight right now
by
desert dog
on 09 January 2012 - 20:02
Duke,
Your dogs will sell themselves no matter where you live. I would have no problem recommending you as one of the best sources for quality working dogs. Just keep doing what you are doing.

hank
by
Rik
on 09 January 2012 - 21:00
duke, if people find that they get what they pay for from you, I think you and your program will be fine.

Have no idea the kennel you reference that is going to be in the spot light, but the one young dog I have seen from one of the more prominent breeders, I thought had very good structure. It did take a few minutes to drag it from under the table though. Almost bought a dog from this kennel and was very happy I didn't when I saw this.

best wishes and good luck,

Rik

ps, can you PM me your website.
by
Stumpywop
on 09 January 2012 - 22:14
I've not read the whole thread but I generally feel that trust is a 2-way street.

I currently have a pup of about 8 months old here with me. I wen tot see him whilst he was still with his breeder laste in November and spent the day there watching their dogs being worked. I went down to their training field with the trainer from my SchH club. It was through him that I learned of this particular dog.

I knew Koda's breder via e-mails from about 12/18 months ago when I was trying to find the origins of my WL bitch, Jenzi. she knows her stuff and if anyone could have got the info for me, or told me how to go about getting it for myself, she could have. So in one sense it was really nice to finally put a face to a name.

Koda has been with me since 22nd November, although I'vre not yet paid a penny for him (I will dothough because he's going nowhere!

). When he's been with me 10 days he was attacked by another fully grown GSd in the park. he is still recovering and still has a buster collar on (will be off tomorrow if I have my way). One of the consitions of me bringing Koda home was that I had to attend training each week. Of course I've not done so because I can't train a dog who can't see me past the collar.

My point is this I suppose - just as we as purchasers of dogs (whether to ultiamtely breed from, have as family pets or to get involved in SchH or WT etc) have to do outr research on a breeder we like the "look" of, at the same time a breeder should ask a potential purchaser questrions to within an inch of their life. I have no problem with Koda goin back to his breeder should there be a problem with me keeping him. Even if it were a condition of a contract.

Koda's breeder, although doesn't "know" me that well has trusted me wenough with one of her pups when she could easily have said "up yours - you can have him when you pay for him!" What is there to stop me moving house, not telling anyone and effectively stealiong the dog? Well, my integrity. I'm not in the habit of ripping people off, stealing, telling lies or letting people down.

From what I've seen (personal experienece as much as anything) it's a shame there aren't more people who consider these traits important and so many innocent people lose faith in the human race because of it.
by
GSDPACK
on 09 January 2012 - 23:24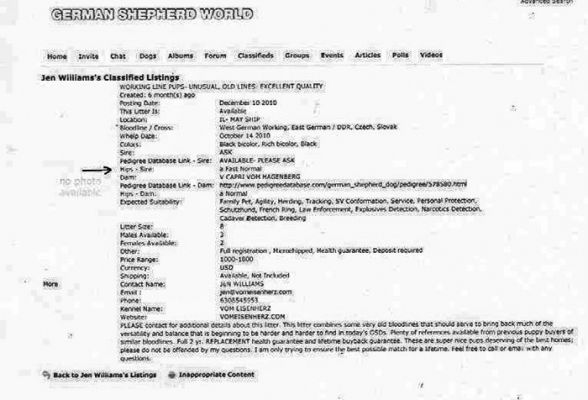 Look what I got today in the my email! So now Calob is Fast Normal....
hard to read, this is her ad on wherever site...

Caleb puppies... and according to her he is Fast Normal... Jenni.....what are you doing?
Hunger4 justice.... I guess this is a typo right?
For anybody who wants to see this better I can send an email..





by
frankm205
on 10 January 2012 - 00:06
Ohhh boyyy!!!!
by
hunger4justice
on 10 January 2012 - 00:15
Well I have never seen that add, but I can tell you I knew about the actual X-rays and knew Caleb von Schraderhaus' status, his lineage and I have spoken to a trainer who worked him and used him in the field so I was not mislead in any way shape or form. You can see that everyone who had a Caleb and Capri puppy is delighted and none of us were misled. To my knowledge no one who has ever gotten a puppy from Jennifer has ever complained on any forum just some of her competitors have but none of the people who actually have the dogs have ever complained.
by
hunger4justice
on 10 January 2012 - 00:23
If you don't want what Caleb vom Schraderhaus brings don't get a puppy from him if you think you could get past the screening. Get one from Melinda at vom Gildaf. Her dog Peter is a SAR/HRD (is that ok, or does that not count) OFA excellent and DM clear. Here is his picture.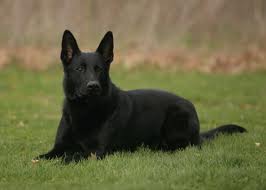 http://www.gildafk9.com/altpeter-vom-gildaf-peter.html

He is up for stud and I trust her as well.




You must be logged in to reply to posts