by
mentayflor
on 05 January 2012 - 12:19
Hi yelowrose and every one, thanks for your wise advices, I bought Fidu a lot of toys, but look at the pic who are his prefered toys: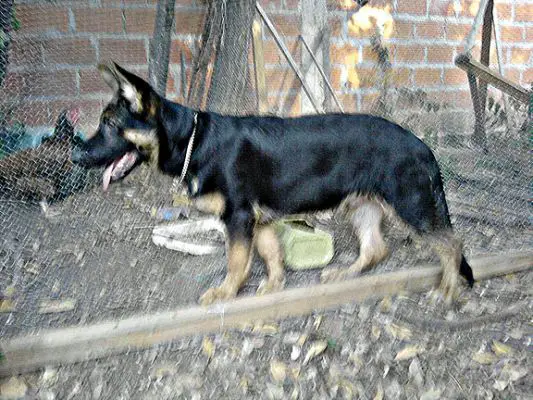 My hens!, they are now shut up, but at least I was able to handle him when he was out of control.
When we go for a wolk it is imposible to control him, I am afraid he breaks the harness, because he is very heavy.
I have no idea the age he must begin to be trained, I am looking for a personal trayner for him. Meanwhile Im working to achieve my goal wich is to control him in order him to not become a dangerous dog for other people or animals. What age does he must biguin to be trained, do somebody know?
by
Red Sable
on 05 January 2012 - 16:56
The training begins the day you get him. Teach him to walk properly on a leash, teach him to wait before he enters or exits the house (you go first) or car, teach him to sit before he gets a treat, teach him what is acceptable and what is not, ie lunging at dogs or people, but in all of the teaching, you must be consistent, require the same thing everytime, or it will confuse him and training will go no where. :)


by
EchoEcho
on 07 January 2012 - 20:05
Personally I NEVER use harnesses for dogs that need correction. IMO harnesses are for dogs to pull so if you want a dog to pull and have a lot of power doing it then great use a harness. At this age I would use a light slip lead. This is what I use on young dogs. The lead should be kept loose until a correction is needed. I have had a puppy like yours and this pup sounds like he needs a lot of exercise, training, obedience, and a fun job to do (like fetch or finding food under objects). He is going to be a lot of work and you need to hang in there and work with him everyday. I can't stress enough how important it is going to be to seek out a good professional trainer who is experienced in GSDs or a similar working/protection high drive breed. You also need to be confident with this dog. Don't let him get you stressed out, upset, angry, etc. You need to be the voice and mind of reason with him and keeping a cool and calm demeanor while applying correction is going to be key. Remember, you are the one in control and you need to convey that to him also.
by
yellowrose of Texas
on 07 January 2012 - 20:22
The reason I suggested a harness for her is this dog is very dominant and she has not any experience with that kind.

If I had said..yank his neck hard enought to correct him after three commands and he didnt obey. I would have been lynched.

Many people believe a slip collar or fur saver does damage to dogs spines and neck..I DO NOT..
I have trained 20 or more gsd with choke or fur savers and I have had to use more than a yank or a correction on mine...enough said there/


It is very hard to tell someone who has no experience what to do on an internet page.
I do not even own a harness but I also know this dog will need to be yanked harder than usual.

I was not about to tell her to yank him into tomorrow by the neck..as no experience might cause injury..

Yes she has to be ALPHA but unless someone experienced shows her, she won't understand that..


jmo

YR
by
Betta Wolf
on 07 January 2012 - 21:21

Prong Training collar; WORN ONLY WHEN SUPERVISED,ie, during training.

O, & Training Treats Go A LONG Way, when training a dog :)
When they obey, Jack Pot treats!!
by
yellowrose of Texas
on 07 January 2012 - 22:24
Betta is correct that a prong training collar would work immeditely.

one or two corrections with one , that pup gets it pretty quick, but you take it off the minute you quit training and it is not for playing in..

it is for Obedience for about 10- 15 mins maybe twice a day..
I also take it with me on walks for my bad boy Czuiker, and if he starts the disobedience I put it on and change to it as we walk ..
Keep it in your vehicle when you take him anywhere so You can revert to it if you have a problem...
I keep one in home, on property and in my truck...but they come with add on lengths and you will have to add as he gets older.and thicker neck..



I give all my puppy buyers Stewart and Hilliards " Method and Theory of Schutzhund" as the obedience is straight on and much good tips about even how to pick your pup...and then on to tracking and even if you are not going into schutzhund it is a super good read and helps all new people know why all of us are so Instructional about your gsd...LOL

And how you start your training early and keep at it...

The book covers LOTS OF things valuable.

YR
by
Betta Wolf
on 07 January 2012 - 23:00

Exactly, as YR stated!!!

With the Prong collar, the dog corrects themself when they pull on walks!

But NEVER leave this collar on a dog unattended!!!
I left my dog in the breezeway for moments, & while scratching she got her hind leg thru collar & was choking, more she struggled, tighter the collar = makes me shudder to this day!!
by
gsd39mr
on 08 January 2012 - 01:35
Your boy is very handsome, from the pictures he looks big boned and large for 3.5months. He may be a tad on the heavy side, I don't know how much you are feeding him but I would cut back a little, especially if you are going to be using alot of food in training. Normally you wouldn't use a prong training collar on a puppy this age but if he is as strong willed and prey driven as you describe you might need it, especially so he gets the message about not attacking the chickens and your other dog. As others have said, it is on only when training. You have your hands full with that boy for sure!


Jo Ann
by
EchoEcho
on 08 January 2012 - 05:28
I used a prong collar on my puppy who reminds me of this dog. Please consult a trainer on how to use it. Most people want to put them on loose like a slip lead. Prong should be worn fairly tight (tighter than one who isn't experienced in them would think). If it is too loose or too tight there is a potential to hurt the dog. I have used prong collars on all my dogs and they work fantastic however, if you haven't used one PLEASE have someone who knows how they should be used fit your dog with one and show you how to use it. Remember timing is everything.

Chances are you are going to have to be more physical with this dog than you may be comfortable with. You need an experienced trainer to guide you on how, when, and why to do this.

If your puppy is very "hyper" (beyond normal puppy high energy) I have heard that lower protein diets may help. I don't know a lot about this or the reason why it works but I have heard from several people that it can help with a crack like/ADD/hyper puppy. Maybe someone with more experience can comment on this.
by
hexe
on 08 January 2012 - 06:06
A prong on a 3.5 month old puppy?????

Unless the person at the other end of the leash is a 100 years old, weighs 90 lbs. and has no more strength than a newborn baby, there's no way to justify putting a prong on a 16 week old pup. A martingale collar should be sufficient for a dog this age, if you need more control than what a flat buckle collar gives...but it's too soon for a prong collar, IMO.

mentayflor, not sure what country you're in, so I don't know what you have available to you as far as public libraries; with a pup of this age, you'll get your best results with least amount of resistance by using food lures to help shape the behaviors you want, and food rewards when he's successful in following your cues, so if you have access to a lending library you'll want to look for books on training using positive reinforcement methods.

As for his reluctance to allow strangers to pet him, I wouldn't make a big issue of it-- from a dog's point of view, hovering over him, trying to touch his head or his body, is quite rude as well as potentially threatening. Instead of trying to discipline him for wanting to avoid these unwanted advances, which will only make him dislike them even more, fill your pockets with small pieces of some food he finds very, very tasty (you want the pieces to be about the size of your thumbnail), put his collar and leash on and take him out for a walk. As you see people approach you, get a piece of treat from your pocket and draw your pup's attention to you with the food--this is an ideal time to start teaching him to focus on your face, and you may even want to tell him "watch me" or "focus" so he learns to give you his attention on command . As soon as he responds to your lure, reward him with it; keep him focused on you with your food lures and rewards, gradually building up how long he has to look you in the eyes before you give him the reward. As long as he's got food drive, he should soon learn to automatically look to you when a stranger comes at him, and he'll ignore that person in favor of you and the possibility of a treat.
by
Blitzen
on 08 January 2012 - 12:29
Ditto, Hexe, too young for prong. I never offer training advice here, but I'd be very careful about using a prong on an aggressive puppy; it can easliy excellerate the aggression. There are harnesses designed to control aggressive dogs, I'd try one of them instead of the prong. I'd also enroll this puppy in some sort of training class taught by a person experienced in the breed or in aggressive dogs. He needs to learn that he is not in charge. Good luck.

BTW have you talked to the breeder about this?



by
Rass
on 08 January 2012 - 13:01
I use a prong but the dog needs to be a year old (IMO). I start with two collars and the lead hooked into both. A martingale (chain closer) and a prong TOGETHER. The idea is to eventually not need the prong at all and have a dog that works well off a flat collar or martingale collar.

Not saying anyone else should do things this way. Just saying it is what I do.


by
Blitzen
on 08 January 2012 - 13:07
I would never use a prong without a back up collar. I've have had 2 prongs open on their own, both Sprengers. One was the easy on with a clip, the other was the type that required the removal of the link to place it on the dog. Now I either use a fursaver or a dominant dog collar in addition to the prong, but any type of choke collar will work I think. Don't ask me how it happens, but prongs do open on their own and should always be worn with a back-up collar.
by
Betta Wolf
on 08 January 2012 - 15:53

Missed the part, about the pup being 3.5 mo
my bad

with all the talk of "aggression", control problems = & topic, "BAD BEHAVIOR"
poor pup

For lg pup, if you feel like your arm is being dislocated on walks = prong
dog self corrects (no correction needed)


by
mentayflor
on 08 January 2012 - 17:23
Dear friends, I have read your advices carefully.
I'm not taking him out any more to prevent any trouble, he is very sweeet with me, but is agressive with extrangers.
Tomorrow I will buy the martingale collar, (I think is too young for the other one), and I will find out a book for training.
The news are that he doesn't chew my hens any more, and is kinder with my cats (some times). I'm feeding with chiken in the morning (not mine, because my hens are as pets, Im a vegetarian-vegan) and junior Royal Canin which was adviced me by other friends on other thread. Thank you very much
by
mentayflor
on 08 January 2012 - 18:34
I have just read these last replies today because I have a problem with the forum. I can know there is responses but it doesn't allow me to see them.
by
gsd39mr
on 08 January 2012 - 21:52
I wouldn't normally suggest a pinch collar either but she described a large, strong puppy, very prey focused,attacking her other animals (by the necks!) and trying to get her chickens and having a hard time getting his attention on her. I think the re-focusing with food will work better if she cuts back on his food, leave him a little hungry so she will be much more attractive. Play the chase game with the food pieces, throw pieces across the floor for him to chase, and have him running back to you for more. (Don't have any other pets out when/if you do this!). Become the best thing in his life, don't let him play with your other animals, food/play everything that's fun comes from you. Use the crate when he's not out going potty or you are not working with him.

Jo Ann
by
mentayflor
on 10 January 2012 - 02:30
Hi gsd, today I did what you suggested with the food but soon he got bored and came to eat directly from my hands hahaha, anyway i am giving his food with more space between one and other, fortunately i have more and more control of him, things goes well . Thankyou for your post gsd !
You must be logged in to reply to posts