Chaos vom Eisenherz
by
Botanica37
on 30 December 2011 - 22:28
Well, since there is an online reunion, I couldn't resist. Here is my fluff ball. He is really easy going so far, doesn't bark at me, just gives me this look "have you totally lost it?". Jen, I couldn't be happier with him :)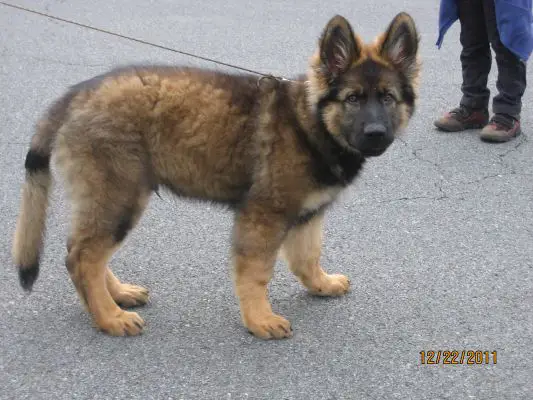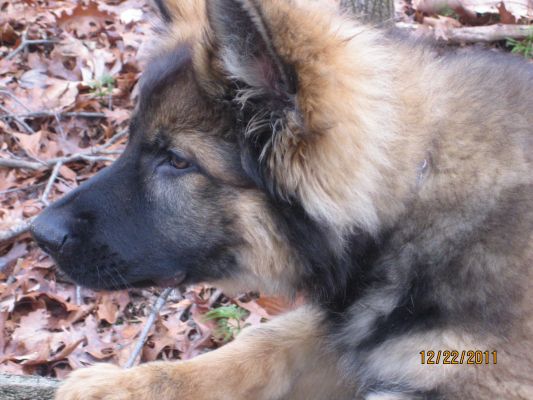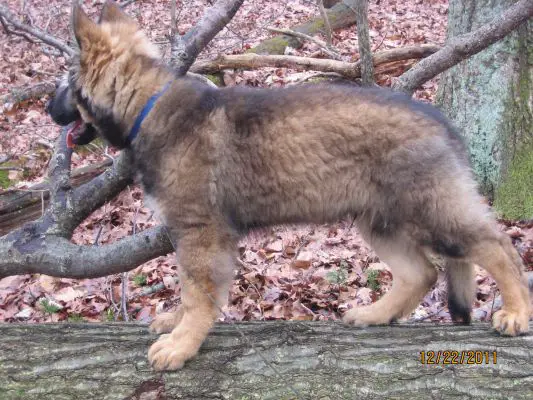 by
chevl66
on 30 December 2011 - 22:33
He's beautiful!
by
Jenni78
on 30 December 2011 - 22:39
Well, if he doesn't bark at you, I'd like him back, please.



Handsome fuzzbucket. I am really curious to see what kind of coats he and Cierny have when mature. Bravo seemed fluffier all over. I might be wrong.
by
Botanica37
on 30 December 2011 - 23:05
He really doesn't bark that much overall, but he sings, if that counts. He did bark at me in the beginning, but quickly figured out that doesn't get him anywhere. And no, you can't have him back, he really makes me happy :). Except at 5 am in the freezing cold when he insists that we we really should go together outside, so he can potty.

I am keeping my fingers crossed that he will be with longer coat. I love how Bravo looks...

by
Jenni78
on 30 December 2011 - 23:08
He's got a great face; he'll be a stunner, I think.

Cylas still hasn't learned that barking doesn't get him anywhere. He continues to try. He tries very hard.
by
aaykay
on 31 December 2011 - 00:07
Cylas still hasn't learned that barking doesn't get him anywhere. He continues to try. He tries very hard.

My field lab pup was the same way. VERY vocal when he first came. If he could not be the center of attention, 100% of the time, he would let everyone in the neighborhood know about it.

The strategy I followed is to completely ignore him when he barked. I never looked at him when he barked, EVEN to say "no" (saying "no" to him makes him think that the barking did get me to pay attention to him). In fact, when he used to bark, I used to turn my face away from him and just walk away.......consistently.....until he stopped doing it entirely, after a few days.

Now after a couple of months, he is a quiet bugger at home and also in his crate....but of course out in the woods and when off-leash (at least a couple of hours in a day), he is a total live-wire. He is also very mouthy with my 6-month old Czech WL GSD girl.....but then she is a she-devil in her own right too, and does "clean his clock" when she absolutely wants to, even though at 56lbs (lean), she is WAY lighter than his nearly 70lbs (lean) weight. Thankfully, they like each other a lot.
by
Jenni78
on 31 December 2011 - 00:23
I'm glad Chaos has calmed down some and you haven't had to kill him. I was getting a little worried.

They all look to be about the same size.
by
Nadeem6
on 31 December 2011 - 00:27
Botanica i think you can uncross your fingers :) Looking at that head and the fuzzy fur, he is a good bet at being a long stock coat.

I actually had my fingers crossed my pup was a stock coat. He even went through a stock coat stage when he started losing puppy fur but alas, he regained his royal mane.

Chaos will be a great looking dog with either coat though.

Good luck.
by
LukasGS
on 31 December 2011 - 00:30
They seem just soo....Wooly and thick than actually long. Though it is a bit longer.
by
hallix
on 31 December 2011 - 05:37
Botanica he looks great! His coat kind of looks to be a little tiny bit longer than Cierny's, but that may be my wishful thinking. I've had my fingers crossed that Cierny turns out to be a stock coat. Now I don't care! I've embraced her fluffiness! (I think it was impossible not to.) All the boys look HUGE, but I guess that goes along with them being male. xD How much does he weigh, do you know? Cierny last weighed in at about 33-34lbs.
by
Jenni78
on 31 December 2011 - 05:46
Cylas is the same, maybe a pound bigger. Cierny was the biggest; glad to see the boys are catching up. I think pics are deceptive.

Cierny was 12lbs at under five weeks. I thought she was some sort of freak. I was scared to buy her a crate for shipping for fear she'd have outgrown it by the time she was 8 weeks. Chaos was only 1/2lb behind and Cylas and Corrado were about a pound and a half behind. These pups were the biggest she'd ever had, though not at birth, just in the following weeks.

I give people a hard time for fat puppies, but these puppies were not even fed by me until they were almost 5 weeks old. I offered, of course, but Capri kept them well fed. I really didn't make them fat. I was so embarrassed to tell Haley that Cierny was almost 18lbs when she shipped. Holy cow.

by
hallix
on 31 December 2011 - 05:51
hahah! She slowed down after she got here. She's a food hog, but she didn't gain more than a pound, MAYBE 2, a week, until the last 2 weeks. Growth spurts.....
by
LukasGS
on 31 December 2011 - 06:17
Not fat by any means, but she's so dang broad across the back she's like a damn foot-stool. xD LOL. Ironically, her first vet visit, they said she was "kind of thin". At that point I might have thought we needed a new vet. :P
by
GSD2727
on 31 December 2011 - 06:20
Adorable puppy! I love the close up of his face!
by
Dawulf
on 31 December 2011 - 06:46
Awwwwww.... he looks like a little bear! :)
by
Jenni78
on 31 December 2011 - 13:23
Whoa, Lukas...when was the first vet visit? Right after Haley got her or did she wait? Kind of THIN? An EIGHTEEN pound 8 week old puppy? Um, yeah...new vet. lol My pet peeve is fat puppies. Cylas looks chunky in his pics, but he's just wide. Ribs are easily felt, as are pelvic bones. I was thinking Cierny looked just right from the recent pics...on the thin side of normal.

A lot of Capri's pups are broad like that. Chests can be wide, but especially hips. One previous puppy owner tells her dog that she has a "butt like a rap singer's girlfriend" or says that if she tells her to "haul ass" she'll have to make two trips. LOL

I like that broad stance, personally.

Chaos was really similar. They were so similar if I wasn't looking at their faces, I would mix them up. Remember, I had to put hemorrhoid cream on Cierny for like 2 weeks...oh what fun that was, going out into the puppy yard/pen and trying to quickly grab the one I needed without the others attacking me. I grabbed the wrong fuzzy butt a time or two.
by
Botanica37
on 31 December 2011 - 13:57
Hallix, as of yesterday he is slightly over 35 lbs. He had a bath the day before, after perfuming himself with stink du jour and I could see him without all the fluff. I was a bit worried that he is on the overweight side, especially when he sits, his butt looks huge. Wet, he looks fine. He has a really broad chest and is very lean/muscular. I think they all will look spectacular as adults. His tail still looks like a rat's tail, but I do see it getting longer and fluffier. And he already has 4 new teeth...I know, I know...that is what happens when you have one dog only ;)
by
Jenni78
on 31 December 2011 - 14:06
Well, if they're all within a pound, we can't all be wrong, right? So they must be fine, growing exactly as genetics dictates.



Chaos has a rat tail? Really? Or does it just look that way compared to his big wide fluffy butt? Capri has a super thick tail, and I don't just mean the fur. I don't remember much about Chico's tail, honestly. Bravo has a lovely tail though. I would expect Chaos to follow suit. If not, send him back and trade me for Cylas, since you've confessed that he doesn't bark in your face. You're missing out.

by
Teufel Hunde
on 31 December 2011 - 17:56
Almost missed this thread...wouldn't want to left out of this family reunion. Corrado is just making a fashion statement by sporting a tight bi-color coat.Funny thing is, we were prepared for a long coat and we got the shortest coat in the litter. Doesn't matter either way, we're just as happy with him as we are Aurick .

Thanx to Jen and Sina for producing "keepers"!
by
Elkoorr
on 31 December 2011 - 18:23
Cute little fuzzy, but with an intense look....so watch out!
You must be logged in to reply to posts