German Shepherd Dog > Ok Jen........Here's Corrado vom Eisenherz!!!!! (13 replies)
Ok Jen........Here's Corrado vom Eisenherz!!!!!
by
Teufel Hunde
on 30 December 2011 - 19:47
Not the best pics, but current ones. Corrado is a little fart. VERY vocal, into everything and then some!He doesn't just try and pick in the garbage...he tries to drag the whole garbage bag into his crate.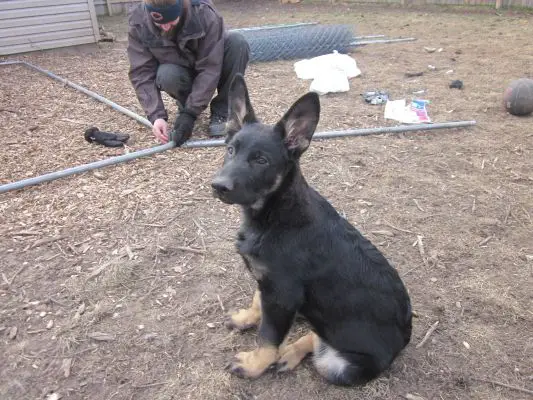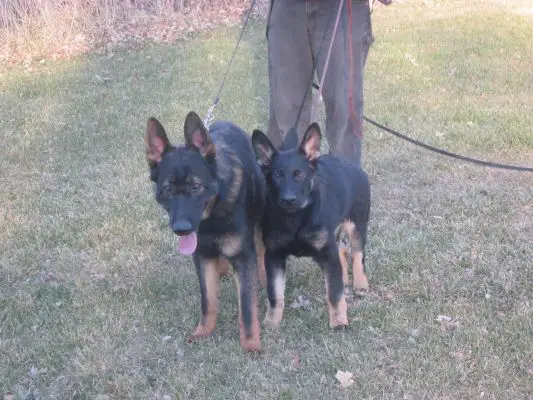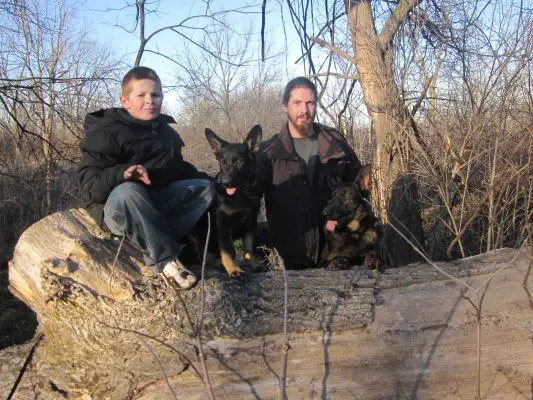 by
Dawulf
on 30 December 2011 - 20:44
Aww, too cute! He's got some big ears. Is that Aurick he is with? How do they get along?
by
Jenni78
on 30 December 2011 - 20:53
Yes, that's Aurick...his nephew. LOL

His ears do look bigger. He'll grow into them, of course. Some pups just mature differently. I think it's the angle of the first pic. It doesn't look that way in the last pic. He also has a very tight coat which makes his face look smaller than a fluffier pup of equal proportions. He always had a very short tight coat. What jumps out at me most is his chest- wow. He's built! ;-) Wide little tank! Thanks for posting those!
by
Teufel Hunde
on 30 December 2011 - 21:20
When we first brought him home, I thought he had little bat ears. Before my very eyes they "sprouted" . For now Aurick and Corrado get along well. Aurick is very gentle with him. I don't guess this will last forever though. His coat is very tight and he's just now losing the puppy fuzz. The light spots on his neck and chest are diaappearing too. He's a handsome little bugger, nice personality like his nephew too.Speaking of his nephew...here are a few pics.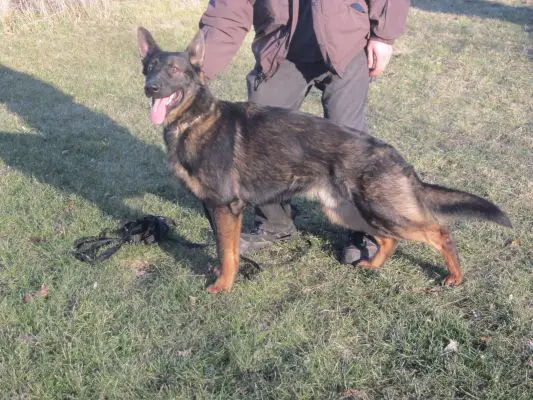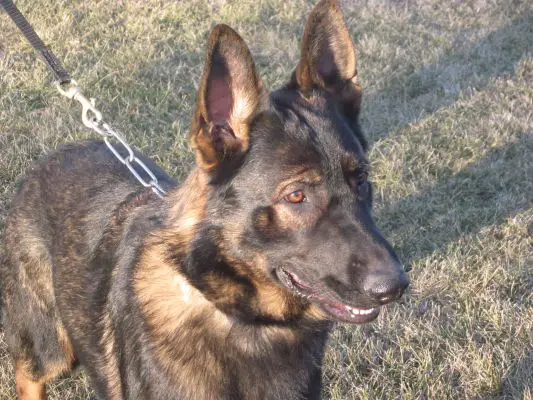 by
Teufel Hunde
on 30 December 2011 - 21:31
by
Jenni78
on 30 December 2011 - 21:32
Oooh, I see his mother's side in Aurick! He definitely favors his DDR lines more.

Corrado did have tiny little ears, didn't he? I kind of forgot until you said that.
by
mfh27
on 30 December 2011 - 23:24
Very nice looking boys. Aurick has very nice structure and beautiful color.
by
aaykay
on 31 December 2011 - 00:30
VERY good looking pup ! Yeah, as far as the ears are concerned, they will definitely grow into it.
by
Nadeem6
on 31 December 2011 - 00:32
Really cut pup. Hope we can get together to train and see our dogs sometime.

He is built really solid, that chest really stands out.

Aurick looks great too.
by
hallix
on 31 December 2011 - 05:40
Both he and Aurick look great. I can't wait to see how he turns out!
by
Elkoorr
on 31 December 2011 - 17:12
Ahhh, what a cute looking tank. Somehow he looks much bigger than his siblings?

Well, and with Aurick I am just so biased...lol But he looks very nice in structure and color. I see both parents, the expression from Apache, but the eye brows and the shnout is from Tonga....lol
by
Teufel Hunde
on 31 December 2011 - 17:47
I thought at first Corrado was smaller than his siblings, but Jen brought up the fact his coat is much tighter than theirs so he doesn't have that fluffy look like them. Without seeing them side by side it's hard to tell. I do know though that when he comes in a room he looks like a steam roller coming at you!!! He also has a very unique bark. When he get's going he makes 3 consecutive barks in different tones and we swear he sounds like he's yelling " I wuv you, I wuv you"!!!!!!!!
by
Elkoorr
on 31 December 2011 - 18:19
LOL...reminds me of a funny thing I did with Apache. His bark is so demanding and ear shuttering. I swear it makes the walls shake. Took the voice recognition of the phone and let him bark into it. Took a bit, but the phone put it out as "he he he he he he he he he he...." I thought this was so funny.... maybe he is actual laughing at my silly attempts to shut him up...LOL
by
Jenni78
on 31 December 2011 - 19:28
Hmm.... I thought Cylas was saying something much different when he's shattering my ear drums. Either Corrado is nicer, or you're a real optimist, Teufel Hunde.



I looked at Capri this morning when she was outside and she's totally out of coat, of course, and I realized how much Corrado looked like her. The facial expressions are similar, too. I think when he gets his adult coat he will look a lot like her. Sables have totally different coats to begin with. Hard to compare him to the sable sibs. Chico has a similar coat to Capri (no surprise, since they both carry a coat gene). Corrado was the smallest at birth, though not by much. He was about 2lbs behind Cierny, about 1lb behind Chaos, if memory serves.

Aurick does have that Apache/Capri smirk, but I see A LOT of his mama in him (and his grandpa!).
You must be logged in to reply to posts