German Shepherd Dog > Pregnant GSD 1st litter! (166 replies)
by
Jenni78
on 02 January 2012 - 19:41
Weren't you done addressing me in ANY way? I sure thought so. Darn.


by
Jenni78
on 02 January 2012 - 19:53
Nevermind. Don't answer, please, 1GSD1. I don't think it's fair for the OP, who I was trying to reassure, to have to muddle through your attacks on me. Please go back and enact your earlier pact that you won't address me, period.
by
M_Asbury
on 03 January 2012 - 00:24
I have appreciated all the information on this subject. For my bitches the temperature reading seems to work. AND who ever said they seem to always have them at night - so true.

My one female went early on day 58 from first breeding. One poor little boy had not fully developed his genitals and had to be culled. That tore me up - but you gotta do what you gotta do. Be prepared for anything.

Another Bitch needed a trip to the Vet as one was in the canal for way too long= it was 1 am. The Vet got that one out, another came out right after and he was taking a look to see what it was and she jumped off the table, grabbed her puppy out of the Vets hands and threw it into the wall. Went over and layed down to clean it. The VETS eyes just about popped out and he said, "I have never seen that happen before"... it all happened so quickly - there was no stopping her.

You have been given excellent advice and don't hesitate to call your Vet if you have a problem.. They are used to Bitches whelping during the night or early am hrs. (smiles)

I use baby ric-rac as it expands and is easy to work with and comes in all different colors. Neither Bitch has bothered the ric rac. I learned this from the breeder of my Blade Boy.

Good Luck and let us know about your litter when it gets here
I should have a litter coming in a couple of months too.

Anxiously Awaiting
Marsha



by
gsd39mr
on 03 January 2012 - 00:29
1GSD1,

I don't post much here and your comments are why. I don't think I came across as a "miss know it all", I just posted MY experiences, which I admitted were limited, for the original poster. There are many more knowledgable people on this board than I; but that doesn't mean that my experiences can not be helpful to a person. Well, it's back to just reading for me.

Jo Ann
by
yellowrose of Texas
on 03 January 2012 - 00:36
Marsha:

That behaviour is not unusual about the mom jumping off the table grabbing the pup and throwing it .

The Mother nature is very deep in our gsd, so if by some chance, this female does kill one of the pups at birth do not get upset...They know
that the pup has something wrong..I learned it the hard way....early though in my breeding, as I had many mentors, one of which , said...let her kill them if she must...now killing a whole litter no...deal with that later.

BUT Abby killed one of her last litter after she had them and had been bitten by a copperhead. The bleedout killed three and the littleist one she did kill upon birth..I was shocked and tried to stop her, but remembered , she knew it would not live and something was wrong with it..

SHe raised the rest of them and always did..as this was her third litter.

SO just be aware of what Marsha shared, and if 4 to 5 hours is between pups, then call the vet ..

Sometimes a dead one is in the way...Oxitocen of course, for us that are experienced can use, will move the process on, but your vet won't give it to you , but he will have you bring her to office.
Have a small kennel ready to travel in case you need to go to vet..have it with warmth and do not carry her in it...She will squash the pups in car transport...She will just have to look and cry and wait..
We are preparing you for anything that can happen , and doesnt mean it will happen...but best be ready ...for anything.


Let us know when they start and get a camera ready tooo..we want to see pups when all done.

by
Jenni78
on 03 January 2012 - 00:37
Jo Ann, 1GSD1 was talking to me, from the parts I could actually understand. Not sure what the deal is w/that person, but it happens from time to time, so I wouldn't worry about it if I were you. I am 99% sure s/he was addressing me, not you, which is why I requested that they please ignore me.

This is a reasonable thread started by a person trying to right by their dog. No reason to muddle it all up, unfounded personal attacks.

To the OP: be prepared for emergencies, but don't plan on them and worry yourself needlessly! Far more canines have natural, uncomplicated births than emergencies. Good luck and keep us posted!
by
Cavalier K9
on 03 January 2012 - 03:50
Hello! Thank you all for of your advice. Today is day 60! I am now taking her temp every 5 hours (even through the night). Is that to much? She is now off and on her chow eating about 2 cups a day. The vet said that her x-rays showed anywhere from 9-14 pups. He says it likes their are some hiding behind eachother so it was difficult to count. I haven't been pushing her to eat but will sit on the kennel floor and hand feed her. She is starting to settle down a lot. She's no longer trying to jump on me for love and is pretty mellow which is a nice change! I worked for my Vet for many years so I have his cell # on speed dial! The only negative side is that I do live out in the country and his Clinic is the closest but still an hour away! She is not nervy by any means. She is a very solid high drive dog. She is very possessive over food/toys (even with me). So I have removed everything except the water out of her kennel run. I have a baby monitor outside her kennel run and keep it next to me. I also have been going out and sitting in the whelping box and letting her lay in my lap and cuddle with me in hopes that she will let me help her if she needs it as well as let me near her pups. Her temp today has been 100.4 and then was 100 around 9:30pm. I am really grateful for all your help!!!
by
Slamdunc
on 03 January 2012 - 04:07
Good luck with the litter and I'm sure you both will be fine.

Jim


by
Jenni78
on 03 January 2012 - 04:22
You will make yourself crazy taking her temp. that much because it will fluctuate a bit. I would watch for nesting behavior and maybe take her temp. at specific times so you can monitor the "norm" for that time every day. No reason to get up at night just to check her temp. You sill may have upwards of 24 hours once it drops...so really, 5x per day is excessive imho.
by
Blitzen
on 03 January 2012 - 04:30
One of my bitches ate during 2 entire whelping processes- 9 puppies and 11 puppies. Another's temp never dropped before the first pup was delivered. Not all do it by the book LOL.
by
yellowrose of Texas
on 03 January 2012 - 05:04
Forget the temperature and the thermometor

She will tell you, she will start digging and put her in box. My boxes are shut with doors and I put them in two weeks before to get them use to birthing box.

Then when I know the day has come by watching her..SHE will start
panting and that is your clue.
I close the door , turn on light in box and sit in nursing room and wait..

I tend to other things and keep check and when it begins you will know..Many times I walk in on two pups already born..lol
I do not allow bitch to run around, as she is in birthing box all safe. NO dropped pups in floor or outside ...she may have one in grass when she asks to potty..Mine ususally go thru all the pups and never potty till over.

Your bitch will tell you pretty much she is ready to go outside..She will get up and go to door of box and want out..

Temperature taking I have never done.

just me
not needed for me
When they come they come

Watch how she acts...that will tell you....clues are she needs to be in her box and not able to run around as she may have them any ole place. I do not do that. BUt every one is different.

I want things in one place and safe but I have mine set up and built for my easy living. I like things easy and organized and not to worry. I stay in birthing room for 24 to 36 hours as to make sure bitch doesn't squash one and they have almost many times. I have radio, phone, tv, heat , a/c or what ever needed for tempt control and chair, and I have slept in the birthing box at times during . I remove papers as they get wet and clean up and make sure pups are wiped dry if she happens to birth on top of one of them and sometimes they do..as they walk around in their labor pains..


Then after they have some hours of eating and are round and plump, she is less likely to sit on them but I always spend lots of time in birthing box for the first week or two...it is fun to watch them grow and start plowing their way from one end to the other the second day..This is when I learn which pups are the spicey and strongest...I learn each pup and know them like they were your own kids..by sight and markings..

GOOD LUCK>.
YR

by
Cavalier K9
on 03 January 2012 - 16:10
I appreciate everyone's posts! I have my camera ready so will be sharing lots of pictures! I will also have my laptop out in the shop with me so if I need to ask any questions I will have it. We are on day 62. I relaxed last night checked her temp at midnight then not until 7:30 this morning (99.8). Most i've slept in a while and needed it! She ate only a 1/2 cup of food yesterday. She is normally so hyper she could never calm down enough to cuddle so I'm really taking advantage of this cuddle time I'm getting in!!!



Also Reign was bred to Barry von Casa Arado. I am expecting to have some very high prey driven pups!
by
yellowrose of Texas
on 04 January 2012 - 08:54
sounds great.. You will be shocked if you have them in a large birthing box, how fast , in two days, one or two pups will be moving up and down the floor from one end to the other looking for mom..

Those pups you take notice of immed. You can tell who sucks immediately , mark them and the lazy ones, mark too.then watch the difference in third day and fourth and who gets out of box first, and who opens eyes first and who barks first..it is so much fun to keep a list of who does what

I miss PUPPY BREATH. I start making noise 4th to 11th day when eyes and ears start to open...on 8th day slits...and ears take longer, but they feel the noise. I beat on walls with spoons and shake cans of dog food,,,,,anything to make noise to adapt them....make it away from box or close proxemity...message all pups daily..

Have fun


YR




by
Gil Blu
on 04 January 2012 - 20:27
No baby yet ??
by
Cavalier K9
on 04 January 2012 - 22:15
Not yet! I am starting to go a little stir crazy. Waiting is probably the hardest part of this whole process! Today is day 62 and her temp was 98.7 at 1am and then 99.0 at 9am and 98.8 at 5pm. I took her for two slow 10 min walks today just to get her out of the kennel. She's still on/off her chow and her belly has dropped a lot! Still very calm and of course i'm still taking advantage and getting tons of cuddle time in with her! Will take pictures of her on her next bathroom break so you can see her big pregnant belly :-) She is getting pretty thin up on her back and you can see her spine sticking up. This started yesterday when her belly really dropped!
by
New Joy International
on 04 January 2012 - 23:23

Omygosh. I am a nervous wreck just reading the postings on this! Just bred our female today, and it looks like it is going to be a LONG 60 days. This will be the first time for us too. Keep us all posted on how it goes!
by
Gil Blu
on 05 January 2012 - 00:00
If not born until tomorrow morning take her to the vet.... I would do this
by
Cavalier K9
on 05 January 2012 - 02:34
New Joy International, I have learned that no matter how prepared you are that breeding is still very nerve racking!!! My girl is doing great though! I am so excited for this litter. Should be some crazy high drive ankle biters!!! I'm hoping that the number is closer to 9 than 14 though!!! I know I have my work cut out for me. I have a great set up for raising these puppies and doing all the imprinting to prepare them for their new homes. I have a great assessment program as well so I can fit each puppy to the right life style though I'm thinking that most of them will need to go to working homes :-)
by
Cavalier K9
on 05 January 2012 - 03:38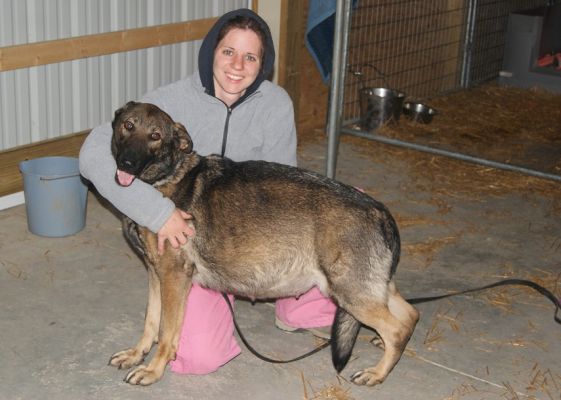 She is doing so well! Her belly has dropped A LOT!

by
yellowrose of Texas
on 05 January 2012 - 03:39
NO need to go to the VET

the pups will come when the pups will come...your female is healthy and no signs of problems..my vet said his wife is a nurse,,,and she worries him crazy....should we go to the dr. everytime their child frowns.

ONE time Rosie went to day 64 and I called the vet..he laughed at me on phone..I cannot believe yellowrose is worried...good golly ....leave Rosie to Rosie..she has had three litters..quit counting and just sit back and watch.


In my case she was my second Excellent hipped ofa bitch and I wanted nothing to happen to her, or the pups...on the 66th day I did run to vet..he came to truck...laughing at me...nothing wrong with Rosie...whew

even us seasoned breeders get the heebie jeebies....She had them at 2 AM THAT NIGHT thru 11 am the next morning...10 of them ......so DO NOT WORRY..

as of yet, no signs of problems...she is dropping and she is on her way....day 64 or 65 0 66 is no worry...if she goes into labor during those days...and you see her physically pushing and panting and nothing...then you go to vet...if nothing happens after 3 or 4 hours of labor.

.you will see her sides cave and can see her in pain....nothing to worry about..but be vigil...if she tries for hours that is time for the vet ..not until that time..

YR
You must be logged in to reply to posts