German Shepherd Dog > Cylas vom Eisenherz- V Capri v. Hagenberg & V Chico v. Inheidener See-3.5mos old (29 replies)
Cylas vom Eisenherz- V Capri v. Hagenberg & V Chico v. Inheidener See-3.5mos old
by
Jenni78
on 30 December 2011 - 00:58
I have been terribly remiss in pics of Cylas. He's the male I held back from the repeat breeding of Capri to Chico. Nice pups, all of them. He is the littermate to Cierny that Hallix just posted earlier today.

They were born on 9-11 and I took these pics yesterday.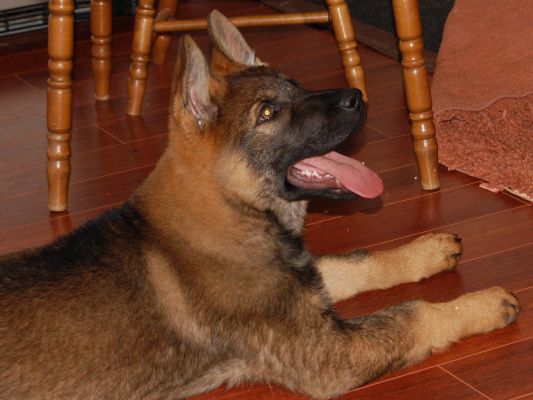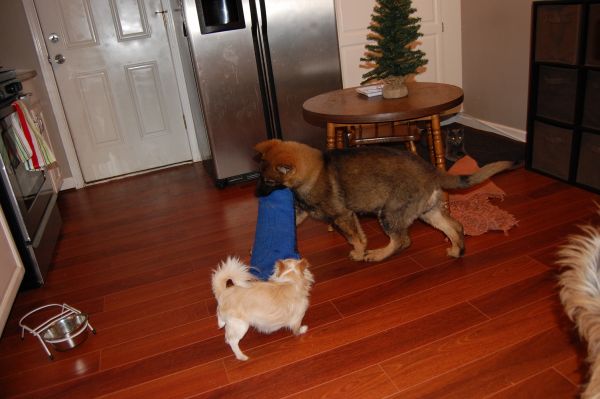 OMG- check out the noseprints on my fridge!! I had no idea they were that bad until I used a flash at ground level,lol.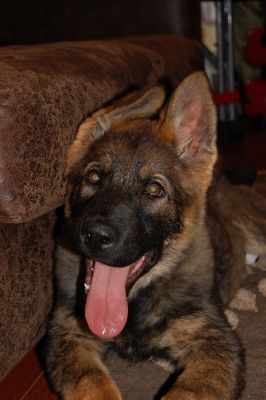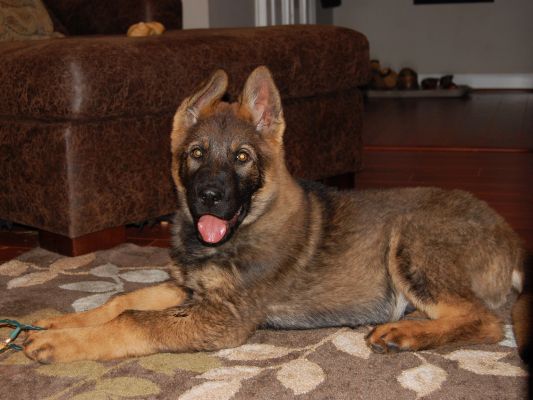 by
mfh27
on 30 December 2011 - 01:15
What a hunk! By holding back, do you also mean you've taken him off the marked? Was he using the Chi to help clean your floors

by
charity
on 30 December 2011 - 01:35
Wow Jenni. Just Wow!
by
Judy P
on 30 December 2011 - 01:36
Nice Nice puppy! You can send him my way anytime.
by
Jenni78
on 30 December 2011 - 01:58
He's been temporarily off the market. He's one of those that might sell to the perfect home or I might keep him and I don't really care either way. He's a great puppy, but a lot of work. I had some well-meaning but ill-informed folks who were contemplating him as a Christmas present

and I figured better just keep him until the holidays are over. I did think at one point he was sold, but some family circumstances got in the way. He hasn't been quite right for the other people who have inquired...and then there's the problem that the breeder is a nazi. LOL. If I do sell him, he should probably get going sooner rather than later. He's at that horribly obnoxious point where you cannot ignore him, and he needs to be directed/corrected, which gets problematic if the buyer wants him totally green, or started a certain way, etc.

Actually, the Chi pics were pretty funny. I didn't post most of them. He and the Chi were fighting over a rug and Cylas got annoyed, so he just decided to lie down on it, then it was pretty much game over for little Winston. He is actually sort of gentle with him, which impressed me. He is not nearly so gentle with the other dogs when playing tug. He learned quickly that if he just yanked him all over the house, Winston wouldn't come back to play.

He's another Brix, if you all remember Brix.

Thanks for the nice words. I'm happy with him. I know he has good temperament, but I think he will have good looks as well. He's a little tank and has nice structure. He often stands in that perfect stack, like his mom.
by
yellowrose of Texas
on 30 December 2011 - 02:51
Not even mentioning the males EXCELLENTE in his pedigree, but he has some very dynamic females carrying the MOTHER LOAD

I would not part with him for a million....lol


WOW Makes me yern, HE is an awesome HUNK

Would not have expected anything less...
Keep him and he will make you proud but he will be a LOT of work!!!!!

YR
by
Nadeem6
on 30 December 2011 - 03:01
Aww, my favorite color. A nice, rich dark sable :) He looks very substantial, might be the photo angle but still really nice.

He is really cute, but i look at those pics and just see 4months of getting bitten, barked at and told "obedience is lame, i just want to lay in the shade and sniff grass old man."

Of course when they first wake up early in the morning to go out for potty they are the sweetest little angels though, really adorable puppies, till they really wake up. lol.
by
Jenni78
on 30 December 2011 - 03:15
Nadeem, I think we should work a deal. I will let you take him and train him and I won't even charge you.

HA!
He isn't much for lying around. I won't say he's hyper, but this cold weather makes them all nuts and even higher energy than normal. He is ok in the house...but not great. He is highly demanding...like Brix, if you remember. He is sooo obnoxiously loud when he barks at me for attention that I literally cannot let him out early in the morning. I sometimes have him stay outside so he can potty early in the morning w/out waking up the entire neighborhood. Having said that, he is sweet and wants to be with you and he really needs a very good home, so what time shall I expect you tomorrow? Or shall I deliver him? I know your daughter would love him. We can co-own. I'd let him go to a really good home....



I WANT to keep him, but I know I shouldn't. :-( It doesn't help that he's so darn good looking. He's pretty red and was super dark at birth. Of course he's in that totally washed out phase but I can see past that.

YR, thank you.
by
Nadeem6
on 30 December 2011 - 03:36
Yeah we can talk about this deal in a few years :) My wife would not like this at all, at least right now. My daughter of course would love it. Another dog and that is closer to her height too.

I just remember taking Bravo out of his crate in our bedroom at 4-430am and carrying him downstairs and outside to go potty. He was just so sweet and angelic. But once awake the demon inside also awoke. lol.

He actually had a jekyl/hyde persona. He was just not into doing much involving training for a long time. Some thought he wasn't gonna make it and was a dud. But at home he was so energetic and demonic towards everyone. Ate up corrections and would spit them back at you with a pissed off attitude. Eventually it turned about 180 and the demon now goes after the helpers and he is much nicer at home.......thankfully lol.

Cierny is sounding like she may follow in his footsteps too.
by
Dawulf
on 30 December 2011 - 04:39
Oh. My. Gosh. Could he BE any CUTER?! I can't wait to see what he'll look like grown up... he looks just awesome. Love that big head and those funky ears.

Send him over here! I hope whoever he does wind up with keeps us posted on him.
by
Jenni78
on 30 December 2011 - 04:50
Qira would kill him (and me for sending him there). LOL
by
Blitzen
on 30 December 2011 - 04:56
Who do you think believes that such a sweet looking puppy could be such a handful?
by
Jenni78
on 30 December 2011 - 05:08
He really IS sweet. He's not so bad, so long as you run him ragged for a few hours prior to bringing him in the house. lol

Honestly, he IS a good pup. He is willing to please, as all her pups are, but definitely has an independent and TENACIOUS streak. That's what makes them handfuls. It's not that they do things other puppies don't do it, it's just that they do it with 10x the determination of "normal" puppies. Example; we just replaced the floors. Cylas was banished to the backyard. He impedes progress. He tore off the storm door, bit by bit. He left such a sharp mess where the storm door used to be (in a few hours, no less) that the other dog who was outside with him (our tiny Pit Bull, Seven) cut her foot and severed 2 tendons and had to have surgery. What 12week old puppy would you expect to demolish a storm door? And let's not forget the wooden and metal threshold. When that didn't gain him access to the house, he moved on to the downspouts, which are longer downspouts...there more like "everywhere" spouts, as they're sporting new holes and are hanging in various directions.

He needs to be worked. Having said that, he's a biddable puppy who could be a pretty versatile dog in the right hands. He adores children, loves to play with other dogs, is happy and friendly, and overall, so far, I wouldn't change a thing about him, except maybe have him meow or chirp instead of bark. What LukasGSD said in the Cierny thread is dead-on. The barking is AWFUL. It's sooo obnoxious and in-your-face. I was trying to do something with Caleb today and locked Cylas out of that part of the yard and he literally made my ears ring because he was so indignant with the barking.
by
jem38
on 30 December 2011 - 12:29
Jen, these posts sound somewhat familiar. Co-own is very tempting, only two things stopping me -- distance and park benches are too cold this time of year or I,d be ready to jump back into the frying pan again. Now if my granddaughter wakes up and asks for pup all bets are off.
Nadeem, you turned down the deal of the century.
by
mfh27
on 30 December 2011 - 16:24
Lolz @ ninja kitteh too
by
Jenni78
on 30 December 2011 - 16:41
Jem38, I question the sanity of anyone willingly jumping into 2 Brixes, so on the basis of mental health, I would have to reject your offer. LOL

Charlie Cat likes to observe before making his calculated next move.
by
Carlin
on 30 December 2011 - 18:16
Intriguing pedigree on the dam side... if she's still producing I might be interested.
by
aaykay
on 30 December 2011 - 20:30
Cute as a button....at least at this age ! Of course his spunkiness comes right through in the pictures......and I can imagine him getting indignant at being left out of the fun, and being pretty vocal about it.

If I did not have my 5-month old Chocolate field Lab pup (in addition to my 6-month old female GSD pup), I would have gone for him in a heartbeat (assuming you would let him go) ! As far as placing, it needs to be done either before/at 4-mths or after 6-months, to get around the "5-month fear phase". My girl GSD pup came to me when she was 5-months old (shipped from Canada) and I believe she was in a semi-PTSD mode for several weeks before she started loosening up, since she was sent over during her core fear phase.


by
Dawulf
on 30 December 2011 - 20:41
LOL! Well it wouldn't be looking good for me either, 'cause there is more than one bitch in this house, and the other isn't canine! I'd be dead too.
by
Nadeem6
on 31 December 2011 - 01:02
Jem38 i have no doubts Cylas is a great pup and will be something special when he grows up. But i have a young family and an amazing dog already to think about first. They take up a lot of time and energy. I really want to focus on one dog and still have some time for my wife and daughter. Who i think may turn into quite a dog trainer when she grows up, considering the commands she gives the dog and how she treats him. lol.

The other issue is this is actually only the second dog i ever owned (technically third but i had to give up my first pup after i had her two months in 5th grade). I really don't know how i could manage two dogs and a growing family. I of course would love to get another but i know it would be too hard. Im sure my future holds another Cylas or even another Bravo who i really feel is a special dog. He is really different from the majority of dogs i see. I feel pretty lucky with him. After this winter we should be ready to start doing some trials :)
You must be logged in to reply to posts