by
JakodaCD OA
on 10 January 2012 - 13:06
Chrissy, glad you got a date,,it's on my birthday so of course good karma:)

The hydro cost is actually not bad, is it a treadmill hydro? I am lucky in that I have one of the top PT therapists in the country very close to me, helps we are good friends as well, and that's even a little low for her costs..I do agree, the 150 pre thing, bogus:( Mine does do an eval but that's included in the first session...Here's her website, she has also developed a line of supplements and has trained LOTS of Pt'er's around the country plus opened a 'school' I believe in KY. www.wizofpaws.com

Got your info, will be calling them with a donation before the 26th. Keep us updated and HUGS to Kai :)
Diane
by
Abby Normal
on 10 January 2012 - 13:57
Good news Chrissy.

Is it FHO he is having after all? What is the plan are they going to do both at the same time? I have read some do one and one later, some prefer to do both in one go. Hope you have some time off scheduled to care for him! If you haven't already perhaps contact Ladyfrost who has had FHO on one hip (?) on one of her dogs this year. It's so nice to chat with someone who's done it. Lots of tips and advice too.
I will send a donation to the vets from the UK. Wishing Kaiser lots and lots and lots of luck from us here in the UK.
by
Red Sable
on 10 January 2012 - 18:20
WD's idea of an equine pool is a good one. I have one here, but I'm too far away!
By the pictures you posted, he seems to love water, so maybe you could exercise him in a lake yourself? WD's other suggestion are perfect too!

I have some American money here, that I will send by snail mail, not much, but I hope it helps.

All the best from Canada. :)
by
joanro
on 10 January 2012 - 19:51
Here's my suggestion: go to Tractor Supply or equivalent, buy a one hundred gallon stock tank (about 100$ ) fill it up. Put a harness on Kyser, attach a strong bungee. Let him swim with the resistance of harness and bungee so he can't reach the end of tank. Very cost effective and achieves same effect of pool. Can use for post-op rehab as well. Take your time introducing him to it and don't over work him, just short sessions at a time. This will take more than one person to help keep him from turning around or going for sides. Get a stock tank heater to warm the water, but remove it while you're using the "pool". The total cost for all of this will be a fraction of going commercial. Plus it's your's forever for Kyser.
by
atc237
on 12 January 2012 - 03:20
All the talk about warrenty is moot. She didn't get the dog in good faith. The warrenty assumes a normal dog. If i'm wrong and the warrenty states that horrible hips and a screwed up mouth is the norm then I apologize in advance.
by
Slamdunc
on 16 January 2012 - 18:00
Bumping for Kaiser and Chrissy



"

Since Kaiser's elbows have cleared, his surgery date is set for 1/26/12. Until then we are working on building up his muscles in his hindend so he will have an easier time post-op. He's doing very well right now given the circumstances. Hydrotherapy is a little over $550 for 10 sessions, but apparently they need to give him a $150 exam before he can start, which I feel is bogus, but whatever. I'm looking at 2 sessions a week so he's good for before & after surgery therapy. If anyone has any other ideas on how to build muscle in his hindend please let me know. His surgery estimate is anywhere between $725-925 per hip and most likely will end up somewhere in the middle. The vet is going to give me some sample Previcox if I feel he needs it to control pain. I did pay off his Wells Fargo Health Advantage account which I used for his dental so I will be using that account to pay for his FHOs. If anyone still wishes to donate here is the clinic information:





Briarcrest Veterinary Care Center




7313 E. Tanque Verde Rd




Tucson, Az 85715




520-298-4123




M-F 8am-6pm MST




Sat 8am-1pm MST





Just let the receptionist know you would like to put a credit on Christine Kim's account (Client ID 1914) via credit/debit card over the phone. If you prefer




paypal or some other method please PM me instead. Most importantly though, please wish Kaiser luck on his surgery! :)"





Chrissy

""""""""""






Bumped as the surgery is coming up.

Jim
by
Blitzen
on 17 January 2012 - 00:45
Thanks, Jim.
by
Abby Normal
on 17 January 2012 - 10:53
Thinking of Kaiser and Chrissy and wishing them good luck!
by
destiny4u
on 17 January 2012 - 18:29
can somoene post kaisers pictures again for others to see
by
LadyFrost
on 17 January 2012 - 20:04
buy above ground pool...under $300.00 and will be able to use it during post op...
here are some images of my post FHO pup..
P.S. buy life jacket for a dog.....it will save your life...LOL..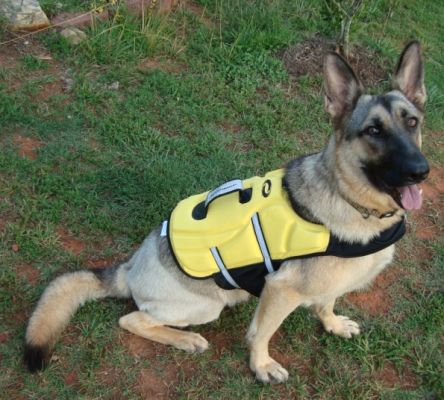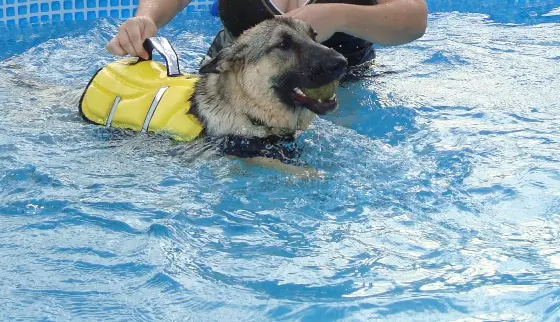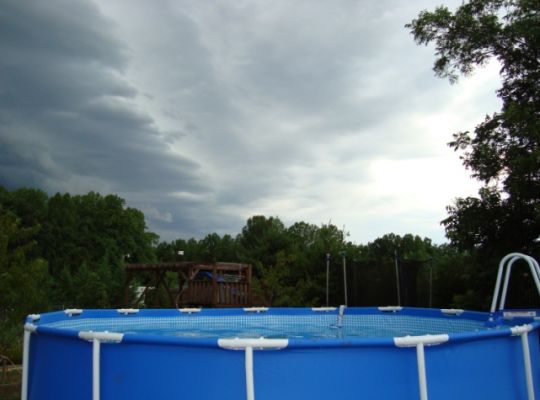 by
Red Sable
on 17 January 2012 - 21:44
Great idea LF! Lovely pool and that is one hip looking life jacket!
by
Blitzen
on 17 January 2012 - 23:52
What a great idea!
by
JRANSOM
on 18 January 2012 - 00:08
What we do for our dogs!

by
ChrissyKim89
on 25 January 2012 - 23:29
Just an update on my boy since I've been MIA. He has been doing fantastic these past couple of weeks since I last posted. The therapy has been really great for him; he jumped onto my tall bed for the first time ever last Thursday, scaring the crap out of me while I was laying there reading! Quite an accomplishment for him, lol. I really wish I could just buy a tub/pool for him, but in my current living situation it isn't possible. Trust me though, I would've done it in a heartbeat if I could.

His first FHO surgery is tomorrow! I am very very nervous, probably more nervous then he is, but I'm sure he'll be fine. Please wish my boy luck tomorrow. I will keep those interested updated on his progress.
by
workingdogz
on 25 January 2012 - 23:39
We are wishing you and Kaiser all the very best for
tomorrow and the following days to come Chrissy!



by
Chaz Reinhold
on 26 January 2012 - 00:05
Best wishes.
by
joanro
on 26 January 2012 - 00:36
Give him a big hug and a kiss on the end of his big wet nose!
by
Betta Wolf
on 26 January 2012 - 01:32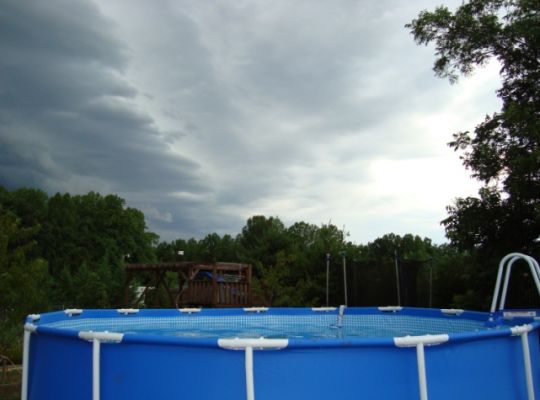 OT : How do you get the dog in the pool, esp if it has never been swimming? 80# dog?
by
Ace952
on 26 January 2012 - 01:33
good luck and best wishes
by
frankm205
on 26 January 2012 - 01:58
All the best!
You must be logged in to reply to posts