by
ghostly
on 02 January 2012 - 06:13
I have seen some of the dogs in the past correct themselves, but we are talking about millimeters not a case like this. IMO I feel Hans didn't look at these pictures like others would. There are many other good Czech breeders out there and I personally wouldn't want any type of replacement from a breeder in which has had so much bad publicity in the past and if he was to try to pass of the type of pup that Chrissy recieved, what would he push next

Chrissy I feel so sorry for your boy. I just can't see any kind of reason this could be missed
by
Slamdunc
on 02 January 2012 - 06:27
These photos were certainly sent to Hans. In response I was told he "may grow out of it", which I doubted because it was so severe.

Chrissy,
At this point I would recommend documenting every phone call and email. I would document everything regarding the purchase of this pup from the beginning. I would keep very detailed records of all of your expenditures and vet bills. Keep detailed records of all of your vet visits as well. You need to decide on a course of treatment and get kaiser taken care of. I think now may be the time to set up a fund and allow people to make donations for Kaiser's vet bills and a legal fund so you can retain a lawyer. The rest I will send in a PM, rather than show your hand. This is horrific and I would plan on attending the Jinopo / Alpine seminar in February and confront them both in person. I'm sure the three attendees of the seminar would love to see the dogs Jiri and Hans are selling. He will even has some Police dept clients there, they need to know also. They will be two of the three attendees.

Anyone considering a dog from Hans, Alpine K-9 or Jiri at Jinopo please study those photos and then see what they have done to correct their admitted "f***** up." Nothing, absolutely nothing.

Jim






by
Abby Normal
on 02 January 2012 - 08:44
Yes, where is Hans? What on earth is he emailing Chrissy about if it isn't to make her a full refund offer? Is it still plyiing his 'warranty', or playing the poor me card?
He was feeling happy and relaxed enough to comment on the other thread on New Years Eve. But I guess he's still feeling warm with Chrissy's money still in his pocket.

Yes Chrissy, I agree, do set up your fund, your 'Kaiser' bank account, however you are going to do it, or give us an address by pm that we overseas members can send a cheque to. All this can be done while you are waiting on some action (?) from Hans.

Jim, will anyone else be going to the seminar? I do hope so (perhaps a small delegation)! Someone who is prepared and able to speak out about this situation, I don't know how Chrissy might feel about it.

How long do you suppose before we accept that Hans and Jiri are going to do nothing to put this right?

I was wondering you know how things can go viral on YouTube.......................
by
workingdogz
on 02 January 2012 - 10:36
Glad you finally posted the pictures Chrissy.
This should make it crystal clear to any that had a sliver of doubt that this was just a "misstake".

If a breeder with so many years experience missed THIS overbite on a puppy he bred/raised/tattooed, you better believe he will "miss" other things on other dogs. If a broker/breeder/partner with so many years experience missed this overbite when checking for a tattoo to make sure he got the "right" pup, you can bet he also will "miss" other things on dogs/puppies he sells.

People should exercise EXTREME CAUTION if dealing with either Alpine K9 in Arizona or Jinopo Kennel in Europe.
It's quite obvious from the pictures of this pups overbite that they will try and "get one by" if their think there is a chance they can.

Hans has likey decided to stop posting since his words have come back to bite him in the ass really HARD.
Everytime he posts about "why" he can't do anything, he makes it worse on himself. He digs the hole deeper, his words and actions (or lackthereof) are his "shovel".

Now, once again, I ask those that have defended/supported the "theory" that this was a "misstake", would any of you had the same carefree attitude had it been YOUR hard earned money spent on this puppy? How would you have felt noticing this the second day you had him? Then your calls/emails going unanswered to the broker/USA Rep for Jinopo for almost 2 weeks?

Still think this was an "honest" mistake?

I ask again, Hans & Jiri, does it make you feel all warm and fuzzy inside to know you basically ROBBED this girl of so many things?
Not withstanding her hard earned money, you have robbed her of the ability to enjoy carefree puppyhood raising and training her pup, instead she starts and ends each day with worry about him.

I don't know how you two can stand looking in a mirror every day.
I know one thing, I am sure when Chrissy looks in the mirror she sees a stand up ethical caring hard working person.


Is business THAT bad that you HAD to screw this poor girl out of her money?

by
Abby Normal
on 02 January 2012 - 12:22
Hans
I would like to ask politely once again:

Why can you not give Chrissy the money back for the pup now. The next puppy you sell (or have even just sold) can be considered the one she is entitled to under your warranty. You are simply doing this 'imaginary' transaction for her, since she obviously cannot. There, everybody has done their best in a bad situation and you even techincally adhered to the terms of your warranty.

Where is the problem in that? I find it really hard to believe that you are refusing to do this. She has acted with nothing but honor, dignity and integrity (not to forget compassion for this puppy), will you please do the same?
by
GSDBESTK9
on 02 January 2012 - 12:25
I'm so sorry you are going through this. I too went through this with a rescue dog 10 years ago, very similar hips as yours: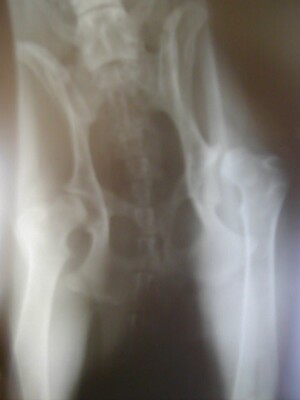 She was 10 months old at the time of these x-rays. After talking to the Ortho Specialist we decided to do a bilateral FHO. BEST THING I EVER DID!!! Blossom lived a normal happy life after the surgery and today at 10 years old, she is still going strong!!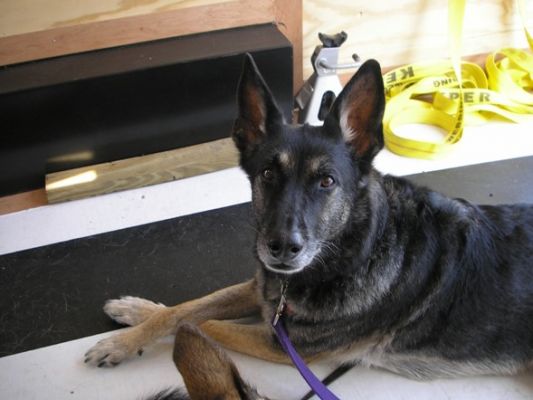 FHO is much much cheaper than a THR. I believe I paid around $1200 for both hips, of course, this was 10 years ago and I was given a small discount because she was a rescue/shelter dog. But I'm sure you can still do an FHO nowadays for under $2K

The surgery was a success! And my girl is a big female, she was in the 70s already at that age. I just kept her lean.
by
Schaferhunden
on 02 January 2012 - 13:18
How can people believe in this joker.His bottom line is the dollar not Chrissy or her dog.He sells thousand of dogs and does not have the $1800 to give back to her.I would bet he makes more money on the sale then his partner. Go to his website he put on a world famous show He came to the PDB to Con people and now you see he does not even enter one word. He is guilty. Give Chrissy her money.
My commitment to you does not end with the delivery of the dog to you.It just begins!
Sincerely Hans
by
Red Sable
on 02 January 2012 - 13:26
LOL!! those quotes are priceless! Oh my goodness, tooo funny. As was Jim's Fat Lady Sings pun.



Thanks for the laugh, I needed it.

Hang in there Chrissy, you've got a lot of good people backing you on here, which is wonderful to see!
by
Blitzen
on 02 January 2012 - 13:47
GSDBESTK9, thank you for sharing this xray and story. I'm sure you have given Chrissy a lot of encouragement and the expectation that her Kai will be able lead a painfree life after his surgery.

It gets clearer with every passing hour that this dynamic duo has no intention of going above and beyond their written contract. Legally they are not bound to offer one thing more than they have already offered. They have satisfied their warrantee. Not their fault that Chrissy can't have another dog right now and they were just too busy to give her a timely response to her concerns about the dog's gross overbite. Oops, just an honest mistake. Not to worry this well will never run dry, there will always be an ongoing supply of naive buyers waiting to import more of their dogs. Their lives continue unchanged.

Time to generate a plan to help this young lady to get her dog the care he needs. My plan is to send a donation to the vet who is doing the surgery.

PS: I'm not a breeder, just an interested observer of how this breed has become such a easy source of income for European breeders. Why can't we breed our own good dogs and finally claim our place in the GSD world? How many more dogs do breeders in this counrty need to import before they they have their own breeding stock? I see it as great opportunity for ethical breeders in the US to make a difference. Yeah, I know, some here stink too but I don't accept that as an excuse to not support our own breeders. Another thread for another time.






by
Red Sable
on 02 January 2012 - 13:58
OK Blitz, now that makes more sense, glad to see you are not going to send it to the vet who is a pilee of shit.



This dog world is a scary place, I've learned nothing if not that. It seems the more they brag, the less trustworthy they are.
There are many good breeders in the States, I'm sure there are honest breeders abroad too. Maybe we need to revisit that topic again, and get an updated version.
by
beetree
on 02 January 2012 - 14:09
I agree, Chrissy is up the creek without a paddle.

I'm starting to become immune to the dissappointment that so many breeders I first encountered on this site, that have been praised and thanked for their devotion to the breed, continue to have their clay feet exposed, years later. Perhaps in five more years, I will at least hope to know one stellar breeder of GSD's that are not seeking to rip off a pet owner just because they want a quality dog in conformation and temperament, as a life companion.

I would think that the scam of a pet owner would invalidate Alpine k9's warranty and render her the only recourse they would then offer: the return of her funds for the purchase and shipping of Kaiser. Alpine already stated they don't want the dog back, per their option. That's how I took it after reading their own warranty.

But if there is any lesson I have learned on this board, and that is: If you are dealing with a dog scammer, you will be delayed, and played. And you will never see your money again unless you go to court.

Chrissy, my advice to you would be to take Jim's advice, and prepare to take them to court. You've been robbed.
by
Blitzen
on 02 January 2012 - 14:23
LOL, Red Sable, another of my many typos.

I'm not sure what suing this duo would do for Chrissy. Looks to me like they have done what is required in their contract and have no intentions of going above and beyond.


by
Merryvale
on 02 January 2012 - 14:27
I'm not sure how the legislation works in USA but here in GB goods have to be fit for purpose and in good condition and free from obvious defects. This poor pup is obviously not free from defects so a full refund plus all reasonable expenses would be the least that had to be repaid. The warranty is not worth the paper it is written on as this puppy had a major defect before it was sold.
by
Schaferhunden
on 02 January 2012 - 14:34
He uses the Forums as a vehicle to sell his puppies and dogs. The people who use these forums should have learned a lesson here and never forget the name Hans Prager. It sounds like Jim will set something up to help Chrissy pay for this mess left behind. There are good people on here that will help her and i hope Chrissy and everyone one here never forget
by
workingdogz
on 02 January 2012 - 14:59
SHAME SHAME SHAME on you two admin edited Hans of Alpine K9 & Jiri of Jinopo!!! More PROOF that they KNEW about the overbite!!! Go to the second page!!!

http://www.alpinek9forums.com/ex-x-dali-pups-t379.html

'Misstake' my ass!! admin edited
by
beetree
on 02 January 2012 - 15:03
And you know what else?

I'm beginning to wonder if Sonia Berg really did get midget dogs!


... workingdogz, I just read the link you posted, and yes, back in Aug 25, they mention the overbite during a discussion how perfect their selections were.

by
Red Sable
on 02 January 2012 - 15:11
Maybe Chrissy could mention Alpine K9 in the title of this thread, as it does not come up when you google them.


by
frankm205
on 02 January 2012 - 15:17
WOW!!!! Good work workingdogz !!! They knew the dog had an overbite and sold it without telling Crissy!!! should be thrown off the forum and not allowed to sell dogs here. Period !!

That is really unbelievable, from someone who claims to be the best breeder of Czech dogs. I can understand the bad hips even though they only produce 1% bad hips

, but that overbite story is dispicable!!

Shame on you Hans

by
Prager
on 02 January 2012 - 15:23
Frank We made a mistake which we will correct So stop throwing rocks when you live in glass house.
Hans
by
Zep
on 02 January 2012 - 15:23
I'm new and I *should* stay out of this, but I got to say, that post on Han's message board about his being "perfect" and the other with overbite is pretty damning and that they knew in advance.

I'm assuming that this is the litter Chrissy got hers from?

I screenshotted it in case that is now deleted after he/they read this.

Zep--
You must be logged in to reply to posts